No Comments
NCAA Championship Fan Guide -- Day 1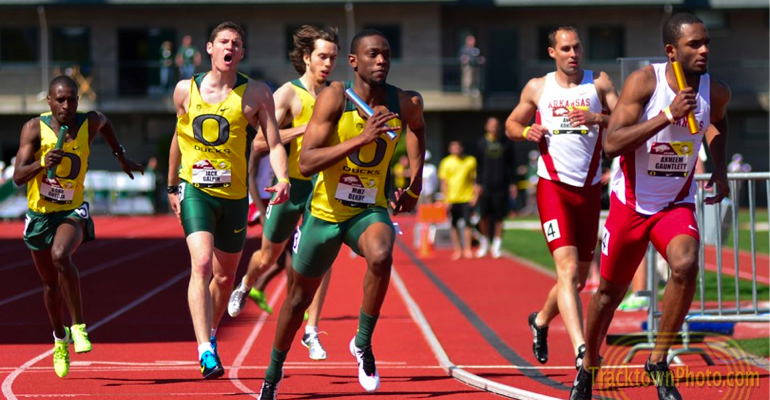 Jesse Squire | On 05, Jun 2013
Seven weeks ago at Hayward Field, Oregon and Arkansas battled all the way to the 4×400 relay. It could happen again. Photo courtesy TrackTownPhoto.com.
The NCAA Championships is like the entire NCAA basketball tournament squeezed into four days, a glut of action for track fans. There's so much going on that you need a guide to help you through all of it, and I'm here to do that every day this week.
Fortunately, you can watch a lot of it on TV and all of it online. Today's action will be webcast by the Pac-12 Network starting at noon in Eugene (3:00pm Eastern time).
Each event preview gives you a quick-and-dirty rundown of what to watch for: the favorites, the challengers, a long shot, and how the event affects the team championship battles.
The teams projected by Track and Field News to battle for the men's championship are Arkansas, Texas A&M, Oregon and Florida. On the women's side, TFN projects a tight two-way battle between Kansas and Oregon. The Duck women have been runner-up four times in a row and are looking to get over the hump.
If you want more in-depth info, go to the USTFCCCA's National Championship Central page or Track and Field News' formcharts for men and women.
And of course you want to keep a window open with the live results. Even field events will get live updates, attempt by attempt.
Let's get to it!
Decathlon day 1
Begins at Noon local time (3:00pm ET) and goes all day
Live results
Favorites: Johannes Hock (Texas), Curtis Beach (Duke) and Maicel Uibo (Georgia). Hock and Uibo are freshmen from Europe who have gone over 8200 points (the Worlds 'A' qualifier). Beach was the NCAA decathlon runner-up in 2011.
Long shot: Kevin Lazas (Arkansas). The NCAA indoor heptathlon champion has yet to show the same form outdoors. If he does today and tomorrow, he could be in the fight for the win.
Scoring opportunities: Arkansas (Lazas, Nathanael Franks), Oregon (Dakotah Keys). A clutch competitor, Keys won the Pac-12 title by a mere 3 points.
For an extreme amount of info on the competition, check out Dr. Frank Zarnowski's NCAA decathlon media guide.
Women's Hammer Throw
1:30pm local time (4:30pm ET)
Live results
Favorite: Chelsea Cassulo (Arizona State). The only thrower over 70 meters this year, she's lost just once to a collegian.
Challengers: Julia Ratcliffe (Princeton) and Alena Krechyk (Kansas). Ratcliffe is a freshman out of New Zealand who finished fourth at last year's World Junior Championships. Krechyk is the only collegian to beat Cassulo this year, turning the trick at the Mesa Classic in early April.
Long shot: Brooke Pleger (Bowling Green). The redshirt sophomore won the East prelims.
Scoring opportunities: Kansas (Krechyk), Oregon (Jillian Weir). These two teams are figured to battle it out for the team title. It's a plus for Kansas if Krechyk wins, a minus if she finishes below 3rd. Any points at all from Weir would help the Duck cause.
Running event semifinals
4:00pm local time (7:00pm ET)
4×100 relay, 800 meters, 400 meters, 100 meters, 400m hurdles, men's steeplechase
Live results
Men's semis:
The first two events are probably the least predictable running events in track and field. Baton passes will almost assuredly claim some top relay team — they already got Texas A&M in the west prelims.
The 800 meters is a tricky event, and it will have a big impact on the team championship. Oregon has the favorite in Elijah Greer, Arkansas has four qualifiers, Texas A&M has two, and Florida has one.
The remaining events are much less prone to unpredictability, although false starts and bad starts can claim sprinters whose attention lapses. All the contending teams have quarter-milers expected to get to the final. Texas A&M has three qualifiers in the 100 meters, and the Hogs and Aggies both have a qualifier in the 400 hurdles. These two teams have steeplechasers who are expected to make the final (Stanley Kebenei and Henry Lelei).
Women's semis:
The expected team battle between Kansas and Oregon gets started right away, as the two teams are in lanes 4 and 5 in the second heat of the 4×100 relay prelims. Both need to avoid disaster and get to the finals.
Oregon has plenty more action in the remainder of the semifinals: Laura Roesler in the 800, English Gardner and Jenna Prandini in the 100, and Phyllis Francis and Chizoba Okodogbe in the 400. Kansas has just one entry, Diamond Dixon in the 400.
Expect the first heat of the 400 hurdles to be very fast. Stanford's Kori Carter and Arizona's Georganne Moline are both in that heat and they're currently third and fourth on the world list.
Men's Pole Vault
4:00pm local time (7:00pm ET)
Live results
Favorites: None. This is wide-open.
Challengers: Sam Kendricks (Ole Miss), Andrew Irwin (Arkansas), Jack Whitt (Oral Roberts), Shawn Barber (Akron). Kendricks cleared 5.81 meters (19′ ¾"), an IAAF Worlds 'A' qualifier, in perfect conditions at the Texas Relays but lost to Irwin at the SEC Championships. Irwin won the last two NCAA indoor titles but bombed out of last year's west prelims. Whitt is the defending champion. Barber, a freshman, is the Canadian record holder and won bronze at last year's World Junior Championships.
Long shot: Cale Simmons (Air Force). The senior has twice finished 5th at an NCAA championships (once indoors, once out).
Scoring opportunities: Arkansas (Irwin). The Hogs need big points out of this rather unpredictable event.
Women's long jump
4:15pm local time (7:15pm ET)
Live results
Favorites: Andrea Geubelle (Kansas), Christabel Nettey (Arizona State). Guebelle won the NCAA indoor title, but runner-up Nettey has put together a superior outdoor season.
Challengers: Kylie Price (UCLA), Malaina Payton (Cal). These two were second and third at the Pac-12 Championships.
Long shot: LaQue Moen-Davis (Texas A&M). If you win the SEC, as Moen-Davis did, you're automatically a contender.
Scoring opportunities: Kansas (Guebelle). The Jayhawks are going to need every point they can get.
Women's javelin
5:15pm local time (8:15pm ET)
Live results
Favorites: Brianna Bain (Stanford), Lauren Kenney (Penn State). These winners of the west and east prelims are both undefeated this year.
Challenger: Marija Vucenovic (Florida). The SEC champion is the only other thrower whose distances are comparable to the two above.
Long shot: Avionne Allgood (Oklahoma). The freshman made a big breakthrough while winning the Big 12 Championships.
Scoring opportunities: Kansas (Heather Bergmann), Oregon (Liz Brenner). Bergmann has a reasonable chance of scoring a point or two while Brenner is a long shot. But Brenner is a wild card, a fast-improving thrower who does four sports for the Ducks.
Men's shot put
5:30pm local time (8:30pm ET)
Live results
Favorite: Ryan Crouser (Texas). The former high school star struggled with injuries during his freshman year but has it all together now. His 21.09 meter (69′ 2½") throw at the Big 12 Championships ranks him sixth in the world.
Challenger: Jordan Clarke (Arizona State). Clarke won all of the last four NCAA indoor and outdoor championships but ranks just sixth in the NCAA for this outdoor season. But he has a well-earned reputation for peaking at the championship.
Long shot: Nick Vena (Georgia). Another former high school star, Vena had the longest throw in the prelim rounds two weeks ago, a PR which moved him to #2 on the D-1 outdoor list.
Scoring opportunities: None for any of the four teams expected to battle for the title.
Women's 10,000 meters
7:10pm local time (10:10pm ET)
Live splits
Favorite: Betsy Saina (Iowa State). The reigning NCAA cross country champion has barely lost at all this year, and not to any of the athletes in this race.
Challengers: Aliphine Tuliamuk-Bolton (Wichita State) and Megan Goethals (Washington). Tuliamuk-Bolton was runner-up last year, while Goethals is practically brand-new to the event.
Long shot: Caitlin Comfort (Wisconsin). The senior was ninth last year and won this year's Big Ten title by more than half a lap.
This is only the beginning–there will be previews for every day of the NCAAs! Be sure to come back for more.