No Comments
What Should We Expect From Two High School Stars?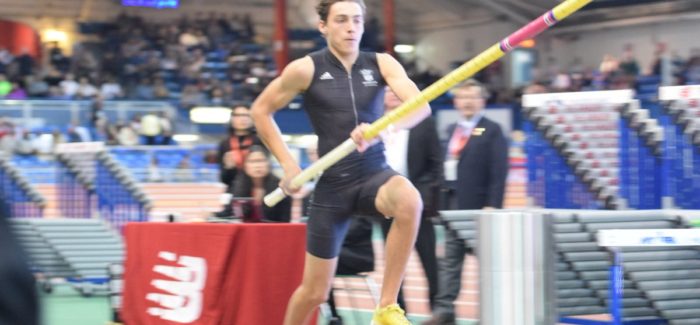 Jesse Squire | On 31, Mar 2017
This is where I normally would write up a list of the weekend's best matchups. While there is a lot of good competition this weekend, I'm not sure it fits that kind of analysis. And it also feels like I'm writing the same thing every weekend.
That does not mean I think the weekend's competition is repetitive. It's actually quite good, and different than what will happen next weekend, or any weekend for the next month. The competitions to watch over Friday and Saturday are the Texas Relays and Florida Relays. The first is getting wall-to-wall coverage on the Longhorn Network, so don't miss it if you get that channel. The second is also getting broad coverage on ESPN3, so check that out too.
Relay carnivals like these are all-day parties of track and field at all levels and are great fun to attend. But if you're seeing it at home you probably don't have all day to sit around watching track. So you might want to zero in on some highlights.
If you're going to make appointment viewing, here are my suggestions (all times Eastern):
| | |
| --- | --- |
| Texas Relays | Florida Relays |
| Live results | Live results |
| FRIDAY | FRIDAY |
| 7:40-8:00pm College sprint medleys | 12:15-1:15pm High Hurdle finals |
| SATURDAY | SATURDAY |
| 3:00-3:30pm 4×100 finals | 2:40-3:40pm 4×100 finals |
| 5:00-5:30pm 100m finals | 4:00-5:00pm College 4×800, 4×200 |
| 6:00-7:00pm 4×400 finals | 5:50-7:00pm 4×400 finals |

But I'm not here to preview those meets. I'm here to take a look at two rising high school stars, Vernon Turner and Mondo Duplantis.
Turner, who attends Yukon High School in Oklahoma, high jumped 7′ 5″ last Saturday. He jumped 7′ 4½" last year, so this is not a shocking development, but it is an extremely good jump for late March. Only five high schoolers have ever gone higher than 7′ 5″ at any time of the year, so talk of pursuing the national high school record of 7′ 7″ is more than mere speculation. It would be fascinating to see what he could do against the best collegians at the Texas Relays this weekend–I think he's capable of beating them–but unfortunately he won't be there.
The other top high schooler I'm talking about is pole vaulter Mondo Duplantis, a junior at Lafayette High School in Louisiana. He has been on a tear this winter and already has the national high school record — in fact, he's beaten the old record five times during the indoor season. He'll be in the Texas Relays invitational division (Saturday at 3:45pm ET) and his opponents include Shawn Barber, a former Texas high schooler and national high school record holder who won the 2015 World Championships gold medal. Compare their indoor seasons, and I'd have to say that Barber is actually the underdog on Saturday.
When we look at great high schoolers, we often start thinking about what they can do in the future. We imagine them as international stars who can compete for and win medals at things like the Olympics and World Championships. It's only natural, after all.
But is it realistic? For every star youngster who turns out to be the real deal, such as Ryan Crouser, there are many more who never accomplish much as adults, such as Obea Moore or Tim Danielson.
If there's one thing that we're good at in track and field, it's keeping records and analyzing them. An analysis of the best high school boys' high jumpers and pole vaulters of all time suggests that we should be careful with our expectations.
HIGH JUMP
These are the top fifteen high school high jumpers in history, and what they did after high school. "Highlight" means best career achievement. "Best rankings" are the Track & Field News annual rankings.
| | | | | |
| --- | --- | --- | --- | --- |
| Athlete | HS PR | Career PR | Highlight | Best rankings |
| Andra Manson | 7-7 | 7-8½ | Olympian | World #9 / US #2 |
| Dothel Edwards | 7-6 | 7-6½ | NCAA runner-up | none |
| James White | 7-5¾ | 7-5¾ | NCAA 7th place | US #9 |
| Tom Smith | 7-5¼ | 7-7¾ | NCAA champion | US #9 |
| Scott Sellers | 7-5¼ | 7-7¾ | NCAA champion | US #6 |
| Gail Olson | 7-5 | 7-5 | USA 5th place | US #7 |
| Kenny Evans | 7-5 | 7-7 | Olympian | US #3 |
| Vernon Turner | 7-5 | 7-5 | (HS senior) | |
| James Lott | 7-4¾ | 7-7 | NCAA champion | US #3 |
| Maurice Crumby | 7-4½ | 7-5 | USA 5th place | US #9 |
| Rick Noji | 7-4½ | 7-7 | World Champs 8th | World #10 / US #3 |
| Brad Speer | 7-4½ | 7-4½ | ? | none |
| Paul Klemic | 7-4½ | 7-4½ | ? | none |
| Erik Kynard | 7-4½ | 7-9¼ | Olympic silver | World #4 / US #1 |
| Darius Carbin | 7-4½ | 7-4½ | (college freshman) | |

The jury is still out on two of the fifteen boys listed above since they're both still teenagers. (Vernon is the topic of conversation here, and Carbin is a freshman at Georgia where he finished 7th at the NCAA indoor championships and has not yet broken his high school PR.) Of the other thirteen, only one (Kynard) ever became a USA champion, and only two others made Olympic teams. Only Kynard, Manson, and Noji ever became competitive on an international level. Two of the thirteen more or less disappeared after high school.
Conclusion: being a great high school high jumper has little to do with eventual career success.
Pole Vault
| | | | | |
| --- | --- | --- | --- | --- |
| Athlete | HS PR | Career PR | Highlight | Best rankings |
| Mondo Duplantis | 19-1 | 19-1 | (high school junior) | ? |
| Chris Nilsen | 18-4½ | 18-8¼ | (college freshman) | ? |
| Shawn Barber | 18-3½ | 19-8¼ | World champion | World #1 |
| Tommy Skipper | 18-3 | 19-¼ | NCAA champion | US #5 |
| Eric Eshbach | 18-2¼ | 18-8¼ | NCAA champion | US #8 |
| Brandon Richards | 18-2 | 18-4½ | ? | none |
| Joe Dial | 18-1¼ | 19-6½ | Worlds team | World #7 / US #1 |
| Devin King | 18-½ | 18-8¼ | NCAA 3rd place | none |
| Jack Whitt | 18-¼ | 18-9¼ | Worlds team | US #3 |
| Pat Manson | 18-0 | 19-2¼ | World Champs 6th | World #6 / US #1 |

A few things jump out as being different in the pole vault. One is that while there are also two on the list who are still teenagers, they're at the top of the list. (Nilsen is a freshman at South Dakota and was the NCAA indoor champion with a new PR height.) Another is that more of these great high school pole vaulters went on to national and international success than did the high school high jumpers.
Even more significant is that there is a significant difference between the top and bottom of the list. Barber has already been a world champion, and while Tommy Skipper never quite made it internationally he did win seven NCAA championships. Dial and Manson were near the top of the list when they graduated from high school (in 1981 and '86 respectively) and they were internationally competitive.
Conclusion: being a great high school pole vaulter has some bearing on future success, but is hardly a guarantee.
Duplantis is different
That conclusion about pole vaulters doesn't exactly fit the situation Mondo Duplantis is in right now. He's already world-class. He's currently #7 on the 2017 world list and only 4 cm (2 inches) below #2 — who happens to be Thiago Braz, the reigning Olympic champion. More importantly, Duplantis has shown remarkable consistency during the indoor season, more so than virtually any of the top professionals. At this point I would say he is more than capable of winning a medal at August's World Championships.
For whatever reason, it seems to capture the media's attention when a high school athlete is competitive with the world's best. Remember Mary Cain and Cainsanity? Looking back further, Alan Webb got loads of attention when he ran a 3:53 mile in 2001, with an appearance on David Letterman's show and a live breakaway from ESPN's Sportscenter to cover the 1500 at the USA Championships. "Little" Mary Decker was a print media darling of the 1970s. And going back even further, schoolboys Jim Ryun and Gerry Lindgren lit up the nation in the 60s.
Duplantis already more competitive on a world stage than Webb was in high school, and at the same level as Cain or maybe better. Why isn't he getting mobbed with attention? One reason is that he competes in a field event, which TV producers routinely ignore. But a bigger reason is that he will not represent the USA in international competition. He has dual US/Swedish citizenship and has chosen to compete for his mother's homeland rather than the USA. And for good or ill, what really drives interest in this sport is national team affiliation.
What should we expect?
Like I said above, the fun thing about meets like the Texas Relays and Florida Relays is that they are big parties of track and field. They combine high school, college, and elite competition into one big package. When you go out and see high school kids compete, the most important thing to remember is that they are just that: kids. Take what high schoolers do at face value, without thought for the future. I mean, it's what's high schoolers themselves do. When I was a teenager, long-term planning for me was looking towards the next month. If Duplantis can knock off the reigning World Champion, appreciate it for what it is in the here and now.