6 Comments
5 Questions with Brenda Martinez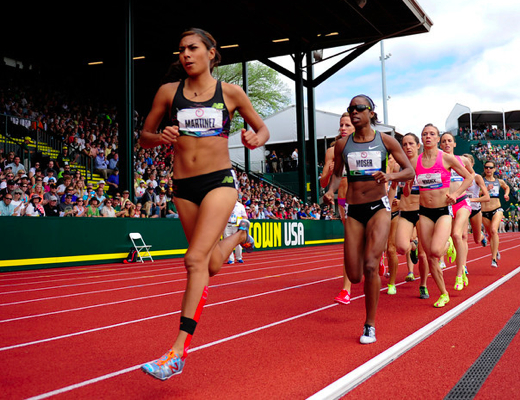 Pat Price | On 24, Apr 2013
photo courtesy TrackTownPhoto.com
Welcome back to 5 Questions, where we will pick the brains of people from all areas of the running scene. Today, we were lucky enough to catch up with Brenda Martinez. Follow Brenda on Twitter @bmartrun and check out her website for more information on her whereabouts at GoBrendaMartinez.com
5 Questions with Brenda Martinez
1. Daily Relay: You had a busy few weeks before Mt. Sac, placing as the top American at the Carlsbad 5000 and winning the BAA Invitational Mile. What did you take away from these two races? What was the scene in Boston like from your perspective?
Brenda Martinez: These two races were great for me. Carlsbad was a great opportunity for me to test my strength as the over-distance events are still so foreign to me. I'm excited to know what I can do in the future in the 5k. I have been having lots of fun with road races. With these two races I just came in thinking I was just going to have fun and compete.
What happened in Boston was very unfortunate and sad. I was not in Boston that morning. I flew back home a few hours after my race on Sunday. I found out about it the next morning and I was in complete shock.
2. Daily Relay: You ran a solo PR of 4:04.86 PR at Mt Sac, gaining the World Championship A-Standard in the process. How did such a strong race come together for you?
Brenda Martinez: Before the race, Coach (Joe) Vigil had pulled me aside and told me that my strength was the one thing to rely on and not so much my kick. Since we found out there would be no rabbit, I had no other choice but to get after it. He said with a solo effort, I can go under the A-Standard. I trust every word Coach tells me. Every time I step on the line, I just think to do my best and bleed for coach.
3. Daily Relay: You recently re-upped with New Balance. How did your relationship start and how has it evolved with them over the years?
Brenda Martinez: New Balance signed me for the next Olympic cycle, which I am very grateful for. When I finished college, I was coming off a plantar injury and was not fit whatsoever. New Balance took a chance on me and my boss looked at me as an investment, instead of a risk. New Balance and staff know I can only run faster with their support every step of the way. When a group of positive and caring people come together, it's like you create this formula that will only allow you to strive. Not only do I have the best sponsor, I have a wonderful agent named Kim Holland and literally the best coach, Dr. Joe Vigil. I feel assured of everything that is going on with my running. I have nothing but great things to say about New Balance. They have taken good care of me.
4. Daily Relay: You finished the 2012 season strong with a win at the Falmouth Mile (in 4:26.76), a 1:59.14 in the 800 at Bruxelles and a win at the Fifth Avenue Mile (4:24.2). What kind of confidence did you have going into the offseason?
Brenda Martinez: After the Fifth Avenue Mile, I took a two week break. When I started the base training phase, I still had most of my fitness. I was confident and excited for the build up, but there were a few times I thought I was in over my head for some workouts. Coach Vigil assured me that it would not be easy, but to just give it my best on that day and that it would take time to adapt to the training.
5. Daily Relay: After your strong run at Mt. Sac, does this change you and your coach's plans for the season?
Brenda Martinez: Coach Vigil and I have a good amount of races scheduled before USATF Nationals. We want to be ready and sharp by June. We have a few high performance and (American) Diamond League meets where we have the opportunity to achieve the World A-standards.
We have had our schedule planned out months ahead, so we don't plan on changing anything. We will still get a good amount of racing in. I would still like challenge myself to faster times in both the 1500 and 800 meters.
If you enjoy 5 Questions, check out the archive of previous interviews over at Writing About Running