7 Comments
10 important tips for running a Beer Mile (from World Record holder Josh Harris)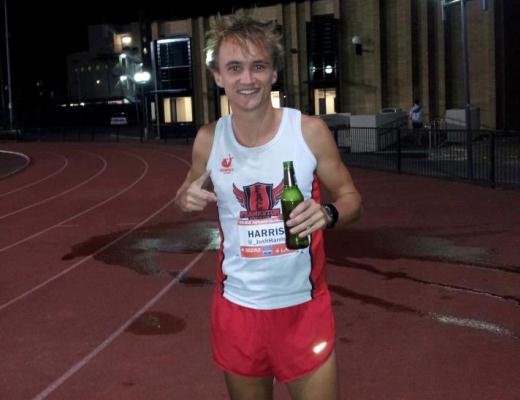 On

May 23, 2013

http://patprice.com
Welcome back to the mixed zone. Today we have a treat. Many people reading this have participated in a Beer Mile. Some have not. If you haven't (or even if you have), I highly suggest reading Josh's tips below. I ran my first Beer Mile this fall in 7:32 (at the ripe age of 34). During my second go 'round this spring, I lowered my time to 6:52. I employed some, but not all of these tips. So maybe it's helpful now, maybe just bookmark this for later (when you're old enough, or have a Beer Mile coming up). And make sure you follow Josh on Twitter @_JoshHarris
10 "most" important tips for running a Beer Mile (from the World Record holder)
Hi everybody, my name is Josh Harris and I recently broke the world record for the Beer Mile in Melbourne, Australia with a time of 5:04.9! I'm going to give an insight into my current running history and then countdown my 10 most important tips for running a Beer Mile.
I am from the small island at the bottom of Australia called Tasmania. It is a small state, but has an abundance of Beer Mile talent. I grew up as a steeplechaser and gradually shifted to 1500m and 3000m as a 17 year old. Since then I have become Tasmanian 5000m champion 5 years in succession. I prefer the longer events up to half marathon, however, ran a 1500m PB less than two months prior to my Beer Mile World Record. I am currently training for my first ever marathon, which I plan to run in October and hope to break 2 hours 20 (minutes). I am running around 160km (~100 miles) per week at the moment. I am an ok runner, but my performance in the Beer Mile easily outshines my running. My personal best times are as follows:
800m: 1:54.8 | 1500m: 3:51.2 | 5000m: 14:28.2 | 10,000m: 30:11 | Half Marathon: 1:07:11
Here are my top 10 tips for a successful Beer Mile experience!
10: Everyone should try it once
The Beer Mile is a very challenging event, which I believe every runner should attempt. People underestimate the event until they have actually completed one. I don't think I've met anyone who said they would never do it again after their debut.
9: Have fun
Make sure you have a group of friends to run against. This will make it more fun for everybody. The debrief period after a Beer Mile often leads to some moments to remember. My friends and I have even used the Beer Mile as a drinking game before a night out.
8: Make sure you have a designated driver
Never drink (and) drive after a Beer Mile. Ensure you have a plan in regards to how you will travel from the event, and where you are going to continue your night's festivities prior to arriving at the track. If you are underage, the chocolate milk mile is just as challenging.
7: Open a warm down beer as soon as you cross the line
Ensure you open a beer when you cross the finish line to continue on with the celebrations. You might want to avoid drinking what you did in the race, as it may not be overly nice on the palate after chugging 4 of them. I love to sip on the 'warm down' beer with the other competitors and talk about how the race went.
6: Choose a good beer
You don't want to be on beer two thinking 'why am I drinking this rubbish'. Drink something that you know goes down easily. My personal suggestion is a beer called Coopers 62, which fits the 5%, 355ml requirements of BeerMile.com. I drank a beer that I didn't like once and I ran over 7 minutes.
5: Leave a little bit in reserve over the first 3 laps
It is important to come into the transition area feeling good so you can drink your next beer without taking a breath. In order to do this it pays to run relaxed in the first 3 laps. This will decrease your chance of vomiting, increase your drinking speed and also save your legs for the final 400m, which I covered in 58 seconds in my recent world record.
4: Make sure your beer is optimum temperature
It is almost impossible to drink a beer in 5 seconds out of an icy cold bottle. It is almost impossible not to vomit when drinking warm frothy beers. Make sure your beer fits somewhere in the middle of this spectrum. I like to take my beer out of the fridge about an hour before the start of the race.
3: Practice drinking in the lead up to the race
This tip will probably be the best chance to take large amounts off your time. Being able to drink a lot does not mean you will be able to run a fast Beer Mile. Practicing drinking fast with short recovery is a good idea. I recommend 3 or 4 beers as fast as possible with less than 30 seconds rest. This session got one of my friends an 8:01, after running 12:09 on debut just a month earlier.
2: Allow some air to get into the bottle
Don't put your whole mouth around the bottle if you want to drink fast. It is important to let some airflow into the bottle by sitting the beer on your bottom lip, and pouring it down your throat. I like to pour it down at an angle of close to 45 degrees. Once I learned the technique to drink a beer fast I improved my maximum speed out of a bottle from 10 seconds to around 5 seconds.
1: Prepare to be surprised
Don't underestimate the Beer Mile. I have many friends who can drink like a fish, many of these happen to be good runners too. This does not mean they are good Beer Milers. The main test in the Beer Mile is how quickly one can drink the second, third and fourth beers while out of breath, while holding large amounts of volume on board. When I learnt to drink the last three drinks in the same speed as the first beer I improved my Beer Mile time by 1 minute. Don't go into your first Beer Mile thinking it will be easy, because many have found out the hard way that it is not!
Watch the video of Josh's World Record run here: