One Comment
The Dual: Co-Ed Relays and Track's Obscurity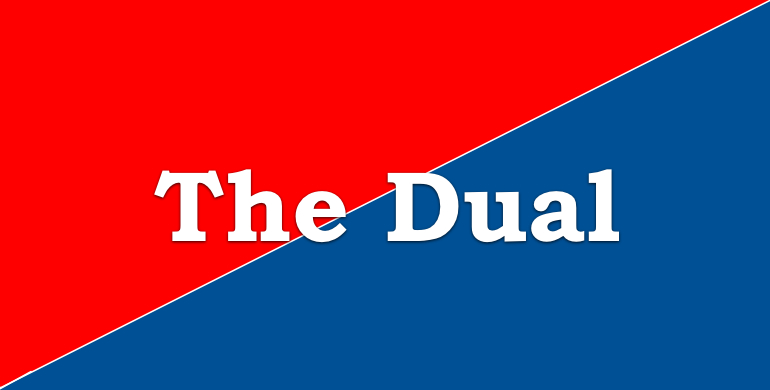 Kevin Sully | On 22, May 2013
The Dual is a two-person discussion about issues surrounding the world of running and track and field.
Kevin
I'm sure you saw the recent news about Oregon state senator Pete Courtney voicing his support for co-ed relays in track and field. That's right, Oregon is so progressive it has moved beyond medical marijuana and same-sex marriage and is tackling a wedge issue that doesn't even exist yet. Only in Oregon.
The idea, which originates from Courtney's own experience running a mixed relay as a high school student, is a good one. Track and field is in no position to turn its back on creative or innovative approaches to the sport.
I'm more skeptical that it would actually work. The author of the piece, Doug Binder, uses figure skating and ice dancing as evidence that the public has an appetite for mixed gender events. I might be making too large of an assumption, but I believe those sports have the same problem that track and field does outside the Olympics. It is scarcely on television and only really exists to the general audience in four-year cycles. Can you name three figure skaters?
It has been a common practice to look to other sports to see where track is deficient. Within reason, I wouldn't be opposed to drastic changes to traditional events. But I don't expect the general public to care anymore than they do now.
What do you think of the idea? And how far is too far when it comes to new ideas in track and field?
Jesse
I can name two skaters: Scott Hamilton, because I once lived on Scott Hamilton Street in his hometown, and Brian Boitano, because of South Park.
I think mixed-sex relays would be great fun because there would be opportunity for huge leads to be built and then dwindle. High school relays can be entertaining in the same way. Some team has a tough anchor getting the baton way behind and the spectators wonder if the lead can hold. Jessica Beard split about a 2:03 on the 4×800 at the Ohio state championships several years ago and came up about a step short of the win.
In general, though, I think our sport is plenty entertaining as it is. I've always said that if people see track and field, they'll like it. In general, no one ever shows it to them. TV coverage in this country is universally awfully produced, with way too much talking and not enough running, jumping and throwing. College meets tend to take two or three hours worth of competition and bad scheduling makes it take four or five hours.
Before we add something new to attract fans, maybe we should act like we even want fans. Everybody says they want greater interest in track and field, but who is willing to make some kind of sacrifice to get them?
Kevin
Are we sure that people would like track if only they were exposed to it? Millions watch the Olympics, which are well produced, but that hasn't translated to much.
As a follower of the sport, I have come to accept that most people just don't find it interesting, especially when it isn't a once every four years spectacle. Even if television presented it in a perfect light, running, jumping and throwing just won't capture the attention of most. I believe this is why we see stunts like co-ed relays or match races. The thinking is, if the sport does something crazy enough, the eyeballs will follow. From experience, we know the gimmick can't be the main attraction. If Shawn Crawford racing a zebra doesn't get the public excited, I don't know what will!
A more sustainble, and realistic, plan for growth involves the word you used, sacrifice. Athletes have to be willing to race frequently and against other big names. Race directors/organizers need to collaborate and not just in name only. I'm not optimistic any of this will happen, but it seems to be the best of the available options.
Jesse
I actually do believe that people would like track if exposed to it. Of course we know that 50,000 fans (or close to it) come to the Penn Relays every year and the Drake and Texas Relays get big crowds too, but just about every state high school championship fills up its stadium. These people obviously like what they see. This year's Penn Relays was the highest-rated sports show of the weekend for NBC, too.
I do not believe that the Olympics are well produced on NBC and they definitely don't show us nearly as much as they could or should. I've always had access to CBC's Olympic coverage and it's so different. Last year I organized a viewing party for the men's high jump, as our hometown hero unexpectedly won silver. We were rewarded with less than a minute of coverage, split into two parts, each two hours apart. CBC doesn't do it that way–in 2004 they showed every men's high jump attempt live from Sydney (I kept the chart).
And despite the never-ending #NBCfail, I think there is hunger for more. An example: I took a couple of friends to the last Cleveland Knights of Columbus indoor meet in 1995. Neither had ever been to a track meet before but they had a great time. The next year they asked me when the meet was going to be and were mystified when I told them it was canceled for lack of a sponsor.
Lots and lots of people used to watch track and field in past generations, but either the sport or sports fans have changed (probably some of both). My personal opinion is that track has changed to be less about competition and more about marks. In every other sport you get to a championship by winning, but we do it by 'A' and 'B' standards. Boring! And one thing sports fans definitely don't like is something that feels like math homework.
As far as athletes and agents and coaches and meet organizers and IAAF bigwigs being willing to sacrifice and work together for the benefit of all? I agree that it's exactly what we need and I agree that we aren't going to get it. All those things are "teamwork" and an awful lot of people are drawn to track because they don't have to be a "team player."
Kevin
I think the big crowds at Penn, Drake and Texas Relays are more of a victory for parenting than they are for track and field.
I'm not going to argue in favor of tape delays, but we need to realize that the Olympics in primetime are a television program. They give short shrift to every sport and every event. To play devil's advocate, you and your friends could have caught the men's high jump live from London. You just would have needed to watch during the day and plugged in your iPad. Track doesn't work well in the short-form, at least not for diehards.
Let's get back to the point about sacrifice. It seems that you and I are both equally skeptical that it could happen. But, suspend reality for a moment, and pretend like it was realistic. What form would it take on? What two or three changes would you immediately make?
Jesse
I will argue plenty more about TV, and point to ESPN's World Cup coverage (and the willingness of FIFA, the most corrupt and money-hungry group of thugs on the planet, to take less cash from them than NBC to ensure it got live treatment) but that's another Dual.
The sacrifice would be this: the entirety of the season must follow the original vision of the Diamond League. Namely, something like the PGA tour or NASCAR's Sprint Cup, a season-long competition that culminates in something approximating a championship playoff (our examples have the FedEx Cup playoffs and the Chase to the Championship). But it must go beyond the Diamond League format and encompass everything.
Athletes would pay a price for avoiding competition, either by ducking each other or just not competing at all. Every competition would actually have something at stake, with those stakes rising as the season progressed.
As it is now, US athletes generally care about only three things: 'A' standards, the US championships, and the World championships. The system discourages them from caring about anything else. But it's a recipe for obscurity because we all know that everything save those three items is an exhibition.
The other thing that we must emphasize on the international circuit is national team identity. Anyone who cares about a Nike athlete beating an Adidas athlete at a Diamond League meet specifically because of their sponsors is either employed by one shoe company or the other, or needs professional psychological help. National identity is what both casual and obsessive fans care about. For example, I don't think any foreign winner of the New York City Marathon will be invited on Letterman's show but Meb Keflezighi was after his win.
As for how to set up a season to accomplish these goals, there are a million ways to do it and we are limited only by our imagination.
Kevin
I think this is spot-on. I have long advocated for a regular season in track and field that means something. Ok, only for the last year or so, but you get my point. The problem is that this runs contrary to how track is organized at every level. In high school and college level the non-championship meets are essentially meaningless (unless you count pride).
What you are proposing would do three key things:
1) Incentivize star athletes to compete against one another repeatedly. (Downside: fewer athletes get to compete)
2) Shift the focus away from time and toward head-to-head competition. (Downside: casual fans can relate to records).
3) Create a predictable schedule for fans to follow. (Downside: N/A)
In total, it is a net positive.
Having athletes wear national colors might be a good thing, but basing the sport around a country's governing body limits its ability in the long term. For the Olympics, it is fine to have all nations represented. In the other years, the World Championships should include the best in the world, regardless of nationality. Also, as long as qualification is done through national governing bodies then you have to deal with, well…..national governing bodies. We might be farther away from a solution than when we started.