One Comment
5 Questions with Treniere Moser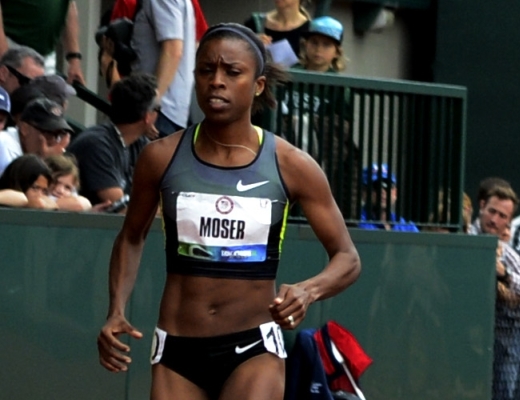 Pat Price | On 21, May 2013
photo courtesy Track And Field Photo Magazine
Welcome back to 5 Questions, where we will pick the brains of people from all areas of the running scene. Today, we were lucky enough to catch up with Treniere Moser. Follow Treniere on Twitter @TreniereMoser
5 Questions with Treniere Moser
1. Daily Relay: First off, congrats on your big PR and World 'A' Standard in the 5000 at Oxy. How did the race go, in your opinion?
Treniere Moser: Great! When I had made my schedule for the spring season I had planned to run the 1500 or 800 at Oxy. Then last week, Alberto said he thought I was capable of running the "A" standard in the 5k and I should go after it at Oxy. At first I was like "no way, you really thing so?" I knew I could run a personal best in the 5k, but I had no idea I was fit enough to go after the "A" standard. After thinking about it, I was really excited to run.
2. Daily Relay: With the 5000 'A' in hands, does this change your plans for nationals? Have you decided on the 1500 or 5000, or potentially both? (Note: 1500 prelims are Thursday, with finals Saturday. 5000 final is Sunday)
Treniere Moser: We are still trying to decide if I just want to run the 5k, 1500 or both. Alberto has been really good at looking at the bigger picture for me. So I really lean on him to tell me what he thinks is best. What event I can make the World team? What event I could do well at World Champs? It's been nice because my training compliments both the 1500 and 5k, so we have time to decide. I'm in a good spot. I'm thankful that I have options.
3. Daily Relay: You have recently joined up with the Oregon Project and Coach Alberto Salazar. Strong recent results aside, how is the transition going?
Treniere Moser: Very well. I've only been with the group for 8 months and I've seen great results. When I joined the group, I had just come off my worst year ever. Alberto didn't make me any promises, but he thought he could get me back to my best form again. He was great about slowly transitioning into his training program. We slowly increased my mileage. Before training with the Oregon Project, I averaged 60 miles a week. Now, I run between 80-90 per week. We also increased the intensity of my workouts. I'm doing a lot more workouts at race pace. Alberto recognized my range, so we will do 800m – 5k type workouts. It's been great because I can do some workout with my training partner, Tara Erdmann, who runs the 10k, but then Alberto will challenge me by throwing me in the guys workout. I also starting working our Strength Coach, David McHenry and he has gotten me insanely strong. No stone has been unturned. The details have been important.
4. Daily Relay: By all accounts, the fans were rabid for the Oregon Project group at Oxy. Can you describe the scene for those that weren't there?
Treniere Moser: Oh my gosh, it was amazing. I was shocked to see how many fans stayed to watch us workout after the meet and wanted autographs. There were probably a couple hundred people who stayed after the meet. I usually dread the workout after our races, but the fans at Oxy made it so much fun. They cheered us on every interval. They were awesome.
5. Daily Relay: You have been a top performer at the national and international level for almost ten years now. What are some of the secrets to your longevity?
Treniere Moser: I think you have to truly love what you do. I still love the rush I get when spiking up and putting on my Nike uniform and competing. A good support system is also key. I've been lucky to be surrounded by great people. I have the best sponsor and agent. I've been with Nike and my agent Mark Wetmore for all of my career. And I have the most amazing family.
If you enjoy 5 Questions, check out the archive of previous interviews over at Writing About Running