No Comments
The Weekend's Best Matchups -- June 6-8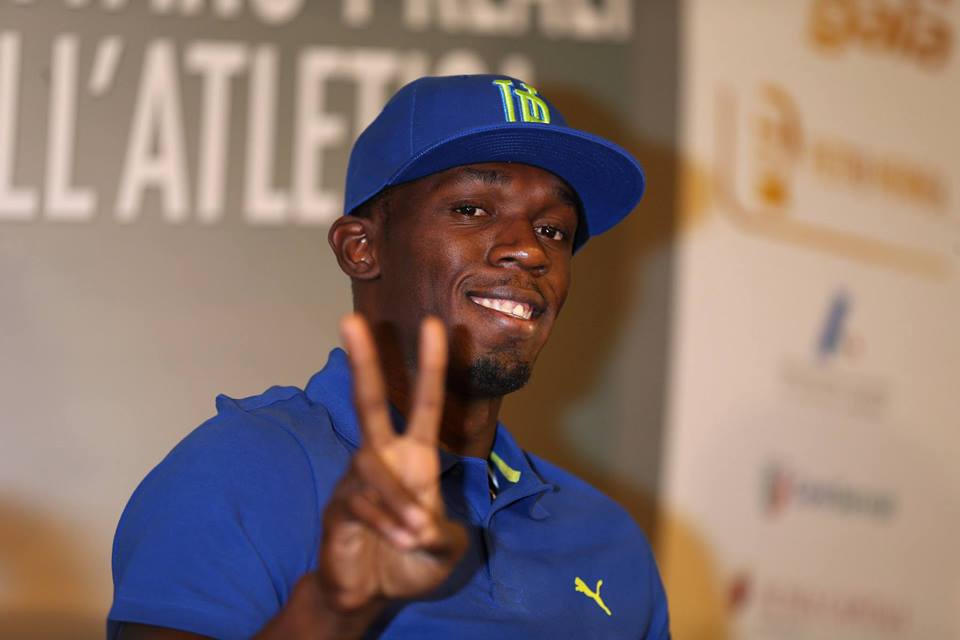 Jesse Squire | On 06, Jun 2013
He's back! But how will he run? Photo courtesy Diamond League facebook page.
The NCAA Championships are underway and run through Sunday, but there's plenty of other track and field and road racing action around the USA and the world. It begins a day early with Thursday's Diamond League meet, the Golden Gala in Rome.
Leaving the college events to my daily previews of the NCAAs, let's take a look at the best professional matchups of the coming weekend.
1. Usain Bolt vs expectations
100 meters, Golden Gala Rome
Stadio Olimpico, Rome ITA
Thursday, 9:33pm local time (3:33pm ET)
The nominal matchup here is Bolt versus Justin Gatlin, the current 100 meter Diamond race points leader. In reality, though, it's Usain Bolt, the fallible human being, versus Usain Bolt, the larger-than-life celebrity sprinter.
His first outing of the season was a poor 10.09, barely winning against third-rate competition, and this will be only his second race. Will he be victorious? Human? Superhuman?
Bolt has unintentionally managed to keep expectations in check over the last six seasons. In 2008 he shocked the world, and in 2009 he shocked even further. 2010 saw injury and a loss to Tyson Gay, and 2011 saw him false-start out of the 100 at the World Championships before he cruised to victory in the 200. He looked beatable going into last year's Olympics but it all came out good, cementing his status as a legend. So just when we think he's vulnerable and ready to tumble from the top, he takes off his Clark Kent glasses and becomes Superman.
What will we get tomorrow? No one knows, probably not even Bolt himself. But the world will be watching.
Meet website | Schedule, start lists & live results
TV coverage: LIVE on Universal Sports from 2:00 to 4:00pm (ET)
Webcast links: Universal Sports (TV subscription required) | Free but sketchy webcast links
BBC Sport: Usain Bolt loss in Rome would be big news
Daily Mail: Gatlin throws down gauntlet to Jamaican track star
2. Blanka Vlasic vs Anna Chicherova
High jump, Golden Gala Rome
Stadio Olimpico, Rome ITA
Thursday, 8:15pm local time (2:15pm ET)
Chicherova has ruled the high jump world over the last two seasons, winning gold at the 2012 Olympics and 2011 Worlds. Vlasic was the dominant jumper from 2007 through 2010, but she lost the entire 2012 season after Achilles tendon surgery led to infection and slow healing time.
Chicherova already has the world's leading height in 2013, but Vlasic exceeded her own expectations while winning the Adidas Grand Prix in New York in horrible weather. Vlasic is still on the road to full recovery–she said it now takes three or four days after competition for her Achilles tendon to "calm down" and stop hurting–but tomorrow she's testing herself against the best.
Supersport: Once a week is good for me
3. Erik Kynard vs Derek Drouin
High jump, NCAA Championships
Hayward Field, Eugene OR
Friday, 3:20pm local time (6:20pm ET)
Yeah, I said the matchups would skip the collegians and just cover the pros. But tell me these guys won't be pros within minutes of walking off the podium on Friday. They both won Olympic medals last year and are tied for #2 in the world right now. They banked points in the Diamond race at last week's Prefontaine Classic, which brought together the top eight jumpers at last year's Olympics, and that was just a tune-up for this week. These two are among the best collegiate high jumpers of all time, and one of them is going to lose.
Entering the season, their career record was split at five wins each. Drouin got the best of Kynard at the NCAA Indoor Championships and the Texas Relays, but then Kynard turned the tables at the Pre Classic. Both notched PRs there (Drouin established a new Canadian Record). When I interviewed the two athletes for an article in Track and Field News both agreed that it would probably take a Collegiate Record to win. That's 2.38 meters (7′ 9¾"), and both jumped 2.36 (7′ 8¾") at the Pre Classic.
USTFCCA Nationals home page | Broadcast/webcast schedule
Schedule | Live results
Runnerspace.com: Five Events to Watch at the NCAA Championships
4. Jenny Simpson vs Abeba Aregawi
1500 meters, Golden Gala Rome
Stadio Olimpico, Rome ITA
Thursday, 8:15pm local time (2:15pm ET)
Aregawi is clearly the best miler on the worldwide circuit so far this year. Undefeated in five races, she ran the fastest times of the indoor and outdoor seasons.
This will be Simpson's opener on the international circuit; she has raced just twice this season, a convincing win at the Drake Relays (in 4:03.35, her fastest in four years) and a PR over 800 meters at the Oxy High Performance meet. The surprise 2011 Worlds champion is clearly in better shape now than she was then.
June is not August, and this is not the World Championships. But make no mistake, this is a preview of that championship final.
Let's Run: 2013 Rome Golden Gala Meet Preview
5. Oregon vs. the hump
NCAA Women's Championship
Hayward Field, Eugene OR
Wednesday through Saturday
OK, just one more college matchup. This one could be a story for the ages. Fans in Eugene love their track and field and love their Ducks, but Oregon hasn't won an NCAA outdoor team title since 1985. The Duck women are locked in a battle to the death with Kansas, and the Oregon men have a very real chance to win as well.
It's a big deal that the most-loved track team in the nation could win one or two team championships at home in that old wooden bandbox called Hayward Field, but bigger yet is that the Oregon women have tried and failed four years in a row. That's if you can call second place a "failure", but second place is getting a bit old by now.
They don't tend to play music between events at Hayward Field, but if the Ducks have a chance going into Saturday's 4×400 relays then some Stevie Ray Vaughan would be appropriate:
Well, the house is a rockin', don't bother knockin'
Yeah, the house is a rockin', don't bother knockin'
If the house is a rockin', don't bother, come on in!
But you wouldn't be able to hear it. The place would be NFL-loud.
Eugene Register-Guard: Make theirs a triple
6. Mary Cain vs Cainsanity
5000 meters, Portland Track Festival
Eldon Fix Track, Lewis and Clark College, Portland OR
Saturday, 8:37pm local time (11:37pm ET)
Last week's top matchups talked about Cainsanity. Like Hulkamania, it's running wild. Last Saturday she went and did the near-impossible at the Prefontaine Classic and broke 2:00. Combine that with her other accomplishments and she's basically the greatest U18 middle-distance runner of all time.
What if Cain continues her remarkable streak and achieves the Worlds 'A' standard of 15:18.00? It seems like a long shot and an extreme one at that, but let's just consider if it happens. She'd have achieved the Worlds 'A' standard in the 800 (2:00.00), 1500 (4:05.50) and 5000, and all within a month.
The only active US athlete whose career PRs all meet those standards is Treniere Moser. No one else–not Jenny Simpson, not Morgan Uceny, not Shannon Rowbury, not Anna Pierce. The only American runners who have done it all in one season are Mary Decker (1985), Suzy Favor Hamilton (2000), and the notorious Regina Jacobs (1998, '00 and '01).
Think about this again. If Cain manages to run 15:18 at any time this season, which no longer seems insane, it will give her one of the six greatest seasons of middle distance running in US history (or less than six if you make the reasonable presumption that some of the above may have been drug assisted). And she just finished exams for her junior year in high school.
Cainsanity!
Meet homepage | Live webcast (subscription required)
7. Mohammed Aman vs Asbel Kiprop
800 meters, Golden Gala Rome
Stadio Olimpico, Rome ITA
Thursday, 9:20pm local time (6:20pm ET)
David Rudisha might be the greatest 800 meter runner of all time, but he's just like the rest of us in one way. He's out with injury for the moment, a problem with his knee.
In his absence, Aman, the only man to defeat Rudisha in the last three years, dominated the rest of the field at Saturday's Prefontaine Classic. Unless something changed, this would make for a rather boring race at the Golden Gala.
Enter Asbel Kiprop, who has won two out of his three 1500 meter races on the Diamond League circuit. Clearly in top shape and with an 800 meter PR of 1:43.15, he could give Aman a real push. It's always fun to see a matchup between the leading athletes in different events.
8. Desi Davila vs the long road back
Oakley New York Mini 10k
Central Park, New York NY
Saturday, 8:00am
Davila was one of the big US running heroes of 2011, fighting all the way to the line at the Boston Marathon and coming up just two seconds short of the win. It made her a celebrity in Detroit, an area that sorely needed a pick-me-up at the time. She earned an Olympic berth the following January with a second-place finish at the Olympic Trials. She was an inspiration, someone who had made herself into one of the best around by sheer hard work and determination (and in an unglamorous part of the country to boot).
And then it all began to unravel. Hip pain was originally diagnosed as an injury to a tendon but it turned out to be a femoral stress fracture. She struggled through a few miles in the Olympic marathon, dropped out, and hasn't raced since. (She was scheduled to do Boston this spring but slow recovery time led her to withdraw.)
Davila has taken the slow and measured approach to rebuilding health and fitness and is now ready to begin racing. She faces some tough competition in Linet Masai and Kim Smith. Whether she wins or even places well here isn't the most important question. The important question is if she will ever return to her previous form. That is never a given in the marathon.
Race website
NYRR: World's Best Women Come Together for Oakley New York Mini 10K
9. Andrew Wheating vs Matthew Centrowitz
800 meters, Portland Track Festival
Eldon Fix Track, Lewis and Clark College, Portland OR
Saturday, 8:37pm local time (11:37pm ET)
Wheating (two-time Olympian) and Centrowitz ('11 Worlds bronze medalist at 1500 meters) are the two big names in this race, but there's a lot more. There's Tyler Mulder, Charles Jock, Ryan Martin and Mark Wieczorek. The 800 looks to be a tough event to make the US team for the Worlds–challengers would have to get past Duane Solomon and Nick Symmonds (4th and 5th at the Olympics) and sudden new stars Erik Sowinski and Brandon Johnson. The winner here might be best poised to try to break through.
10. Hagos Gebrhiwet vs Edwin Soi
5000 meters, Golden Gala Rome
Stadio Olimpico, Rome ITA
Thursday, 8:50pm local time (5:50pm ET)
I don't think there's much doubt that Gebrhiwet is the best distance runner in the world right now. Undefeated in 2013, he's taken on and beaten just about everyone who is anyone save Mo Farah. Soi took on most of the top runners at last week's Prefontaine Classic, including Farah, and beat them all. The rest of the field is deep enough that Let's Run calls it "Hagos Gebrhiwet Versus Everyone Not Named Mo Farah" and it includes five of the six runners who went under 12:50 last year.
I'm not ready to pass the title of the best runner in the world, period, on to Gebrhiwet until he takes on and beats a (healthy) Mo Farah. But if he wins this race, it sets the table for a delightful feast when those two do meet.
Athletics Weekly: Bolt v Gatlin, Gebrhiwet v Soi as Greene opens season in Rome