No Comments
The Weekend's Best Matchups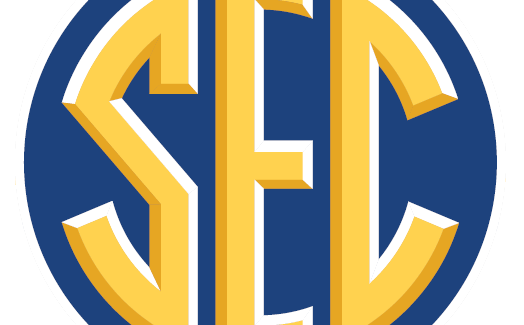 Maybe the SEC Championships should be renamed "NCAA Championships, round one."
This is conference weekend in college track. Championships are on the line. Let's take a look at the ones you should be following. For a complete listing of conference championships and webcasts, check out the USTFCCCA's Warm-Up Lap.
Texas A&M vs Arkansas vs Florida
SEC Championships
Gilliam Indoor Stadium, College Station, Texas
runs through Saturday
Meet website | Live webcasts at Aggie Athletics and Watch ESPN
These are the top three men's teams in the latest USTFCCCA computer rankings and the 2nd through 4th women's teams. It's going to be a war on both sides. Texas A&M may have an advantage by competing at home but it's still going to be an amazing meet. If it comes down to the 4×400…well, these are the three best teams in the land at that race too. The meet also supplies a number of great individual matchups listed below.
Raymond Higgs vs Marquis Dendy
Men's long jump, SEC Championships
Gilliam Indoor Stadium, College Station, Texas
Friday, 2:30pm local time (3:30pm ET)
Webcast link
Dendy out up the year's best jump by an American last year–in fact, the year's five best jumps–and dominated the indoor season. But then he got injured and barely managed to get through the outdoor season. His return this season has been cautious and he's jumped only three times. Arkansas' Higgs now leads the NCAA with his best jump in two years. These two will also go head-to-head in the triple jump on Saturday, and who comes out ahead in both of these events will have a big impact on the team competition as well.
Kendra Harrison vs Jasmin Stowers
Women's 60 hurdles, SEC Championships
Gilliam Indoor Stadium, College Station, Texas
Saturday, 1:00pm local time (2:00pm ET)
Webcast link
Kentucky's Harrison has the year's fastest time (7.96) but LSU's Stowers came aout ahead when they met at the Tyson Invitational.
Sam Kendricks vs Andrew Irwin
Men's pole vault, SEC Championships
Gilliam Indoor Stadium, College Station, Texas
Saturday, 1:00pm local time (2:00pm ET)
Webcast link
Kendricks, from Ole Miss, is the year's college and US leader with his 5.70m (18′ 8¼") best. He's undefeated this year and hasn't lost a college final since last year's SEC outdoor championships…where Arkansas' Irwin came out the winner. In fact, Kendricks has never won an SEC title. While he's the favorite, remember that the pole vault is a fickle master. Tennessee's Jake Blankenship lurks in the background as a dark horse.
Deon Lendore vs Arman Hall
Men's 400 meters, SEC Championships
Gilliam Indoor Stadium, College Station, Texas
Saturday, 2:00pm local time (3:00pm ET)
Webcast link
Texas A&M's Lendore is the NCAA leader in this event, was runner-up at June's NCAA outdoor championships, and is the reigning SEC indoor and outdoor champion. You'd figure he is a strong favorite, but Hall isn't exactly chopped liver. He was one place behind Lendore at the outdoor NCAAs and then made the US team for the worlds as a college freshman. They have met once so far this year, with Lendore coming out the winner, but it's a new race here.
Kamaria Brown vs Dezeria Bryant
Women's 200 meters, SEC Championships
Gilliam Indoor Stadium, College Station, Texas
Saturday, 3:30pm local time (4:30pm ET)
Webcast link
Texas A&M's Brown and Kentucky's Bryant are the two fastest of the year in college track in this event. It will be the first time they've run against each other since last June's NCAA Championships final, where Bryant finished runner-up to LSU's now-graduated Kimberlyn Duncan. Brown is undefeated this year in anything longer than 60 meters; Bryant is undefeated in individual events but has run the 200 just twice.
Wisconsin vs Penn State
Big Ten men's championship
SPIRE Institute, Geneva, Ohio
runs through Sunday
Meet home page | tape-delayed TV coverage on the Big Ten Network at 10:30am on Saturday, March 8th
The Badgers lost their long Big Ten cross country winning streak last fall but are putting together one of the better indoor streak in recent Big Ten history. They finished fourth at last year's NCAA indoor and sit fourth in the current national computer rankings. Penn State is seventh, though, and this could be a fight. The Big Ten is the nation's dinosaur conference and has yet to use its web capabilities to cover this championship–and its last men's national outdoor team championship came in 1948.
Florida State vs Notre Dame
ACC men's championship
Clemson indoor track & field complex, Clemson, SC
runs through Saturday
Meet home page | Live webcast at Watch ESPN
Florida State has mostly owned the ACC, winning nine of the last 12 titles (and finishing second when they didn't win). Notre Dame has just joined the conference and could crash the party. FSU is ranked #6 in the latest computer rankings and Notre Dame is #10, but the Fighting Irish are the kind of balanced team that tends to do better at conference meets.
Akron vs Kent State
Mid-American Conference women's championship
Kent State Field House, Kent, Ohio
runs through Saturday
Meet home page
MAC teams? Yeah, MAC teams. Akron and Kent State are natural rivals across all sports, located just ten miles apart, and they are currently #21 and #22 in the latest computer rankings. I'm not sure if two MAC teams have been ranked this high this late in the season since the USTFCCCA started its current system, and that system doesn't reward the kind of teams the MAC produces. The structure of the MAC championships rewards balanced teams that do well in full-team competition (like duals). Yours truly will be the field event announcer at this meet.
Robert Harting vs Piotr Malachowski
Men's discus, Indoor ISTAF Berlin
O2 World, Berlin, Germany
Saturday, 9:15pm local time (3:15pm ET)
Meet website | live webcast at leichtathletik.de
Berlin's traditional ISTAF invitational now has an indoor version and the feature event is the discus. To say that the indoor discus is an unusual event is an understatement; I've heard of it only at a meet in Växjö, Sweden, plus a very small number of US collegiate meets. The standing "world record" is 69.15 meters (226′ 10″). The meet organizers have lined up a great pair, the top two in the world right now and the gold and silver medalists at last year's Worlds.