2 Comments
Midseason Diamond League Analysis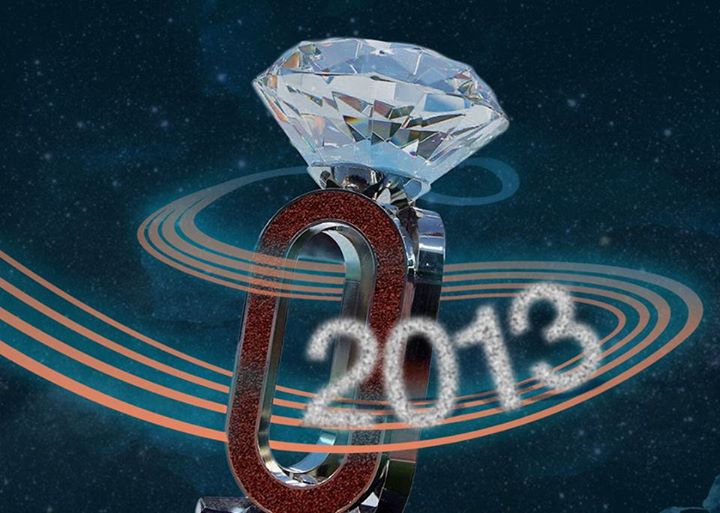 Jesse Squire | On 10, Jul 2013
(Photo courtesy IAAF Diamond League Facebook page.)
There is no Diamond League meet this week. It is the longest break in the top pro tour aside from the USATF Championships weekend, and gives us a chance to take a just-past-midseason look at the year so far.
In case you're not familiar with the Diamond Race system, here's how the IAAF describes it:
The IAAF Diamond League encompasses 32 individual Event Disciplines, with a points scoring 'Diamond Race' which runs throughout the 14 meeting series. Winners of each Diamond Race will get a Diamond Trophy, a cash prize, a wild card for the IAAF World Championships (certain conditions apply) but more importantly, will have shown season long consistency to earn the unchallenged honour of being the World Number 1.
You might not think that the Diamond Races are all that big a deal, since the press rarely talks about them. But "the list of overall DL winners for each year is hardly a hall of shame", according to Track and Field News managing editor Garry Hill. He says that year in and year out, "you're hard pressed to find that the worlds' best haven't generally been in play" for the various Diamond Races (with the exception of the 200 meter races which he calls "an orphan event no matter what you do").
With that in mind, you may wish to check out the Diamond Race leaders and standings.
Let's take a look at where we are, at two-thirds of the way through the 2013 Diamond League.
Most surprising Diamond Race leader, men: Ayanleh Souleiman
The 1500 meter leader has not come out of nowhere; he ran 3:30.31 (1500) and 3:50.21 (mile) last year and was fifth at the World indoor championships. But if you had to have guessed back in March or April who was going to be leading the Diamond Race at this point, he would not have been in most people's top ten.
Most surprising Diamond Race leader, women: None
There are no surprises at all in the women's competition. Every single Diamond Race leader was in the top three in their event in the 2013 Track and Field News world rankings.
Best single performance, men: 2.41 meters (7′ 10¾")
The big breakthrough by Bohdan Bondarenko in Lausanne is the best high jump clearance since 1994. It's tied for eighth-best in history and puts the Ukrainian in a tie for 4th on the all-time world list.
Best single performance, women: 7.25 meters (23′ 9½")
Advances in anti-doping measures make it hard to compare present marks to the past, and that's doubly true for women's events. I think Brittney Reese's monster jump at the season opener in Doha is the most impressive simply given that it's more than nine inches better than anyone else's best mark all year. It's also the best jump in nine years.
Biggest Diamond Race lead, men: Triple jump
Christian Taylor has jumped in all five Diamond League meets with three wins, a second and a third. He leads France's Benjamin Compaore by nine points and his compatriot Teddy Tamgho by ten. If he comes out of Monaco with that same lead, he clinches the Diamond Race.
Biggest Diamond Race lead, women: 1500 meters
Abeba Aregawi has won all five Diamond League meets and has a seventeen-point lead. Not only has she already clinched the Diamond Race, she clinched it before the last race in Lausanne, at the moment that Genzebe Dibaba declined to enter.
Closest Diamond Race, men: 110m hurdles
Five hurdlers are tied for first with 4 points apiece. Four of them (Ryan Brathwaite, Aries Merritt, Hansle Parchment, Jason Richardson) won a single race but failed to score in any other, and a fifth (Orlando Ortega) took second twice. With three more races to go it looks like a complete and total toss-up–although world record holder Aries Merritt is starting to regain form after pulling up hurt in the Shanghai race in May and then missing the next two "official" Diamond League hurdle races. (Also, TrackAlerts.com reports that Ortega has been suspended by the Cuban federation, so he's apparently out of the picture.)
Honorable mention in this category is the men's 100 meters, where Justin Gatlin and Tyson Gay each have eight points from two wins. True to form for sprinters, they haven't met in a DL 100 meter race this year.
Closest Diamond Race, women: Pole vault
Five women are within a point of the lead in this event. Jenn Suhr, Yarisley Silva and Silke Spiegelburg have five points (a win and a third); right behind with four points are Yelena Isinbayeva (one win) and Fabiana Murer (two seconds).
Honorable mention in this category goes to the women's 200 meters. Shelly-Ann Fraser-Pryce leads with six points (off a win and a second), and then four more women each have four points for one win: Murielle Ahoure, Blessing Okagbare, Mariya Ryemyen and Veronica Campbell-Brown. That last one could change, as VCB's win was in New York, which was after the widely-reported positive test she allegedly returned from the Jamaica International Invitational. If she is retroactively DQed, then the winner of that race will be Anneisha McLaughlin (who?).
Best duel: Men's 400 meters
Kirani James and LaShawn Merritt have met three times in the four Diamond Races and James leads, two wins to one. No one else is in the picture and we should get three more Diamond League races between these two in London, Stockholm and Zurich.
Best making hay while the sun shines: Mohammed Aman
Kenyan half-miler David Rudisha has been almost Usain Bolt-like in his dominance of his event over the last three years. No, actually better than Bolt. After two dominating wins in the first two Diamond Races of the 2013, he had to take some time off with a banged-up knee. In his absence, Aman has won three straight races. Rudisha would have to win both of the remaining races, Monaco and Brussels, to overtake Aman.
Best athlete who has not competed in the Diamond League: Brianna Rollins
No one has run closer to the 100 hurdle world record than Rollins since Ben Johnson's positive test, but her collegiate racing schedule kept her out of the early meets and a need to recharge her batteries kept her out of the more recent ones. She's scheduled to run in Monaco next week.
Contenders for the Golden League Jackpot
The Golden League (the precursor to the Diamond League) and its $1 million jackpot are no more. But if that was still the format, no men would be in the running as none of them have won their event in Diamond Race competition this year. Five women would be: Abeba Aregawi in the 1500 meters, Zuzana Hejnová in the 400 hurdles, Caterine Ibargüen in the triple jump, Sandra Perković in the discus, and Christina Obergföll in the javelin.
Olympic champions who lead their Diamond Races
Usain Bolt (200 meters)
Kirani James (400 meters)
Renaud Lavillenie (pole vault)
Christian Taylor (triple jump)
Robert Harting (discus)
Shelly-Ann Fraser-Pryce (100 meters)
Anna Chicherova (high jump)
Brittney Reese (long jump)
Sandra Perković (discus)
Best and worst attended Diamond League meetings
The Paris stop on the tour, the Meeting Areva, drew an announced attendance of 52,666 which sold out the Stade de France (its upper deck was not opened). The New York stop on the tour, the adidas Grand Prix, drew a sparse crowd in horrible weather whose attendance was not announced but was probably in the range of 2,000 or so. The London stop on the tour, the Sainsbury's Anniversary Games, long ago sold out all 80,000 seats for both of its two days.
Most versatile athlete: Blessing Okagbare
The Nigerian has a 200 meter win, three seconds in the 100 meters, and a second and third in the long jump. She is the only top-line pro athlete currently attempting the "Jesse Owens" triple; no word yet on whether she'll try all three at the World Championships.
Grand Prix points leaders
Before the Diamond League tour there was the Golden League (1998-2009), and before that there was the Grand Prix. Athletes competed within events for a season-long points-based title (much as they do now except that only some events were held each year), but they also competed between events for the overall Grand Prix title and a bigger payoff. If memory serves me, athletes gained points for their eight best results.
I think an overall competition would be a good thing for the Diamond League. If it were up to me, I'd give out bonus points for beating the best competition or recording unusually good marks. But without such incentives, here are the points leaders so far.
MEN
15 Christian Taylor (TJ)
14 Mohammed Aman (800m)
14 Ryan Whiting (SP)
14 Bohdan Bondarenko (HJ)
13 Hagos Gebrhiwet (3k/5k)
12 Conseslus Kipruto (Steeple)
12 Javier Culson (400H)
11 Yenew Alamirew (3k/5k)
WOMEN
20 Abeba Aregawi (1500m)
20 Sandra Perkovic (DT)
18 Shelly-Ann Fraser-Pryce (100/200)
16 Blessing Okagbare (100/200/LJ)
16 Amantle Montsho (400m)
16 Dawn Harper-Nelson (100H)
16 Zuzana Hejnova (400H)
16 Caterine Ibarguen (TJ)
16 Christina Obergfoll (JT)
Worst website
I have yet to communicate with anyone who likes the Diamond League website. It's clunky, slow, and annoying.