2 Comments
Five Things We Learned at the Prefontaine Classic
Jesse Squire | On 01, Jun 2014
Photo: TrackTown Photo
The Prefontaine Classic, the third stop on the IAAF's Diamond League tour, was held on Friday and Saturday at historic Hayward Field.
IAAF Recap
Complete results
Race videos
Here are five of my reactive musings about the meet…
Jumpers can run.
The biggest upset of the day came in the women's 200 meters, where Tori Bowie beat a star-studded field with a massive PR of 22.18 seconds. Who the heck is Tori Bowie?
She was a late addition to the field and available because she competed in Friday's long jump, the event that was her specialty until, well, right now. She was the NCAA champion in that event in 2011 and made the US team for this year's World Indoor Championships. Yesterday's win seemed insane at the time but she'd already shown speed this year; she was runner-up in the 60 at the Millrose Games and ran 11.10 for 100 meters at Florida's Tom Jones Memorial Invitational, good for #7 on the world list (as of June 1).
This win, though, was on a complete other level. Bowie beat Olympic heroes Shelly-Ann Fraser-Pryce and Allyson Felix, although it should be noted that SAFP is injured and Felix is coming back from injury. She beat Blessing Okagbare, who won the last Diamond League sprint and was runner-up to SAFP in the first. How fast is 22.18? It's just 0.01 seconds off the winning time at the 2013 Worlds and 0.04 faster than the winner at the '11 Worlds. All of a sudden she went from a good sprinter to a great sprinter.
There's a lot more crossover in the sprints and horizontal jumps than you might realize. Recently we saw Okagbare win a rare Diamond League double in the 200 and long jump, and triple jump star Christian Taylor has shown tremendous quarter-miling ability this spring. Tianna (Madison) Bartoletta was a world champion long jumper who transitioned into a world-class sprinter. Did you know that Jearl Miles-Clark, the American record holder at 800 meters, was a triple jumper in college?
Diamond League 5ks aren't as fast these days.
For whatever reason, it's no longe de rigueur for a men's Diamond League 5000 meter race to be run under 13:00. Here's what I thought right before the 5k started yesterday:
I'm going to guess that @bentrue's 13:02 world lead will not survive this next race.

— Jesse Squire (@tracksuperfan) May 31, 2014

The USA's Ben True held the outdoor world lead for the distance with his 13:02.74 win at the Payton Jordan Invitational. It survived the first Diamond League 5k, where Ethiopian Yenew Alamirew won in 13:04.83. Given the depth of this competition and the reputation the Pre Classic has for fast times, I thought True's mark would be obliterated.
Not quite. Kenya's Caleb Ndiku, the world indoor champ at 3000 meters, won on a hard last lap in a time of 13:01.71. Alamirew was second and slower than True's mark, leaving the American at #2 on the outdoor world list.
What does this all mean? On one level it doesn't mean anything. Times are a proxy for head-to-head competition, but we don't need that proxy here. True ran in this race and got a butt-whuppin', finishing 11th in 13:25. And this was an honest race from the gun that was close and exciting all the way to the finish, so I don't find anything inherently important about the time.
Merritt-James is the best rivalry.
The best rivalry in track and field right now is LaShawn Merritt and Kirani James in the men's 400 meters. They have now met eleven times at the distance and James leads the series 6-5. Saturday's race was one for the ages, with the two going stride-for-stride over the last 50 meters to a photo-finish that had James winning by mere thousandths of a second. While time isn't inherently meaningful (see above), it should be noted that their identical marks of 43.97 makes this the first non-championship race ever in which two men ran under 44.00.
Famous Amos is back.
800 meter races are usually the most unpredictable of the running events, and yesterday's men's 800 did not disappoint in that regard. The hype was about the return of world record holder David Rudisha after a yearlong injury layoff.
As amazing a runner as Rudisha is, it's unrealistic to expect him to be able to beat a top-class Diamond League field in his season opener, and he didn't. He led late but finished seventh in 1:44.87–a good start, but looking like "[Michael] Jordan's first [NBA] game back after baseball", according to one wag on Twitter.
The role of favorite fell to Ethiopia's Mohammed Aman, who rolled through the Diamond League and World Championships last year in Rudisha's absence. I wasn't sold on him because he'd withdrawn from the last Diamond League meet with injury.
The winner turned out to be Botswana's Nijel Amos, the man who just might be the heir apparent to Rudisha. He won a silver medal at the 2012 Olympics while (supposedly) just 18 years old, and in a time of 1:41.73. Only Rudisha and Wilson Kipketer have ever run faster, and he rose to the top much more quickly than either of them did. And then Amos disappeared.
He ran a few low-key races in 2013, then picked up an injury and only ran one more meet all season (the Universiade, winning in an unremarkable 1:46). Reports were that he'd basically quit running to be a DJ in a corner bar in Botswana, having all the problems you'd expect from a newly-rich teenage celebrity in a place where few people have much money.
This year he got back on track, both metaphorically and literally. He ran some 400 meter races, three of them in sub-46.00 time. He ran second in the Doha Diamond League 800, just 0.05 seconds behind Aman. And then in Saturday's race he came from third on the turn to win in 1:43.63, a Pre Classic meet record and the second-fastest ever run at Hayward Field.
Maggie Vessey knows marketing.
Maggie Vessey is a half-miler who has had an up-and-down career. At her best she was one of the fastest Americans ever, but she hasn't had much success since 2011. And in these tight times, that means she no longer has a sponsor.
This weekend she figured out how to make that bug into a feature. Sponsored athletes have to wear their sponsor's outfit. They all end up looking the same. Even different sponsors' kits look more or less identical. Not bound by those limitations, Vessey created her own racing kit, a true one of a kind.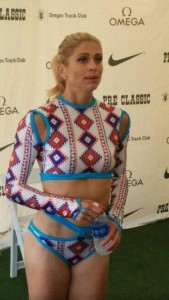 Put aside for the moment any thought that Vessey is a very fit individual wearing very little clothing. That's the norm in track and field (and why that isn't used as a selling point for our sport is beyond me). This is an absolutely amazing outfit. Vessey and others have worn self-made gear in the past but they looked every bit of being homemade. This looks professional and as avant-garde as anything I've ever seen in track and field. It's the kind of look that Santino Rice would say nice things about, and that's probably a first in track and field. She was also smart enough to use the best look she had at the Prefontaine Classic, when she would get the most attention for it.
Someone would be wise to hire this woman. If not as an athlete, as a marketer or designer.