No Comments
The Weekend's Best Matchups: Pre Classic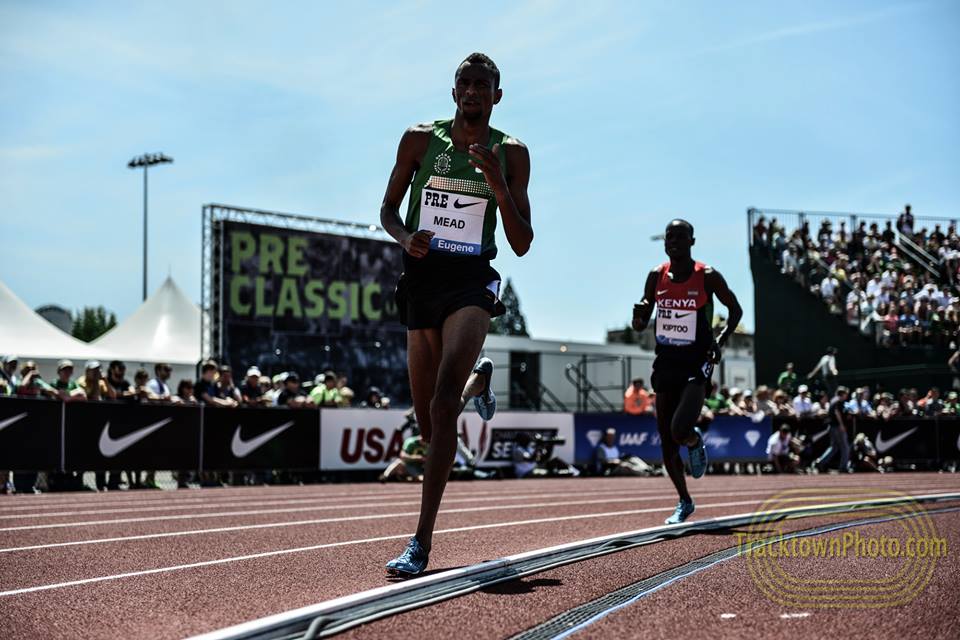 Jesse Squire | On 30, May 2014
Photo: TrackTown Photo
The Prefontaine Classic will be held tonight and tomorrow at historic Hayward Field and it totally dominates the weekend's news in track and field.
There are other competitions this weekend–NCAA prelim rounds, the Gotzis decathlon and heptathlon, and Friehofer's Run for Women–but this is the one that gets all the attention. I've got sixteen sweet matchups from the Pre Classic below, listed in order of the meet schedule.
Meet information
The official Diamond League website has the meet schedule, entry lists, live results, and Diamond Race points standings.
How to watch
Friday's action begins at 7:00 local time (10:00 ET) and a free live webcast begins at 7:15 (10:15) at USATF.tv.
Saturday's action will get complete national television coverage. The schedule:
3:30 – 4:30 ET: NBC Sports Network
4:30 – 6:00 ET: NBC
On to the matchups!
Perkovic vs meet record
Women's discus throw, Friday at 7:00pm local time (10:00pm ET)
Croatia's Sandra Perkovic is basically without peer in the women's discus. In 2014 she's already recorded the two longest throws since the end of Communism and it's not even June yet. Her only real competition now is the record book and that's important to anyone playing the IAAF's Fantasy Diamond Race because you get extra points for a meet record. Here it's 66.92 meters (219′ 6″) and very doable if the wind cooperates.
Reese vs the board
Women's long jump, Friday at 7:03pm local time (10:03pm ET)
Brittney Reese, aka "The Beast", is the world's dominant long jumper. She's won gold at every World Championships and Olympics she's entered since 2009. She has one achilles heel, though: fouling. She's beatable when she can't find the board and unbeatable when she's hitting her steps. There are some very good jumpers in this competition, including Blessing Okagbare and Ivana Spanovic, but even what they do is more or less irrelevant. If Reese jumps to her ability, she wins.
Price vs Vessey
Women's 800 meters USATF High Performance Section 2, Friday at 7:50pm local time (10:50 ET)
It wasn't so long ago that the USA struggled to find even one athlete who could run the 800 under two minutes, but now the Americans have an embarrassment of riches in this regard. Veteran Maggie Vessey ran 1:59.96 at the USATF High Performance Classic, her first trip under that barrier in two years yet couldn't make the US team for the World Relays. Chanelle Price led off that relay and is on the upswing of her career, winning gold at the World Indoors and breaking 2:00 for the first time ever this spring.
The lion's share of attention will go to teenage sensation Mary Cain, one of the other sub-2:00 Americans in this field. This race will be her outdoor season opener and for that reason I don't expect a stellar run from her. Then again, she's beaten virtually every expectation since she first came to national attention, so maybe she'll challenge for the win.
Cantwell vs Whiting
Men's shot put, Friday at 8:10pm local time (11:10pm ET)
Ryan Whiting was the top shot putter in the world last year and won basically everything save the World Championships. He picked up right where he left off during this year's indoor season and won gold at the World Indoors. He's started slowly outdoors but probably just in a rebuilding training phase.
Christian Cantwell didn't do much last year or during this year's indoor season as he was hampered by injury and then recovering from surgery. He's come on quite strong during the outdoor season with four wins in his four meets, including a pair of victories over Whiting. These two are clearly the class of the field.
Rupp vs Tanui
Men's 10,000 meters, Friday at 9:17pm local time (12:17am ET)
Galen Rupp is the home hero for Oregon fans and there's talk of him going after his own American Record of 26:48.00. Recall that just a few weeks ago he ran 13:19 and got outkicked by Collis Birmingham, and 13:19 x 2 = 26:38. I just don't see him doubling the distance and only slowing down ten seconds, and I don't think the record is in play.
Rupp is quite capable of winning this thing but he'll have to get past Kenya's Paul Tanui to do it. He didn't do that at last summer's World Championships, where Tanui won 10k bronze and Rupp was 4th. The other top threats include Kenyan roadies Kenneth Kipkemoi and Leonard Komon plus Yigrem Demelash, Ethiopia's reigning World Junior champion.
USA vs Russia
Women's high jump, Saturday at 12:59pm local time (3:59pm ET)
America's Brigetta Barrett won silver at both the 2012 Olympics and 2013 Worlds, losing out to a Russian both times. Both of them, Anna Chicherova and Svetlana Shkolina, are on the start list here. Barrett has started slowly this year but another American has made a rather startling return to high level jumping: Chaunte Lowe, who recently had her third child.
Coburn vs Kenya and Ethiopia
Women's steeplechase, Saturday at 1:09pm local time (4:09pm ET)
At the Diamond League opener for the steeplechase two weeks ago in Shanghai, American Emma Coburn left the world's best far behind and built up a huge lead. They closed it down a bit over the last few laps but it was far too little and too late. I don't think Coburn stole the race or fooled them so much as she was clearly the better runner that day. All of the world's top half-dozen steeplers will be in this race, all from Kenya and Ethiopia. Now Coburn has a target on her back, and we'll see if she can win again.
McCorory vs Montsho
Women's 400 meters, Saturday at 1:24pm local time (4:24pm ET)
Botswana's Amantle Montsho has been the top quarter-miler for the last two seasons, despite getting hauled down from behind by Britain's Christine Ohuorogu at last year's World Championships. The new girl in town is American Francena McCorory, who won gold at the World Indoor Championships. There's a third runner to watch for in Jamaica's Novlene Williams-Mills, who beat Montsho in Shanghai two weeks ago and ran the fastest 4×400 split at last week's World Relays.
Gatlin vs win streak
Men's 100 meters, Saturday at 1:34pm local time (4:34pm ET)
Did you know that Justin Gatlin has won the 100 at the Pre Classic every time he's run it since 2005? He won it in 2005 and 2006 (the latter annulled due to his doping suspension) and didn't run it again until 2011, but now has won it three times in a row. Right now he looks good to stretch it out to four straight. The truly big dogs, Usain Bolt and Yohan Blake, aren't running but Nesta Carter and Nickel Ashmeade are.
Merritt vs James
Men's 400 meters, Saturday at 1:41pm local time (4:41pm ET)
LaShawn Merritt and Kirani James have about the best rivalry in track right now. Their career head-to-head series stands at 5 to 5, but Merritt has won the last three including their only matchup in 2014 (at the Drake Relays). Merritt put on a show at last week's World Relays, patiently waiting until the final straightaway to move past the home Bahamian team for gold.
Aregawi vs Simpson
Women's 1500 meters, Saturday at 1:49pm local time (4:49pm ET)
Abeba Aregawi, now running for Sweden, has an eighteen-meet win streak at 1500 meters that stretches back to 2012. American Jenny Simpson was second to her at both the 2013 Worlds and the Shanghai Diamond League meet two weeks ago. If anyone in this race can beat Aregawi–and that's a big if–Simpson seems the most likely candidate.
There are several others that could do it, though. Kenya's Hellen Obiri ran a stunningly fast 3000 to win the Diamond League opener in Doha three weeks ago and is a proven 1500 runner (she ran 3:58 at Pre last year). American Brenda Martinez won Worlds silver at 800 meter last year but is just about as good at 1500 and could be in the mix as well. Eunice Sum beat "B-Mart" in that Worlds 800 and she's in this race too. Not a threat to win but a truly interesting entry is Colorado high school star Elise Cranny, who just might be the greatest high school runner of all time not named Mary Cain.
Parchment vs Oliver
Men's 110m hurdles, Saturday at 2:05pm local time (5:05pm ET)
American David Oliver won gold at the Worlds last year and already has one major win under his belt this year, the Diamond League opener in Doha. Jamaican Hansle Parchment has two big wins in 2014, including a head-to-head win over Oliver at the Drake Relays.
Others to watch include world record holder Aries Merritt, who has battled injury over the last two seasons; Jason Richardson, the 2011 Worlds gold medalist who is running his first high-level race of the season; and über-decathlete Ashton Eaton, who is spending the 2014 season running against full-time hurdlers.
Okagbare vs superstars
Women's 200 meters, Saturday at 2:13pm local time (5:13pm ET)
This is being billed as a showdown between superstars Allyson Felix and Shelly-Ann Fraser-Pryce, but neither appear to ready to run at full power. Felix's 2013 season ended face down on the track with a torn hamstring and this is just her second race since then. Fraser-Pryce started the season hot, then withdrew from the Shanghai Diamond League meet with injury. She ran on the Jamaican 4×200 at the World Relays and did not look good. My money is on Blessing Okagbare, who is doing a rare Diamond League double in this event and Friday's long jump.
True vs the big boys
Men's 5000 meters, Saturday at 2:20pm local time (5:20pm ET)
Here we are nearly a month into the real pro season and an American is atop the world list for 5000 meters. It's Ben True, the most overlooked runner of 2013. He led the US team to its shocking silver medal finish at the World Cross Country Championships and then finished an agonizing fourth at the US championships in both the 5k and 10k. He's got his hands full in this race and we'll find out exactly how far he's come.
He only has to run against all of the six fastest runners of 2013, the world indoor champion, and the legendary Bernard Lagat. Basically everyone who is anyone is in this race (save Mo Farah, who is still rebuilding from the London Marathon). Let's Run calls Ethiopia's Yenew Alamirew the favorite based on his win at the Shanghai Diamond League meet, and mentions Worlds silver medalist Hagos Gebrhiwet and World Indoor champ Caleb Ndiku as contenders. And, of course, you should never count out Lagat.
Rudisha then vs Rudisha now
Men's 800 meters, Saturday at 2:21pm local time (5:21pm ET)
Kenya's David Rudisha was named the Athlete of the Year in both 2011 and 2012. He was basically untouchable in those years. His Olympic frontrunning led to a stunning new world record, one that even upstaged Usain Bolt. But he picked up a knee injury early in the 2013 season and this is his first race after a yearlong layoff. Who knows what kind of form he's in.
In his absence from the scene, Ethiopia's Mohammed Aman took over the event and won Worlds gold both indoors and out. He won the Diamond League opener in Doha but withdrew from the Shanghai meet with injury, so maybe he's not quite in top form either. The race also includes two men with fast PRs who are at least a year removed from relevancy in Nijel Amos and Abubakr Kaki. Duane Solomon is making an attack on the American record (1:42.60) but was caught at the line in last week's World Relays 4×800. If you want to take a flyer on a long shot, try Poland's Adam Kszczot–he's the one who ran down Solomon from behind.
Kiprop vs everyone
Bowerman Mile, Saturday at 2:49pm local time (5:49pm ET)
Asbel Kiprop is one of the most accomplished milers in history. He's won an Olympic gold medal, two Worlds gold medals, and thirteen Diamond League races. Just last week he earned another accolade: his 3:32.3 anchor split at the World Relays is the second-fastest race ever run without a pacer. Here he's up against basically every top miler in the world:
*Taoufik Makhloufi, the suprise 2012 Olympic gold medalist
*Silas Kiplagat, the second-fastest miler of recent years
*Matt Centrowitz and Johan Cronje, silver and bronze medalists at the 2013 Worlds
*Ayanleh Souleiman and Aman Wote, the gold and silver medalists at the indoor Worlds
*Will Leer, the standout American of 2014
They put this race last on the schedule for a reason. It's the best race of the meet.