One Comment
The Monday Morning Run: Another Rupp Record, Rudisha Struggles, Vessey's Outfit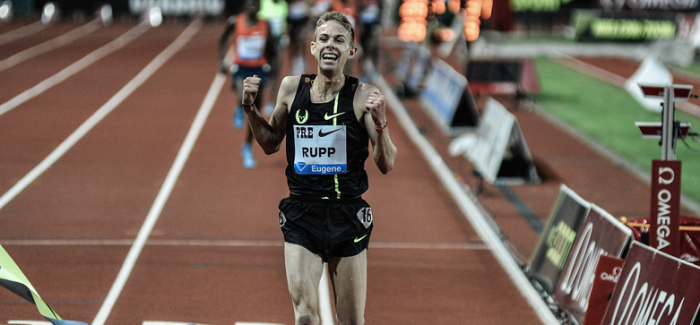 Kevin Sully | On 02, Jun 2014
Photo via TrackTownPhoto
All Prefontaine Classic, all the time.  If you missed any of the races, the videos are archived here.  There were two American records, David Rudisha and Asbel Kiprop both looked human, Kirani James and Lashawn Merritt broke 44 seconds and Maggie Vessey's uniform almost broke the electromagnetic spectrum.
The Medalists
The top three performances of the week…
Gold: Galen Rupp
Friday evening in Eugene, Rupp reset his American record in the 10,000. With 5,000 splits of 13:26 and 13:18 he ran 26:44.36 to shave four seconds off the mark he set three years ago in Brussels. The race was teased as a record attempt, but after Rupp only managed a 13:19 in the 5,000 at the High Performance Meet at Occidental two weeks ago, there were serious questions as to whether he could round into a shape in time.  A couple of thoughts on the race and the record:
-All of the early splits were between 2:40 and 2:43.  Fast enough to keep him in range, but the record was still in doubt until Rupp took over with two laps remaining.  He ran his last 800 in 1:57.
-In record attempts, especially ones that are 25 laps long, the little things add up.  The field was filled with sub 27-minute runners and yet Rupp managed to maintain inside position for almost the entire race.  Even when Paul Tanui, who beat Rupp at the World Championships last year, made a push late in the race, Rupp hugged the rail.  He may not have run exactly 10,000 meters, but he was very close.
-We all marveled at how fast Rupp ran in the indoor season.  Though he didn't medal at the World Indoor Championships, he sure looked like he was close to his peak when he reeled off a string of great races in the winter.  I thought this meant he needed some downtime before gearing up for the outdoor season.  I expected him to run fast this season, but in August or September, not at the end of May.
-On that same point, when gauging he chances at the record, I probably overlooked how much Rupp has improved in the last couple years. His old record came at the end of the season in a time trial race where he had Kenenisa Bekele to chase.  Considering that, it didn't seem likely that he could top that this early in the season.  But that doesn't factor in how much better 2014 Rupp is from 2011 Rupp.  Since the race in 2011 he has won a silver medal in the Olympics, set several American records, had two more years of training with the best runner in the world and increased his closing speed exponentially.
-This race might have been the death blow for anyone who hopes to see Rupp move up to the marathon.  At least in the next two years.  On a bad day, he is one of the five best 10,000 runners in the world and it looks like only Farah will be able to challenge him in 2016.
Silver: Kirani James/Lashawn Merritt
James squeaked out a win over Merritt with both men finishing in 43.97. After Saturday, James leads the overall series 6-5, with the two splitting their two meetings this year.
Their rivalry is good enough to stand out on its own. But it carries even greater weight because it is really the only sprint rivalry going. In the women's 100 and 200, Carmelita Jeter, Shelly-Ann Fraser-Pryce and Allyson Felix have traded off being injured, the women's 400 has too much parity and in the men's 100 and 200, the best two runners will practice with each other, but not race one another. In fact, the two greatest current rivalries involving men's 100 meter runners include guys who are retired: Yohan Blake vs. Carl Lewis and Tyson Gay vs. Jon Drummond.
This void has allowed James and Merritt to come to the forefront. Over the last two years they have kept everyone off balance. Just as one man seems to have an edge the other counters with a win. On Saturday, they went stride-for stride over the final 100 meters. Merritt was composed, while James flailed as they approached the line. They crossed the line separated by thousandths.
"When you say LaShawn and me have a rivalry you automatically cancel out all the other guys but they're in the background getting better each and every meet and no one's really focusing on them," James said. "It's not really a rivalry between me and LaShawn but it's a rivalry between the top 10 guys in the world."
That is nice of James to say, but there are two men, not 10, in the conversation for best 400-meter runner in the world. They are the only two capable of running under 44 seconds consistently. And they actually race each other.
Bronze: Kenyan middle distance women 
Mercy Cherono won the women's two mile and Hellen Obiri ran a blistering 3:57.05 to upset Abeba Aregawi of Sweden in the women's 1,500. Cherono and Obiri ran on the world record 4 x 1,500 team at the World Relays and both are spearheading a Kenyan middle distance squad that two months ago seemed destined to spend the next five years under Genzebe Dibaba's shadow. That has changed quickly after the first few meets of the Diamond League season.
It's clear now that Obiri and Cherono's fast 3,000 times from Doha (8:20 and 8:21, respectively) weren't just the result of a fast track or a one-off race. On Saturday, Obiri handled the fast pace set by the rabbits, and then by Jenny Simpson, and outkicked Aregawi off the final curve. The loss was Aregawi's first in over a year on the Diamond League circuit. Behind Aregawi, Faith Kipyegon, another Kenyan, finished third in 3:58.01.
The Kenyan resistance in the middle distances comes after a winter when Ethiopian Genzebe Dibaba was untouchable, breaking three world records over a three week period and winning the gold in the 3,000 at the World Indoor Championships. Suddenly, Kenya looks much stronger and much deeper than any other nation.
That depth will also hurt the United States, who has made serious inroads in the middle distances in recent years. Jenny Simpson and Brenda Martinez are competitive in any field, but the United States just doesn't seem to have the depth to compete in multiple middle distance events at the same time.
Saturday's 3,000 was a perfect example. Cherono, Viola Kibiwot of Kenya and Bahrain's Mimi Belete all finished in 9:13. Shannon Rowbury set an American record and placed fourth, but was over six seconds behind third place.
Maybe the United States's strength in the 800 and 1,500 will trickle up. Or maybe, more of the Kenyan talent will begin to flock to the roads, like it has with the men.
Surging….
-Torie Bowie
By far the least heralded member of the women's 200 field, Bowie shocked everyone and won the race from lane one. Her time, 22.18, betters her old personal best by almost four tenths of second. More importantly, she can now a claim a victories over Allyson Felix, Shelly-Ann Fraser-Pryce, Blessing Okagbare and Murielle Ahoure.
In his recap of the meet, Jesse answers the key question. Who is Torie Bowie?
She was a late addition to the field and available because she competed in Friday's long jump, the event that was her specialty until, well, right now. She was the NCAA champion in that event in 2011 and made the US team for this year's World Indoor Championships. Yesterday's win seemed insane at the time but she'd already shown speed this year; she was runner-up in the 60 at the Millrose Games and ran 11.10 for 100 meters at Florida's Tom Jones Memorial Invitational, good for #7 on the world list (as of June 1).
So the only reason she even got in the 200 was because she was able to hang around after the long jump the night before?  Kids, this is why you never leave a track meet early.
-Justin Gatlin
With the benefit of the Hayward Field tailwind, Gatlin ran a 9.76 to win the men's 100. The time converts to a 9.88 in still conditions so he actually ran faster in Tokyo when he ran 10.02 into a 3.5 m/s headwind. After the calculations, that time was worth a 9.78.
Got all that?
Meaningless conversions aside, Gatlin wasn't nearly as dominant as he was in Shanghai at his last Diamond League appearance. There, he won by two tenths of a second. His margin over Mike Rodgers on Saturday was only .04. Gatlin is clearly the best 100-meter runner in the world when Bolt and Blake aren't racing. I'm assuming he will race both of them (though not at the same time) at some point in the season. Until then, the men's 100 will be flat.
-Ayanleh Souleiman
It's been seven years since someone ran faster than 3:48 in the mile. When Souleiman's time of 3:47.32 popped up on the screen, the 7 looked a bit out of place.
Laps two and three were both run in 58 seconds, which didn't give any indication that the meet record was in danger. Then Souleiman jumped the field with 300 meters to go leaving Asbel Kiprop completely flat-footed. Silas Kiplagat was the only runner who maintained contact and finished with a personal best of 3:47.88. In total, six men broke 3:50. Kiprop faded and placed seventh in 3:50.26. Add him to the list of London gold medalists who struggled at Pre.
Differing circumstances, but interesting to note marquee Olympic champions finished 3-6-6-7-8 in events today. And Lagat 14th.

— Nick Zaccardi (@nzaccardi) May 31, 2014
  -Nijel Amos
Amos beat the best field of the meet, passing David Rudisha and Mohammed Aman in the last 100 meters of the men's 800. And he did it all while running like Benny the Jet trying to escape the Beast in the climax of The Sandlot.
Amos's victory was actually assured at the press conference before the meet when he let the world know how consistent his swagger has been. 
Finaly i am back online!! pic.twitter.com/myKzgAineg — David Rudisha MBS (@rudishadavid) May 30, 2014
Slowing….
-David Rudisha
That was odd. Not just seeing Rudisha lose, but watching him buried in seventh place after the entire field seemed to pass him in any instant.
Right away, he didn't look like his normal self. He ran a timid first 100 and had to squeeze in behind the rabbit. Once in his typical position, the race settled down and perhaps through sheer muscle memory Rudisha glided comfortably for the next 600 meters. He remained in the front and even responded to a challenge from Mohammad Aman to stay in the pole position with 100 meters remaining.
Then the rust of not competing for almost all of 2013 began to show. First Aman went by, then Amos and even Abubaker Kaki, who Rudisha regularly beat into submission in 2010 and 2011, sprinted past.
Rudisha's finishing time was 1:44.87, over a second behind Amos. A thorough defeat, but not unexpected considering the depth of the field. The other big names who were injured in 2013 (Yohan Blake, Sanya Richards-Ross, Allyson Felix) didn't begin their comeback with a race against a field that mimicked an Olympic final. He got blown out on Saturday, but his improvement curve should be sharp.
The race did give a glimpse at an interesting alternate reality. Say Rudisha continues to improve, but only manages to become 90-95% of what he was. Good enough to be a favorite in the Diamond League, but not a sure thing like he was in 2010-2012. Would this new, more vulnerable, Rudisha change his racing strategy? His front running is spectacular to watch, but if the gap between him and everyone else is negligible wouldn't it make sense to run a more traditional race? Surely a 90% Rudisha could still win gold medals if he just sat and kicked the last 100 meters. Lower degree of difficulty certainly, but could prolong his reign at the top.
All this will be moot in the next two months when he runs 1:41 and laughs at all of us who read way too much into his first race in 12 months.
-Mary Cain
During the indoor season, we had Doug Binder of Dyestat on the podcast. He said that the most remarkable part of Cain's career is that she never seems to have a bad race. Since the beginning of 2013 this is certainly the case. Race and after race she met and exceeded expectations, setting personal bests and breaking records almost every time she competed.
In the 800 on Friday, she finished eighth in 2:02.31. A remarkable time for a high school senior, and at the same time, the closest thing Cain has had to a bad race in her young career.
Like Rudisha, this was her first race outdoors. She is also coming off an injury that kept her out of the World Indoor Championships. On top of that, she is finishing up her senior year of high school. There are plenty of reasons why she wasn't going to be at her best this weekend.
She has yet to experience a setback and her response in the next few races will be interesting to track. Cain is scheduled to compete at the Adidas Grand Prix in New York on June 14th.
-Shelly-Ann Fraser Pryce
In true track and field fashion the head-to-head with her and Allyson Felix went sideways with Felix placing third and Fraser-Pryce finishing last in 23.06. Fraser-Pryce has been inconsistent in prior years and that looks to be the case this season. She won the world title in the 60 in March, withdrew from the Penn Relays in April, won the 100 in Doha in May and withdrew from the Shanghai Diamond League meet two weeks ago. She was never a factor in Eugene.
-Duane Solomon
His target was the American record of 1:42.60. He ended up running 1:47.40 and finishing last. Strangely, Solomon's world leading time from Mt. SAC almost survived the weekend. Amos was the only one who bettered it and he was only able to do it by two tenths. Who would have thought a non-paced 800 in April would be good enough for second in the Prefontaine Classic?
Winners who didn't win
-Stephen Sambu
Sambu, and all the other pacemakers for the 10,000, did a phenomenal job. The pace was metronomic with 1,000 meter splits of 2:40, 2:40, 2:43, 2:42, 2:41, 2:41, 2:42, 2:43 for the first 8,000 meters. Sambu ended up finishing the race and placed fourth in 26:54. Early candidate for rabbit of the year.
-Jenny Simpson
We know that athletes are more likely to experiment with their schedule in a non-championship year.  I think some of that is also carrying over into racing tactics.  Simpson was a prime example.  She went to the front after the rabbit stepped off in the women's 1,500 and dropped a 63-second third lap.  Simpson slipped to fourth in the home stretch, but ran a personal best of 3:58.28.  She is now only a little over a second off of Mary Slaney's American record of 3:57.12.
-Emma Coburn
While Simpson looks poised to grab the American record in the 1,500 this summer, her American record in the 3,000 steeplechase is in serious jeopardy.  Emma Coburn finished third on Saturday and set a personal best of 9:17.84.  That is back-to-back personal bests in Diamond League for Coburn.  Simpson's mark from 2009 is now only five seconds away.
-Shannon Rowbury
If there was going to be an American record set this weekend, the good money was on Rupp and Solomon. Like most, I overlooked Rowbury and her potential to take down the infrequently run 2 mile mark.  Relative to the 3,000, the 2 mile record was soft, 8:25 for the 3,000 and 9:21 for the 2 mile.  Rowbury ran a very strong race to finish fourth in 9:20.25.
Fashion Forward
–Maggie Vessey made the biggest fashion statement at the Prefontaine Classic with her rendition of an athletic Kachina Doll.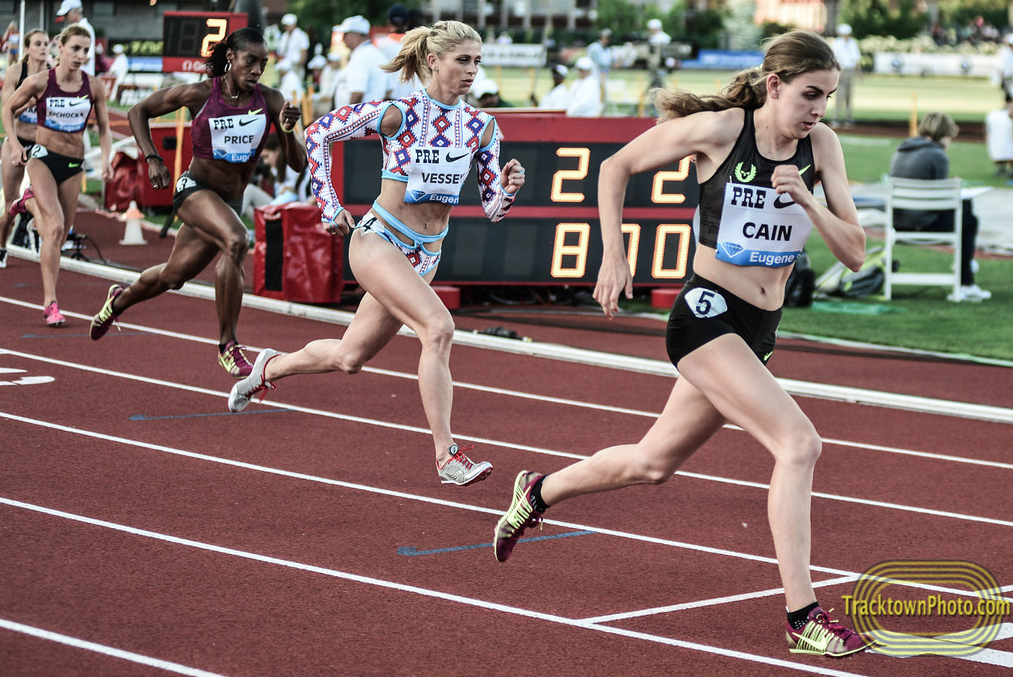 Photo: TrackTownPhoto
Will Claye was more subtle with his backwards hat in the triple jump. However, the accessory was overshadowed by the French announcers reaction to his 57-11 1/4 jump.
Under the Radar
-One day, the Prefontaine Classic will expand to four days and there will be time for the decathlon and heptathlon. Until then, the multi-eventers will have to settle for competing at the Hypo Meet in Gotzis, Austria. Trey Hardee won the decathlon with a score of 8,518 points and Great Britain's Katarina Johnson-Thompson edged Canadian Brianne Theisen Eaton 6,682 to 6,641 to win the heptathlon.
–Ben Bruce won the Rock 'n' Roll San Diego Marathon in a time of 2:23:50. Alan Webb paced Bruce through halfway in 1:09. There was also a half marathon in San Diego and Boston Marathon champion Rita Jeptoo finished second behind Birhane Dibaba. Rita Jeptoo, how dare you not peak for the Suja Rock 'n' Roll San Diego ½ Marathon!
The Week Ahead
The Rome Golden Gala meet takes place on Thursday. Set your fantasy line-ups and DVRs accordingly. Just kidding there is no way to DVR a shady webstream.
There are no start lists available as of this writing. Hopefully they figure that out by Thursday.