No Comments
Kipsang's streak, Felix in the 400, a high jump world record and other reasons to be excited for in 2015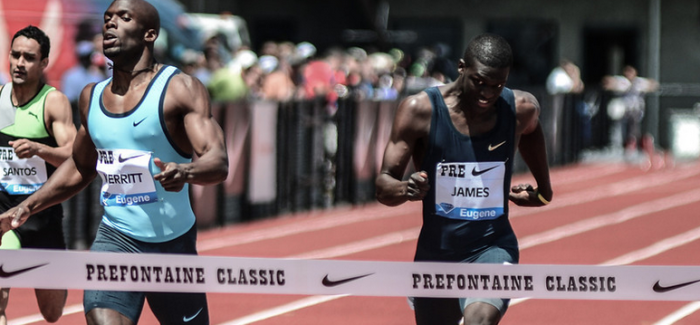 Kevin Sully | On 06, Jan 2015
Photo via TrackTownPhoto
Yesterday I went through five stories and topics I'm interested in following during the 2015 track and field season. If you missed it, it's not too late to catch up.
Today, I'll trot out five more, listed in no particular order. Before I do that though, here is a brief list of things I'm not interested seeing this year:
-Doping positives
-Bureaucratic dysfunction
-Races run under protest
-Races run on a beach
–Indoor races run during outdoor season
–Excessive celebrations during continental championships
-Continental championships
-Adrian Peterson clickbait (don't click on that!)
Enough of the negative, to the rest of the list!
-Barshim and Bondarenko High Jump Battle
What gets lost in the myriad of ideas about how to make track and field more popular is that it is usually the simplest aspects of the sport that attract the most attention.
Competition and records.
Put the two together and you have last season's high jump competition between Mutaz Essa Barshim and Bohdan Bondarenko. Neither ended up on The Today Show or leading off Sportscenter, but they did jump high enough to steal the spotlight at the New York Diamond League meet. Slowly, the rest of the world started to take note. It turns out people enjoy watching other humans jump really high in the air.
There is no indication that either will be any less impressive in 2015. Both are in their early twenties and they are so close to being the first to clear 2.46 meters. Barshim ended last year with the better mark and the Diamond League championship. However, Bondarenko racked up plenty of wins against his rival and was taking attempts at the world record throughout the summer. What will 2015 hold for these two?
It really is too close to call. As good as they both are, they can't be too preoccupied with each other. Three other jumpers cleared 2.40 in 2014.
-Can Wilson Kipsang continue his major marathon streak?
In a classic case of overthinking, several publications did not pick Wilson Kipsang as the men's marathoner of the year. Track and Field News chose Eliud Kipchoge. Athletics Weekly picked Dennis Kimetto.
If you want to say Kimetto's world record trumps everything (include his DNF in Boston), I can see that. In a two race season, it's hard to overlook a DNF in my opinion, but world records are rare so I'm able to understand the argument. What doesn't make sense is placing Kipsang behind, or at the same level, as Kipchoge. Kipsang won convincingly in London and New York City–two of three deepest marathons of the year.
Kipchoge ran 2:04:11 Chicago, but that was his only major marathon. His other result of the year came from Rotterdam where he ran 2:05:00. Both are spectacular times. Both are also times that Kipsang could have easily run if he had the opportunity. Instead, he ran against deeper competition and handled the fields in New York and London with relative ease.
But enough with last year (you can read my full "Marathoner Awards" post here), let's look ahead to what Kipsang is capable of in 2015.
He's won three majors in a row and, along with Kimetto, is opening up some space between himself and the rest of the preposterously deep contingent of East African marathoners. For awhile, it appeared that this newer, faster era of the marathon would also be marked with parity. Kipsang is the latest to put that theory to the test.
Adding two more major wins this year would be a remarkable feat. To do it, he will most likely need to beat Kimetto in London. Kimetto said previously that he will race in London. Kipsang is the defending champion so it's hard to see him opting for Boston instead.
If Kipsang escapes the deluge of 2:04/2:05 that will greet him in the United Kingdom, then he will still need to win in either Berlin, Chicago or New York in the fall. I'd guess he would choose to defend his title in New York, though he was faced with the same decision last year and chose not to go for back-to-back titles in Berlin.
Two wins next year mean he will have won five straight major marathons. That seems like such an unbelievable accomplishment in modern men's marathoning.
-Event switches
They rarely come to fruition, but they sure are fun to talk about. Genzebe Dibaba said she is focusing on the 5,000 in 2015, which is a surprise only because she set a world record indoors in the 1,500. The competition is much more challenging in the 5,000 so I'm not sure what prompted the desire to switch. Maybe in the Dibaba household accomplishments at distances shorter than 5,000 don't really count.
Ashton Eaton ran the 400 hurdles last year, but we knew that was just to scratch an itch. Fortunately for the hurdlers, he will be back to focusing on the decathlon next season. According to his coach, he has two multi-events meets scheduled, one at the Gotzis meet and the other at the World Championships. In his other competitions, he will focus on individual events.
There always remains a possibility that one of the American distance runners will hop into the steeplechase. The success of Evan Jager and Emma Coburn has provided a nice template of how to succeed at the Diamond League level.
The problem is, it is tremendously difficult to simply hop into the steeple. This isn't just a matter of running a few more (or a few less) laps, there is some athleticism involved which will eliminate quite a few distance runners right off the bat. The American distance is so crowded, particularly in the women's 1,500 and the men's 5,000, that it wouldn't be inconceivable for someone to find a path of lesser resistance in the steeplechase. The top spots in the both the men's and women's teams are locked up, but after that there is some space.
I'm sure other event swappers will pop up as the season rolls along. The one with the greatest impact would be Allyson Felix racing the 400 at the World Championships. I've always thought Felix was a natural fit at the 400. As I watched the women's 400 last season, I didn't see anyone that was completely out of Felix's league. The caveat, since 2011, has always been the effect that running a 400 has on her legs for the 200. There's no doubt that three rounds of the 400 is much more challenging than four rounds of the 100. If she wants to win two golds individually, the 200/400 double is her only option.
-Kirani James and Lashawn Merritt
Aside from the high jump, this is the best rivalry in track and field. James currently trails Merritt two golds to three in global championships. In Beijing, James will have a great opportunity to even his record.
What makes this rivalry great though, is that we will won't just have to wait until August to see them race. Unless they come down with a case of 100-meter runner-itis, neither runner will dodge the other in the lead up to the World Championships. With nothing on the line in 2014, they still squared off and had a nice back and forth highlighted by a down to the wire finish at the Prefontaine Classic.
On paper, the race for the gold medal in Beijing is a toss up. Their lifetime bests are identical, 43.74. James leads the career head-to-head seven wins to five. James is younger, but Merritt raced anywhere and everywhere in 2014 and never seemed to turn in a poor performance.
The 400 is a young man's race. Occasionally, like Michael Johnson, an older runner thrives after the age of 30. Johnson set the world record at 31 and won his last gold medal two years later. But Johnson is the exception. Most of the best in the event hit their peak before they are eligible to rent a car.
Merritt turns 29 this year. James, 23. Those numbers might be the most important of all, but since the 2011 season, these two have never been able to get any separation from the other.
-The World Championships
The existence of a championship meet is reason enough to be glad that we have turned the page on 2014.
A true global championship means that we won't have to compare Commonwealth Games victories to European Championships wins and try to extrapolate who had the best season. We won't wait in limbo to see how long an athlete chooses to compete before pulling the plug on their season and heading off on vacation.
Until 2018, we can assume all athletes will begin each season with the same goal in mind.
We will be spared from a mirage of a track season that looks promising on the horizon, but dissipates once you get close enough to examine it in detail. The word of the year will be "Beijing" and after a desert of track season in 2014, it is a welcomed sound.