4 Comments
SPEED Rankings #1: Sprints and Hurdles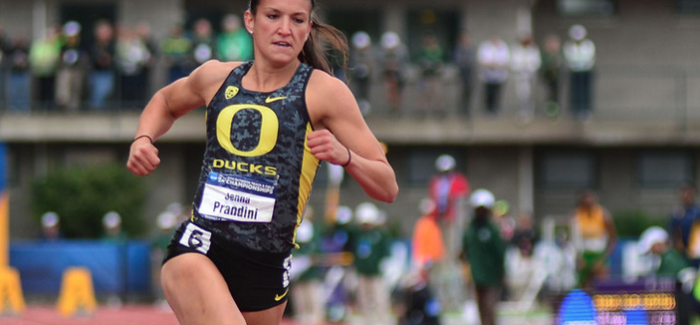 Kevin Sully | On 08, May 2015
With the end of the relay season and the beginning of the Diamond League we are forging into the heart of the track season.  There is still a long way until the World Championships, but we are starting to get a look at who the medal contenders are in each event.  Or, in the case of the women's 100 hurdles, which five ridiculously accomplished American women won't even make the team.
To that end, allow me to reintroduce the SPEED rankings. These are my unscientific top five in each running event on the track. It isn't based on yearly times or advanced statistics, rather it is a projected finishing order if the all the best runners in the world raced today.
Since it is not based on yearly marks, an athlete can appear in the top five without making an appearance in that event. For example, Allyson Felix hasn't run a 200 in 2015. But based on her other event performances this year and her history in the 200, she would definitely be in the top five if the best runners all lined up against each. Once the season picks up, and athletes begin competing more regularly, this won't be a problem.
I'll start with sprints/hurdles this week and then alternate with mid-distance/distance the next. I considered all results through May 7th, including many reliably unreliable relay splits. Remember, there are no medals handed out in May, so being ranked #1 right now may not be a good sign.
Men's 100
1) Justin Gatlin
2) Usain Bolt
3) Ryan Bailey
4) Asafa Powell
5) Richard Thompson
The most talked about individual event is going to be competitive for the first time since 2007. At least that the way it is shaping up with Gatlin running extremely fast relay legs this season and Bolt looking good, but beatable.
However, the event also looked up for grabs in the early part of 2012 and 2013 and Bolt made everything so very predictable by the end of the season. Bailey, despite the throat slash at the World Relays, still is a level below Bolt. Right now I'd put it at a two person race for gold. But there is plenty of time left in the season for Bailey and the others to improve and for Bolt and/or Gatlin to regress/get injured/false start.
Bolt's heavier racing schedule means he will tip his hand much earlier than in prior seasons. The days of him just showing up in August and winning gold have passed. Bailey and Gatlin's challenge is staying healthy throughout the season while still qualifying for the US team. Bailey's more immediate test is competing in Jamaica this weekend and coming out alive.
Women's 100
1) Veronica Campbell-Brown
2) Shelly-Ann Fraser-Pryce
3) Jenna Prandini
4) Murielle Ahoure
5) Elaine Thompson
This event really needs a top ten. Tianna Bartoletta, Torie Bowie and Carmelita Jeter could just have easily been included in the above group. VCB gets top billing for her strong anchor leg at the World Relays. Fraser-Pryce hasn't run a major 100, but I'm assuming she's fit and healthy after running a 200 last month. Prandini and Thompson have both run 10.92 and share the world lead. Americans known know a bunch about Prandini and next to nothing about Thompson. The mystery about Thompson grew when she was among the group of Jamaicans who were scratched from the World Relays shortly before the meet.
Men's 200
1) Usain Bolt
2) Justin Gatlin
3) Warren Weir
4) Nickel Ashmeade
5) Christophe Lemaitre
This is Bolt's stronger event, but Gatlin is closing quickly. Bolt ran 20.20 into a headwind in April, while Gatlin ran 20.10 with a +2.1. Gatlin wasn't known as a 200 runner until he ran a 19.68 in Monaco last year. I'm not sure if there was an official split on his 4 x 200 split last weekend, but he chewed up an awful lot of track in a very short amount of time.
Weir is slotted firmly in third. I'd move him up higher if Ryan Bailey was in the race because nothing powers you through a curve quite like unadulterated rage. There will be plenty of movement in spots four and five once the Diamond League begins.
Women's 200
1) Allyson Felix
2) Murielle Ahoure
3) Jenna Prandini
4) Shelly-Ann Fraser-Pryce
5) Torie Bowie
Like the women's 100, I'm assuming this list will be very fluid in the first couple months. Felix hasn't run a 200 this year. She almost did at the World Relays. Then, Tarmohgeddon happened.
She still rules over this event and I think the only way she loses her grip on the 200 is if she decides to concentrate on the 400. For the Americans, Prandini is the wild card. Can she hold her form after the NCAA season all the way throughout the summer? English Gardner, Prandini's former teammate at Oregon, did just that in 2013, winning the NCAA title, the US title and ending the year with a fourth place finish at the World Championships.
Men's 400
1) Kirani James
2) Lashawn Merritt
3) Javon Francis
4) Tony McQuay
5) Yousef Ahmed Masrahi
James is the clear number one after posting the top two times of the year, 44.22 and 44.31. His first head-to-head with Merritt was a lopsided victory. Merritt finished fifth in that race, but he looked much more comfortable in his anchor leg of the 4 x 400 at the World Relays.
In the past few years, it has just been these two and then a whole bunch of space back to third place. Maybe this is the year that the gap narrows. McQuay and Francis tied for the fastest split in the Bahamas with a 44.00 clocking. Francis has the advantage (or disadvantage depending on how you look at it) of being Jamaica's only medal hope in the event. He will have a clear path to the World Championships and won't need to worry about qualifying for the meet.
Women's 400
1) Francena McCorory
2) Sanya Richards-Ross
3) Shaunae Miller
4) Courtney Okolo
5) Allyson Felix
I showed restraint in only putting Felix fifth. I figured that is about as far as I could go with a runner who has only shown a passing interest in the event since the 2011 World Championships. Every interview I've read this year she says that this season is about the 200/400. If that's the case, then the top five will surely get flipped around.
For the time being, McCorory has the slight edge of Richards-Ross because McCorory had a convincing win at the Drake Relays and ran the fastest time in the world, 50.13. Richards-Ross closed the gap with her 48.79 split on the third leg of the 4 x 400 at the World Relays. The US women have never swept the medals in an Olympics or World Championships. With only three entrants it will be difficult to pull off in Beijing, but the addition of Felix would give them a legitimate chance.
Men's 110 Hurdles
1) Aleec Harris
2) David Oliver
3) Jason Richardson
4) Omar McLeod
5) Pascal Martinot Lagarde
I'm going with the hot hand (or trail leg) over experience. Harris won the US Indoor Championships and is undefeated in 2015. He has three of the five best times on the yearly list and won the toughest race thus far, the Drake Relays. Oliver was a close second in that race running 13.19. In terms of consistency and durability, Oliver is this generation's Allen Johnson. McLeod is the NCAA champion indoors and has run 13.21 outdoors. Who knows how well he will hold up in August after a long collegiate season. Martinot Lagarde was the revelation of 2014 and ran well in the indoor season.
Women's 100 Hurdles
1) Jasmine Stowers
2) Dawn Harper Nelson
3) Sally Pearson
4) Brianna Rollins
5) Queen Harrison
These rankings aren't supposed to just regurgitate the yearly lists, but Stowers's win at Drake was so enormous that she has to be at the top. She ran 12.40 and beat a field that included Harper Nelson, Kristi Castlin, Rollins and Harrison by .31. In a race that deep, that is a huge margin. It's hard to know where to put Pearson because the Australian track season starts so much earlier than countries in the northern hemisphere.
Men's 400 Hurdles
1) Bershawn Jackson
2) Michael Tinsley
3) Michael Stigler
4) Javier Culson
5) Johnny Dutch
Jackson has already run 48.61 and 48.87 on the season and, along with Jeremy Wariner, is the surprise of the year. After his repeated hamstring issues, I'm amazed that Jackson is still running so well. This top five is probably too US heavy, but that will change once the Diamond League season starts. Stigler has two of the four best times in the world and is another collegian who could earn a spot on the world championship team.
Women's 400 Hurdles
1) Zuzana Hejnova
2) Cassandra Tate
3) Georgeanne Moline
4) Kendra Harrison
5) Kaliese Spencer
What do you do with this field? All of the five listed above have some claim to the top spot. Harrison has the fastest time in the year, 54.94. Tate and Moline went 1-2 in the best meet of the year, Drake Relays. Spencer dominated last year and Hejonva dominated the year prior to that. I went with Hejnova because she is the reigning world champion and was clearly the best in a year that actually mattered (no offense to 2014). Even the American pecking order is hard to decipher. Lashinda Demus is the most decorated of the group and I think we will hear from Kori Carter this season as well.