No Comments
The Monday Morning Run: Bolt says farewell, Simpson surprises, Farah cruises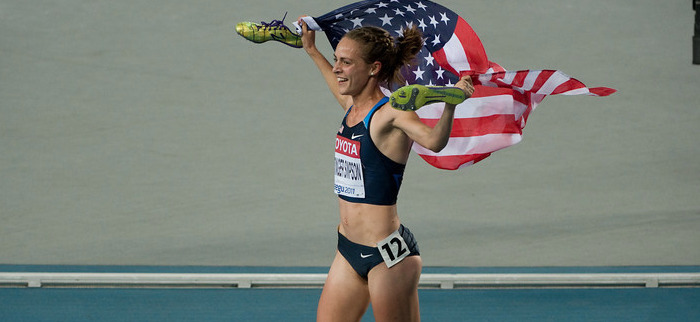 Kevin Sully | On 25, Aug 2014
Photo via TrackTownPhoto
There are only four sentences in the Usain Bolt's Wikipedia page about 2014. Barring another early morning trip to the dentist, there won't be anything left to add about this year. Bolt called it a season after his victory at a meet in Warsaw, Poland where he ran 9.98 and set a world indoor 100-meter record. The early end to the season means no Zurich for Bolt–the one race on his schedule that featured legitimate competition.
Organizers of the meet released a statement that said, "His coach Glen Mills is satisfied with his performances in the three competitions he took part in, but feels it is now time to shut it down while he is healthy and injury free with a view on his preparations for the 2015 season."
And thus brings an end to Bolt's 2014. Two individual races, one relay and not much else. The biggest meets of the year, the Diamond League finals in Zurich and Brussels, will go on without him. Currently, Bolt has more of an incentive to skip races than to run them. That's a problem for track and field. The risk of injury is too great and the potential earnings are too low to put him out on the track unless there is a medal on the horizon or a monster paycheck at the finish line.
As an athlete, he will only be judged by major championships. It's hard to find fault in Bolt doing whatever he thinks will best to prepare themselves for the few moments when his performance really matters. As an ambassador he will be measured by what he does to move the sport forward. In that sense, 2014 was a lost year.
To the rest of the The Run!
The Medalists
The top three performances of the week…
Gold: Jenny Simpson
Entering the 1,500 in Stockholm an American record for Simpson was a better bet than a win over an incredibly tough field. The race turned out slower than anticipated and Simpson took advantage and kicked down Genzebe Dibaba to win in 4:00.38. In doing so, she also beat European champion Sifan Hassan who took third.
In all the races last week I wondered how the Americans would respond to the long layoff during the Commonwealth Games and European Championships. In the 1,500, it looked like the rest paid off. Simpson scored her best win of the year (and one of the best of her entire career) and Shannon Rowbury took down some big names and finished fourth in 4:02.96.
Silver: Asbel Kiprop
The men's 1,500/mile is a jumbled mess this year. An extremely fast jumbled mess, but still a jumbled mess. Kiprop, Silas Kiplagat and Ayanleh Souleiman have all taken their turn at the top in the past four months. On Sunday, Kiprop reasserted his dominance.
He looked confident and composed even after Homiyu Tesfaye led a breakaway midway through the race. With 200 meters remaining, Tesfaye went from in the lead to dead last quicker in an instant and Kiprop began to emerge. At the top of the homestrech, Kiprop moved into contention and was joined by Aman Wote and Souleiman. Kiprop sashayed past everyone, glancing to the side several times to take the win in 3:51.89. His winning time wasn't that fast by 2014 standards. What was more impressive was the depth–12 men broke 3:55. Leo Manzano's 3:53.05 was only good enough for eighth place.
Bronze: Mo Farah
At the other end of the competition spectrum in Birmingham was the the men's two mile. Mo Farah won in a walk, beating the next closest runner by almost 100 meters and running a British record of 8:07.85. Sure he doesn't get credit for beating any of his rivals, but we can at least marvel at how he ran that fast without any help.
Greater than, Less than or Equal to
5,000 > Galen Rupp
We're all waiting for him crack a big one in the 5,000. His 12:58.90 from 2012 was a breakthrough performance, but now seems underwhelming compared to all his accomplishments in the 10,000. The pressure can't be helping. Virtually every time he lines up to run a 5,000 the race is billed as an American record even though he is still five seconds away from Bernard Lagat's 12:53. In Stockholm he pushed the pace until it was down to four men and then he was dropped over the last 600 meters.
He'll try again Thursday in Zurich.
Injuries > Tori Bowie
Perhaps we shouldn't be too hard on Bolt, Yohan Blake and all the others who are extremely cautious with the non-championship year. Tori Bowie's predicament shows why so many are hesitant to risk injuries. On Sunday, just three days after she competed in the 200 in Stockholm, she pulled up with a hamstring injury in the 100 and did not finish. Bowie had problems with her hamstring at the US Championships in Sacramento when she withdrew before the finals. Who knows if the back-to-back races are what caused the issue, but it's easy to see why the best in the world are eager to shut it down before problems arise.
1986 Johnny Gray > 2014 David Rudisha
How could this be? Gray's lifetime best in the 800 is more than 1.5 seconds slower than Rudisha and even if you compare their season's bests from '86 and 2014, Rudisha still comes out on top. Yet when the Kenyan took a shot at Gray's 600-meter record of 1:12.81 he was nearly a full second off the mark, finishing in 1:13.71 on Sunday in Birmingham. In fact, Rudisha's time was only good enough fourth all-time. Are we overrating Rudisha's potential or not giving enough credit to a record that has stood for 28 years?
The 600 seems to be a natural fit for Rudisha. He is the son of an Olympic quarter miler and began his career wanting to run the 400.
Also, we are probably downplaying Gray's mark. Of all the obscure records in track and field, it is one of the strongest and it comes from a runner who ran most of his 800s as if they were 600s.
Queen Harrison = Dawn Harper Nelson
At the beginning of the year, the 100 hurdles was supposed to be a battle between Brianna Rollins and Sally Pearson. Instead it has been Harrison and Harper Nelson who have traded big wins throughout the summer. Harrison won last Thursday in Stockholm. Harper Nelson countered on Sunday in Birmingham, outleaning Harrison as both runners finished well ahead of Pearson and Rollins. Looks like we were waiting on the wrong rivalry this year.
Ashton Eaton > Lopez Lomong
In arm wrestling……and in every track event under 800 meters……For the purposes of this discussion we will stick with arm wrestling where they two faced off for charity.
Round 3. @lopezlomong put up a good fight. In the end 10 Sudanese kids get water for life. https://t.co/tHN4Uil1D3

— Ashton Eaton (@AshtonJEaton) August 24, 2014
Surging….
-Muktar Edris
Time to learn another Ethiopian distance runner's name. Muktar Edris is twenty years old and before Thursday his fastest time in the 5,000 was 13:03. His PR is now 12:54.84 after his impressive run in Stockholm where he beat Caleb Ndiku and Thomas Longosiwa with a devastating last 100 meters.
-Asafa Powell
Powell's drug suspension is up. I have no clue why he is racing in a summer track meet in Austin, Texas. I also have no clue how he is able to run 9.87 where his closest competition is still somewhere near the blocks when Powell is finishing. I know very little about Asafa Powell.
-Allyson Felix
Forget that she didn't qualify for the final in the 100 at Birmingham, Felix got her first Diamond League win of the year earlier in the week in Stockholm.
-Men's High Jump
Still great fun to watch even when they don't attempt the world record. I had no idea that Mutaz Essa Barshim is only 23 and Bohdan Bondarenko is 24 until they mentioned it on the broadcast. Many more years of great high jump to look forward to.
Slowing….
-Genzebe Dibaba
Two losses over the past week In Stockholm her mistakes were mostly tactical–going out ahead of the rabbit, running the first 800 in 2:05, etc. That strategy worked indoors when she was time trialing world records, but with a deep field behind her she was reeled in by Jenny Simpson.
On Sunday, she was beaten again. This time in the two mile in Birmingham and this time it didn't have much to do with strategy. Mercy Cherono was just better and sprinted past Dibaba to win in 9:11.49. Dibaba faded to fourth in 9:14.28, well off her world record of 9:00.48 that she set in this winter.
-Pascal Martinot Lagarde
On a tear before the mid-season Diamond League break, Martinot-Lagarde has suffered two losses in a row. At the European Championships, he was third and on Saturday he lost to Orlando Ortega in Warsaw. Ortega did set a world indoor record in the event so at least Martinot-Lagarde was a piece of insignificant track and field history.
-400 Hurdles
Come back Ashton. The fastest men are only running in the 49s. You could win the Diamond League final.
The Week Ahead
It's Zurich on Thursday and the first meet of the Diamond League's finale. There is no Bolt in the 100, but there is Tyson Gay.
No Mo Farah in the 5,000, but hey you got Galen Rupp and all the best Kenyans and Ethiopians.
Lashawn Merritt will run in a Kirani James-less 400. No fun.
I'm interested in three events. David Rudisha will have one more chance this season to claim the top spot in the men's 800. If he can win in Zurich, all of his losses from this season will be chalked up to rust after his injury last season. To do it he will need to beat all the best from this year including Nijel Amos, Mohammad Aman, Pierre-Ambroise Bosse and Asbel Kiprop.
The women's 100 hurdles will be a test to see if anyone can keep Queen Harrison and Dawn Harper Nelson from winning. Sally Pearson will be there. As will Tiffany Porter and Brianna Rollins.
In the women's 1,500, Jenny Simpson will probably have her last shot at the American record this season. With a win, she also has a chance at winning the overall Diamond League race. If she does, she will receive a bye for the 2015 World Championships and the Americans will get four entrants in the 1,500.