One Comment
The Monday Morning Run: 5 Things I'm Excited for in 2015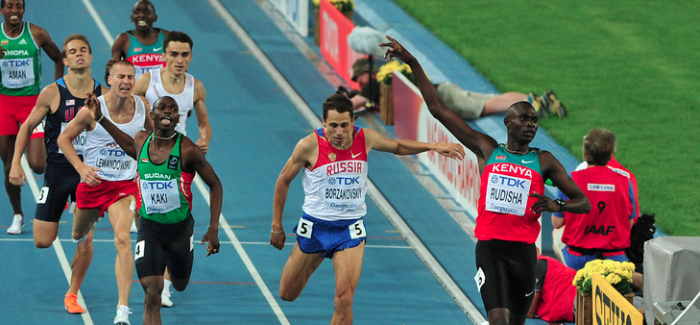 Kevin Sully | On 05, Jan 2015
The new year is the time for resolutions, predictions and prognostications. Here is a brief list of things I'm excited to see in the world of running in 2015. I'll post my first five today and then finish off the list tomorrow.
1) Can Mo Farah or Usain Bolt be beat?
Since 2011, only a false start has kept Usain Bolt from running the table on World Championship and Olympic gold medals. Mo Farah was one mistimed kick in Daegu away from notching a perfect record himself.
In individual events in Daegu/London/Moscow Farah and Bolt are a combined 10 for 12. That record explains why they are the two biggest stars in the sport, yet both are vulnerable in 2015.
We are entering a lead-up year to the Olympics, precisely the same time when both suffered their last major loss. Bolt appears to have hit his apex in 2009, with a strong performance in the last Olympics the only bit of evidence that contradicts his slowing. Farah reached his peak much later and looked more dominant in 2013 than he was in 2012.
Last year, he took on the marathon. His run in London wasn't a flop, but it also wasn't the wild success that he probably hoped for. What it did do is dramatically shorten his track season. He ran in a few races including the European Championships, but was never seriously tested. While he was gone, the 5,000 and 10,000 didn't take a great leap forward. His teammate, Galen Rupp, ran the fastest time in the world in the 10,000 and Caleb Ndiku had the best year of all the 5,000-meter runners. Neither of those results will worry Farah. He's never lost to Rupp and the 5,000 was filled with parity.
Bolt returns from his self-imposed sabbatical in a similar position. Justin Gatlin dominated the 100 and 200 in 2014, ripping off the fastest times in the world in the midst of an undefeated season. Gatlin's superiority also indicated a relatively weak year in the sprints. As things gear up for 2015, that should be welcome news for Bolt. Gatlin is strong, but it looks like he will be the sole challenger to Bolt.
Due to injuries, Yohan Blake didn't have even have half a season last year. Tyson Gay returned from suspension in July and ran like someone who hadn't raced in 12 months. The other top runners on the yearly list from 2014–Richard Thompson, Asafa Powell and Mike Rodgers–are all older than Bolt.
Outside of Gatlin, the person most likely to challenge Bolt is actually—wait for it—Warren Weir in the 200. He's only 25 and ran 19.82 last year. Eventually, he is going to gain weight that will give him even more power….or at the very least keep him from blowing off the track when he runs the curve.
As much as their 2014 seasons indicate that Bolt or Farah could lose in Beijing, I just don't see it. The "field" isn't strong enough in any of the four events to lead me pick someone else.
What about Gatlin you say? Understand this, if you are picking Gatlin to beat Bolt in the 100 you need two things to happen on the same night in Beijing:
1) Gatlin running faster than his lifetime best of 9.77 at the age of 33
and
2) Bolt running .2 slower than his personal best
I guess Bolt could false start again, so there is a third option.
Bolt did run 9.77 at the 2013 World Championships so maybe there is a tight window in the high 9.7s where Gatlin can squeeze past Bolt without having to run an otherworldly race. Odds are though if Bolt runs that slow it will be a slow race in general.
The 200 is similar. Gatlin ran 19.68 in Monaco, close to Bolt's 2013 world championship-winning time, but far from his best. I think we are going to see a fairly predictable pattern play out again next year.
Gatlin will get off to a hot start and maybe even beat Bolt in July. We will all overreact and wonder if this is the year Bolt fails to win an individual gold medal. Bolt will sharpen up in late July and ran a low 9.7 and 19.6 to beat Gatlin in Beijing. And then we will wonder what all the fuss was about.
2) World Relays Part Deux
World Relays was a great addition to the 2014 calendar. It functioned as the wild card to an otherwise predictable and drawn out non-championship season. One change to the line-up for 2015 is the substitution of the distance medley relay for the 4 x 1,500. But in a relay meet, any distance event will suffice. The magic is in the baton and the chaos that ensues once the gun goes off.
Last season's World Relays were so early in the calendar (first week of May) that I think people forgot how entertaining they were. At least in track terms. There was a world record about every other event, the US messed up virtually every handoff and there was a crash in the women's 4 x 1,500. What more could you ask for in two days?
Usain Bolt, Kevin, Usain Bolt.
That's right. The world's fastest man didn't show up in the Bahamas last year. That left the stage open for Yohan Blake who anchored Jamaica to two wins and convinced everyone that he was ready to close the gap on Bolt. That didn't happen. The meet also got everyone very optimistic about Shelly-Ann Fraser-Pryce's form which turned out to be fool's gold. Hopefully neither of these two examples deter Bolt and others away from competing. While the whole is greater than the sum of its parts, a relay meet really benefits from the presence of the David Rudisha's and Allyson Felix's of the world.
And isn't that the purpose of an early season relay meet, or any preseason competition? It's a chance to get a glimpse of the stars and then speculate wildly about what their performance means for the coming season.
3) Ryan Hall makes his returns to the marathon……in Los Angeles
If Hall is going to win a marathon, this is the race. Though there will be foreign competitors, the race is a step below the World Marathon Majors and may not be as competitive as next year's Olympic Trials. Only twice in history has the winner run in Los Angeles run faster than 2:09. The last three years have had winning times of 2:10:37, 2:09:43 and 2:12:12. So Hall's attempt will be a good test in a field that he is capable of beating. That is, if he is the Hall of 2007- early 2012 and not the Hall of the past three years.
Despite the objective nature of measuring success in running, it's still very difficult to tell when an athlete is done. We all struggled with this when Alan Webb's times slowed down and his performances became more erratic. After he missed making the Olympic team in 2008, Webb's times became a secondary concern to where he placed on the American mid-distance pecking order. Sure, even during his worst races you could envision him running 3:34 again. The problem was, running 3:34 for 1,500 in 2011 in America didn't get you as far as it did in 2003. Ultimately, his times stagnated so we never got to see how Webb stacked up in the super deep American mid-distance scene that he helped create.
For Hall, the same problem exists. At the international level, the value of a 2:06 in the marathon has depreciated greatly since he ran that time in 2008. Even if he can return to the consistent form he showed in the late 2000s, he will have trouble cracking the bus loads of Kenyans and Ethiopians who are laying down faster and faster times.
And perhaps that is why Hall is choosing to run Los Angeles this spring and not Boston or London. He knows he doesn't need to be what he was to compete for a spot on the 2016 Olympic team. The gap between Meb and everyone else in the United States is wide and a 2:09 might just be good enough for a runner-up place at the Trials. So instead of chasing a fast race, and the 2008 version of himself, Hall will compete where he is among the favorites and get the chance to run at the front of the pack.
4) Bounceback year for David Rudisha
Atop my New Year's resolutions for 2015, is my vow to stop comparing David Rudisha to Michael Jordan. But you won't mind if I do it one more time, will you?
At their most spectacular, both made their competitors look like they were playing a different sport entirely. For Rudisha, this transcendent quality was most apparent at the 2012 Olympics, but it surfaced in his undefeated 2010 season and throughout a string of overwhelming victories in 2011 and 2012. Then, he got injured and missed the 2013 World Championships. When he returned last season, he struggled. Like Jordan, who diversified his game when he returned from retirement, I thought Rudisha could change his front running style in 2014 to make up for the time lost to injury.
But track isn't basketball. You can't hide from speed. Tactical changes play a much smaller role.
Rudisha tried running with the pack and looked ordinary. His gold medals and world record meant very little when Nijel Amos blew by him several times on the homestretch. Still, he kept racing. It looked like he was trying to race his way back into shape, which is very difficult to do against any competition let alone top notch Diamond League fields. He was fifth in Monaco, seventh in Eugene, third in Zurich and second at the Commonwealth Games. His only victories came in races without the best runners.
There were plenty of runners who had rough 2014 either because of injuries of just underperforming. None had as far to fall as Rudisha. How he responds in a championship year will be fascinating to watch.
5) A Historic Medal for the US Women
The American women's track team has scary depth. They can conceivably medal in every running event from the 100 through the 3,000 steeplechase. The emergence of the middle distance has been well chronicled. The 5,000 and 10,000 look out of medal range unless the race gets really screwy, but the 800 and 1,500 have evolved to the point where a US medal is just as realistic as it is in the 100 and the 400.
That fact is the result of the US being in a bit of a transition phase in the sprints events as well as the upswing in the quantity of middle distance runners America is churning out. The US had six women break two minutes in the 800 in 2014. Add in Alysia Montano and there at least seven women who could make the world championship team. Ajee Wilson had the fastest time in the world in 2014, Brenda Martinez won a Diamond League race (and has a bronze medal from Moscow), Laura Roesler dominated the NCAA meet and finished only behind Wilson at the USA Championships, Chanelle Price won the World Indoor Championships. If I only could watch one event from the US Championships this year at Hayward Field, I'd watch the women's 800.
There is a bit more space to the make the women's team in the 1,500. Jenny Simpson won the Diamond League so she has a bye to Beijing. Whoever fills out the next three spots will also have a chance at a medal. Shannon Rowbury broke four minutes twice last year, Brenda Martinez ran 4:01 while still running quality 800s and Mary Cain won the World Junior Championships title in the 3,000.
But the US has succeeded in the 800 and 1,500 before. The depth may be unprecedented, the medals aren't.
It is a different situation in the steeplechase.
The event hasn't been around as long so the stats aren't as significant. No American woman has medalled in the Olympics or World Championships. 0-5 in World Championships and 0-2 Olympics. Emma Coburn should change that this year. She is coming off a 2014 where she broke the American record, won a Diamond League race and finished in the top three in four others.
Her performance could cap off an American performance at the World Championships that stands out for not just the stars at the top, but for its depth and breadth.