No Comments
The Weekend's Best Matchups: Great Edinburgh Cross Country and more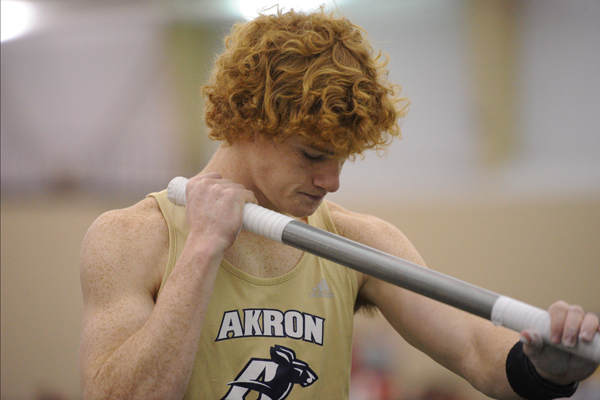 Jesse Squire | On 08, Jan 2015
The men's pole vault may supply the next great North American rivalry.
The year has barely started and we've already got some great competitions lined up this weekend. The Great Edinburgh Cross Country supplies most of them (and you can see it live on USATF.tv) but it's far from all. What matchups should you be watching this weekend?
Shawn Barber vs Sam Kendricks
Men's Elite Pole Vault, Akron Pole Vault Convention
Stile Athletics Field House, Akron OH
Saturday, 7:00pm
Webcast link
These two rivals know each other well since they've repeatedly banged heads on the collegiate circuit and account for all of the last three NCAA titles. Kendricks left Ole Miss early to turn pro while Barber is still competing for Akron, and last week Barber broke his own Canadian Record with a 5.87 meter (19′ 3″) clearance (plus a new collegiate indoor record). Expect this to be a years-long rivalry since Kendricks is an American while Barber competes for Canada. Another item to watch: the Ohio all-comer's record is 5.73 meters (18′ 9½"), and both are quite capable of breaking it.
Old men vs the world
Men's 4k race, Great Edinburgh International Cross Country
Holyrood Park, Edinburgh SCO
Saturday, 1:06pm local time (8:06am ET)
Event website | Runnerspace coverage
Live webcast at USATF.tv
Now in its eleventh year, the Great Edinburgh International Cross Country is possibly the most interesting of all the European cross country affairs. Certainly it's the most inventive, constantly reshuffling its lineup of races in an attempt to stay fresh and relevant.
The "short course" men's race puts together some tremendous track talent: Asbel Kiprop and Silas Kiplagat, who traded 1500 meter wins on last year's Diamond League circuit; Thomas Longosiwa and Edwin Soi, two of 2014's four sub-13:00 runners; Japheth Korir and James Magut, winners of the 2013 World Cross Country and 2014 Commonwealth 1500 meters respectively; and Jarius Birech and Barnabas Kipyego, the world's top two young steeplechasers.
Here in the US, eyes will be locked on the three American entries. Garrett Heath is the defending champion and pulled off one of the biggest upsets of 2014 when he beat a group of runners every bit as good as this year's crop. The other two, Bernard Lagat and Dathan Ritzenhein, are long removed from their collegiate cross country days but are still capable of winning this thing. "Ritz" won the NCAA title eleven years ago, and won the Campaccio Cross Country in Milan on Tuesday. Lagat was third at the NCAA cross country way back in 1997 (behind Meb Keflezighi and Kevin Sullivan, now the coach at Michigan) but he is an ageless wonder and you just never say never with him.
US vs UK vs EU
Men's and women's long races, Great Edinburgh International Cross Country
Saturday, 1:30 and 2:02pm local time (8:30 and 9:02am ET)
The "long course" races in Edinburgh are your basic traditional cross country affairs: 8k for men and 6k for women, and team competition is just as important as the individual competition. Here the teams are from the USA, Great Britain, and Europe.
The European teams were selected from last month's European Cross Country Championships, so they're athletes who are in their top form. The US team was mostly selected from last month's USATF Club Cross Country Championships, which means it's the best who made themselves available and not necessarily the best the USA has to offer. That means the men's team competition could be close between the USA and the Europeans. Chris Derrick (USA/Bowerman Track Club) is a heavy favorite to repeat as individual champion.
The British women's team might be the favorites based on their dominant win at the European Championships. Their runner-up, Kate Avery, is back in New York on the Iona College campus, which makes them a bit more vulnerable. The UK's Gemma Steel has been on a tremendous roll over the last year and is a heavy favorite to win; if she gets a push, it's most likely to come from Fionnula Britton (Europe/Ireland) or Tara Erdmann (USA/Nike Oregon Project).
USA vs Europe
International Mixed Relay, Great Edinburgh International Cross Country
Saturday, 10:40am local time (5:40am ET)
This is a new event at the Great Edinburgh Cross Country, patterned after the English Cross Country Relays, a popular annual event that has grown and grown since it was first held in 1985. This is a short and intense race, a 2×1000 meter affair with mixed teams from the USA, Great Britain, England, Scotland, Wales, Italy and Ireland. This will be the first of the day's elite races and long before the BBC broadcast begins, so we won't be able to see it live, and that's too bad because this is going to be a lot of fun.
The US team is a pair of top-notch milers, Heather Kampf and Riley Masters, and they look like the strongest pair. But this race combines three factors of uncertainty: it's early in the season, cross country, and a relay. So who knows exactly how it will turn out. Scotland's Laura Muir is probably the best woman in the field, and Britain's Ross Murray might be the best man.
Bernard Kipyego vs Geoffrey Ronoh
Men's race, Egmond Half Marathon
Egmond aan Zee, Netherlands
Sunday, 12:25pm local time (6:25am ET)
Race website
Kipyego is sitting on a three-race win streak, including October's Amsterdam Marathon (2:06:22) and he owns a half marathon PR of 59:47. He's the favorite, but Ronoh is a fast-improving newbie who could challenge him. Ronoh won his first three major races, including a half marathon in 59:45 and another where he was supposed to be a pacemaker but didn't drop out and won.