No Comments
National Championships preview – The 5000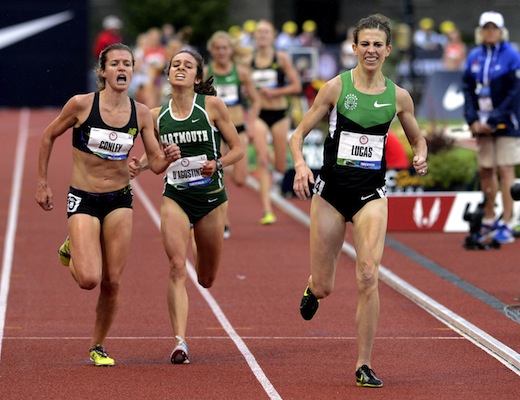 Pat Price | On 23, Jun 2013
photo: Track and Field photo
Our 2013 USA Track and Field Outdoor National Championships coverage continues here with the Men's and Women's 5000 preview. Make sure and bookmark the Daily Relay Coverage of the 2013 USA Outdoor Track and Field Championships and follow @DailyRelay for updates!
Women's 5000
Final: Sunday, 3:22pm Central
Standards: 'A' – 15:18, 'B' – 15:24
The forecast looks a little bit different than it has the past few days here in Des Moines. It's been raining and looks to continue all afternoon. Temps should be in the low 80's and the humidity has subsided a little, as well. Will that change the nature of the 5k's? Quite possibly.
American 5000 meter record holder, Molly Huddle, is back and running well. She will not leave it to the last lap. Expect her to make another USA team, while stringing the field out from at least a mile to go.
Jenny Simpson has a well-earned pass in the 1500 and has chosen to compete in the 5000. Is she planning on doubling in Moscow? She hasn't said, but she'll be fresh and in the mix. Fun fact: She was born in Iowa. Also fresh will be Kim Conley, Julia Lucas and Abbey D'Agostino. Conley looked great at Pre and has been in the midwest a few weeks, preparing for the heat. I have a hard time not putting her on the podium. Lucas had a rough go at Pre, but said after the race that her training was going well and that she just had an off day. If the pace dawdles, count on Lucas to make a move. D'Agostino is hot right now. Coming off an excellent NCAA season, that ended with her holding a championship trophy, she'll be poised to improve on her fifth place finish at the trials last year.
A few more competitors that will certainly be in the mix are Brie Felnagle, Chelsea Reilly and 2012 trials champ, Julie Culley. Felnagle and Reilly are having their best seasons as professionals and could make the squad. Felnagle has developed a strong kick that could come in handy if she's close with a few laps to go. And Reilly has shown her prowess to close, as well, in winning a roller derby-esque 3000 at indoor nationals. Culley has not been in the form she was last year, but will certainly be in the hunt and looking to defend her title as national champ.
Wild Cards. Will Shalane Flanagan double back? Will Shannon Rowbury change her mind and show up today? Same with Katie Mackey? No news yet, but count on one of these three to show up and be in the front.
If I'm pressed to make picks, I'd go with D'Agostino, Conley, and Huddle.
Men's 5000
Final: Sunday, 4:30pm Central
Standards: 'A' – 13:15, 'B' – 13:20
We have yet to see Bernard Lagat this weekend. It feels kind of odd, with his history of doubling. He'll be ready to roll this afternoon and he's a lock to make the Moscow team. In going for the win, he'll have his hands full, with a returning Galen Rupp. Rupp outkicked Lagat last year in Eugene for his first 5000 title and doesn't want to give that title back. Lagat is a tough competitor and will do every thing he can to take it, so expect a battle between these two.
Also doubling back is Lopez Lomong. After the 1500 prelims, he said he would not run the 5000, but after making the team yesterday, he said he would. Will his legs be zapped from two rounds of the 1500 and the heat? We'll see. Ben True will take his chances doubling back as well, after finishing in a strong, yet disappointing fourth place in the 10,000 Thursday.
Some fresh guys that could surprise today are Andrew Bumbalough, Chris Solinsky and Hassan Mead. Bumby has been knocking on the door, and after finishing fourth last year at the trials (behind Lagat, Rupp and Lomong), he would like nothing more than to get on the podium today. Solinsky is coming back. He is getting closer and is always in the conversation, when fit. We'll see his fitness level today and should expect him to charge from 800 or so out, if he's in it. Mead could surprise people. He's having a great season and has shown he can run with the best. People forget how good he was before he had the collapsed lung, but he has returned from that stronger than ever and will be pushing to make the Moscow team.
A few other names to mention are Ryan Hill, Elliott and Garrett Heath. Hill is bouncing back from injury and ran strong in the 1500 prelims, but didn't quite have enough to make the final. That may have been a blessing in disguise, as he's had a few days rest and has a future in the 5000. Let's not forget, he finished fifth at the trials last year, closing very strongly. Another 50 meters and he would have been in London. The Heath bros have been strong as well. Both have been in top form this year and could surprise. Garrett's Saucony teammate, Jeff See, could also be a factor.
It's hard to pick against Lagat, Rupp and Lomong, but I'll spice it up and say Lagat for the win, Rupp and Hassan Mead rounding out the podium.
Note: Both races will be broadcast on NBC