2 Comments
The Mount Rushmore Milers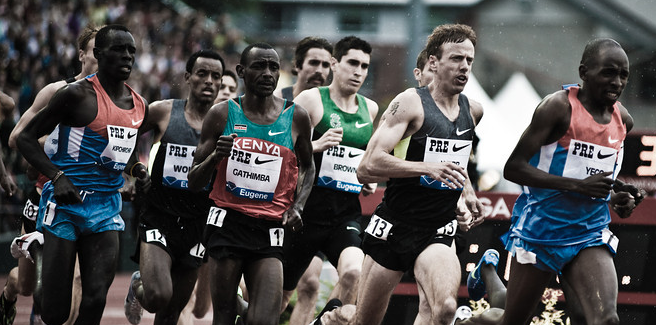 Photo Via TrackTownPhoto
"The mile has a classic symmetry. It's a play in four acts…"
– John Landy
With the retirement of Alan Webb, it seems appropriate to reflect on the great milers in U.S. history. While there is a monument in South Dakota that commemorates the best that have held the Office of the President, we unfortunately do not have a similar way to memorialize the great American milers.
Times. Titles. Medals. Longevity. Influence. All of these are important criteria in creating a legacy. Let's see if we can pick the four best men to be carved into a fictional granite face, hereby calling this selective group, the "Mount Rushmore Milers."
The Phenom:
The conversation of great U.S. milers usually starts and ends with Jim Ryun. Breaking four minutes in the mile in high school was the beginning of his legacy. It was the first time in U.S. history that a high school student had broken 4 minutes for the mile and impressively, he accomplished this feat as a junior, running 3:59.0. This same year Ryun qualified for the first of what became 3 Olympic teams (1964, 1968 and 1972). He then bested his junior mark as a senior in high school, running 3:55.3 — an American record at the time and a U.S high school record that lasted for 36 years until Alan Webb came along in 2001. This was an incredible race for Ryun as he defeated Peter Snell, the reigning Olympic Champion and former world record holder.
It is not an exaggeration to say that Jim Ryun was the most precocious teen in U.S history, not only in track and field, but in any sport. ESPN.com ranked him as the best high school athlete ever over Tiger Woods, Lebron James and Lew Alcindor (Marion Jones was rated ninth).
In 1966, at age 19, Ryun set the world record for the mile, running 3:51.3 and then reset the record the next year in 3:51.1. He still holds the American junior (19 and under) record, which has continued to hold the test of time for over 45 years. Ryun was ranked #1 in the world in both 1996 and 1997 according to Track & Field News.
Ryun ended up holding the American record from 1965 until 1981, resetting it an additional 3 times along the way. Ryun also owned the world record from 1967 to 1975 when Filbert Bayi broke it.
Dr. Consistency:
It was Steve Scott who broke Ryun's American Record and then went to hold it for the next 26 years, ultimately lowering it three times and arriving at 3:47.69. Scott also once held the U.S. indoor record the mile, running 3:51.80 in 1981.
Scott's best performance on an international stage came in 1983 in Helsinki where he won the silver medal in the World Championship. Unfortunately, he did not race in the boycotted games in 1980 when he was in perhaps the prime years of his career.
Scott was the king of the sub-4 mile, breaking the mystical barrier 136 times in his career (some sources say 137 times). Over his career, he won six USA outdoor titles at 1500 meters, four USA indoor titles and qualified for three straight Olympic games, with a best finish of 5th in the 1988 Seoul Olympics. According to his USATF Hall of Fame bio, Scott was rated "#1 in the U.S. on 10 occasions and 11 times placed him in the top-10 milers worldwide."
Scott dominated the mile for an entire generation.
The Tactician:
Bernard Lagat has it all–longevity, U.S. titles, medals and times. Even when you do not include his times and medals when he was a Kenyan citizen [3:26.34 1500m, 3:47.28 mile, silver medals (2004 in Athens Olympics, 2001 in Edmonton World Outdoors and 2003 in Birmingham World Indoors) and bronze medals (2000 in Sydney Olympics)], Lagat's career as a U.S. citizen is quite staggering. Perhaps most impressive is his ability to continue to be a force on the international stage, years after achieving many of personal bests. His guile and experience more than made up for the perceived lost in fitness.
Lagat is a savvy racer and has the hardware to prove it. His dominance in the U.S. is unprecedented. He was the first American to win the gold medal in the 1500m, doing so in Osaka in 2007. Perhaps more impressive was ability to do so even after being 3rd at the U.S. outdoor championships. Lagat added the bronze medal in 2009 (World Championships in Berlin) to his name, representing what will most likely be his last time he stands on the podium for the 1500m at an International championship.
Adding to Lagat's legacy is the fact that he is the American record holder in the indoor mile (3:49.89), indoor 1500m (3:33.34), outdoor 1500m (3:29.30) and is 3rd all-time in the outdoor mile in 3:48.38.
Lagat was able to run championship races better than anyone else.
Mr. Grit:
Alan Webb always gave it his all. Just like Jim Ryun before him, Webb's resume includes both the U.S. high school and American record. His times of 3:53.43 and 3:46.91 have been not touched since being achieved in 2001 and 2007, respectively.
Webb made his first and only Olympic team in 2004 by winning the 1500 at the U.S. Olympic Trials. Webb then became the back-to-back 1500m US champ in 2005 to make the World Championship team where he would finish 9th in Helsinki.
Webb had a magical 2007, perhaps the best ever for an American miler in terms of the times he was able to achieve and U.S. titles won. He started off the year wining the USA indoor championship. He then defeated Lagat in the 2007 U.S. Championships, the very same year Lagat went on to become the World champion in both the 1500m and 5000m runs. The U.S. Championships would be his 3rd and final U.S. title at 1500 meters. Webb continued his incredible 2007 by achieving a 3:46.91 American Record, currently the 8th fastest time of all-time (globally), and a 3:30.54 in the 1500m to win the Paris Diamond League meet (3rd all-time in U.S. record books).
Webb has a well-earned spot amongst the Mount Rushmore Milers.
Next question: where should the Mount Rushmore Milers be sculpted? The cities that have been the site of the most American Records are Cambridge, MA with five records and then Compton, Eugene, New York and Oslo all with three records.
Honorable mention: Jim Beatty, Dan Bowden, Matthew Centrowitz, Dyrol Burleson, Marty Liquori, Leo Manzano, Sydney Maree, Wes Santee, Jim Spivey.