5 Comments
The Monday Morning Run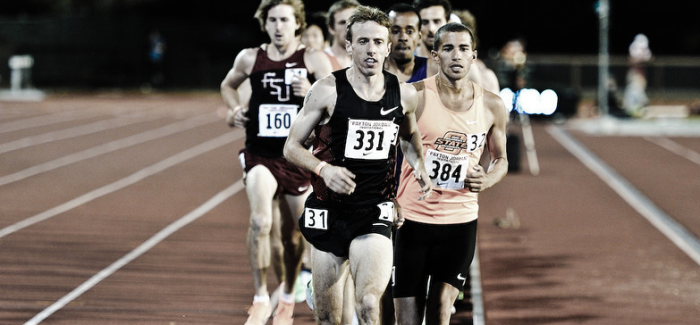 Photo courtesy of TrackTownPhoto
We will get to Galen Rupp, Mary Cain and all the other news of the week shortly. First, some thoughts on Alan Webb, who announced this week that he will retire from professional running after the Millrose Games and focus on a triathlon career. Some reminiscing is in order, especially since nothing makes you feel old quite like an athlete retiring who you have followed since they were 16.
-If you just started paying attention to American middle distance running during the last five years, it would probably be difficult to understand how largely irrelevant the United States was in the years leading up to Webb.  The expectation wasn't that an American or Americans would medal in a major championship or place high in a big European meet.  One person making a final was rightly characterized as a victory.  Webb didn't win any medals, the only legitimate critic of his career, but he did contribute to the success that would come in the later part of the 2000s. His 3:53 in high school and 3:46 American record, not to mention his 3:30 win in Paris or his brush with glory in the 2005 World Championship, were glimmers of hope in an otherwise bleak era.
-Equally difficult to explain is how big of a star Webb was in 2001.  After he broke the high school mile record, interest was so high that SportsCenter cutaway live to show his race at the US Championships as Webb attempted to qualify for the World Championships.  Granted, this was a time before Tim Tebow and Richard Sherman were enough to fill up two hours of ESPN by themselves.
-In a way, Webb paid a heavy toll for being the one who lead the breakthrough.  Watching him race in major meets you got the sense that he felt he had to do something otherworldly to medal. That somehow running a solid race wouldn't be enough to overcome the fact that he was an American and Americans didn't win medals in the 1500.  Maybe that is why his tactics were so bizarre and his approach was so erratic.  When he succeed, he looked relieved.  When he fell short, his frustration was visible.  If he came ten years later–after Matt Centrowitz, Leo Manzano and Nick Symmonds showed that there was a template for how Americans can do well in major championships–could he have had a signature finish in the Olympics or World Championships that would match his record-breaking times?  Interestingly, the American group that did eventually win medals did so by simply running consistently through the rounds and staying composed during the final.
-Over-analyzing Webb was sport. His rise coincided with the Internet boom and there wasn't a runner that saw more scrutiny than him.  Most of this comes with being so good at a young age. But part of it also has to do with Webb's combination of superhuman talent with a psyche that was surprisingly…..human.  He wasn't machine-like.  Even when he was at his best he was still prone to the same ups and downs and self-doubts that any runner experiences.
-Triathletes have a way of galvanizing runners. So, in a bit of irony, even those who were most critical of Webb will surely line up behind him as he tries to qualify for the Olympic team in 2016.
The Medalists
Gold: Galen Rupp
On Saturday, Rupp ran 8:07:41 in the two mile and set another American record. The 8:04 world record actually looked in play when Rupp passed the mile mark in 4:02. He slowed over the final 800 meters, yet he still managed to take a significant chunk off Bernard Lagat's 8:09:49. Now that he has set two records during indoors, three questions still remain for Rupp this winter:
1) Can he set the American record in the mile?
He came up short last season and ran 3:50.92 . He looks faster than ever this season and will take another crack at the American record of 3:49.89 in just under three weeks.
2) How will he fare against Bernard Lagat at the US Indoor Championships?
While Rupp was running 8:07 and erasing Lagat's name from the record books, Lagat won the 3,000 in Glasgow in a tactical 7:49.83. Both have said they want to run in the World Indoor Championships in March, which means they both must run at the US Indoor Championships in Albuquerque. Lagat has owned Rupp in that meet, although the two haven't faced each other in Albuquerque since Rupp kicked down Lagat in the 2012 Olympic Trials 5,000.
3) Can Rupp win gold in the World Indoor Championships?
He shouldn't have trouble qualifying in both the mile and the 3,000. Not many of the big name Kenyans and Ethiopians have raced yet this season so as it stands right now, Rupp is the man to beat.
Silver: Tsegaye Mekonnen Asefa
The 18-year-old won the Dubai Marathon in 2:04:32. Again for emphasis. The 18-year-old won the Dubai Marathon in 2:04:32. If you want to be skeptical about his age that is completely understandable given the history of creative math to derive one's age in East Africa. The incredible time alone is enough to give you pause.
In the absence of actual evidence though, let's roll with the fact that a first time marathoner ran a 2:04. Whether he is 18, 28 or 38 that makes him a name to watch in all of his races from here on out. More impressive than his time, since a 2:04 is becoming commonplace in Dubai, was his margin of victory. Markos Geneti finished second and was over 40 seconds behind Mekonnen.
He may not be able to replicate his time, but winning Dubai is typically a sign of future success. The last two winners, Lelisa Desisa and Ayele Abshero, were both top 10 marathoners in the world last year.
Bronze: Mary Cain
For the first time, another teenager is mentioned before Cain! Not to worry though, the way Cain has been running, I think she will reclaim the "most promising teen" title soon. On Friday night at the BU Terrier Classic, she won the mile in 4:24.11 narrowly missing the world junior record of 4:24.10. The time was a four second personal best, which means that Cain broke her own U.S. junior record.
Cain did all this while beating a quality field. She easily handled the best distance runner in the NCAA, Abbey D'Agostino, as well as the Oregon Project's Jordan Hasay. It is easy to knock some record attempts as just time trials. But Cain's first two races this year have been much more than races against the clock. In the 1,000 last week she was pushed to the wire by Treniere Moser. This week the margin of victory was much larger, but the field was pretty good for an American indoor meet in January.
When will Cain be tested, and by whom? Last week I mentioned the match-up against Anita Hinriksdottir at Millrose Games will be a good barometer for Cain against another phenom. Also, they may not get a chance to race this winter, but keep your eye on Kim Conley who also ran 4:24 in the mile over the weekend.
World Record Watch
Renaud Lavillenie still has a ways to go before threatening Sergei Bubka's 6.15-meter vault from 1993, but on Saturday he set a new personal best and a French national record of 6.04 meters. Take a look, it appears he had room to spare.
That was Lavillenie's first attempt at that height as well. Only Steve Hooker and Bubka have vaulted higher indoors.
Surging…..
James Dasaolu
Competing in the Glasgow International Match, Dasaolu won the 60-meters with a time of 6.50. Jeff Porter, who won the hurdles earlier in the meet, finished third in 6.75 meaning the United States either couldn't find a sprinter to fly to Scotland or the budget is so tight this season that they needed to double up on some events. In either case, not a good look for the United States in the team competition where they finished behind the Commonwealth squad and Team GB.
Spring Marathon Announcements
This past week the London, Tokyo and Boston marathons announced their complete fields. Tokyo won't have reigning champion Dennis Kimetto on the start line (he will be in Boston), but they do have the makings of a competitive field. Tadesse Tola has the fastest personal best (2:04:49) in the field, Abel Kirui has big race credentials and Geoffrey Kipsang has the most potential after his blazing half-marathon last year and his recent defeat of Geoffrey Mutai on the cross country course.
Boston's international field is headlined by the aforementioned Kimetto and also features defending champion Lelisa Desisa, Gebre Gebremariam, Moses Mosop and Lusapho April. It is certainly safe to call Kimetto the favorite. The way he ran last year the only people who could beat him are racing in London this spring, not Boston.
The women's race is Boston is much deeper at the top. Shalane Flanagan will need to have a great day and hope for some slip-ups by the rest of the field, namely Rita Jeptoo the defending champion. All total, the field has five women with personal bests until 2:22 and the first four finishers from last year will all be back in 2014. Early money, if you could bet money, is on Jeptoo. Don't overlook Buzunesh Deba who doesn't have a flashy personal best, but came close to winning the New York City Marathon twice.
Finally, London unveiled their women's field. As expected, Priscah Jeptoo will be back to defend her title. Other big names include Tiki Gelana, Edna Kiplagat and Tirunesh Dibaba who is making her highly anticipated debut at the distance. In choosing to do so in London she is taking almost the complete opposite approach from Kenenisa Bekele who decided to take his maiden 26.2-mile voyage in Paris instead of London. Both have similar backgrounds on the track, so why the different strategy?
1) The women's field in London is tough, but nowhere near the shark tank that the men's race is looking to be. Dibaba can run cautiously and still have a shot at the podium.
2) Even if she wanted to debut at a smaller race, the drop off in pay would be significant. Few races are going to be able to offer what London does, even for a superstar like Dibaba.
Obscurity
-Cinque Mulini
On Sunday, Jenny Simpson finished third in the Cinque Mulini in Italy. The race seems to be part escaping from a haunted house, part cross country running. Not quite sure how you train for that. Kenyan 1500-meter star Faith Kipyegon won the women's race and Paul Tanui took the men's.
Wha?? "@albertostretti: @trackjenny coming out from mill today in @cinquemulini pic.twitter.com/pDgc46i6MC"

— House of Run (@HouseofRun) January 26, 2014
More Cinque Mulini pics! How do you pass anyone in this race?
The @cinquemulini is the world's coolest XC race. I'm adding it to my athletics bucket list (http://t.co/msvUeS8BZu) pic.twitter.com/Brmh4soGDh

— Statman Jon (@Statman_Jon) January 26, 2014
-Indoor 150
Still bizarre, even by indoor/non-championship year standards.
–Indoor Men's 4 x 800 World Record Attempt
At the beginning of the year, Nick Symmonds laid out his plans for chasing records during the non-championship season. One of the marks that made his list was the world record in the 4 x 800 outdoors. The indoor version of that race didn't even make the cut, but Symmonds's new team will attempt to break the mark of 7:13.94 at the New Balance Indoor Grand Prix on February 8th.
Symmonds will be joined by super rabbit Matt Scherer, Mark Wieczorek and Cas Loxsom. A team from the New York/New Jersey Track Club is also entered.
The list of people who dislike relays AND world records is very small. I think even amongst track fans there is consensus on how good of an idea this race is.
Under the Radar
-In Glasgow, Chris Brown of the Bahamas won the 400 in 45.93 and set a 35-plus age group record. Despite this feat, video of the race is still not the first hit when you Google "Chris Brown Glasgow."
–Shelly-Ann Fraser-Pryce won a 60 meters outdoors in Jamaica with a time of 7.11. I realize now that both of these last two items could also have fit in the "Obscurity" section of the post. Nesta Carter won the men's race in 6.52.
-Big names all over the place in the Discovery Kenya Cross County Championships. In the women's race, Priscah Jeptoo won the battle of Jeptoo's over Rita who finished third. Wilson Kiprop won the men's competition by one second over Bedan Karoki. Stanley Biwott finished third.
Reading List
–RunBlogRun recaps the aforementioned Discovery Kenya Cross Country Championships.  Desiree Davila, who is training in Kenya, was in attendance.
-More news from Kenya.  Toni Reavis writes on Kenyan athletes pushing back against what they see as excessive taxation of their earnings.
–Athletics Illustrated interviews Yuki Kawauchi the man who probably ran another marathon while you were reading this.