No Comments
World Championships Preview: Men's Jumps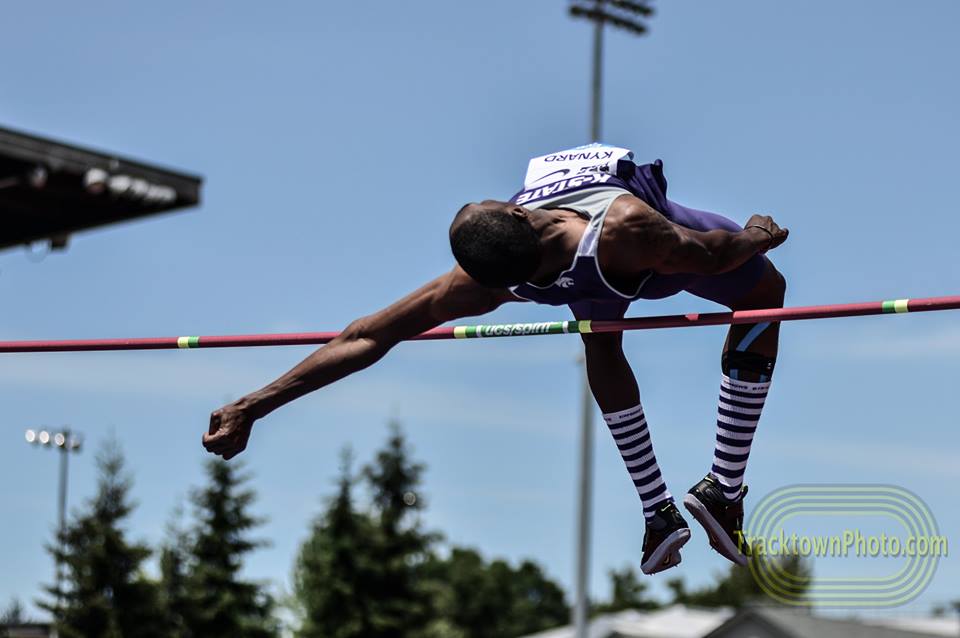 Jesse Squire | On 04, Aug 2013
Erik Kynard leads a strong US team in the jumps. (Photo courtesy TrackTownPhoto.)
Our series of World Championships previews wraps up the field events with the men's jumps.
Men's High Jump
Qualifying: August 13 (Tuesday), 1:50am ET
Final: August 15 (Thursday), 11:00am ET
2011 World champion: Jesse Williams (USA)
2012 Olympic champion: Ivan Ukhov (Russia)
2013 world leader: Bohdan Bondarenko (Ukraine)
2013 Diamond Race leader: Bondarenko
The favorites: Reigning Olympic champion Ukhov has been totally off his form this year, as has World champ Williams. Two new stars have quickly emerged to replace them, Bohdan Bondarenko and Qatar's Mutaz Essa Barshim. During the outdoor season they have cleared the highest bars in 13 years and lost to no one but each other.
The Americans: Erik Kynard has steadily improved since his surprise silver medal at last year's Olympics, but faces a formidable duo. Dusty Jonas came back from a career-threatening injury to make the team, and Jesse Williams has been struggling with an ankle problem.
U.S. medal chances: Good
The Canadians: Derek Drouin was part of a three-way tie for Olympic bronze and continues to improve after major ankle surgery in 2011. He beat Kynard three out of four times during the collegiate season. Michael Mason finished eighth at the Olympics, the highest senior championship finish for the 2004 World Junior champ.
Canadian medal chances: Fair
The others: Russian Aleksey Dmitrik did well during the indoor season but hasn't been quite as good since then. Britain's Robert Grabarz won Olympic bronze last year and has been hurt for most of this year but is finally rounding into form.
Bottom line: This is shaping up to be a battle for the ages between Bondarenko and Barshim.
Pole Vault
Qualifying: August 10 (Saturday), 2:15am ET
Final: August 12 (Monday), 11:00am ET
2011 World champion: Pawel Wojciechowski (Poland)
2012 Olympic champion: Renaud Lavillenie (France)
2013 World leader: Lavillenie
2013 Diamond Race leader: Lavillenie
The Favorite: In an event plagued by inconsistency, Renaud Lavillenie is consistently better than anyone. He's lost just three times this year and comes in as a very strong favorite.
The Americans: Brad Walker holds the American record and was world champion, but those career highlights are five and six years in the past. He could challenge for a medal but it's a bit of a long shot. The others, Jack Whitt and Jeremy Scott, are just hoping to get to the final.
US medal chances: Poor
The Canadian: Shawn Barber won bronze at last year's World Junior Championships and broke the Canadian record earlier this year, but he's at the end of a very long collegiate season for the Akron Zips and looks to be a few years away from contending at the senior level.
Canadian medal chances: Virtually zero
The others: Lavillenie's biggest challenge will come from a trio of Germans, Raphael Holzdeppe, Malte Mohr and Bjorn Otto, plus Greece's Konstadínos Filippídis, with Otto and Holzdeppe being the biggest threats. Two long-shot candidates come from Brazil, Thiago Braz and Augusto Dutra.
Bottom line: Lavillenie above all.
Long Jump
Qualifying: August 14 (Wednesday), 2:25am ET
Final: August 16 (Friday), 11:30am ET
2011 World champion: Dwight Phillips (USA)
2012 Olympic champion: Greg Rutherford (Great Britain)
2013 World leader: Luis Rivera (Mexico)
2013 Diamond Race leader: Aleksandr Menkov (Russia)
The Favorite: 22-year-old Aleksandr Menkov has come forward as the best jumper this year, winning seven of his nine meets (and taking second when he didn't win). He'll have the crowd behind him.
The Americans: The USA sends its weakest long jump crew in quite a while. Four-time World champion Dwight Phillips appears near the end of a long and distinguished career and his results this year give no reason to believe he'll win any more hardware. George Kitchens was one of the shocking success stories out of last year's Olympic Trials, which means that little is expected at the championship meet. 20-year-old Marquis Dendy had a great indoor season and looks like the future of US long jumping, but the future is not now.
US medal chances: Poor
The others: Menkov has been consistent this year but literally no one else has been. The two who beat Menkov, Mexico's Luis Rivera and China's Jinzhe Li, have little to point to besides those one-off successes. Damar Forbes, the NCAA champion for LSU by way of Jamaica, could medal as well. Gold appears settled but silver and bronze are wide-open.
Bottom line: Menkov should delight the home crowd.
Triple Jump
Qualifying: August 16 (Friday), 2:00am ET
Final: August 18 (Sunday), 8:45am ET
2011 World champion: Christian Taylor (USA)
2012 Olympic champion: Taylor
2013 World leader: Daniele Greco (Italy)
2013 Diamond Race leader: Taylor
The Favorites: Christian Taylor has been the dominant force over the last two years and sits at #5 on the all-time world list. The young star before him was France's Teddy Tamgho (#3 on the all-time list), who was out for nearly two years with injuries but is back and has shown he's ready to jump as far as he ever has. Yet one more young star has emerged to challenge them both, a 20-year-old out of Cuba named Pedro Pablo Pichardo.
The (other) Americans: Will Claye won bronze and silver at the '11 Worlds and '12 Olympics and, while he hasn't competed as much this year, still has to be considered a medal threat. NCAA champion Omar Craddock is on his first national team since the World Juniors three years ago. The US trio in this event were all teammates at Florida two years ago.
US medal chances: Virtually certain
The others: Italy's Daniele Greco hasn't competed much but put up the world leader while winning the European Indoor title and should be considered a contender for the podium.
Bottom line: A three-way fight that could produce historically long jumps.
Tomorrow: we start looking at the running events!