One Comment
Five Things We Learned at London, Day 1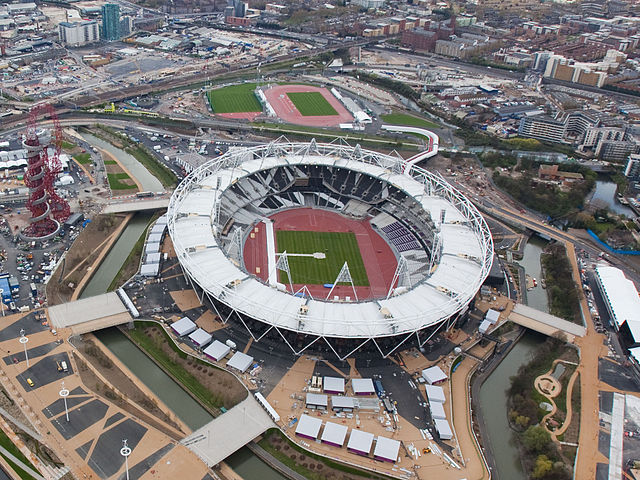 Jesse Squire | On 26, Jul 2013
Five quick thoughts on the first day of competition at the Sainsbury Anniversary Games, the London stop on the Diamond League tour…
Jenn Suhr is no longer the Worlds favorite.
Suhr is the reigning Olympic pole vault champion and broke the world indoor record at the US championships in March. That means she has the inside track to win the Worlds, right? Not hardly. Track and field is all about "what have you done for me lately", and lately she's been getting beaten by Yarisley Silva. Today the Cuban made it three wins out of four meetings with the American this year and broke the Diamond League record while doing it. Silva now has all of the top five marks of the outdoor season. If Suhr does win in Moscow, it can only be called an upset.
Mary Cain learned a bit about big-time racing.
I wasn't sure what to expect today out of superphenom Mary Cain because she hasn't raced for more than a month. She's lost a bit of sharpness since her runner-up finish in the 1500 at the US Championships, and I think her main purpose for even being in the London meet was sharpening for the Worlds. She started last, which is usually a good idea for a Diamond League 1500 rookie, but this race did not have a pacemaker and did not go out fast. More or less, she didn't run well until the last 150 meters when she finally got into gear and went from 14th to 5th.
I wouldn't read a whole lot into this result. Cain thrived on regular racing this spring so that month off had its effects. She'll get more chance to sharpen up in the heats and semis at the Worlds. What else she got out of today's race was an important lesson: she can't leave that large a gap when running against international-level competition. One thing everyone says about Cain is that she's smart and will not make the same mistake twice. But she also learned that her speed is good enough that she only needs to keep it close coming off that final curve.
Bohdan Bondarenko has gone completely mental.
That's British English for "insane". The Ukrainian high jumper has already cleared 2.41 meters (7′ 10¾") earlier this year in Lausanne, after which he took good (but unsuccessful) attempts at a world record height of 2.46 (8′ ¾"). 2.41 is the best height since 1994.
Today he didn't come into the high jump competition until 2.28 meters (7′ 5¾") and won it after just three jumps. His first-attempt clearance at 2.38 (7′ 9¾") forced Erik Kynard to pass to 2.40 (7′ 10½"), where he was unable to clear the bar. At that point Bondarenko ordered the bar up to 2.43 (7′ 11½"), which would have been a European record. After one miss there, he ordered it up to the "science fiction" height of 2.47 meters (8′ 1¼")–and didn't miss it by that much.
Mutaz Essa Barshim dominated the indoor season and the early part of the outdoor season, but was forced to sit out some time with a back injury and only managed third today in his return to competition. Erik Kynard has now finished second in four straight Diamond League competitions and has been forced into the passing game in most of them. He barely missed at 2.40 today and probably has 2.38 or 2.39 in him right now. Check out the list of the best non-winning marks in Diamond League history and how often he shows up:
2.37 Erik Kynard (2) Lausanne 7/4/13
2.37 Ivan Ukhov (2) Lausanne 8/23/12
2.37 Robbie Grabarz (3) Lausanne 8/23/12
2.36 Erik Kynard (2) Eugene 6/1/13
2.36 Erik Kynard (2) London 7/26/13
2.36 Derek Drouin (3) Eugene 6/1/13
2.36 Robbie Grabarz (2) New York 6/9/12
2.34 Erik Kynard (2) Birmingham 6/30/13
2.34 Jesse Williams (2) London 8/6/11
Kynard should take comfort in the fact that Ukhov and Williams showed up on this list in the years in which they won gold at the Olympics and Worlds.
Brenda Martinez is ready for the Worlds.
Martinez is having a career year and put on a display of utter domination today. She hung back early, as is her habit, and on the backstretch of the second lap she went from second last to the lead in 50 meters. On the homestretch she powered away to a huge win of a second and a half, the first major win of her career at this distance. She missed her PR by just a hundredth of a second.
Part of this was making an average field look bad; only Ajee Wilson and Marilyn Okoro offered up much competition, and neither ran as well as they have earlier this year. Martinez is fourth on the world list behind Francine Niyonsaba, Malika Akkaoui, and Alysia Montaño. Niyonsaba is undefeated and appears undefeatable, but the Worlds is a competition that appears to play to Martinez's miler strengths. Three rounds means makes endurance helpful, and a lack of pacemakers gives a smart racer an advantage.
US men's half-milers are on a roll.
The USA went 1-2-3 in the men's 800 meters with the Worlds team of Nick Symmonds (in a season's best time), Duane Solomon and Brandon Johnson. Only eight men have broken 1:44 this year and the USA has three of them. All three Americans have to be considered serious medal contenders at the Worlds. While Ethiopia's Mohammed Aman is the gold medal favorite, three contenders for the USA versus one for every other country means America probably has the greatest chance at gold of any nation.
How long has it been since the US has won Worlds gold in the 800 meters, either men or women? That's a trick question-we've never won gold. In the 26 finals over the 13 previous editions of the Worlds, the total medal haul is two men's bronzes and a complete shutout for the women. But now the US has five serious medal contenders–the three men, Martinez, and Montaño. This is a historic year for the 800 in this country.