No Comments
World Championships Preview: 800 meters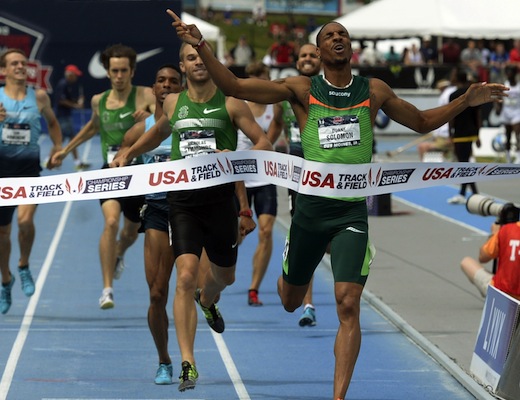 Pat Price | On 09, Aug 2013
photo: Track And Field Photo
The Men's 800 heats start tomorrow morning in Moscow (or evening in the US)!
Men's 800
Heats: August 10th, 3:20am ET
Semifinal: August 11th 11:35pm
Final: August 13th, 1:10pm
2011 World Champion: David Rudisha
2012 Olympic Champion: David Rudisha
2013 World Leader: Duane Solomon
2013 Diamond race leader: Mohammed Aman
The favorites: Mohammed Aman is certainly the favorite and likely will be employing his "run close to the front and kick" tactic. But… he does not have the best time in the world this year. Who does? Bang Bang! That's right, Duane Solomon, who runs a similar tactic to Aman. Waiting in the wings is longtime US Champ, Nick Symmonds. Symmonds ran on Solomon's heels in London and kicked him down for his first Diamond League win. Lots could happen between these three.
The Americans: Solomon, Symmonds, Brandon Johnson
The Canadians: Anthony Romaniw
The Others: Ananleh Souleiman (Djibouti) is an excellent miler, but hasn't been as strong of late and Pierre-Amborise Bosse (France) is young and coming on. One of these two will likely medal.
Bottom line: Money is against the Americans for the win, but this could be the year. That being said, Aman will be tough to beat and is the favorite for the Gold, with Symmonds and Solomon close behind.
Women's 800
Heats: August 15th, 1:55am ET
Semifinal: August 16th, 12:15pm
Final: August 19th, 9:50am
2011 World Champion: Mariya Savinova
2012 Olympic Champion: Mariya Savinova
2013 World Leader: Francine Niyonsaba
2013 Diamond race leader: Francine Niyonsaba
The favorites: With Francine Niyonsaba out, Morocco's Malika Akkaoui has the next best time going into Moscow. Can she hold off a hard charging Brenda Martinez? Can she outlast Alysia Montano? Will Mariya Savinova win again?
The Americans: Montano, Martinez, Ajee Wilson
The Canadians: Karine Belleau-Beliveau, Melissa Bishop
The Others: Kenya's Janeth Jepkosgei
Bottom line: Someone will take it out too hard, maybe both Akkaoui and Montano. This will set the stage for Savinova and Martinez. Can Savinova win in front of the home crowd? Can Martinez use her miler strength in the rounds and outlast everyone? Count on at least one American medal. Savinova seems like the safe bet FTW.