One Comment
5 Questions with Jordan McNamara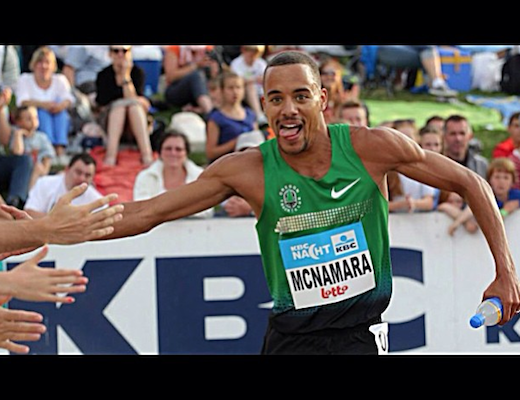 Pat Price | On 05, Aug 2013
Welcome back to 5 Questions, where we pick the brains of people from all areas of the running scene. Today, we were lucky enough to catch up with Jordan McNamara. Check out Jordan's blog and follow him on Twitter @JordanMcNamara and Instagram.
5 Questions with Jordan McNamara
1. Daily Relay: Congratulations on the big PR in London. What was it like running your first Diamond League race in Olympic Stadium?
Jordan McNamara: I think every young runner dreams of stepping onto a track, looking up, and seeing a sea of faces looking down. Running in such a prestigious venue, in front of 65,000 spectators was without a doubt the highlight of my running career. When I finally got onto the track and looked around, tears came to my eyes- such was the magnificence of the moment. I'll always look back on that afternoon in London with gratitude that I was given the chance to show my ability on such an incredible stage.
2. Daily Relay: It's been a summer full of PR's for you with 3:34.00 in the 1500 and 3:52.42 in the mile. What's been the big reason you think you're running so well right now?
Jordan McNamara: Many people are surprised at my successes this summer. I'm not one of them. Throughout the fall and winter, I suffered in training and make smart decisions every day. Though I hit obstacles, I persevered with a positive, determined attitude. I simply wouldn't give up. By early spring, my workouts were starting to show a new level of fitness. Despite this, I struggled to have things line up on race day. My amount of sacrifice would often compound my nerves, leaving me unable to control my focus once the gun sounded. Ultimately, I wasn't enjoying my running. I knew how hard I'd worked, and instead of letting that work show naturally, I placed unnecessary stress on myself; stress that clearly manifested during the most important moments.
I attribute my recent season to events not recent. To put it simply, I started working for these achievements years ago; during 15 mile night runs, early-morning weight-room sessions, and countless miles spent in quite solitude. Since I was 14, I've dreamed of becoming great. I wasn't always the most naturally gifted, but I was driven to succeed, no matter how long it took.
3. Daily Relay: Considering how fit you are now, USA's had to be a pretty big disappointment. Were you facing injury or anything that caused you to not have your best day in Des Moines? How hard was that to put behind you?
Jordan McNamara: Leading up to Des Moines, I was 100% healthy, but struggled with my biomechanics. I would bounce between phenomenal workouts and average ones, constantly searching for the answer. On the morning of Des Moines, I felt sluggish and leg heavy. The gun went off and despite my best efforts, it simply wasn't may day. I missed the final by a heartbreaking .04 seconds. After making three USA finals before 2013, the initial disappointment was intense, but quickly, that pained emotion was replaced with a burning desire to right this wrong and make 2013 a truly positive experience.
4. Daily Relay: You have had a nice improvement every year. What are some of the keys to your training and what have your coaches done to facilitate your development?
Jordan McNamara: The biggest "key" to my training is consistency. Every day, I try to make smart decisions to enable myself to compete well. In training, I'm relentless. Through all of life's little challenges, I always find a way to put in the work (though if you truly love what you do, can you really describe such an endeavor as work?).
5. Daily Relay: With a strong summer season already under your belt, do you have plans to return to Europe after Worlds? If not, what's next up?
Jordan McNamara: I've reached a new level and it would be quite easy to attempt to make further attempts at running even faster. I've been around long enough to know that the pendulum can quickly swing in the other direction. After such success abroad, my immediate goals are to stay mentally/physically healthy and finish 2013 on a stable platform. I've finally reached a world-class level, and I'm excited to see what another year of hard training produces. That being said, if an appropriate opportunity presents itself, I'll certainly give it it's due (with my coaches permission of course)! At this moment, my plan is to conclude my season with a few road miles, including the GNC Liberty Mile (Pittsburgh – August 9th) and possibly, the Fifth Avenue Mile (NYC – September 22nd). The pressure is off and I've been to thankful to have proven myself. I've got big goals that hopefully culminate with a shiny medal in 2016. It is my hope that others now recognize my desire and ability for greatness!
If you enjoy 5 Questions, check out the archive of previous interviews over at Writing About Running