No Comments
World Championships Preview: Hurdles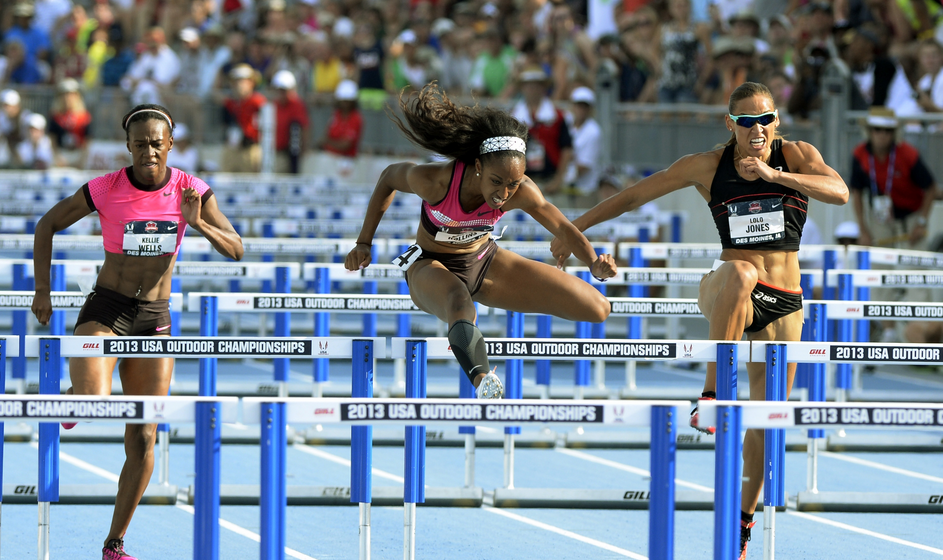 Jesse Squire | On 06, Aug 2013
The hurdles are where you go if you want to see an American win, a fast time, or a close finish. But don't ask "Where's Lolo Jones?"
The first of our running event previews takes a look at the hurdles. While posted by Jesse Squire, the preview was written by Kevin Sully who is otherwise disposed at the moment.
Men's 110 hurdles
Heats: August 11th, 1:40am ET
Semifinals: August 12th, 11:05am ET
Final: August 12th, 1:30pm ET
2011 World champion: Jason Richardson (USA)
2012 Olympic champion: Aries Merritt (USA)
2013 world leader: David Oliver (USA)
2013 Diamond Race leader: Oliver
The favorites: Usually the Diamond Race standings aren't that insightful, but in this case they are spot on. Until London, four men shared the lead and a fifth, David Oliver, has the world lead. If forced to pick a favorite, I would choose Aries Merritt because everyone is aware what he is capable of when he is at his best.
The Americans: Even though the field has great depth, chances are still extremely high that one of the four Americans medals. In addition to Merritt and Oliver, Jason Richardson is the reigning World Champion and Ryan Wilson won the US title.
U.S. medal chances: Lock
The Others: Hansle Parchment has the second fastest time of the year, but his status is questionable after getting injured during warm-ups in Kingston. Also, questionable, or perhaps doubtful, is Cuban Orlando Ortega who has reportedly been suspended by the Cuban federation. Ryan Brathwaite (Barbados), Pascal Martinot-Lagarde (France), Sergey Shubenkov (Russia) and Dayron Robles (Cuba/People's Republic of Dayron) could all fare anywhere from semifinalist to World Champion.
Bottom line: Leave work early or take a long lunch break. This could be the race of the meet.
Men's 400 hurdles
Heats: August 12th, 3:05am ET
Semifinals: August 13th, 11:40am ET
Final: August 15th, 1:00pm ET
2011 World champion: Dai Greene (Great Britain)
2012 Olympic champion: Felix Sanchez (Dominican Republic)
2013 world leader: Michael Tinsley (USA)
2013 Diamond Race leader: Javier Culson (Puerto Rico)
The favorites: Michael Tinsley holds the fastest time of the year–a 47.96 to win the US Championships. Since then, he hasn't raced much in Europe and a rotating cast of hurdlers has had success in the Diamond League races. Javier Culson has been the most consistent with wins in Lausanne and Birmingham, but Jehue Gordon has the hot hand after his victory in Monaco.
The Americans: Two veterans, Kerron Clement and Bershawn Jackson, finished behind Tinsley in Des Moines. Neither has run consistently on the Diamond League circuit so predicting their performance in Moscow is particularly challenging. Still, Tinsley looks good for a medal.
U.S. medal chances: Good
The Others: Aside from defending world champion Dai Greene and the reigning Olympic champion Felix Sanchez, keep an eye on Mamadou Kasse Hanne of Senegal. A world championship medal by Hanne would be the first by a male from his country. Senegal's Amadou Dia Ba did win an Olympic silver medal in 1988 in, you guessed, the 400 hurdles.
Bottom line: There have been four different winners over the past four major championships. Expect that trend to continue.
Women's 100 hurdles
Heats: August 16th, 12:45am ET
Semifinals: August 17th, 10:20am ET
Final: August 17th, 11:30am ET
2011 World champion: Sally Pearson (Australia)
2012 Olympic champion: Pearson
2013 world leader: Brianna Rollins (USA)
2013 Diamond Race leader: Dawn Harper-Nelson (USA)
The favorites: The high hurdles are known for their unpredictability. From one race to the next and from one season to another it is hard to anticipate how each athlete will react to the ten barriers in front of them to say nothing of the other competitors to their immediate right or left. Recently, the randomness of the event disappeared. At least at the top. Sally Pearson left no questions who was the best hurdler in 2011 and 2012. This year, Brianna Rollins has come from relative obscurity (at least internationally) to the role of heavy favorite. Her American record of 12.26 is far and away the best time of the season. Any questions about how she would adapt to racing in Europe were answered when she ran a wind-aided 12.47 in Finland. Barring a huge collapse or injury, she should walk out with the gold.
The Americans: The United States has 22 of the top 23 marks in the world this year in the 100 hurdles. All of those times weren't run by athletes who are competing for the American squad in Moscow it gives a pretty accurate picture of the headlock they have on this event in 2013. The United States also gets an extra entry into the meet by virtue of Dawn Harper-Nelson's Diamond League win. Queen Harrison won in Monaco. An American sweep is looming.
U.S. medal chances: Lock
The Canadians: While Canada has no men's hurdlers in Moscow, they bring two women in this event. Veteran Angela Whyte first ran on a Canadian national team in 2001, and Jessica Zelinka is a top-notch heptathlete who is concentrating on the hurdles this year. Both can get to the semifinals and maybe even the finals.
Canadian medal chances: Practically zero
The Others: Only Tiffany Porter of Great Britain and Sally Pearson of Australia appear capable of stopping a US 1-2-3. Pearson got a late start to the season and has struggled to run the times she posted the previous two seasons.
Bottom line: Looks to be one of the only opportunities for a world record on the track.
Women's 400 hurdles
Heats: August 12th, 3:50 a.m.
Semifinals: August 13th, 11:05 a.m.
Final: August 15th, 12:45 p.m.
2011 World champion: Lashinda Demus (USA)
2012 Olympic champion: Natalya Antuykh (Russia)
2013 world leader: Zuzana Hejnova (Czech Republic)
2013 Diamond Race leader: Hejnova
The favorites: With Kori Carter not racing, Hejnova has the five fastest times. Georganne Moline has broken 54 seconds twice, but doesn't have a major win in the season.
The Americans: Another event where the United States will have four entrants. Three women who train together, Lashinda Demus, Dalilah Muhammad and Christine Spence, will join Moline on the team. Muhammad and Spence ran their best races in Des Moines and it appears Demus hasn't run since mid-June.
U.S. medal chances: Good
The Canadian: 2013 has been a breakthrough season for Noelle Montcalm but the former Windsor Lancer will need to be at her best to make it to the semifinals.
Canadian medal chances: Practically zero
The Others: Perri Shakes-Drayton of Great Britain will look to rebound from early exit at last year's Olympics. Jamaica's Kaliese Spencer and some yet to be named Russians might factor in as well.
Bottom line: Hejnova has been good all year, but can she hold form through the championships?
Tomorrow: we do a double preview, the 400s (and relay) and the sprints (and 4×100).