2 Comments
5 Questions with Lauren Kleppin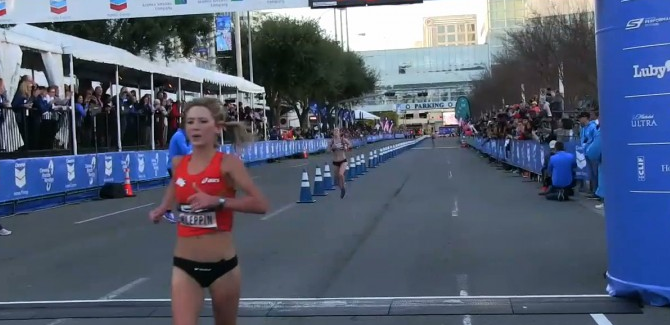 On

January 24, 2014

http://patprice.com
photo: Runnerspace
Welcome back to 5 Questions, where we pick the brains of people from all areas of the running scene. Today, we were lucky enough to catch up with Lauren Kleppin, as she comes off her runner up finish at the USA Half Marathon Championship. Check out her website, blog, and follow her on Twitter @LaurenKleppin.

5 Questions with Lauren Kleppin
1. Daily Relay: First off, congratulations on a big 3 minute PR and 2nd place finish at Houston. Leading up to the race, did you feel you could run a time like 1:12:12?
Lauren Kleppin: Thank you! I definitely knew I wanted a PR in Houston at the USA Half Championships, but the Rolling Stones sang it best; "You can't always get what you want." Luckily, everything came together for this race and I got more than what I wanted, or expected. Going in, I knew there was a stellar field of athletes to compete against that would help push the pace, on a course that has been thoughtfully planned to produce fast times (and American Records). I have to give credit to my coach, Andrew Kastor, for opening my mind up to the possibility of shooting for a time 1:13:30, which was comparable to my collegiate 10K best of 32:49. Prior to Houston, I hadn't raced for over 3 months, so I was kind of jumping back into the scene without any real indication or validation of fitness besides some solid workouts in the past month. In the middle of my race, around mile 8, I distinctly remember mumbling out lots of "Holy [four letter words]" in disbelief, as I realized a huge PR was coming to fruition. That was the moment in which 1:12 finally became reality- when I told myself to "Believe…" when I realized I wouldn't have a problem hanging onto and defending my pace, and my second place for another 5 miles to the finish.
2. Daily Relay: You have been training with the Mammoth Track Club under Coach (Andrew) Kastor. How did all of that come together and how has the move gone so far?
Lauren Kleppin: My move to Mammoth Lakes is something that was just meant to be. Since my running roots began back in Wisconsin, maybe even before I was running- I had always been "California dreaming" and gazing west. There are so many strange connections that eventually put Mammoth Lakes on the map and led me to Mammoth Track Club, that I couldn't possibly explain it any other way.
The move (which happened this past September) has been great, which I believe is reflected in my racing results. My past teammates always said I was an emotional runner, so if I am "on", I am usually happy. Simply put, if I can run around in the mountains, spend my free-time outdoors with cool and adventurous people, be far away enough from distractions, yet close enough to a brewery for a treat every now and then, I've got what I need.
Add a passionate, knowledgeable, loyal coach and some kick-@$$ teammates to the mix, and I honestly don't know what I want for Christmas next year… I am incredibly content here.
3. Daily Relay: With your runner up finish Sunday, you qualify to represent Team USA at the World Half Championships on March 29 in Copenhagen. How will it feel to get to represent America in international competition?
Lauren Kleppin: This is the result from Sunday's race that is still the hardest to comprehend, mostly because traveling/exploring is something that has always been a driving motivation and goal behind my personal and continued pursuit in running. To represent the USA at an international event is a huge and meaningful measure of performance no matter what the sport/activity is.
Currently, my passport boasts one, lone stamp, received via attendance to a cousin's wedding in Mexico 7 years ago, old and irrelevant- due to divorce, remarriage, etc. It's time to redecorate, for both her sake and mine.
I cannot wait to travel overseas to Copenhagen, mostly because it entails doing something I both love and excel at- running, and because I know the trip will inspire me in many more ways than I can possibly expect or write about at this current moment.
4. Daily Relay: You won the Carlsbad Marathon last year in your first try at the distance. It sounds like you are now planning a spring marathon. Have you narrowed down your options, and now that you have run 1:12 in the half, does that change your expectations for the full?
Lauren Kleppin: I am excited to announce that I will be running the ASICS Los Angeles Marathon on March 9th. For me, Los Angeles represents a city full of dreamers and dreams, and I couldn't pick a better venue to chase after some dreams of my own. The goal for my spring marathon is to get my 'A Standard' Olympic Qualifier of 2:37, which also means running a PR at the distance.
My goals have not changed since my run in Houston, but I definitely see them as that much more attainable, which thrills me. March 9th cannot come soon enough!
5. Daily Relay: You had a very strong collegiate career and now seem to be coming into your own as a professional. What are some of your goals moving forward in the sport?
Lauren Kleppin: I like to take my goals step by step, which I believe ultimately has helped fuel a steady but engaging progression throughout my running career thus far. Each day I am amazed that running continues to fuel and stimulate me. My goal is to take that journey as far as it lasts. Obviously an ideal path would ultimately lead to an Olympic Team. However, I was NOT that little girl that ever dreamed I would grow up to be a professional runner. (That's not to say I wouldn't have, had I known it was an actual possibility…because I pretty much believed I could be anything else whether it was an Oscar winning actress, a berry farmer, a veterinarian, a rocket scientist, a raft guide, a tattoo artist, or a brew master.) At this point, my main focus and goals are getting to that starting line of the 2016 Olympic Trials in the marathon, and to toe that line with the best health and the deepest confidence possible.
If you enjoy 5 Questions, check out the archive of previous interviews over at Writing About Running