2 Comments
The Weekend's Best Matchups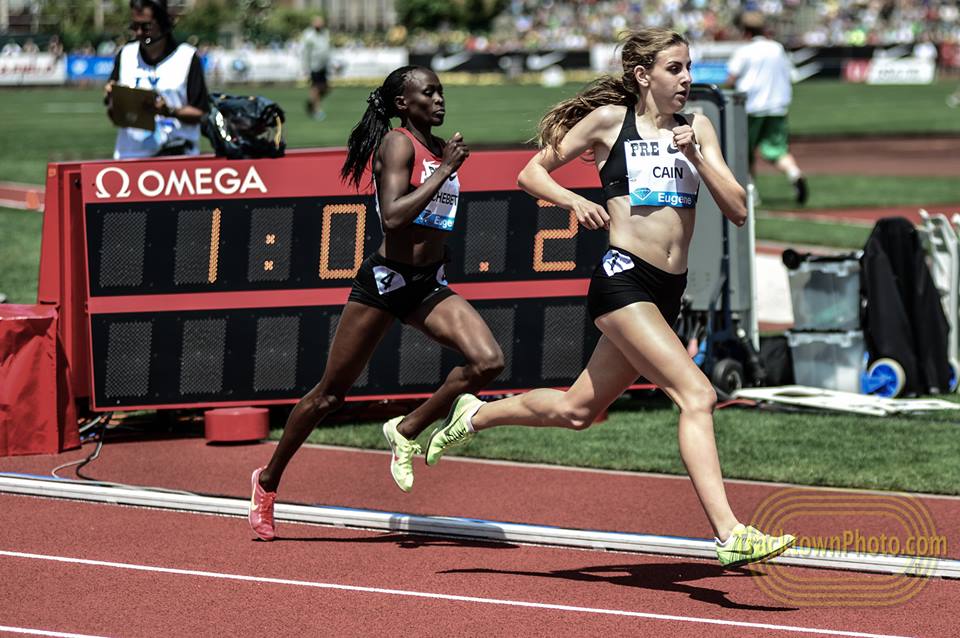 Can Mary Cain break another record? Will she beat a field of seasoned pros and an NCAA star? (Photo by TrackTownPhoto)
Usually I rank the best matchups of the weekend, but this time around I think it's appropriate to put them in chronological order.
Mary Cain vs the clock
Women's mile, John Thomas Terrier Invitational
Boston University Track & Tennis Center, Boston, Massachussetts
Friday, 5:40pm
Live webcast (subscription required)
Cain recently claimed her first age-group world record, the junior indoor 1000 meters. It was a relatively easy target, but the world junior indoor record for one mile is not. It is 4:24.10, roughly equal to 4:04.5 for 1500 meters. Note that Cain's outdoor PR is 4:04.62, so breaking the record would be the "best" single time of her life. It's possible, but it's not going to be easy. There is talk of the American indoor record, which is 4:20.5, but that's probably out of reach.
Mary Cain vs Abbey D'Agostino vs Treniere Moser
Women's mile, John Thomas Terrier Invitational
Boston University Track & Tennis Center, Boston, Massachussetts
Friday, 5:40pm
Cain's race in Boston is no mere record attempt; she has legitimate competition and will have to be on the top of her game to win. The others are Treniere Moser, the reigning US 1500 meter champion who came up a step short of beating Cain last week; Shannon Rowbury, a Worlds bronze medalist at 1500; Jordan Hasay, the former NCAA mile champion; and Abbey D'Agostino, Dartmouth's five-time NCAA champion.
Of these competitors, I think only Mosier and D'Agostino pose a threat and the latter is the most interesting. Cain has superior speed but D'Agostino has superior endurance. They've met just once in their career, in the mile at last year's Millrose Games, where Cain beat D'Agostino by just under two seconds. Who has improved more since then? Cain has obviously made huge steps forward in the last year, but so has D'Agostino.
LSU vs Texas A&M
Texas A&M Triangular
Gilliam Indoor Track Stadium, College Station, Texas
Saturday, 12:00pm local time (1:00pm ET)
Meet info and schedule | Live webcast
This may be the best small meet of the college season, indoors or out. The Aggie men are #2 in the Track and Field News dual meet rankings, to LSU'2 #6 and Texas Tech's #7. On the women's side, Texas A&M is #1, LSU is #4, and Texas Tech is #18. The indoor national dual meet title definitely hangs in the balance, as may the grand prize, the season-long indoor/outdoor championship.
Eddie Lovett vs Demoye Bogle
Men's 60 meter hurdles, Rod McCravy Memorial
Nutter Field House, Lexington, Kentucky
Saturday, 2:25pm
Meet preview & info | Live webcast (subscription required)
These are the two best hurdlers in the early collegiate season. Lovett is the defending NCAA indoor hurdle champion and Bogle is 2014 collegiate leader. There is no clear favorite here; Bogle recent 7.65 is faster than any regular-season mark in Lovett's career (he's only run faster at the SEC and NCAA championships).
Dezerea Bryant vs Jasmine Todd vs Jenna Prandini
Women's 60 meters, Rod McCravy Memorial
Saturday, 2:35pm
Whether or not these are the three best short sprinters in the NCAA is open to debate, but you can't argue that they are the fastest. They hold the top three spots on the collegiate list at the moment.
Duane Solomon vs Erik Sowinski
Men's Invitational 600 meters, New Balance Games
Armory Track & Field Center, New York, New York
Saturday, 3:00pm
Live webcast (free)
The 600 meters was part of last year's Millrose Games, and Olympic heroes Solomon and Nick Symmonds were supposed to take a stab at the American indoor record. The American record was broken, but the wrong guy ran it: Sowinski. He was a late add to the field and his achievement was one of the most unexpected records in recent memory. The two are headed for a rematch in the middle of the New Balance Games, a mostly high school event, and Sowinski's record (1:15.61) and the world record (1:15.12) are possibilities.
Galen Rupp vs the clock
Men's Invitational 2 Mile Run, John Thomas Terrier Invitational
Boston University Track & Tennis Center, Boston, Massachussetts
Saturday, 7:35pm
Live webcast (subscription required)
This one is pretty simple: can Rupp run 2 miles in under 8:09.49 and break the American Record? The 13:01.26 American Record he ran for 5000 meters last week indicates that he can, but he'll need to run at least as well as he did last week. Unlike his 5k, it appears that he will be the lone entrant capable of running anywhere near the record. This is basically a time trial against the clock.
USA vs Great Britain vs Commonwealth
Sainsbury's International Match
Emirates Arena, Glasgow, Scotland
Saturday, 1:20pm local time (8:20am ET)
Schedule and live results | Live webcast
The Sainsbury's International Match is a competition between four national teams representing the USA, Great Britain, Scotland, and a Commonwealth all-star team. Scotland is a new representative at this traditional event, which will give the event a "different dynamic", according to national coach Stephen Maguire (Charles van Comedy quipped "also means GB won't finish last".)
It's hard to tell which team is the favorite here. Each nation has the best athlete available in some events (such as the USA's Bernard Lagat and Erik Kynard) but in others they do not. Team USA's depth suggests the Yanks will win, but you never know.
Asbel Kiprop vs Geoffrey Mutai
Discovery Kenya Cross-Country Run, Sunday
Cross country is the kind of equalizer that can pit a World and Olympic champion miler against the New York City Marathon course record holder. The talent in this race also includes a Diamond League champion (Nixon Chepseba) and a former World junior cross country champion (Geoffrey Kamworor). The women's race isn' too shabby either: Priscah Jeptoo (reigning World Marathon Majors champion), Florence Kiplagat (Berlin Marathon champion) and Mercy Cherono (Worlds 5k silver medalist).
Jenny Simpson vs Faith Kipyegon
Women's race, Cinque Mulini
San Vittore Olona, Italy
Sunday, 2:40pm local time (8:40am ET)
This is Italy's famous "Five Mills" race, one of the classics of the European cross country circuit. Simpson and Kipyegon are both 1500 specialists but still the class of the women's race. Despite Kipyegon's superior PR (3:56.98), Simpson has won all three of their head-to-head meetings. Cross country may be to Kipyegon's advantage, though; she is a two-time world junior cross country champion. There will be live coverage on Italian TV, so a pirate webcast may be available.