No Comments
Monday Morning Run: Boston and London announce elite fields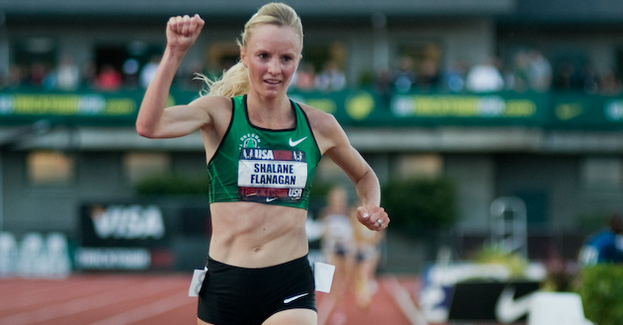 Kevin Sully | On 12, Jan 2015
Photo via TrackTownPhoto
The Boston and London marathons each announced portions of their elite fields last week.  No surprise, Meb Keflezighi will defend his title and Shalane Flanagan will headline the women's competition in Boston against the Rita Jeptoo-less women's field. I'll do a full preview of both marathons when the full international field is announced for both genders.
In the spirit of now, here are a few quick thoughts on some of the Americans committed to Boston. Consider this the preview before the preview. Or, the reaction to the announcement. Or, vague speculation before we know all the players of America's most historic marathon.
To Boston….
Meb Keflezighi
What's at stake: A chance to become the undisputed greatest American men's marathoner of all-time. Sure, Alberto Salazar and Bill Rodgers have each won more majors and Frank Shorter has an Olympic gold, but if Meb wins this year in Boston he will have three major marathon victories and an Olympic silver all coming in the toughest era of the marathon.
On a more tangible level, a Meb victory means he is still in contention for to win the World Marathon Majors in the fall. Read that last sentence. Fourteen guys ran under 2:06 last year and a guy with a personal best of 2:08:37 could win the World Marathon Majors.
If he pulls anothers upset in Boston he will have 55 overall points. He currently sits third behind Wilson Kipsang and Dickson Chumba. Kipsang would still need to slip up for Meb to have a chance and Dennis Kimetto could rocket up the standings with back-to-back wins in 2015. Even if things don't go well in Boston, Meb wouldn't be out of it and I wouldn't discount the possibility of him entering every fall marathon in order to accrue the necessary amount of points to clinch the title.
Best case: With the international field yet to be released, it is difficult to judge where to put Meb. But after looking at the London entrants, Meb does have a realistic path to victory. Wilson Kipsang, Dennis Kimetto, Eliud Kipchoge, Emmanuel Mutai and six other sub-2:06 runners are headed for London, leaving mostly the second tier of elite marathoners to challenge Meb in Boston.
The only big names not committed to a spring marathon as of now are Geoffrey Mutai and Lelisa Desisa. Even if both commit to Boston along with six or seven runners others who have PRs in the 2:06-2:07 range, this isn't uncharted waters for Meb. In fact, it's lining up much like it did last year when Kimetto and Desisa were the only top 10 marathoners in the race.
Worst case: He's not going to DNF. It's not a coincidence that his full first name, Mebrahtom, is nine letters long yet it contains not a single "D" "N" or "F."
Ultimate goal: At worst, a top five finish. Then, he would remain the top American and is still in the mix for the World Marathon Majors. Last year was so perfect that even with a favorable field and a good build-up, it's unrealistic to expect him to repeat. I will say that a top three finish seems more likely result than him sliding outside of the top five.
Dathan Ritzenhein
What's at stake: Ritzenhein is fighting to stay in the top tier of American marathoners. Injuries are the only reason he isn't already cemented in that position. When he is able to run, he is still no worse than third on my list. His 2:07:47 from 2012 sticks out in the sea of 2:10-2:12s that fill the top of the US lists.
This will be his first marathon since the 2013 Chicago Marathon and his first since relocating to Michigan and moving away from the Nike Oregon Project and coach Alberto Salazar.
Best case: His time is largely irrelevant. Ritzenhein is going to be judged relative to the other Americans in the race. Finishing close to Meb and ahead of the other Americans in the race would be a great result for him. Meb has shown that someone with a slower personal best can win a major marathon. No reason to think Ritzenhein couldn't at least contend for a medal at the Olympics if he can stay healthy.
Worst case: DNF or DNS. Actually a DNS would be worse. I know it's only two weeks into 2015, but I'm more optimistic about his chances of performing well in Boston. He's already raced more this year than he did all of 2014. He won a cross country race in Italy last week and backed that up with a third place finish at the Great Edinburgh Cross Country meet on Saturday.
Ultimate goal: Staying healthy and finishing the race. Anything beyond that is gravy.
Shalane Flanagan
What's at stake: Exorcising the chemically enhanced demons of Rita Jeptoo. Flanagan was confident heading into last year's race. She ran aggressively until Jeptoo led the cavalry by her in the final miles. Flanagan ended up in 7th place with a personal best that she has since re-broken.
This year, there will be no Jeptoo. She got popped for EPO last fall and will be serving a suspension of some yet to be determined length. With Jeptoo gone, the alpha female is out of the race and there will likely be no clear favorite.
Even without the defending champion, Flanagan will have a difficult time becoming the first American woman to win Boston since 1985. If you take Jeptoo out of the results from last year, Flanagan was still over two minutes away from the runner-up Buzunesh Deba.
Best case: She chased a fast time in Berlin last September so the focus will solely be on winning the race. If London takes Mary Keitany, Buzunesh Deba, Priscah Jeptoo and few of the other women in the 2:20 range, then Flanagan will have a shot at pulling the upset. There is so much depth in the women's marathon right now that I think anything in the top five would be an impressive performance.
Worst case: An 11th hour Jeptoo reinstatement after the previously unknown "C" sample is tested. Just kidding.
It's hard to imagine a worst case scenario for Flanagan because she is always so consistent. Try to think of a "bad" Shalane Flanagan race–you can't. She will run hard from the gun so the possibility of a blow up always exist. Even with a bad day, I don't see her drifting out of the top ten or losing to another American.
Ultimate goal: It's Shalane Flanagan so the goal is winning. She doesn't seem to concerned with what is realistic and that is precisely the attitude she needs to have if she wants to do what Meb did in 2014.
Amy Hastings
What's at stake: Establishing herself as an clear top three American marathoner. She is behind Flanagan right now and also probably a step back of Desiree Linden on the Olympic Trials projections. Third will be as good as first when trying to make the team next March, but I'm sure Hastings would like some momentum going into that race.
Best case: If she ran like she did in Chicago, she could crack the top five overall and challenge Linden and Flanagan. She ran aggressively in Chicago, leading for some of the early miles, yet she still finished fifth (with Jeptoo included) and tied her personal best.
Worst case: When she is healthy and prepared there aren't three American women that are faster. Like Ritzenhein, the biggest challenge may be getting to the starting line healthy and hungry.
Ultimate goal: Top two American and possibly a personal best if the weather cooperates.
Desiree Linden
What's at stake: The same as Hastings. If we pencil in Flanagan as having one of the Olympic spots, that leaves two spaces for the rest of the American women to fight for. Right now Linden is slightly ahead of Hastings, but that gap is almost indistinguishable.
Best case: She was only 17 seconds behind Flanagan at the 2012 Olympic Trials. She's also two years younger. If it's a question of consistency then Flanagan has the clear edge, but Linden is certainly capable of hanging around and mucking up the form chart.
Worst case: If she gets to the start line healthy, then she will run well. She runs smart, rarely has a blow up and is keen to take advantage when others run over their head in the early miles. Her time and place within the international field is secondary to how she finishes relative to Flanagan and Hastings. If she loses by a big margin, then she won't have much margin for error over the next 15 months.
Ultimate goal: We have trouble forgetting her 2011 performance when she almost made history and won the whole thing. Since that race, she has had her ups and downs. She didn't finish the Olympics in 2012, but finished a promising fifth place last fall in New York City. Nothing, though, has been able to measure up to that windy day four years ago when she chased Caroline Kilel down Boylston Street.
London Marathon
Not to be outdone, London released its men's field last week. The aforementioned Dennis Kimetto and Wilson Kipsang are the two main players in a race between the world record holder and the defending champion. Behind them, it's an all-star cast with virtually every great marathoner on the planet.
This has been London's move over the past few years. Their men's field has established itself as the deepest and most intriguing of the Big Five marathons. Every year it's called the Greatest Marathon of All-Time, which while hyperbolic seems to somehow be true.
Yet with all the great fields, London has trouble producing a race that lives up to the impossible outcomes. The race is outflanked on both sides–by Berlin when it comes to world records—and Boston and New York for tactics and drama.
But that doesn't always generate into the best, or most memorable race. The margins of victory over the last four years in London have been 26 seconds, 29 seconds, 127 seconds and 65 seconds….. The two most recent look close on paper, but both times the lead runner won going away, after a fast pace threw the entire pack into disarray.
During that same time period, Berlin has hosted three world records. Boston has had two races decided by five seconds or less (and that doesn't include Meb's nailbiter last year). New York had Kipsang and Desisa kicking to the finish in Central Park.
So while London has had clearly stronger fields, the "greatest field of all-time" hasn't been able to produce a classic race over the past several years. That said, I like the approach London takes. I hope that the lack of records doesn't make them spend less money on attracting similar fields in the future. If it was up to me, there would be more races like London where the top runners weren't spread out two or three races. It's the only way to figure who is the best in the marathon's current sea of parity.
London's plight (if you could call it that) is a problem without a solution. Races are finicky, marathons especially so. You can't orchestrate the outcome even if you have a great race on paper. All of the talent has some diminishing returns especially with the self-destructive early pace that has come to characterize London. In that respect, London's stacked fields might actually hinder the overall race instead of help it.
But even if that is the case, does anyone want to see the alternative? I'll gladly take the all-star roster, the overhyped reveal of the fields and possible disappointment if it means that one of these years all of the elements will come together to actually create the greatest marathon of all-time.
The Medalists
The top three performances of the week….
Gold: Garrett Heath
Garrett Heath has a specific set of skills….and it includes winning cross country races in Scotland. In January. On a muddy course. Against a really good field.
For the second year in a row Heath won the 4K race at the Great Edinburgh Cross Country meet in Scotland. Last year, he beat Kenenisa Bekele and Asbel Kiprop. This year, he topped Kiprop along with Japheth Korir (the 2013 World Cross Country champion), Bernard Lagat and several other Diamond League mainstays.
For Kiprop, Lagat and co. this race probably isn't a priority and it's a third of the length of the World Cross Country Championships distance that Korir specializes in. But as I said last year when Heath was the surprise winner, none of that matters when he is telling his grandchildren that Kiprop couldn't touch him in Scotland. He's best event is a race that doesn't exist outside of once a year.
Silver: Dathan Ritzenhein
Ritzenhein finished 16 seconds behind Heath and eight seconds behind Korir to take third place. Combine that with his win earlier in the week at the Campaccio 10K cross country race and you have his best week of racing in a long time.
Like Heath, there were lots of big names behind Ritzenhein in the final results. Asbel Kiprop, Edwin Soi, Thomas Longosiwa, James Magut, Lagat….all accomplished runners at 10,000 meters and shorter. Ritzenhein gets better as the distance increases so third place on Saturday in a 4K is even more impressive than his win in Campaccio. His week of cross country in Europe was a resounding success by an metric.
Bronze: Chris Derrick
When will the rest of the world learn not to challenge the US to a cross country race in January?
In the team races at Great Edinburgh, the US won three of the four races, including a dominating performance in the men's 8K. There, Chris Derrick led the charge and defended his title from 2014. He ran 25:31, two seconds ahead of Jacob Riley. The United States ran against teams from Great Britain and Europe and won handily 30-66(GB)-81(EUR). The women's 6K race was the US's lone loss on the day. The Americans finished runner-up to the European squad in a race won by Great Britain's Emilia Gorecka.
Record Chases
The indoor season is ripe for record attempts. No group takes more advantage of this than the Nike Oregon Project. This year, they look to be following the same template with Mary Cain and Galen Rupp both committed to the two-mile at the Armory Track Invitational on January 31st. Cain is aiming to break her own indoor World Junior record in the event and will be pushed by Abbey D'Agostino and Jordan Hasay. In the men's race, Rupp will most likely be targeting his own American indoor record of 8:07.41.
It's been awhile since we've seen Cain or Rupp race, but if last year is any indication they will be ready to run fast and often in the indoor season.
The Finishing Kick
–Wilson Kipsang said that 99% of Kenyans are clean, which makes them the complete opposite of Russia.
-The head of Athletics Kenya, Isaiah Kiplagat said that doping in Kenya is as bad as AIDS. He's definitely not overcompensating for past failures….
-US/NCAA hurdle champion Devon Allen said he is "looking forward to being faster than I am already" after he suffered a knee injury in the Rose Bowl. That's a scary thought.
-Forget the Boston 2024 bid, the biggest Olympic news of the week is Las Vegas sports books petitioning the Nevada Gaming Commission to legalize gambling for the Olympics …"Yeah, I'll take Farah at -150…and can I parlay that with the women's triple jump?" could be coming to a casino near you!