One Comment
Gebrhiwet Blows Away Field, Grabs World Lead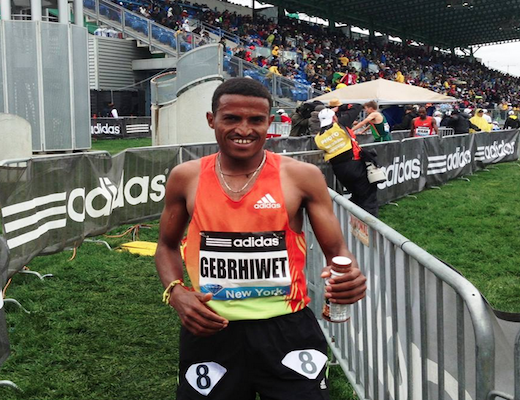 Daily Relay | On 27, May 2013
Photo Courtesy of Adidas Grand Prix
Mo Farah may be training in Portland, but there's something about winning double Olympic gold that causes your name to come up even at an event 3,000 miles away.
The top runners in the Men's 5,000m at Saturday's Adidas Grand Prix are pretenders to Farah's 5,000m/10,000m throne, and much of the pre-race hype surrounded a potential duel between a pair of Ethiopians, Dejen Gebremeskel and Hagos Gebrhiwet.
As it turned out, only one of them was a factor, as Gebrhiwet ran away from Gebremeskel and the rest of the field, running alone for the last 2,000m to finish in 13:10.03, which is the world lead at the distance. Gebremeskel finished sixth, 21 seconds back, and never looked likely to challenge his compatriot.
"Hagos is a strong athlete — he's still young," said 23-year-old fellow Ethiopian and third-place finisher Ibrahim Jeilan of the 19-year-old Gebrhiwet.
Jeilan was one of two potential challengers — if not to Farah then at least to compete in the final at the World Championships in Moscow — who finished much closer to Gebrihwet than Gebremeskel on Saturday.
Jeilan is less than two years removed from winning the 10,000m at the Daegu World Championships but has since battled mysterious injuries. He insists he's healthy.
"I'm feeling better now. I'm on my way to Moscow," said Jeilan. As for his injuries, he added, "It's finished now," but wouldn't say exactly what the injury was that is "finished."
"With one month's training, I will be back, I will improve," he said. "If I train two months or three months more, then I am back to my place — champ."
When Jeilan was the champ in 2011, he finished 0.14 seconds ahead of Farah in a stunning upset. When asked whether "back to my place" meant he was ready to challenge Farah in the 10,000m, he backtracked, saying, "No, I don't know — I don't know about that."
Running with Jeilan for the closing laps was American Ben True, who entered the race with the world lead at the distance (13:14.44), only to see it snatched by Gebrhiwet by more than four seconds, despite wet and windy conditions.
True, young to running after skiing during the winter in college, feels he's growing into an elite competitor. Like Jeilan, his prime distance is the 10,000m, but also like Jeilan, he doesn't feel ready to challenge Farah.
"I think it's going to take another few years, but if I keep working at it and stay healthy, I think I can get there," said the Maine native, who trains in New Hampshire at his alma mater, Dartmouth College. "I'm 27, but in running years, I'm more like 23."
True jumped Jeilan with two laps to go but admitted his move may have been premature. He slipped to fourth in 13:16.94, less than a half-second behind Jeilan (13:16.46). Kenya's Vincent Kiprop Chepkok was a second further ahead in second at 13:15.51.
"I probably did a little too much work there — the wind was pretty brutal," he said.
True sees the difference now in his ability to make moves in a race of this caliber.
"It was good when, in the middle of the race, where guys were trying to open it up, and I could look up ahead, see a gap open up and move up ahead and fill that gap."
He'll enter next month's US Trials with a different mentality than he had in 2012, when he finished sixth in the 5,000m and 12th in the 10,000m.
"When I ran in Trials last year, I hoped I could make the team, but I don't think I really believed I deserved to make it," said True. "This year, I know I deserve to be there and be on the team."
Though the return of Jeilan and True's strong run on the big stage were part of the story, Gebrhiwet's solo show was the headline. One wonders whether that headline will attract the attention of Farah. In this calendar year, the Ethiopian has already beaten Farah's training partner in an indoor 3,000m in Boston in February. More recently, Gebrhiwet won the 3,000m at Doha on May 11 in 7:30.36.
At this point, he may be Farah's strongest challenger in the 5,000m in Moscow. If he were more comfortable speaking in English, would Gebrhiwet deflect the idea of taking down Farah, as Jeilan and True did, or admit that he had his sights set on the British star?
Either way, his actions on the track speak loudly enough.