One Comment
The Monday Morning Run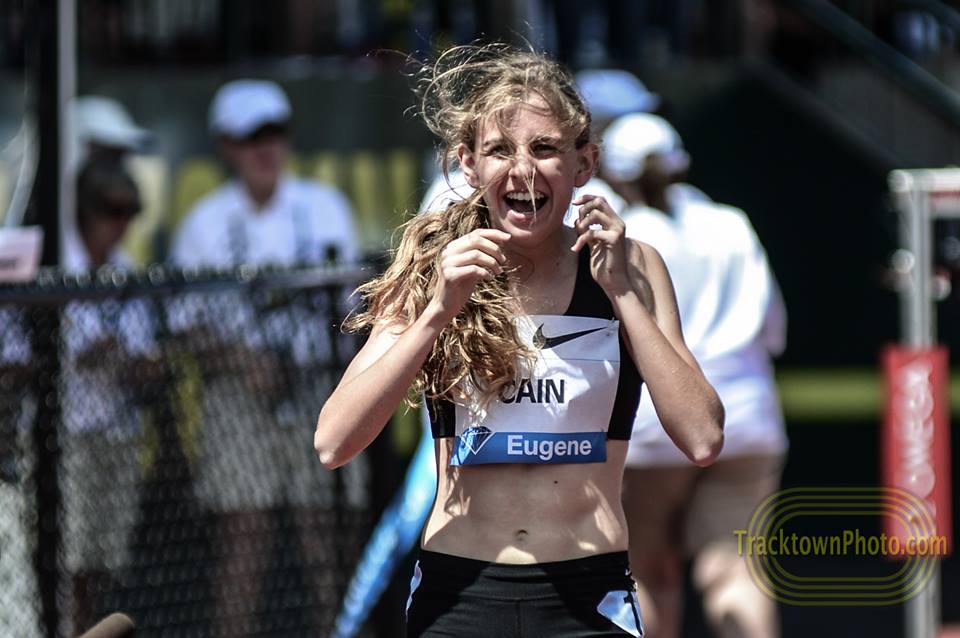 Kevin Sully | On 13, Jan 2014
After a barren few weeks, it looks like we have our first full week of legitimate professional action in the new year. Some of it came in cross country, where the international professional season continues, but we also had our first glimpse at the indoor season. Begin the countdown to Sopot, Poland!
From here until March 7 there will be an indoor meet of consequence in the United States or Europe every weekend. The American professional season looks to be slim, with only the Millrose Games, New Balance Grand Prix and the USA Indoor Championships on the schedule. As is customary with track though, it doesn't need to be a professional meet for professionals to compete. Boston University is hosting a series of meets that will play host to a series of record attempts by Galen Rupp and the Oregon Project group and the University of Washington also will have its fair share of big name appearances at its indoor facility throughout the winter.
Mary Cain already made her 2014 indoor debut in New York City over the weekend. As a workout, she ran the 500/800 double in the Gotham Cup  meet at the Armory. I'm not sure stats are kept on most successful 500/800 doubles, but Cain did finish second in the 500 in 1:12.43 and first in the 800 with a modest 2:08.51. It was a controlled effort, but a high profile one since it was her first as an official professional runner. Much has been made of form changes that her coach Alberto Salazar wanted to address in 2014. I think the race distances and times make it too early to tell if the tweaks to her arm carriage and hip position will have any lasting effect.
Have a look for yourself. Here is the video of the 800 from this weekend.
And here is Cain last year at the New Balance Games in January
After the race, Salazar spoke with Doug Binder about the specific changes he is looking to make with Cain.
Obscure Record Threat Level: High
There will be plenty more Mary Cain appearances this winter. Some of them will be attempts at world indoor junior reads. Our own Jesse Squire broke down the likelihood of Cain setting even more records in 2014. She isn't the one only trying to get in on the off-distance record party.
Jordan Hasay, Treniere Moser and Shannon Rowbury will join her this Thursday in Boston in the 1,000. Next week, Matt Centrowitz will run the same distance.
Not to be left out, the Millrose Games announced that Bernard Lagat, Nick Willis, Evan Jager and Cam Levins will compete in the 2,000 meters on February 15th. 2,000 meters, 5 laps, nice round numbers. The mark they are chasing is Kenenisa Bekele's 4:49.99 from 2007. If they want to get even more ambitious, Hicham El-Guerrouj holds the world record outdoors with a 4:44.79.
If the pace does go out quickly, also be on the lookout for an en route 1,800 indoor world record.
What do we think of all these records attempts? Running fast times and having great competition shouldn't have to be mutually exclusive. Too often in middle distances they are pitted against one another in an either/or proposition.
If a race bankrupts itself to get one star running after a record instead of creating a strong overall field, then the discussion gets more complicated. Despite what pundits say, records are one of the parts of the sport that does translate over to a mainstream audience. Chasing more obtuse marks like "A" and "B" standards not as much, but someone going for a national or world record is easily digestible even to the most track averse. Whether or not the race turns into something exciting (or if it is even a race at all as opposed to a time trial with anonymous rabbits), is a different story.
Records attempts such as the indoor 2,000, though a bit contrived to generate headlines, does actually strike a good balance between racing and chasing. The marks for these events are usually attainable by more than just one person in the field, ensuring at least two people in direction opposition against something other than a clock.
The Medalists…
The 3 best performances of the weekend
Gold: Garrett Heath
The anticipated match-up between Asbel Kiprop and Kenenisa Bekele at the Great Edinburgh cross country race instead turned into a stretch dual between Garrett Heath and Meresa Kahsay. The American outkicked the Ethiopian and won in a time of 11:51 for the 4-K course. Kiprop finished third in 11:58 and Bekele was a well-beaten fifth.
Now, before we write off Heath's win because Bekele is in the middle of marathon training and Kiprop's been tied up with an assault investigation, let's remember one thing. Heath beat a duo that has combined for 12 Olympic and World Championship medals on the track. It doesn't matter if it happened in cross country race in Scotland, at an indoor track in Nova Scotia or in game of freeze tag, Heath just won every "who is the best person you ever beat in a race?" conversation with his friends and training partners.
Silver: Chris Derrick
Overshadowed by his countryman, Derrick comfortably won the 8-K race in Edinburgh. Andy Vernon placed second, Bashir Abdi was third and defending champion Bobby Mack finished fourth.
I know the thinking behind having multiple distances in a cross country meet at the professional level. Greater variety means a more diverse group of entrants. Track specialists and marathoners are both able to find a distance that is suitable to them. At the professional level, the World Cross Country Championships created a short course and long course division in 1998 in hopes that it would break up the African dominance in the event. It didn't work, which is surprising because I can't think of any great Kenyan or Ethiopian middle distance runners…..
After 2006, the IAAF switched back to just one race for men and one for women. Although Edinburgh had star power in all of its races, it would have been great to see Derrick in that same race as Bekele and Kiprop. One of the things cross country has going for it (and there aren't many outside of high school and college) is that it brings together runners from across the distance running spectrum and puts them in one race. Sure, on Saturday Bekele was reportedly coming off a 140-mile week and Kiprop was racing in a long sleeve shirt. We still got to see best 1,500 runner in the world match-up with the king of the 5,000 and 10,000.
Bronze: Hiyot Ayalew
Ayalew won the Cross Internacional Juan Muguerza de Elgoibar in Spain on Sunday. She topped Alemitu Haroye, Linet Masai and Mercy Cherono to win her fourth straight cross country race this season.
In the men's race Timothy Toroitich of Uganda took the win over Ayad Lamdassem and steeplechase star Conseslus Kipruto.
Surging…
Geoffrey Kipsang
The Kenyan has been a name to watch since he broke 59 minutes in the half marathon last February. Over the weekend, he dispatched of Geoffrey Mutai to win the 12-K Police Service Cross Country Championships. I'm going to assume that the The Police Service Championships are just like the Corporate Challenge in the United States, only much faster and with fewer torn Achilles.
Kipsang wants to race in the World Half Marathon Championships in March or compete in the Tokyo Marathon.
Mutai probably isn't too concerned with the loss. He started slow last season as well and ended the year with a dominant win in New York City.
American Boston Marathon Team
Not for their actual performance, we will have to wait and judge that in April. They are considered surging this week because every top male and female marathoner in the country (save for Ryan Hall and Kara Goucher) announced they are running in Boston last week.
January is a long way from April, especially in marathon terms where a minor injury can turn into a cause for withdrawal fairly quickly. For now, let's assume they all make it to the start line and give a quick overview of the story lines for the six biggest names.
-Meb Keflezighi
Coming off a disappointing New York City performance where he finished 23rd in 2:23. Are you ready to count Meb out? (there is no right answer to this question) Do you really think that 2:23 is going to sit well with him? (there is a right answer to this question)
-Dathan Ritzenhein
Will be making his debut in Boston, which probably is a course that is conducive to his running style. Last fall, he had his highest finish ever in a major marathon, but was disappointed with his time, 2:09:45. Favorite to be the first American across the line.
-Jason Hartmann
Fourth last two years at Boston, but did not finish in New York City last November. The bad weather and pace fluctuations in Boston don't seem to faze him.
-Shalane Flanagan
Since we don't know much about the international field, it is too early to tell what her chances are of winning. The East African women in the marathon haven't left the Americans in the dust like they have for the men, so a win is in play. Regardless of who shows up from the rest of the world, Flanagan will need a great race or a meltdown from the favorites. Both of which are possible.
-Desiree Davila Linden
Was so close to breaking the American drought in 2011 when she finished second to Caroline Kilel. She has struggled with injuries since then, but had a solid performance in Berlin last September.
-Amy Hastings
Just missed making the Olympic team in the marathon in 2012. Ran 2:42 in New York City last year. Can she break 2:30 again?
Other entrants for the United States include Adriana Nelson, Brett Gotcher and Nick Arciniaga.
Slowing….
Kenenisa Bekele
Not because he finished fourth in Edinburgh. No, Bekele finds himself in this category because he announced last week that he will make his marathon debut not in London, but in Paris. With London's big budget, I'm going to assume that Bekele's decision was made with competition in mind, rather than finances. I'm sure the organizers of the London Marathon would have been quite keen to open up their wallets to assure that Bekele debuted against Mo Farah, especially after their very competitive half marathon at the Great North Run last year.
I don't think Bekele is ducking Farah. It is more likely that in his debut he wants to keep clear of the four or five yet to be named other entrants who will assuredly have personal bests well under 2:06. Finishing seventh in 2:06 isn't nearly as appealing as running the same time to win in Paris with stage all to himself.
The World Marathon Majors was designed to create good, deep fields with a large cash purse as an incentive. Paris, though it has produced fast times, isn't one of the majors. If more big names avoid the Big 6, even in their debut, it could undermine what has made the marathon great the last few years.
Sherone Simpson
The sprinter's doping case came before a Jamaican anti-doping commission panel last week. In the hearing, Simpson claimed that she did not know that she was taking a banned substance and blamed her trainer, Chris Xureb, for providing her with the supplement.
Simpson claimed that one of six supplements provided by Xuereb was responsible for her "devastating" positive test and said she had researched the "Epiphany D1" supplement for up to 14 hours online before starting to take it.
How this will be handled under WADA's strict liability rule will be interesting to track especially with Asafa Powell's case yet to be adjudicated. Why athletes take risks with supplements that have little proven benefit is a different story entirely.
The name alone, Epiphany D1, should have immediately sounded suspicious to Simpson.
So this doesn't happen again, here are a few rules for knowing when a supplement probably contains a banned substance. Unfortunately, all of the examples are actual products:
Numbers used in place of letters: Jack3d
Intentionally misspelled words: Craze, Rezolution
Random capitalization: OxyELITE Pro
Use of ".0" in the title (unless the supplement comes with an operating system): Hyperdrive 3.0
Any use of the word "rage": Hemo-Rage Black, Animal Rage, Warrior Rage, NO7 Rage
Reading List
Jon Mulkeen takes a closer look at Ashton Eaton's potential in the 400 hurdles.
Toni Reavis profiles Stephen Kiprotich.
On the off chance you haven't read the story about two runners who were almost victims of the "knockout game."
The Week Ahead
Asafa Powell appears before a doping panel on Tuesday.
On Thursday, Galen Rupp and Cam Levins will race the 5,000 in Boston. Not wasting any time, Rupp is targeting the American record of 13:07. That is awfully fast for the first race of a season.
Also in Boston, Mary Cain, Treniere Moser, Shannon Rowbury and Jordan Hasay will race the 1,000.