3 Comments
The Monday Morning Run: Dibaba rocks the 1500, triple jump duel, Gatlin rolls along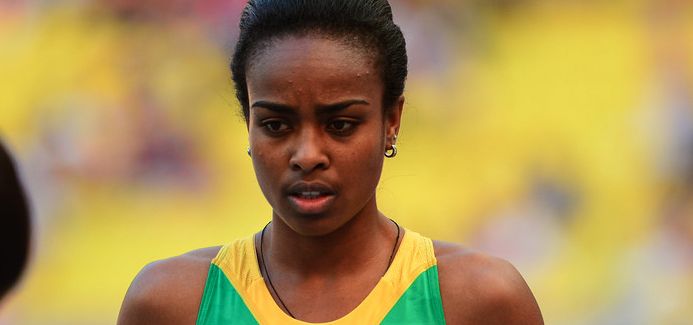 Kevin Sully | On 13, Jul 2015
Track's endless season is beginning to show the faintest signs of a resolution. There are only three Diamond League meets, and less than six weeks, until the World Championships begin in Beijing.
By this point, most of the favorites have been identified and the schedule begins to tighten around a few key competitions. The Lausanne Diamond League meet hosted the main event last week and it was chock full of previews for the World Championships. Mo Farah and Justin Gatlin emerged as expected, Christian Taylor and Pedro Pablo Pichardo went jump for jump and Shaunae Miller's sub 50 gave the women's 400 a new dimension. All of that comes below, but first…….the obligatory recognition of Genzebe Dibaba.
The Medalists
The top three performances of the week
Gold: Genzebe Dibaba
No event is safe from Genzebe Dibaba. The Ethiopian set a personal best in the 1500m in Barcelona of 3:54.11 to become the ninth fastest all-time in the event. It's the best time since 1997 and puts her more than five seconds ahead of Jenny Simpson on the yearly list.
This race in Barcelona was a time trial from the gun. Dibaba and her pacemaker peeled out in the first 100 (I hope someone got a split on that first 50 meters because it looks really fast) and never looked back, winning by 18 seconds. This was in line with Dibaba's other races this spring and complements her indoor world record of 3:55.17 nicely. Clearly, she would contend for a gold medal if she decided to race the 1500m in Beijing. At the beginning of the year she said she wanted to focus on the 5000m, but 3:54 has the ability to change plans quite dramatically.
After beating the drum for the Allyson Felix 200/400 double at World Championships, I'm comes to terms that I am almost universally pro-double. The only thing better than watching a great athlete run one event is having them run two–especially because the second event is always a little bit out of their comfort zone and that in and of itself is captivating. For Dibaba, the schedule is much more agreeable than Felix.
Right now, she is the best in the world at both events–in the 5000m because she just beat her biggest (and probably only) rival, Almaz Ayana. In the 1500m, because of that time for Madrid.
However, if there is one event where the best marks list is misleading, it's the 1500m so 3:54 or not, it won't be as easy for Dibaba as that five second gap between her and Simpson indicates. And if there is a criticism of Dibaba, it's that she still unproven in a championship races outdoors.
Here is how the schedule breaks down for the World Championships if she decides to run both races.
Day 1: 1500m heat
Day 2: 1500m semi
Day 3: 1500m final
Day 6: 5000m heat
Day 9: 5000m final
That's how it would look for a normal person. However, I translated the races into what they actually would look like for Dibaba
Day 1: 1500m heat (1 x 1000 easy, 1 x 400 moderate, 1 x 100 look behind you while jogging)
Day 2: 1500m semi (1 x 800 moderate, 1 x 300 hard, 1 x 400 alternating hard/easy each 100)
Day 3: 1500m final (1 x 1400 following Jenny Simpson, 1 x 100 sprint)
Day 6: 5000m heat (3200m warm-up, get water, 1600 easy, 200 moderate)
Day 9: 5000m final (1 x 1600 easy, 1 x 3000 with occasional surges so Ayana thinks you are going to lead, 1 x 400 around 60/61 seconds, find Ethiopian flag)
Silver: Christian Taylor
We are all accustomed to the quick finishes of Dibaba and Mo Farah, but Christian Taylor might be the best closer in track and field. In May, he ended his series in Doha with a personal best of 18.04m. That mark was good enough for a personal best for Taylor, but not the win. He fell two centimeters shy of Pedro Pablo Pichardo's 18.06m third round leap.
Fast forward to Lausanne on Thursday and again Taylor was on fire in the later rounds. Pichardo was in the lead with a 17.99m jump from the third round before Taylor countered with jumps of 18.02m and 18.06m on his last two attempts.
There have been 11 legal jumps ever that have reached 18 meters. Five of them have come this year between Pichardo and Taylor.
Taylor is now only three centimeters from Kenny Harrison's American record and both Taylor and Pichardo are jumping as if Jonathan Edwards's 18.29m world record is a realistic possibility. The high jump was the en vogue field event last year, but it looks to have been supplanted this year by Taylor and Pichardo.
Bronze: Justin Gatlin
Gatlin rolled another 9.75 and won by a comfortable margin over Asafa Powell and Tyson Gay. It wasn't a personal best or a season's best for Gatlin, but it was tied for the 11th fastest time ever. Bolt's 9.58 and 9.63 make our perception very skewed to the point where a 9.75 doesn't seem as impressive as it really is.
Thursday's race in Lausanne had many of the expected World Championship finalists and it was over by the halfway mark. Gatlin's start has been flawless all season and he pulled away as the race went on. With Gatlin/Powell/Gay taking the first three spots, it feels like we are getting a glimpse of an alternate universe from 2007/2008–one in which Gatlin was never suspended and Usain Bolt never existed. Gatlin is running slightly faster than his since annulled record of 9.77, and Gay and Powell are nip and tuck with each other.
The three are all just as relevant now as they were seven or eight years ago. Gatlin is the only one running faster, but if you told me in 2012 that Gay and Powell would be favorites for a medal six weeks before the World Championships, I wouldn't have believed you.
There will be an injection of youth when Trayvon Bromell, Andre De Grasse and others enter the mix in Beijing. Of course, we also wait on Bolt. He announced that he will race the London Diamond League meet at the end of July. Save us from this time warp Usain!!
Surging…..
-Mo Farah
Farah ran against a super-sized World Championship field and came away with a win in the 5000. He stayed patient when Yomif Kejelcha made a strong move on the backstretch. When the two reached the final 100, Farah took off and finished in 13:11.77 to Kejelcha's 13:12.59. This was a two person race with another five seconds clear to the next finisher after Kejelcha.
What does this tell us about Farah?
For one, he's clearly the favorite in both the 5000 and 10,000. Caleb Ndiku fell in the latter stages of the race so we didn't get to see what he has, but virtually every Ethiopian and Kenyan that is expected to be competitive with Farah was in this race. The Americans were missing, though I think Galen Rupp in the 10,000 is the only one with a chance against him. Maybe, Ryan Hill if the 5,000 gets extremely, extremely tactical in Beijing.
The race also demonstrated how confident Farah is in his kick. Both in Lausanne and in the 10,000 he ran at the Pre Classic, he waited until 100 meters to really begin to sprint. This strategy makes the 2011 World Championships seem like a different lifetime. That was when Farah took off from 500 meters out in the 10,000 and was caught by Ibrahim Jelian. I don't seem him making any moves like that again unless he absolutely has to.
What the race in Lausanne didn't do is answer critics who are skeptical of Farah's coach, Alberto Salazar. In track and field, winning races doesn't eliminate skeptics, it creates more of them. Unfortunately for Farah, fast times and gold medals only increase the level of scrutiny that he is already under.
-Geoffrey Kamworor
The other rival to Farah ran 13:14.7 at the Kenyan Championships. That's fast, especially for Kamworor who is said to be focusing on the 10,000. But for every great performance, there is a someone willing to blow it up to something even bigger. The following comes courtesy of Kenya's head coach Julius Kirwa….
"…After watching him today am more than convinced that this is the man who could easily win the world title in Beijing,"said Kirwa
-Allyson Felix
She ran 22.09 in the 200 and glided past Dafne Schippers. The final meters are a clear illustration of a 200/400 runner vs. a 100/200 runner.
-Shaunae Miller
Miller ran 49.92 in the 400– a personal best and the third person under 50 seconds this year. Will her 400 time be enough to scare Felix out of the event? Not likely. While Felix may have hit her ceiling in the 200, she still has plenty of room for improvement in the 400. She's only run the 400 at a major championship once and that is where she ran her lifetime best.
All of her other times running the 400 have more or less been in preparation for other races. I don't think 49.92 intimidates her, particularly after she beat a woman with a season best of 49.85, Francena McCorory, at USAs.
Back to Miller–she's also ranked second in the world in the 200 with a mark of 22.14. However, she doesn't have plans to run both events at the World Championships.
Shaunae Miller (BAH), arguably top threat to Allyson Felix in Worlds 200 and 400, will NOT double, rep confirms. Hasn't picked event yet.

— Nick Zaccardi (@nzaccardi) July 11, 2015
-Ayanleh Souleiman
Meanwhile in Madrid, Souleiman ran a world lead in the 800 when he posted a 1:43.08. Two other men ran under 1:44 making it the fastest 800 of the year–and it didn't happen in a Diamond League or in a race with David Rudisha, the world's greatest rabbit. Go figure.  Souleiman is also a 1500/mile star so we have another potential double on our hands.
-Zharnel Hughes
He set a personal best of 20.13 and won the 200 in Lausanne. Hughes looks like a medal contender unless you can name two people not named Justin Gatlin who can beat him.
Through the transitive property, Hughes's win also made Usain Bolt's narrow victory over him in New York look a little better. If you are going to barely squeak by someone after massively underperforming, it might as well be against a guy who wins Diamond League races. Also, if Adam Gemili gets healthy Great Britain's 4 x 100 might beat a Bolt-less Jamaican team.
Slowing….
-David Rudisha
He ran the race on his terms in Lausanne, sitting directly behind the rabbit and then taking the lead on the final lap. Nijel Amos was just better down the stretch and beat him 1:43.27 to 1:43.76. It wasn't a crushing defeat for Rudisha, but these types races are starting to feel normal. How soon we forget that just last year it was a huge deal when someone beat him.
Even though Amos won on Thursday, the 800 is without a top dog at the moment. Amos, Aman and Rudisha are the three most celebrated and Souleiman will be a popular pick for gold if he runs the 800 and 1500. Rudisha is a long way from being out of contention, even if he can't go back to running like a world record holder again.
-Mo Aman
In the same race, Aman was far off the pace and finished in 1:46.03. He's been inconsistent this year–his first season since joining the Oregon Track Club Elite. Thursday was another tough race, but he's balanced that with two Diamond League wins and the third fastest time in the world this year. If were not discounting Rudisha, we can't cast off Aman. This year's World Championships is shaping up to be a pre-Rudisha 800, that is, one where all eight finalists have a shot to win it.
-Nickel Ashmeade
He finished last in Lausanne with a 20.96. The medals in the men's 200m are ripe for the taking, with Gatlin assuming the top spot followed by questions marks around the next seven runners. This is an opportunity for runners like Ashmeade, who are a tier below Bolt/Gatlin, but are capable of running under 20 seconds.
-Caleb Ndiku
In his return to racing, Ndiku was chewed up and spit out during the fall in the men's 5000m. Farah ultimately ran away with that race and Ndiku got up to finish in 13:32.25. Ndiku had a great 2014 and deserved mentioned as a possible challenger to Farah for this season.
Unfortunately for us, we didn't get to see how much of a kick he has in his legs. Before last year, he was mostly known as a 1500m runner and is probably the only 5000m runner who can match Farah at the shorter distances. All of this, and the fall on Thursday, make him the ultimate wild card in the World Championships.
-Field event favorites
Again, we have chaos in the Diamond League field events. Renaud Lavillenie was third this week in the pole vault, a week after he finished fifth in Paris. Sandra Perkovic finished second in the discus. According to my extensive knowledge of the women's throws that is not supposed to happen.
What does it mean?
–Elaine Thompson's 10.90 in Madrid, means that I'm still confused as to why she won't be running the 100 for Jamaica at the World championships. That is three times under 10.92 on the year. Yes, she will be a strong candidate for a medal in the 200, but she also could have been a factor in the 100.
–Abdalelah Haroun's 44.63 in Madrid means that the track at La Chaux-de-Fonds (where he ran 44.27 the week before) is a hotspot for fast times. A variation of three or four tenths isn't that uncommon in the 400, but considering La Chaux-de-Fonds's reputation as a PB factory the fluctuation in time is noteworthy. The bigger test will be when Isaac Makwala, who ran 43.72 in that same race to become the fifth fastest man all-time, runs another 400.
–Keshorn Walcott's 90.16m throw in Lausanne means that he has a personal best to match his Olympic gold medal. It also shows the javelin is slowly getting more representation throughout the world. Walcott's mark is 14th all-time, ahead of him on the list are 11 Europeans, 1 American and Kenyan Julius Yego, who threw 91 meters earlier this year. Turns out you can throw things in pretty much any country.
–Jimmy Vicaut's 9.92 at the French Championships means that the medal contender are more crowded than anticipated in the men's 100. Yes, you can pencil in Gatlin. For the silver and bronze Vicaut, Tyson Gay, Asafa Powell, Trayvon Bromell and Andre De Grasse all deserve mention. If Usain Bolt makes it to the starting line, it would be weird to not consider him medal contender even if he runs 10.5 in all of his tune-up races. Also, Mike Rodgers ran 9.88 over the weekend in Madrid because Mike Rodgers will run high 9.8s or low 9.9s until the end of time. If you throw Rodgers in there, then it is six men for two medals, and I'm sure I'm overlooking somebody.
–Sifan Hassan's 4:02.36 victory in the 1500m in Lausanne means that even if Genzebe Dibaba doesn't run the 1500m at the World Championships, this isn't a walkover for Jenny Simpson. Hassan, Faith Kipyegon, Abeba Aregawi, Mercy Cherono and Dawit Seyaum are all very good and capable of beating Simpson in a 1500m. Excluding Dibaba, Simpson would still be the favorite if the World Championships were this week, but I'd pick the field against her if I was forced to decide. The 1500m is wacky all season and is especially unpredictable in championships. Remember back in 2011 a woman whose season best wasn't even in the top 15 won the gold medal?
–Jasmine Stowers's 12.58 in Lausanne means that she really could use a mulligan to get on the American team for Beijing. She's still a bit off her 12.3/12.4 rampage of the early season, but she was just behind Dawn Harper Nelson and beat out Sharika Nelvis, who is on the American team. This doesn't come as a surprise so much as affirmation that six or seven Americans could make the final of the World Championships if there were no entry restrictions.
–Emma Coburn's third place finish in the steeplechase at Lausanne means that she is still in a good position for Beijing. The race was relatively close and the absence of any dominant performer in the event is a welcome sign for Coburn. The women who won the race, Virginia Nyambura, started the season as a rabbit for Diamond League races, so it's fair to say the event is in flux this season. Coburn's only run two steeples on the year–another promising sign if you are still entertaining the absurd, yet somewhat realistic, scenario of the US winning two steeplechase golds. Between her and Evan Jager the prospect of two medals, regardless of composition, looks good.