No Comments
SPEED Rankings #3: Mid-Distance and Distance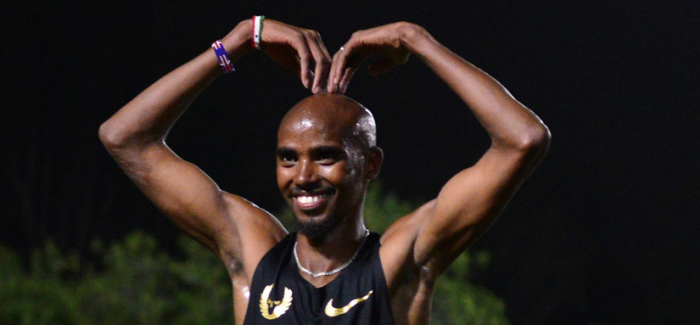 Kevin Sully | On 10, Jul 2015
Lausanne, Paris and the US Championships helped cement a few favorites for the World Championships and provoked more questions in other events. Here is the latest look at the best in world according to one man's opinion. Remember the SPEED Rankings are based on who the top five in the world would be right now.
Men's 800
1) Nijel Amos
2) Ayanleh Souleiman
3) David Rudisha
4) Mohammad Aman
5) Robert Biwott
The commentators in the Lausanne Diamond League meet made a great point about David Rudisha essentially serving as a de facto rabbit from 500-700 meters in his races. He likes to lead and is chomping at the heels of the pacemaker before they step off after about one lap. The obvious drawback is that Rudisha becomes the target when the race reaches it's hardest point. This wasn't a problem when Rudisha was running 1:41 and 1:42 because he was so far ahead that he couldn't be caught. He helped drag runners to personal bests, but they were never truly a threat. After his injury in 2013, that has changed. Now, he finds himself vulnerable in the latter stages.
On Thursday, Amos waited and waited until the last 100 and then flew past Rudisha. It wasn't pretty with Amos–comparing his posture to Rudisha's makes a mockery of any coach's lectures about the importance of running form–but the final margin was convincing for Amos.
The good news for Rudisha is that he was well clear of third place, Aman, and looks to be one of the four men who can win gold in Beijing. If Souleiman just runs the 1500m, then that number gets reduced to three. Souleiman's decision of which events to run became more complicated when he ran a world leading 1:43.08 in Barcelona this week.
Women's 800
1) Eunice Sum 
2) Ajee Wilson
3) Alysia Montano
4) Rose Mary Almanza
5) Selina Buchel 
Sum has now run twice under 1:58 on the year with her latest effort (a 1:56.99 in Paris) the most impressive of the last two years for any woman. Almanza was second in that race and answered definitively that yes, she can compete on the biggest stage. Montano jumps into the top five after winning the USA Championships, which will probably be the most competitive meet of the year outside the Diamond League and World Championships.
Despite finishing behind Montano, I kept Wilson ahead on the rankings because her shoe fell off with 200 meters remaining in Eugene and I don't see that happening again this season. With the pressure of making the team off, I expect Wilson to go back to her aggressive, instinctive style of racing that has made her a consistent presence in the Diamond League. Buchel ran 1:57.95 in Paris and gives Switzerland a medal hope in an unlikely place.
Men's 1,500
1) Ayanleh Souleiman 
2) Matthew Centrowitz 
3) Silas Kiplagat 
4) Asbel Kiprop 
5) Ronald Kwemoi
Though there was a variety of winners over the past three weeks, the top five stayed in virtually the same order. The event varies meet-to-meet and weekly "upsets" are surprises in name only.
Race directors build the race around the hot name, often to favorites own detriment. As with Rudisha in the 800, this puts the leader in a tough spot once the rabbits drop out as they expend a bunch of energy trying to stick with the pacemakers. When the pacer exits, they are the hunted and in the men's 1500 there is too much distance to cover and too many runners capable of a fast finish to allow for an unimpeded run to the finish line. Kiplagat won this way in Paris after Taoufik Makhloufi took on the pace. In Oslo, Souleiman was caught holding the bag when the rabbits exited and he was passed by four people in the last 200 meters.
Centrowitz finish well back in the Lausanne 800m, but is anyone betting against him if there are rounds involved? Kiprop's big test comes next week in Monaco.
Women's 1,500
1) Genzebe Dibaba
2) Jenny Simpson
3) Sifan Hassan
4) Dawit Seyaum
5) Faith Kipyegon
Dibaba reminded everyone this week that before she turned her attention to the 5000m she was a pretty decent 1500m runner. She ran 3:54.11 in Barcelona– good enough to put her ninth all-time in an event where the historical times have some, let's say, question marks. We don't know yet whether she will run the 1500m in Beijing and try for the double.
The schedule allows for it with modest amounts of rest between the two events and no days where she is required to run two events. Hassan looked really strong over the final 100 in Lausanne and beat Kipyegon and Simpson. The addition of Dibaba means I had to cut Abeba Aregawi, Mercy Cherono and Shannon Rowbury–all women who are capable of a medal. Three weeks ago I was confident of who would be on the podium, now I'm more confused than ever.
Men's 3,000 Steeplechase
1) Jarius Birech
2) Evan Jager
3) Ezekiel Kemboi
4) Conseslus Kipruto
5) Brimin Kipruto
Last week was Evan Jager Week in the United States. He was the subject of sympathy and awe after he fell in the homestretch in Paris coming off the final barrier. Jager had Birech beaten and was going to finish well under eight minutes and perhaps alter forever what we thought we knew about America's ability to compete in the steeplechase. Even in a loss, he accomplished the latter.
I still have him behind Birech because of Birech's win at the Prefontaine Classic, but that gap is extremely small. After last week's race, I'm sure Jager wants the World Championships to be next week. Or even tomorrow. Today would work too.
His run in Paris combined with the 3:32 1500m in Portland signas that he is ready to go, or as David Epstein said on the podcast this week, "it seems to me that we are looking at an athlete who is operating at a level that very few operate on ever in their sport."
Kemboi was way off the pace in Paris, but at least provided a good excuse when he said he arrived to France later than expected. Kipruto has been consistent–third in Paris, third in Eugene, but he will need to be capable of running under eight minutes if he wants a shot at a gold medal.
Women's 3,000 Steeplechase
1) Virginia Nyambura
2) Hyvin Jepkemoi
3) Hiwot Ayalew
4) Emma Coburn
5) Lydia Chepkirui
It signifies the progress that the US has made in this event that Coburn finishing third in a Diamond League is viewed as a let down. Expectations for her are that high after she almost set a world lead in the US Champs in very hot temperatures. She finished third in Lausanne behind Nyambura and Ayalew.
The race had most of the best in the world so third place for Coburn is perfectly fine. Remember, this is only Coburn's second steeplechase of the year. Contrast that with Nyambura, Jepkemoi and Ayalew, who between them have run in 11 Diamond League steeples. That type of race count matters when we get into late August. So yes, to answer your question, there is a better than remote chance that Americans sweep gold medals in the steeplechase events at the World Championships. That last sentence felt like typing American distance running fan fiction.
Men's 5,000
1) Mo Farah
2) Yomif Kejelcha
3) Paul Tanui
4) Hagos Gebrhiwet
5) Edwin Soi
Farah powered past Kejelcha in the straightaway to win a tactical race in Lausanne. Kejelcha is the hot hand right now with two Diamond League victories and ownership of the world's fastest time of the year so the win was significant for Farah.
After the race, Farah tried really hard to steal Justin Gatlin's black hat, reportedly telling Andy Vernon to "f— off." Most are far from lucid in the moments after a race, but I'm guessing Farah would like to have that one back.
Caleb Ndiku fell in the late stages of the race and didn't get a chance to test his finishing speed against Farah. Right now, Kejelcha looks like the clear number two with a dense pack behind him. I'm very curious about the Ethiopian and Kenyan selection for the World Championship team. Outside of Kejelcha, few have distinguished themselves.
Women's 5,000
1) Genzebe Dibaba
2) Almaz Ayana
3) Faith Kipyegon
4) Viola Kibiwot
5) Mercy Cherono
Dibaba beat Ayana in what will probably be their only head-to-head meeting outside of the World Championships. Dibaba's 61-second last lap, along with her time trialing acumen, means there are very few ways to beat her. She's faltered before in big races and Ayana does still have the world lead of 14:14.32 so the race in Beijing will still be worth watching. Ever more so if Dibaba is doubling back from the 1500m.
There is a chasm back to the third. Kipyegon ran a 14:31 in the heat at the Prefontaine Classic, Kibiwot has gone under 14:41 three times this year and Cherono was third in Paris with a 14:34.
Men's 10,000
1) Mo Farah
2) Paul Tanui
3) Geoffrey Kamworor
4) Bedan Karoki
5) Galen Rupp
No changes here because there have been no 10,000s. The principles also haven't had any stand out performances (either good or bad)to warrant a mix up. Kamworor hasn't raced much. Karoki led for part of the 5000 in Lausanne, but his strength is in the longer distances. Rupp won the 10,000 at the US Championships, but was only third in the 5000. No reason to think anyone will be able to stop Farah in Beijing.
Women's 10,000
1) Almaz Ayana
2) Sally Kipyego
3) Vivian Cheruiyot
4) Gelete Burka
5) Molly Huddle
Same with the men, except there hasn't been any Diamond League 10,000m races for the women. The fastest times came from Hengelo and the Payton Jordan meet. Huddle looked really good at the US Championships and I think she can squeeze in for a medal in Beijing if she has a good day. I'm not sure if Ayana is planning on running the 10,000 at the World Championships, but if I was her I'd do it if only because it's a safe place to hid from Genzebe Dibaba for 30 minutes.