4 Comments
The Monday Morning Run: The Felix double, Bolt's back and Jager gets so close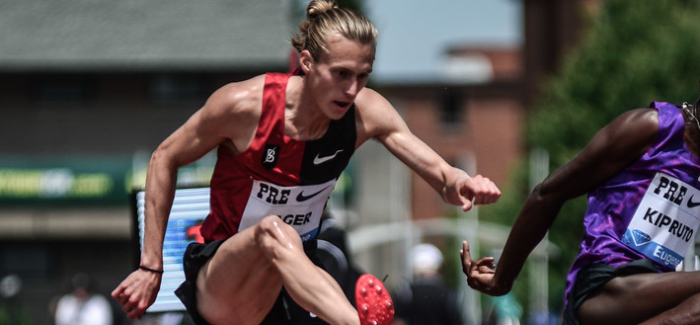 Kevin Sully | On 06, Jul 2015
Photo via TrackTownPhoto
The Diamond League returned on Saturday and if there is a more patriotic way to spend a fourth of July than watching a track meet from Paris on your laptop I don't know what it is. Even with the quick turnaround from the US Championships, the Americans who competed performed well in France, highlighted by Evan Jager's torturously close loss (and American record) in the 3000m steeplechase. More on all the highlights from Paris below. First, a few thoughts on the most interesting current debate in track and field–what race(s) should Allyson Felix run at the World Championships?
Felix has contended all year that the 200/400 double in Beijing wasn't realistic. Her coach, Bobby Kersee, seems to disagree and said last week that running both events is still on the table. This is welcome news for all of us hoping that she'd take on the double.
The most visible problem is the two events overlap days. The 200 semifinals take place an hour before she would need to line up for the final of the 400. On the night in question, sixty minutes is a very short break, though I wonder how much a 200m semifinal takes out of someone like Felix who could jog the race and still qualify for the final. The greater impact might be on the 200 final the next day, as the races start to pile up in her legs.
Any other year this would be deal breaker, but look at the landscape of both events this year. Felix's top two competitors in the 400, Sanya Richards-Ross and Francena McCorory, didn't make the US team. Right now, Shelly-Ann Fraser-Pryce is not planning on competing in the 200. Neither is Tori Bowie, who only ran the 100 at the US Championships.
Even with the unfavorable schedule, it's still plausible that Felix could win both. Double gold becomes more likely if nobody else emerges in the next month as being capable of running under 50 seconds in the 400m or 22 seconds in the 200m.
Kersee knows the competition and I'm sure that is why he thinks it is possible. His main concern is actually how many relays she is asked to run.
In his mind, Kersee said, "I think the relay calls are more important than (the individual races)."
Once they are decided, "what we do will come down to two relays and one event or two events and one relay," he said.
I didn't anticipate the relays being an issue. Obviously, both American teams are extremely deep and she isn't essential for victory in either the 4 x 400 or 4 x 100. If it's a matter of races, she is much more valuable to the US in individual events than she is in the relays. I'd keep her in the pool for the 4 x 400 and if she wants to hop in the final and grab another gold, cool. If not, they will be just fine without her.
Floating in the background of all these discussions, is also the idea of changing the schedule for 2016.
I think the only reason to try a 200/400 double this year is to ask for a schedule favorable to attempting one at the Rio Olympics next year

— Ato Boldon (@AtoBoldon) July 4, 2015
When they changed the schedule for Michael Johnson at the 1996 Olympics to make the 20//400 combo possible, he had already pulled off the double at 1995 World Championship. But the two events didn't conflict in the schedule in 1995. It's a much higher degree of difficulty this year and it puts Felix into a catch-22–the schedule will only change if she can prove she can double and the only way she can prove she can double is if they change the schedule.
All of this it a moot point if she manages to do it this year and if the IAAF is actually looking for her to demonstrate her ability to win, or be very competitive, in both events. It's all highly speculative and I'm not sure why nobody tasked with making the decision has the deductive powers to realize that the best runner in the 200 and 400 could win both if they don't have them overlap on the schedule. Going into 2016, wouldn't you want the marquee female name in track and field competing in as many events as possible?
Back to this season. The schedule is set for Beijing so now we wait for Kersee and Felix's decision. The fact that the order of events has done her no favors would make the accomplishment that much more impressive. The more complicated it is for Felix, the more entertaining it is for us at home as she looks for new ways to separate herself from the other greats in track and field.
The Medalists
The top three performances of the week
Gold: Genzebe Dibaba
Because of quality of fields in Paris, there were too many good performances to choose from. I put Dibaba up top because she beat her main rival in the 5000m and came within four seconds of the world record. Once you heard that Dibaba and Almaz Ayana were going to share the lead after the rabbit stepped off track, the race was either going to be a beautiful display of teamwork elevating both runners to unforeseen heights (and a world record), or a mess of erratic splits and strategic backstabbing.
The pacemaker had them off of 2:50 per 1000m pace after the first kilometer. By 2,000m they were back on schedule, but the pace still hadn't settled. When it came time for the two to trade off the lead, it was bumpy. Ayana pushed more when she was leading, whether that was because she wanted to keep them on course for the record or because it gave her the best chance for the win (or maybe both) was unclear. She surged during her laps, while Dibaba was less eager during her turns at the front. In one instance Ayana dropped a 63-second lap and Dibaba came back with a 73. That's sort of like teamwork.
By 4000m they were eight seconds off the planned pace and the record was off. Dibaba flew past Ayana at the bell and closed with a 61-second last lap. Ayana probably thought that would have been helpful six laps ago. The final margin was more than six seconds-14:15.41 to 14:21.97, a huge gap when you consider they were together at the bell. Dibaba's time was a personal best and the fourth best all-time, still not better than Ayana's 14:14 from Shanghai this year though.
Almaz Ayana after the 5000m: "I'm disappointed because the [pre-race] agreement was not kept. I did more laps than my rival." — Steven Mills (@Trackside2015) July 4, 2015
And thus ends the latest lead sharing experiment.
Silver: Shelly Ann Fraser-Pryce
In Paris, Fraser-Pryce grabbed a firm hold of the world lead running 10.74 to beat Blessing Okagbare-Ighoteguonor and English Gardner.
Entering the race on Saturday, Fraser-Pryce was tied with Gardner for the fastest time in the world this year. Though Okagbare-Ighoteguonor kept it close running 10.81, Fraser-Pryce gained some separation from Gardner who posted a 10.97. Despite the fractions of seconds that separate the women's 100 this year (and pretty much every year), Fraser-Pryce seems like a pretty good bet for gold. Somehow she manages to have just enough to continually keep herself atop the world.
Before the race, Fraser-Pryce said she is just focusing on the 100 at the World Championships. She has the bye in the 200 so it is a bit strange that she wouldn't use it, especially if she feels good after the 100. If Felix opts for just the 400, the 200 is wide wide wide open and anyone who can run the 100 in 10.74 is bound to do just fine with another 100 meters tacked on. Even with Felix, it looks like a free medal at the very least.
Bronze: Asafa Powell
After he ran 9.81 you might be talking yourself into picking Asafa Powell for a medal in Beijing. Right now, he is Jamaica's best hope in the 100 and after Saturday's race he is "only" ..07 off Justin Gatlin's season best. He is healthy, fit and started brilliantly in Paris.
All of these are good, logical reasons to take Powell. But they are also reasons that applied in some form or fashion in most of Powell's career. With all of his experience and his long list of sub-10 second races he only has two individual global championships medals to his name–a pair of bronzes from the 2007 and 2009 World Championships. Since then, nothing. The psychological struggles he's had in major championships may be behind him, but that's not something we will know for sure until he runs in Beijing.
As for Paris, it was a strong race and exactly what he needed at this point in the year. The field didn't have the biggest names, but it was his fastest time in 2011. At this point in his career, and because of his many disappointments, expectations should be low for his chances at the World Championships. But if Usain Bolt doesn't make it to the World Championships, Powell is Jamaica's number one in the 100 and the country's only hope of beating Justin Gatlin. In the past, that type of pressure has turned likely medal for Powell into flame outs.
Surging….
-Evan Jager
If there is such a thing as a dominant loss, then Jager's performance in the 3,000m steeplechase in Paris fits the description. He did everything perfectly at Paris except stay on his feet after the final barrier. Jager stumbled coming off the last hurdle and was passed by Jarius Birech who streaked past him for the win in 7:58.83. Jager collected himself and crossed the line in 8:00.45 to break his own American record.
Prior to the fall, Jager was a comfortable distance ahead of Birech, poised for a time well under eight minutes and the first Diamond League win of his career. It also would have been the first victory by an American man in a Diamond League steeplechase, a statistic that doesn't quite encapsulate how good a job Kenya has done locking virtually everyone out of this event.
Jager was so aggressive on Saturday. As the race began, he immediately tucked in behind the rabbits. The pack quickly broke apart behind him and took many of the big names out of the race for first, including Ezekiel Kemboi and Conselsus Kipruto.
While the deep field dissipated, Jager stayed up front with Birech. They passed 1000m in 2:37 and 2000m in 5:19. With about 900 meters remaining, Jager took the lead. At the bell his margin over Birech grew. It was strange to see him in front, literally where no American man had been before.
Then, the last hurdle happened and it killed enough of Jager's momentum to take away both his chance of winning and of breaking eight minutes. Based on Birech's finish time, it's not unreasonable to think Jager could have run 7:57. Maybe even faster. At the beginning of the year, I thought Jager had a good medal chance because the best non-Kenyan always has a medal chance. It's just simple math. He only would need two of Kenyans entrants to have an off-day, or go out too fast and burn out.
After Paris, it's clear that you are selling Jager short by describing him as the best non-Kenyan. The way he handled the championship-caliber field, including Birech for 2950m or so, was a resounding message about just how good he is right now. Now that he has done it once, can it be repeated? And can he do it in Beijing when the four Kenyans know that he is only threat to breaking up their sweep of the medals?
-Wayde Van Niekerk
One Diamond League victory you can explain away, but a second (and a win over Kirani James), means it's time to pay attention. Van Niekerk ran a savvy race and held of James down the homestretch to win in 43.96. It wasn't a blowout, but it was significant enough of a margin to let you know that it wasn't a fluke. Van Niekerk's time was an African record (more on that below) and a massive personal best for the 22-year-old from South Africa. He also became the 11th person to break 44 seconds in the 400m.
-Isaac Makwala
The 12th person to break 44 seconds came the next day in Switzerland. Makwala ran 43.73 at a meet in La Chaux-de-Fonds to reclaim the African record from Van Niekerk. The time puts Makwala fifth all-time in the event–ahead of Kirani James and Lashawn Merritt. If that sounds strange to you, you're not alone.
44.01 was Makwala's previous personal best and it came from the La Chaux-de-Fonds last year. His fastest time at another venue is a 44.23 last year in Morocco. So far this year, his results were modest:
Isaac Makwala's 2015: 45.88 10 Mar 45.10 9 May 46.28 17 May 45.33 30 May 45.74 11 Jun 46.40 14 Jun 43.72 5 Jul Guess which was at La Chaux!

— Jon Mulkeen (@Statman_Jon) July 5, 2015
What do we know about La Chaux-de-Fonds? According to Wikipedia, it's known as a watch making town and is located 1,000m above sea level in the Jura Mountains. The altitude isn't high enough to earn an "A" designation on the IAAF list, but that could partially explain the fast times.
The whole meet was quick. Behind Makwala in the 400, Abdelalelah Haroun ran a big personal best and set the Asian record. In the men's 100, Henricho Bruintijes broke the South African record, running 9.97. Is La Chaux-de-Fonds the Swiss version of the track in Clermont, Florida, producing times that can't possibly be replicated? And if it is, what is the cause?
For the 400s, the wind reading wouldn't be a factor though there are many theories about certain tracks having swirling winds. After the mishap in Marseille with competitors starting from the wrong line in the 1,500, it's hard to discount human error or a case of mismarking or mismeasuring. So, either Makwala leapt into the top tier of 400m running basically overnight or there is something amiss with the track. His next race will be very interesting.
-Eunice Sum In a meet full of fast races, the women's 800m from Paris held to form. Sum ran 1:56.99, the first sub-1:57 in two years to win the race. The time was also a personal best and she did it despite horrible pacemaking that did more harm than good.
-Andre De Grasse
He comfortably won the 100 at the Canadian championships in 9.95. That's not nearly as strong as his double at the NCAA Championships in May, but the competition was considerably weaker in Edmonton and he was still able to win by almost two tenths of a second. He didn't run the 200 this weekend and still doesn't not plan on competing in that event at the World Championships.
With a vulnerable Bolt, and a comparatively less potent US squad, the 200 still looks like his best chance at a medal at the World Championships. As is, he will still be a medal contender in the 100 and is the best bet to upset Justin Gatlin based solely on the fact that we don't know De Grasse's ceiling yet. He could fall victim of fatigue and make an early exit in the rounds or he could somehow find away to improve on his performances in Eugene and run his way into a medal.
-Zuzana Hejnova She's back to where she was in 2013 when she ran the table for an undefeated season. In Paris, Hejnova ran a perfectly paced race to post a winning time of 53.76. It's not the fastest time of the year, but a clear sign that Hejnova still has the potential to run under 53 seconds. Meanwhile, whoever is keeping tabs on the Danish record book needs to stay alert!!
4th consecutive Danish rec for Sara Petersen 53.99 400mh -> Jun 6 55.23, Jun 20 55.13, Jun 27 54.79, Jul 4 53.99. Pre-2015 pb 55.83 -12. — Mirko Jalava (@mjalava) July 4, 2015
-Robby Andrews
In a perfect world there would be no chasing of marks. It's the only glitch in an otherwise flawless American qualification system. If it has to be done though, it's much better when the races take place in the United States instead of somewhere in Belgium in a city you've never heard of.
Andrews ran 3:35.82 in the 1500m at the Portland Summer Twilight meet to achieve the qualifying standard for the World Championships. The US 1500m team now consists of Andrews, Matthew Centrowitz and Ben Blankenship. Leo Manzano will replace Blankenship if Manzano can run under 3:36.00 before the cut off date of August 9th. Tick….tick….
Slowing…
-Usain Bolt
He was supposed to run in Paris and again in Lausanne this week. Instead, he's in Germany getting treatment for his back after withdrawing from both races. That helps to explain why he didn't race at the Jamaican trials two weeks ago and put to rest any speculation (albeit very minor speculation) that he didn't run in Kingston because he was fit and decided he didn't need an extra race.
The chances that we see Bolt in the 100 and 200 in Beijing are dwindling. If he does show, there is no reason right now to believe he can compete with Justin Gatlin in either event. His coach is downplaying his current fitness and that doesn't seem like gamesmanship based on what we have seen from him so far this year. We are well into July and his best times on the year are 10.12 and 20.13. If you are holding out for some Bolt magic, I certainly don't blame you. He's made a career out of rounding into shape at the right time and dominating at the championships. But he has never had someone like Justin Gatlin waiting for him. Getting healthy by next month is one thing, asking Bolt to then run down someone who has posted 9.74 and 19.57 is entirely another.
Even just month ago, the Gatlin/Bolt rivalry looked likely. Gatlin was faster than expected, Bolt a bit slower. The possibility existed for them to meet in the middle–at a sweet spot in their careers that would tow along all the subplots (Jamaica vs. US, good vs. evil) to push it out into the mainstream. In the past four weeks, Gatlin has shown no sign of slowing down. Bolt struggled to win a 200 in New York and then pulled out of races. Right now, their highly anticipated match-up in Beijing is floating somewhere between one-sided blowout and not going to happen.
-Field event favorites in Paris
Mutaz Essa Barshim's best was only 2.29m in the high jump after he had three failures at 2.32. Renaud Lavillenie tied for fifth in the pole vault with a clearance of 5.71 in his home country. Both were expected to win their events and perhaps challenge the world records.
Less surprising was Valerie Adams's fifth place finish in the women's shot put. This was her first competition back from injury and there were questions about how well she could throw after the long layoff. Still, it was weird to see her not throw 20 meters and crush everyone in the field with just one throw.
It's been a very long time since she has been listed anywhere but first.
.@ValerieAdams84's 5yr streak ended at 56 comps. Take out performances from proven dopers, her streak would be 119 stretching back to 2005!

— Jon Mulkeen (@Statman_Jon) July 4, 2015
-Kirani James
All of a sudden he has company in the 400 and not from the source we expected. Lashawn Merritt lost at the US Championships last weekend and could either be a couple steps behind where he was last year, or just keeping his cards close to his chest until the World Championships.
With no clear rival in 2015, it looked like James could completely dominate the event from the beginning of the season all the way to the very end. But he lost in Paris to Wayde Van Niekerk 43.96 to 44.17 and then Isaac Makwala broke 44 seconds the next day. Suddenly, James looks vulnerable and the 2013 World Championships begin to creep into your mind when he was at least a 50/50 shot for gold and ended up in seventh place.
Because it was head-to-head, I'm sure he's more concerned about Van Niekerk than Makwala. Van Niekerk turns 23 this month and now has two Diamond League wins on the season. Makwala's time will likely be proven to be a product of the conditions, but it has to be jarring for James to have company on the world lead list. Prior to this weekend he had the top three marks. This is why they don't give medals away in May.
-Yearly World Rankings List
There were six world leads in Paris causing major revisions to the top times list. If you throw in the men's 400 from La Chaux-de-Fonds, there were seven changes over the weekend. Justin Gatlin looks like the only one who can refresh the men's 100 or 200 so those will stay put until he races again. Between Lausanne and Monaco, there should be significant changes in the men's distance events.
Winners who didn't win
-David Oliver
He ran his fastest time since 2011, but still finished second to Orlando Ortega in the men's 110 hurdles in Paris. Ortega won the race in 12.94 with Oliver just behind in 12.98. While he doesn't have the fastest time of the year, Oliver has been the most consistent. He has run under 13.10 three times this year. No other athlete has done it more than once in 2015. Saturday's time also means he has a sub-13 performance six years apart–he first broke the barrier in 2008.
-Jimmy Vicault
He ran 9.86 in the 100 to finish just .05 behind Asafa Powell in Paris. That is a national record and ties him with Francis Obikwelu for the European record. Though he only turned 23 this year, Vicault's been relevant since 2011 when he finished sixth at the World Championships in the 100. He's been stuck at 9.95 the last two season and has consistently been overshadowed by Christophe Lemaitre in France.
In the post Bolt/Gatlin/Gay/Powell era of the 100 (after the 2016 Olympics), he looks like a consistent medal threat. Probably even sooner.
-Rose Mary Almanza
In the fast 800m in Paris, Almanza ran a personal best of 1:57.70 to finish behind Eunice Sum. Five women broke two minutes in that race.