35 Comments
The Wind Read Zero: An oral history of Florence Griffith-Joyner's 100-meter world record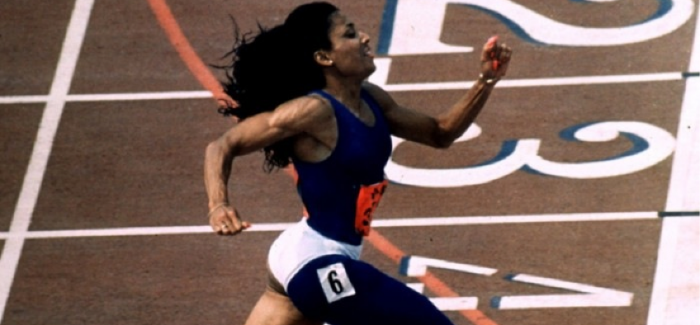 Photo Courtesy of The Indianapolis Star
A track and field record book is supposed to simple–a straightforward metric of greatness. Time and distance neatly sorted and printed on meet programs and affixed to the bottom corner of television screens during broadcasts. 
The sport has many variables, but the record book does not have space for such explanations. Sometimes though, more than minutes and seconds are needed. Especially the women's world records where suspicions of performance enhancing drugs have complicated many of the marks. However, the event at the top of the list arouses doubts for reasons not limited to doping.
On July 16, 1988 Florence Griffith-Joyner ran 10.49 in the 100-meters at the United States Olympic Trials. In a quarterfinal heat, she slashed almost three tenths of a second off the old world record of 10.76. More startling was the wind reading, which read 0.0 for the race despite the presence of windy and gusty conditions that afternoon at Michael A. Carroll Track and Soccer Stadium in Indianapolis. The time defied logic. 10.49 and 0.0 were both greeted with equal parts shock and skepticism.
And it wasn't just Griffith-Joyner who ran fast that afternoon. Her heat and the next heat (which also had a wind reading of 0.0) were littered with personal and lifetime bests. The other wind readings from that day, including the triple jump, which was taking place concurrently, all suggested that the race had an aiding wind in excess of the legal limit of 2.0 meters per second. Omega, the timing company for the meet, maintained that the wind reading was correct. The Athletics Congress (TAC) the sport's national governing body at the time, accepted the mark. The international federation, the IAAF, followed suit and 10.49 was ratified as the world record in the women's 100.
For the last 25 years, the time has stood all the while being rejected by the many in the sport's establishment. The next closest mark in the women's 100 all-time list comes from Griffith-Joyner herself, who ran a wind-legal 10.61 in those same Olympic Trials, a day after her 10.49.
After her death, Griffith-Joyner's husband, Al Joyner, told CNN, "At first, when she beat the record, they said it was wind assisted. Later when she won the medals they said it was drugs."
This oral history focuses on the first of those two controversies. All participants are listed with their role during the 1988 Olympic Trials. Some responses have been edited for brevity and clarity.



Phil Henson (Assistant Meet Director): All of the hype leading up to the race was not who was gonna win or what was the time, it was what was Flo-Jo gonna wear.

Dave Johnson (Assistant Program Editor): Flo-Jo was wearing a different outfit, each day, each race, each round. You never knew what she was going to come out with next.

Al Joyner (Coach, Husband, Triple Jumper): I knew that she had brought almost two suitcases of outfits.

Pete Cava (Media Information Officer, TAC): Our people would do a race in review, which would say something like, "Jones got out to a great start and led at the halfway point…..3/4 through the race Smith caught up and took command…." Well, not only did we have a race in review, we would have a little description as to what she wore, that went on the official results.
Joyner: The whole point was that you have to look good to run good

Frank Zarnowski (Public Address Announcer for Decathlon and Heptathlon): She made her own notoriety with her clothing and her fingernails. You ever see her fingernails? Unbelievable!

Dan O'Brien (Sportscaster/reporter, WTHR TV): She was already known, but even years before that with the long fingernails on one hand and everybody who hadn't heard the story before would say "Why only one hand?" She was like, "I need the other hand to take the relay baton."

Mike Takaha (Press Box Crew, TAC/ Coach, University of Houston and Santa Monica Track Club): That whole meet for the sprints was just crazy fast, at least for that time.
O'Brien: That track, from the time they put that in, has traditionally been extremely fast. Maybe not so much [any] more after a couple resurfacings, but its still very fast…..But it was lightning. It was known as the fastest track in the world.
Joyner: We called it the magic carpet during that time because a lot of amazing things happened at Indianapolis's track.

O'Brien: That was the track meet that Florence Griffith-Joyner became Flo-Jo.
Takaha: There were a whole bunch of people that ran really fast there, and not just for that one race, but throughout the series….the prelims and the semis that just…it was crazy…It was like "what the heck is going on here?" Did gravity stop working or what?
O'Brien: It was, for Indianapolis, extremely hot and dry and yeah we thought it was miserable and Carl Lewis gets here from Houston and says, "Wow, it is kinda cool here."
Cava: The miserable heat, I remember that. It was brutally hot, but that's where the whole Flo-Jo legend was born.
O'Brien: Early on Saturday and there is only a smattering of people in the stands at that point because, come on, it was early prelims. It was the first prelims in the women's 100. All of a sudden, Flo-Jo comes out buries the field in the prelims and they put up that 10.60 and there was a gasp, certainly from me and everyone else.
They announce of course that it was windy, but at the same time I had the impression that she had glided over the last few meters so I called up the station and said "boy, next heat we might see something really big let's get an extra camera here and double shoot this baby." Have one camera get a close-up of her at the start and then the camera following the whole race with the viewpoint from up on top of the stands and that's what we did.
Joyner: I didn't get a chance to see the first round and when I was warming up and I heard it I said it was an unbelievable time I knew she had did it. So when she came up to me, she started laughing cause I told her she was going to run about 10.5 just based off of practice.
O'Brien: Gee on a Saturday, give sports an extra camera? Give track and field an extra camera? You had the news, you had the regular sports of the day going on. At that time there was a Colts training camp and a number of things. You are short staffed on the weekend….to give another camera for track, but they ok'd it and good thing because it really looked cool to have that close-up at the start and then edited to the rest of the race
Johnson: She'd run very fast in the morning. You just didn't know how fast was fast for her. It was very windy out there.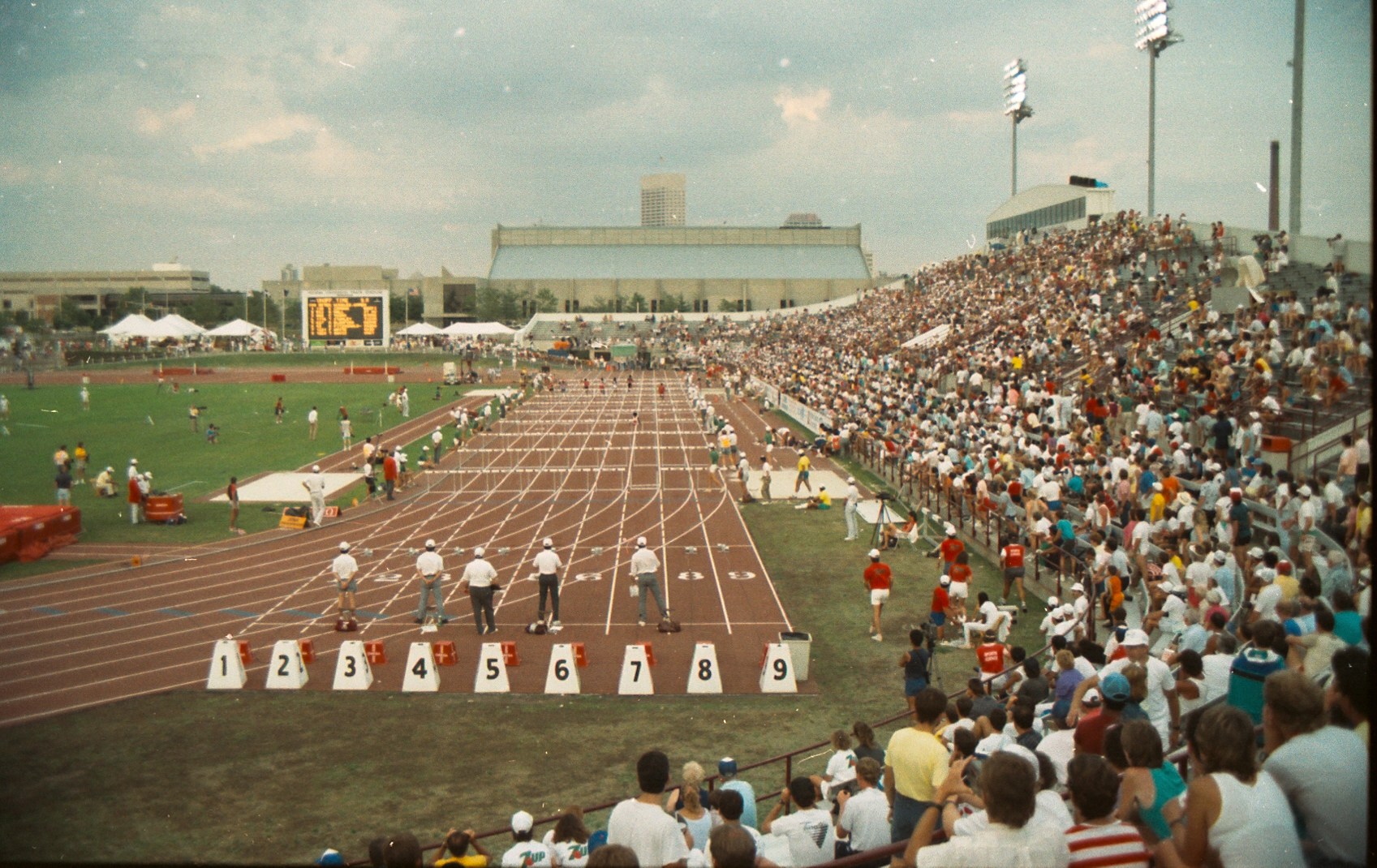 Michael A. Carroll Track and Soccer Stadium on the campus of Indiana University-Purdue University Indianapolis. (Photo courtesy of IUPUI Athletics)
In the hours between the first round and the quarterfinals of the women's 100, the winds continued to have an impact on the competition. In particular, the triple jump, where Al Joyner was attempting to qualify for his second Olympic team and take the first step in defending his gold medal. The runway was inside the track and ran parallel to the straightaway. The competition would ultimately produce the first two 18-meter jumps, both wind-aided marks from Willie Banks.
Joyner: The triple jump competition…to this day is still the best triple jump competition in the history of track and field.

Willie Banks (1988 Olympic Trials Triple Jump champion): It is just unbelievable how far you had to jump. You had to jump close to the American record just to get into the top eight people or so.

Joyner: Willie came down and went over like 18 meters and so immediately the whole field knew that it was going to be something spectacular. You had to set a world record to probably make that team.
Banks: I just started leaping, it was incredible. I was jumping farther than I had ever jumped before and I had some 58/59 foot jumps and they were all wind aided.
Zarnowski: I worked at the Jersey Shore for ten years and when we had wind like that we called that "small craft warnings." The coast guard would issue a warning for boaters. It was very windy.
Banks: When it is at your back you really don't feel it, when it is in your face and it is strong enough it has a drastic effect but when it is behind you, you don't feel it. In fact, you are running easier so I guess if it's right you run easier. For me, I had such good control of my run. Usually if you have wind you are gonna foul, but I had pretty good control of my run and I knew if I had wind I just had shorten up my strides.
Joyner: it wasn't so much a hurricane because it was a swirling wind, it was a wind that kept going around and around and so…if a crosswind came by, it was just a different wind reading, but it really didn't really help that much. What helped was the competition. Willie really took advantage of it.
Cava: Winds in Indianapolis can be pretty capricious. You always here about Chicago as the windy city. I think we've got them beat.
Henson: At times there were probably 30 mile-per-hour winds and at other times it was complete calm. So yes, it was a windy day, but it wasn't consistent, it wasn't like, you know we had a wind blowing consistently all day long.
A little over 2.5 hours after her first round heat where she ran a wind-aided 10.60, and with her husband still in the midst of the triple jump competition, Griffith-Joyner lined up for her quarterfinal heat at 3:45 p.m.

David Woods (Reporter, Champaign News-Gazette): In a quarterfinal you don't expect to see anything quite this spectacular, but I had been watching some of her marks in the lead up to the trials. In fact, I remember even telling one of my colleagues, boy I think Florence Griffith-Joyner can be one of the stars of the Olympics just seeing some of her marks leading up to that. I don't think you ever expect to see anything quite as otherworldly as what we saw that day.
Zarnowski: There were three quarterfinal races, and she ran the first of the three.
Woods: She had tights going down one leg and then barelegged on the other.
O'Brien: The one-legger as she called it.
Al Trautwig and Olympian Marty Liquori called the race for ABC.
Trautwig: Gail Devers is in lane four, lane one is open. And quickly…..Florence Griffith-Joyner blowing away the field….. in a 10.49! Wind-aided, 10.49. Wait a minute……….. The anemometer says the wind was within the legal limits.
Liquori: Ah, can not be. No one can run that fast. The heat must be doing something to the electronics, but she won by such a margin over Gail Devers, who earlier this year set the American record in the 100-meter hurdles so that was a good field and you see how much she won by. It might be right, but 10.49 is just incredible.

Marty Liquori (Announcer, ABC): As an announcer it pays to be conservative because you've got a better chance of being right.
If every time you saw a record you celebrated and said world record then eventually you are going to have to come back maybe after the commercial, eat cake and admit that you got over excited and its wrong and there was a wind or the timing gear malfunctioned.
Zarnowski: She won by a ton, she won by maybe four tenths of a second, something like that. And she was way ahead and the time comes up on the board as 10.49 and I said, "My God."
Liquori: That is my job as an announcer before people get totally excited about world records, explaining to them that there is an allowable wind or that there could have been other problems.

Bob Hersh (Public Address Announcer/TAC Records Chairman): It was mind-boggling…It was hard to comprehend. It was one of those landmark performances. Another one by the way that I recall, when I was also on the microphone, was Michael Johnson's 19.32…..was so out of the range of what had happened before in the event and what was expected, you just, you almost didn't know what to say. Being speechless is not a good thing for an announcer.
O'Brien: What blew everybody away too before the time flashed was her margin of victory in every race. This is 100 meters, she won that quarterfinal, the 10.49, by nearly four tenths of a second over Diane Williams.
Joyner: The semis and the rounds are the ones where you win the race really. And ain't no easing up. You got four rounds, you got four rounds of 100 meters that's 400 meters and you can't go hard each four rounds? That means something is wrong with your training.
Cava: I do remember coming back to the press box and one of our main guys Mike Takaha, he was one of our volunteers he was from the University of Houston. Mike said to me "Griffith ran a 10.49." And my response was, "Who is he and so what?" 10.49 that's gotta be a guys time and it's a pretty crappy time so what's the big deal? And Mike's going "No, no Florence…Griffith-Joyner ran a 10.49." And the cobwebs lifted like, are you serious?
Woods: I remember pretty much shock and awe you could say
Joyner: I was getting ready to jump on the runway when all this was happening
Johnson: Basically a holy shit, What? Oh my god. It was absolutely stunning, but it threw us into so much disbelief that we weren't certain. Did the clock malfunction? She looked awfully fast, but what was that?
Woods: I think you were trying to you know, even comprehend a time…….I remember spinning through my head thinking how fast that time would be compared to a lot of men's times…I remember thinking, that would have placed such and such in the men's Big 10 track meet because I covered a lot of Big 10 track and field. It seemed so extraordinary it's just hard to place what that time meant. It was just so off the map, off the charts of what would seem like a reasonable time for a female sprinter.
Zarnowski: At the time I said that's too bad because that was a really nice performance and that will have to go into the books as wind-aided. There is no doubt in my mind at the time, and still now, that was just a wind-aided performance.
O'Brien: There was an absolute gulp for the 10.49 and particularly when they announced that it was a legal race under the wind reading at the time.
When asked in the post-race television interview if the wind dropped during her race, Griffith-Joyner said, "Oh yes it did…..Bobby [Kersee] told me to pay attention to the triple jump and if the wind was down, go for the world record, if not just go and make it through the next round. The wind felt good, it didn't feel as strong as it did in the first race and I went for it."
On the broadcast, ABC reported gusts of 18-24 miles per hour at the Indianapolis airport.
Johnson: There was no cause to doubt wind readings from earlier in the meet. So we wound up announcing it, but when we also saw the wind reading as 0.0, that really turned a lot of heads, raised a lot of eyebrows and there was immediately…what the heck just happened? How do we play with this? Ultimately, as I recall, the only way was to play it straight. New world record. 0.0 on the wind.
O'Brien: I was waiting like everyone else to hear if it was legal, what the wind reading was and then it was real quick to get the photographer and go to the interview tent and talk to Florence.
Joyner: [One of the officials] was saying "Al, get back in to it, get back in to it!" Because I got so excited. I knew she was going to be able to run that fast.
Takaha: I think most of the talk was how fast it was and how could the wind be zero? Those were my initial reactions. I was coaching at the University of Houston and she ran faster than most of the guys I was coaching so I was pretty impressed.
Henson: When this particular race was run, it was fairly calm, I do recall that, but yet I do have problems accepting a 0.0 reading. Even on a calm day, you are usually going to get something.
Zarnowski: You could hear the flags snapping. There was a big American flag and when it snapped you knew that there was fairly good wind.
Johnson: We were amazed that the wind reading came up as 0.0 because it sure looked like it was blowing a gale out there on the order of four to five meters per second. But, you know, other readings had come up during the day that seemed alright, they were wind-aided, they were all over the place, so there was…. It was just an oddity. You wondered if the gauge had been turned on. How did it register a 0.0?
Joyner: She was surprised. She thought 10.7 would be fast.
Henson: I don't think there is any question that the time was correct because if the time wasn't correct then there would be all kinds of hand times around that would have disputed it and so forth. But on a wind reading, it is kinda hard for a Joe Blow sitting in the stands to figure what the wind reading would be.
Takaha: There wasn't really confusion about the time. There was definitely confusion about the wind reading.
Johnson: Everybody wanted to figure out what happened. You know, how was there a 10.49? Particularly with the wind that we saw throughout the triple jump
O'Brien: As soon as I'm done with the press conference with Florence, I had to zip back to see what other events we needed to shoot and what other people we needed to interview because that very day was a bittersweet day for the family.
Florence shatters the world record, Jackie Joyner-Kersee breaks her own world record in the heptathlon and Al Joyner finishes 5th in the triple jump. So, [Al Joyner] doesn't make the team having won the gold medal in '84. Those are just the family events I'm having to cover at that point.
Joyner: On my jump instead of being focused I said "Wow, you know, my sister just set a world record, my wife just set a world record, it would be nice of me to set a world record." So now that's what I was trying to go for and I went down and I tried with all my might and fell back like two inches, inch and a half, which kept me off the team.
Zarnowski: I called the only real world record that day, that was the day that Jackie Joyner-Kersee broke the world record in the women's heptathlon.
On an afternoon where his wife and sister set world records, Al Joyner only managed to finish fifth in the triple jump.
Joyner: Still a bitter pill for me ….In that competition the jump that I ended up not making the team on was the jump that would have won the gold medal so '88 was always a spectacular year for me as a coach, but a terrible point for a gold medalist trying to defend his Olympic title.
The top three finishers in the triple jump, Willie Banks, Charlie Simpkins and Robert Cannon all jumped wind-aided lifetime bests to make the Olympic team. Marks they never equaled again in their careers. There were no 0.0 readings in the entire triple jump competition. In fact, 43 of the 46 jumps in the final round had a positive wind.
The St. Louis Dispatch reported that the wind reading on the runway was +4.3 on the jump before Griffith-Joyner's quarterfinal heat and a +2.9 on the jump after her race. Banks's two historic 18-meter jumps had readings of +4.9 and +5.2.
Zarnowski: A fifth of (the jumps) were over five meters per second. Half of them were over four meters per second.
Banks: One time someone said, "Oh you know, her's was not wind-aided." So I was like, "Oh, ok, alright. Why is mine wind-aided?"
I'm a different type of a guy. I'm just different, I'm not going to complain about that. I figured I was going to do it again. In my mind I'm going to do it again.
In the front row of the press box was Peter Hürzeler. A Swiss national, Hürzeler began his career in sports timing in 1969 and has worked 16 Olympic Games. Currently, he sits on the board of Omega Timing.
In 1988, Hürzeler headed up a 6-person crew from Omega who were responsible for the timing and wind measurements during the meet. The gauge Omega used to measure the wind that day had two components—a weather vane to measure wind direction and a 3-cup anemometer to measure the speed. The gauge was new in its application to track and field. However, weather services had been using similarly designed gauges for many years.
According to Hürzeler, Omega first used the vane and 3-cup anemometer model in 1986 before switching to a more sophisticated system in 1998. The gauge was calibrated in an independent lab in Switzerland and was linked to the starter's pistol. For the 100 meters, the gauge recorded for 10 seconds, for the long and triple jump it recorded for four seconds.

Peter Hürzeler (Omega Timing): I was also surprised, I tell you, when I saw 0.0 on the scoreboard
Takaha: All of sudden this one guy [with Omega] starts hitting all these keys and he's pulling up the wind reading and obviously the wind reading was kind of funky because it was zero.
Zarnowski: When I went in there [the press box], there was a lot of screaming and yelling about "Where's the wind reading? Where's the wind reading?" And the wind reading didn't come up. I'm wondering what the hell they are going to do about this because you can't have a world record without a wind reading.
And the guy who was in charge of the timing was shouting back that "We have it, it's just not displayed, we have, it's in the computer." He kept saying it's in the computer. I don't know how long it was afterwards where he said, "We finally have it now. The wind reading is 0.0."
Takaha: For it to come up zero his first reaction was uh-oh something is screwed up here.
Henson: We had nothing to do with the timing or the wind readings. The wind gauge was owned by the timing company and it was electronically operated from the press box like most big meets are today. There was no official sitting there punching a button and reading it and putting it up on flip cards.
What there was, was a wind gauge sitting there with no one even near it, there was another one identical to that at the long jump runway which was about oh, maybe, 40 meters away, and they were parallel. Then all that information was supposed to go into an indicator board, which comes up with the wind reading. I recall before the race I looked over at the wind gauge at the indicator board and it said 0.00. When the race was over, I looked over and it said 0.00.
Takaha: At the time most wind gauges in the United States were like a tube.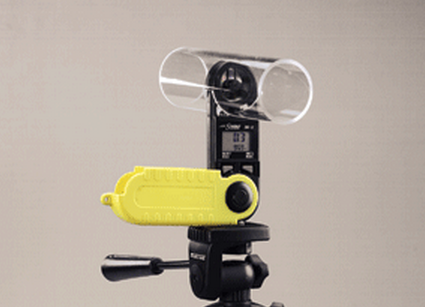 The tube-type wind gauge that was used in international competitions prior to 1986. Gauges like this measured only the wind speed, not the direction. It was thought not to be necessary to measure the wind direction if the tube was aligned with the track.
Johnson: The tube had in it a rotor, and you would count the number of rotations that rotor took during, say the 10 second period, and then internally calculate the average wind velocity over the 10 [seconds].
This gauge [that was used for the Trials], I believe, you turned it on and it would take 10 independent readings giving, basically an instantaneous velocity and vector for the wind, so it didn't have a tube, but it had small cups and a vane that would swing as the wind passed through it. What you had was an averaging of 10 readings over the course of 10 seconds.
Hürzeler: We had a new system who measure not only the direction, because if you have a tube if the wind is coming from the side you have less wind, but of course the athletes they have also the wind in the back. Also, if the wind is strong from the side it's helping to the athletes and for this reason we started with a new system and this system gave us not only the average of these 10 seconds, [the gauge] gave also the direction in degrees and of course I was there and it was very windy, but sometime the wind came from in front and then in back and every……it was a lot of turbulence.
Takaha: It's essentially a 360 degree wind gauge so they would get both how hard the wind was going and what direction it was going.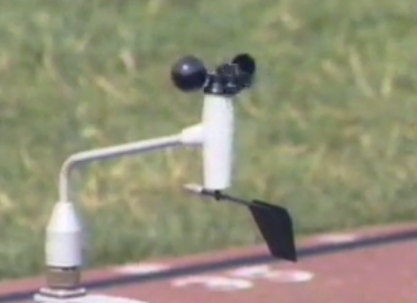 The wind gauge that was used at the 1988 Olympic Trials.  The device measured the speed and the direction of the wind.
Johnson: It was new from my experience. Again, the standard was the stationary tube and the wind would funnel into it.
Takaha: They were down there, you know, pulling up all the data and he said, "We have a wind reading and we have a wind at…" And I don't remember the numbers it was somewhere around a five (meters per second), but it's almost 90 degrees to the track
Hürzeler: Finally we saw that the wind was coming 93 degrees to the system. It means it was not from the back and not from the front. It came from the side.
Zarnowski: Everyone guffawed, including me because you know you could see the flags and the wind was just flat out. The flags were running from west to east. I just thought there must be some kind of mistake, someone will look into this and I didn't think much more of it. Later, I looked at the wind readings for all of the triple jumps, which were running concurrently.
Hürzeler: I don't remember exactly but it was over four meters and something.
Takaha: He showed me the data that they pull up and it's not strictly a wind reading. They have a resultant wind reading of zero but he showed me, he said here's the data that's you know whatever it was at whatever degrees it was and the calculation is that that makes the zero wind in the trailing direction.
And it made sense to me when he showed it me because the number that came up as far as how hard the wind was blowing was consistent with the other wind readings…..and none of them were direct tail…none of them were at zero degrees. They were all at some kind of an angle and most of the winds were actually higher, the actual wind value were higher than this one was but they were at 15 or 20 or 30 degrees to the track so they got a big tailwind number. It was hard to believe you could get a zero as hard as the wind was blowing, but when he showed it to me I could understand how that could happen. For that particular race the way the wind was hitting the stadium it caused it to go across.
The next heat of the women's 100 also had a wind reading of 0.0. In that race the first two finishers, Sheila Echols and Alice Brown both ran lifetime bests. In the third quarterfinal, Gwen Torrance clocked a winning time of 10.78 with a +5.0 wind. The men's 100 semifinals, which were contested approximately 40 minutes before the women's quarterfinals had readings of +2.6 and +4.9. Less than 50 minutes after Griffith-Joyner's 10.49, Carl Lewis won the men's 100-meter final in 9.78 with a +5.2 wind.
Later when he spoke to the media, Hürzeler said that it was possible that the runners did receive an aiding wind for a portion of the race despite the 0.0 reading.
Takaha: I think I would have questioned it more if that would have been the only zero
O'Brien: Gail [Devers] said she didn't feel the wind either.
Takaha: Your common sense told you there is no way it could be a zero because it was a windy day, but you know when he said it was at 90 degrees to the track I was like ok. If that is what the data is….that's what the data is. If he had said it was a zero and they had it at no wind, that would not have been believable. When he said we have a five-meter [per second] wind but he said 90 degrees to the track, well that makes a zero in the trailing direction. That did make sense, at least to me. I know a lot of people didn't believe it.
O'Brien: I live in Indianapolis. I have been to track meets at that stadium probably more than almost all of the reporters covering that meet. I've been there as a journalist. I've been there as a track and field fan, an announcer for all kinds of meets. The Olympic Trials obviously, national championships, all-comers meets, high school meets.
The wind swirls in that stadium. It is very common. You can look at the flags at the top of the stadium and they'll be blowing very briskly in one direction and you look down at flags or streamers at the track level and they could be blowing in another direction or not at all.
Zarnowski: There was no crosswind at the time on the track. It was a gale, blowing down the track.
Johnson: The unique thing about Indianapolis is that the home grandstand is a bell shape that rises as you get closer to the finish line. The greatest height of the grandstand is between 80 meters and the finish line and then it bells downward as you go into the curve and toward the start of the straightaway.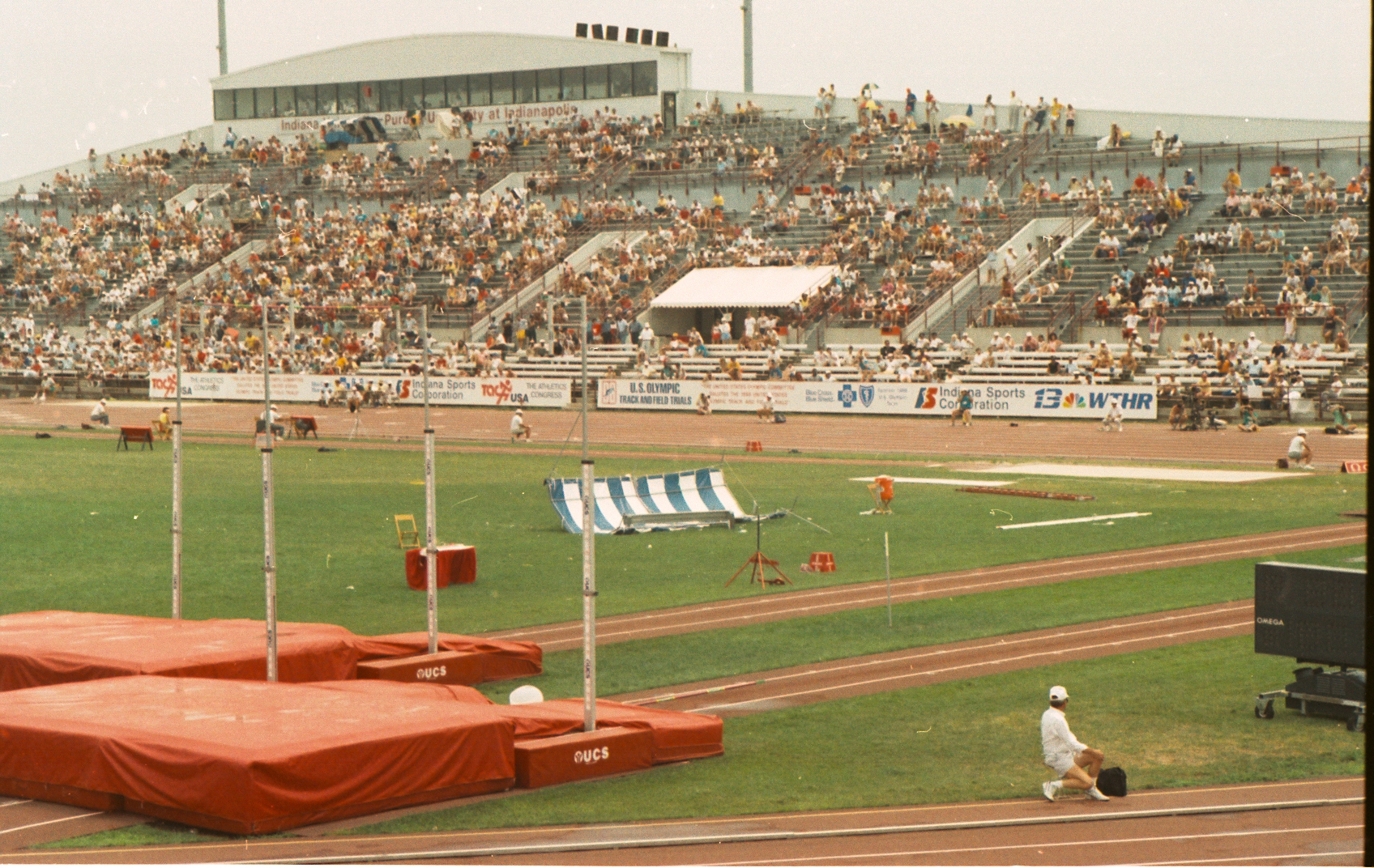 The grandstand of the track at Carroll Stadium. (Photo courtesy of IUPUI Athletics)
Henson: The wind tended to come around the press box, because the press box stands up high and then swirls after it came by the press box. It would swirl onto the field. And believe it or not there were days when we were trying to figure out which way to go in the long jump that we would check the wind reading at long jump boards at each end of the straightaway and we'd have headwinds at both ends and that's because the way the wind was swirling around the press box.
Now whether that happened that day or not, I can't say, but that was kind of a traditional feature of that track and it wasn't intended it just worked that way.
Takaha: Swiss Timing was the gold standard and the track was obviously running fast because everybody was running fast on it so unless they mismeasured it and the track was short there was no real reason to doubt that her time wasn't legitimate and I think most people kind of were doubting that the wind was zero and I understand that. If I didn't know…..if I hadn't seen that sheet [with the wind readings], I would have doubted it.
If it had been a tailing wind it would have been windy, but if the thing says it is at 90 degrees to the track, you know, it is a zero. That I understand. But I don't think a lot of people, either they don't know that that happened or they disbelieve it happened. In either case, I understand that. If I had been sitting in the stands, I wouldn't have believed it.
In addition to his role as a public address announcer for the meet, Bob Hersh was also the Records Chairman for TAC. One of his duties as Records Chairman was to ensure that the record was properly documented. With any record, the host federation is responsible for gathering the proper documentation and then forwarding the information to the international governing body, the IAAF. Although his signature wasn't required on the record application, he followed up with Omega as soon as he was relieved of his announcing duties that day.
Hersh: In any event, in any record, you have to make sure all the I's are dotted and all the T's are crossed and the right officials have signed off on it and they certainly need to get a copy of the photo. The IAAF requires things like a copy of the program, a copy of the printed results, very routine stuff, you would certainly want to take a look at the photo and verify that that was indeed the time, no reason to think that the photo finish was not working and you know I specifically asked about the wind gauge and I was assured, no, they checked and double checked and everything seems to be in order. Once all of that is done, once those questions are asked and answered, you proceed.

Hürzeler: We have no secret, everything is open. I showed and I explained to them also how it was. It was 93 degrees. The wind was strong, I remember because on the [triple] jump sometimes I had 4.8 meter or something like this…..it [the wind]was a little bit quieter and then it came up again.
Hersh: In this case, also, because there were questions immediately raised about the accuracy of everything I personally spoke to the Omega/Swiss Timing people who were there. It was my recollection we were using Omega equipment with an Omega crew and I personally asked them is there any….Have you double checked? Please, can you verify that the wind-gauge, that that's what the ruling reading was and that there is no reason to think there was anything out of order about that component of it?
And they all showed me no, we've checked, we've double-checked. We've talked to the operator of the anemometer and as far as anyone could tell everything was in order.
Hürzeler: We have always a system that's absolutely independent from manipulations from the control room and maybe you remember in the past sometime an official was standing maybe only two, three meters in front of the wind gauge and it was not absolutely correct. Today, I think they are really careful. It's nobody else around and so manipulations are less possible.
Hersh: I would assume whatever I asked was broad enough to encompass anything they could think of that might suggest that the wind reading might not have been accurate. As best they could, the wind reading was accurate and again at that point we absolutely had to proceed [with the verification of the record].
Henson: Immediately after, everybody was excited and celebrating and it's a world record and all that, but there also were some comments of why was the wind reading 0.00. And when that question then would be passed on to the timing group their reaction was simply to dig their heels in and just say, that's it, no discussion. That is the wind reading.
Hürzeler: Everybody was talking about this wind and this famous time and I was in the press conference because I had to explain how we had measured this…..of course we hold first with all the officials, the technical delegates and so on and also with the press. At the end I think everybody was happy. We explained exactly what we did and I was feeling that finally they understand what is going on with the wind speed.
Johnson: There was nothing there to truly deny the record because the gauge was there, it was calibrated, there was not a problem with the gun starting the clock. Everything was in order by the book. It wasn't in order by the naked eye.
Hürzeler: It was very lucky for [Griffith-Joyner]. She was of course she was always faster than all the others, but here she was really lucky that the wind was measured during 10 seconds and its possible that you see after the start they had back wind and they arrived to the 50 meters and the wind was gone and it came from the back again afterwards. That's not possible to measure all these winds.
Johnson: To my mind the anomaly was always the positioning of the wind gauge, it was positioned in the right place, but it created an anomaly of a wind swirl that if you placed it maybe three meters on either side you might have had a heavy positive wind. Particularly, if you'd placed it toward the start and extra three or four meters you might have seen a heavy positive wind instead of getting caught in the swirl. I don't know, but that was my suspicion.
Zarnowski: The overwhelming anecdotal evidence more than suggests, it tells you, that that was a wind-aided race. Is it possible that the wind could have died down and we simply had a crosswind for 11 seconds during that race? Well I suppose that's possible, but the chances of that happening are one in a zillion. I don't think that would have happened
Johnson: The next day in the program piece, Howard Willman wrote the lead story basically saying this was an amazing thing. She's awfully fast, but that doesn't fully explain what happened and we don't frankly know exactly what happened. Is she that fast? Well, she is faster than everyone else by a long shot, but how fast is she? Hard to tell because it is hard to know what exactly was happening with the wind in that race.
In 1995, Dr. Nicholas Lithorne of the University of Western Australia analyzed the world record in a report for the IAAF. Citing the wind readings from the triple jump and the men's 100-meter, as well as the abnormally fast times in the first two quarterfinals, Linthore concluded that:
"The official wind readings for the men's and women's 100-m races are consistent with the athletes' race times, except for the women's Quarterfinals I and II. The wind readings should have been between +5.0 and +7.0 for Quarterfinal I and between +3.0 and +4.0 for Quarterfinal II. The 0.0 wind readings in Quarterfinals I and II were the results of a technical fault in the wind gauge system. The theory that a crosswind was responsible for the anomalous wind readings cannot be supported. Florence Griffith-Joyner's 100-m world record (in Quarterfinal I) was assisted by a wind that was well in excess of the legal limit of +2.0 m/s. The official IAAF women's 100-m world record should be the 10.61 performance that Griffith-Joyner recorded in the final at the 1988 Olympic Trials in Indianapolis on 17 July 1988."
Richard Hymans, writing in the History of the United States Olympic Trials, noted:
"The five qualifiers behind Griffith-Joyner averaged 11.08 but in the next round, with wind of +1.3 and +1.5 averaged 11.39. Warning bells should have sounded—both at the US and IAAF federation offices. Not surprisingly, the manufacturers of the gauge insisted that the apparatus was in perfect working order, but there were reports that the gauge occasionally took two or three races to warm up."
Hürzeler: Half an hour before we are always testing the whole system…the photo finish cameras, the start, reaction times and everything is tested a half an hour before.
Zarnowski: That race was probably equivalent to a 10.70
Takaha: They tested the equipment after this happened and it was working. There was no malfunction as far as the thing just stopped working.
Joyner: People are going to always question that, but at the same time the rules are the rules and the facts are the facts and Omega and everybody else went through great lengths to say the thing did not malfunction. When you go back and look at pictures and video it was crosswind her hair was blowing to the side.

Hersh: I was literally in a booth, and there was no wind there.
O'Brien: In 1989 the Indiana Pacers announced that Flo-Jo was going to design the Pacers new uniforms. And of course we are doing a little voiceover story about 30 seconds leading into sports that day and the news department said, can you get us some highlights of her running the Olympic Trials? Sure. And we saved our original tapes so I went down and probably the best one was going to be her in the starting blocks for the 100-meter dash.
I put that tape in. I hadn't thought about the wind issue at all and it was very clear to me we got this close up of her in the blocks with the gun going off. The wind was clearly blowing across her body. Not a tailwind. So at least at the start she was not getting the benefit of a tailwind.
Zarnowski: Someone just made a mistake along the way as to what that actual wind reading was. I don't think that the records people would have approved it unless they were convinced that the Omega people knew what they were doing and the Omega people might have made a mistake in how they recorded it. We make mistakes.
O'Brien: It's not reading the wind as far as tailwind or headwind because it is blowing across. That's what was said by the folks there and that would jive with the shot at the start. It was blowing at a right angle. I'm not saying that is definitely the case. All I know is at the start when the gun went off the wind was blowing across her body you could see her hair blowing that way. Visual evidence. And all the charts and the graphs and everything else…… I'm sorry pictures are worth a thousand words and video is worth 10,000 I guess.
Hürzeler: Just after the Trials of course everybody was talking about the wind speed and we did the German Championship and we said ok, it's not absolutely correct to have after 50 meters one position where we are measuring the wind and we put a double system in the infield and [outside] of the track.
And we have on the outside lane one we had +1.3 meters wind speed and on lane 9, that's the lane between the stands, it was -0.7..….maybe we made a mistake, we measured again, we are looking with the officials and everybody and they said its unbelievable to measure a wind only one position in the track and sometime its correct, sometimes not.
O'Brien: Are we going to go back and look at every sprint record and say well you know you didn't have 8 anemometers lined across the 100 meter straightaway, so should any of them count? Swirling winds, indirect winds, the wind doesn't say "Hey, I'm going to blow right up the straightaway here."
The Association of Track and Field Statisticians accepts the 10.49 as the world record in the women's 100, but since 1997 has noted that it is "probably strongly wind-assisted, but recognised as a US and world record."
Track and Field News believes the race was wind-aided and names Griffith-Joyner's 10.61 from the final in the 1988 Olympic Trials as the legitimate world record.
Woods: Actually over time its probably really been detrimental to the sport of track and field to have that record so far out of reach, but really there is a lot of women's records set in the 70s and 80s that are mighty implausible and basically unbreakable unless you're doping. That's definitely a component of track and field. I think it's hard for the sport's leadership to address.
Cava: It was stunning. I've been in sports for over 40 years now and I don't know what else you could compare it to, probably Beamon's jump in '68. Wilt Chamberlin's 100-point effort against the Knicks.
Woods: She was certainly a striking figure for that summer of 1988 and we had never seen anything like that before that and as it turns out we haven't seen anything like that in the subsequent 25 years and I sort of doubt we will see something like that in the next 25 years either.
Shelly-Ann Fraser-Pryce just won the World Championships [in 2013] by an astounding margin, about 2 tenths of a second in the 100 meters and the distance that she was ahead, that would be the distance that she would be behind Flo-Jo if she had run 10.71, behind Flo-Jo's 10.49. That is how extraordinary that performance is and was.
Hürzeler: Especially after Indianapolis everybody was curious to know and to test and to see and we had a long discussion with the international federation and everything, but at the end I couldn't give an answer how we can do it to make this really correct from the start to the finish line.
O'Brien: At the [1997] USA National Championships [in Indianapolis], the issue came up again in the men's 100 meters in the preliminary race. There were some fast times there were like five men under 10 seconds and most of them were shutting down also, as is common in the preliminaries in the last few meters and they were hitting under 10 seconds and I think Jon Drummond got a PR and it was measuring a legal wind or a zero wind and one of the sprinters, I think it might have been Drummond, said there is no way- I felt it, I felt the wind and he pointed to the flags at the top of stadium. And I said well, yeah but look at this flag here and look at this streamer here, and I'm looking at different parts of the stadium including going down the runway at the 100 meters. It's all over the place.
Johnson: The screwy thing about records is that they are all anomalies, they are outliers, so there is always a question of is this only the athlete or only the conditions and what's the mix? That's what you are always trying to figure out is what is the mix between athlete and conditions. And that is why there is a limit of 2 meters per second.
Hürzeler: Omega says, "Oh, that's difficult," and I say no, we have no secrets I can tell exactly what I told them in the press conference and also if its an old story its always a story and an interesting one.