One Comment
Putting Oregon's Upset NCAA Win in Historical Perspective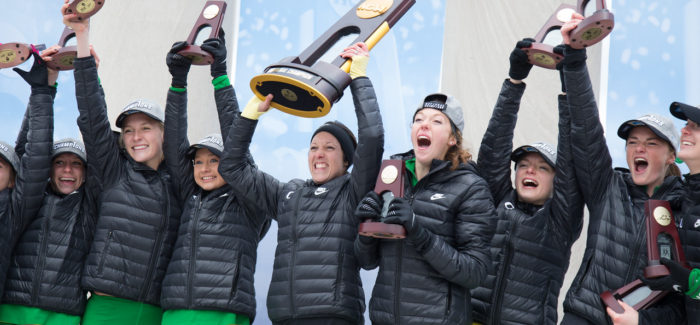 Jesse Squire | On 22, Nov 2016
(Photo credit: Tyler Wooten, Indiana State)
Oregon's victory in the women's race at Saturday's NCAA Division I Cross Country Championships was an upset and a big one. The Ducks came into the meet ranked just #12 in the coaches' poll and no one figured them as a contender for the win. My pre-meet analysis showed that in 21 years of the women's poll, no team ranked lower than #4 had ever won. Even head coach Maurica Powell said "I thought on a great day we'd break 200 [points], barely", a score that is never low enough to win. They ended up with 125.
It took forever for the team scores to be finalized and released. The cold wind out on the course had some real bite to it and when I went to the concessions stand to get a hot drink I found myself standing behind Michigan coach Mike McGuire. Right then was when the scores were made public; I gasped about Oregon's one-point win over the Wolverines. McGuire, whose team was also not expected to be a title contender, turned around and said "yeah, one point" with the kind of mixed feelings usually reserved for seeing your mother-in-law drive off a cliff in your brand-new Cadillac.
Oregon's win was a massive upset, far bigger than any other I can recall. Five years ago, Georgetown won the women's championship after finishing just third in the Big East Championships. In the men's championship ten years ago, Wisconsin was considered unbeatable but Colorado knocked off the Badgers. But coming into those championships, those teams were ranked #4 and #2 respectively and weren't remotely the kind of madness we saw on Saturday.
The only NCAA Championship like this in my recollection is Villanova's historic 1985 men's basketball title. Going into the tournament, the Wildcats were unranked and a #8 seed in their region but marched all the way to the championship, where they played basically a perfect game and won the title by a scant two points.
The parallels are striking. Villanova was likely a far better team that year than suggested by their record (25-10 in the regular season) and #8 seeding, even though they didn't really put it together until the tournament. They were in the then-six-year-old Big East Conference, which was created to bring together the powerhouses of eastern basketball. They finished fourth in the conference but it was against the likes of Patrick Ewing's Georgetown Hoyas, Chris Mullins' St. John's Redmen, and Dwayne "Pearl" Washington's Syracuse Orangemen. Six of the Wildcats' ten losses were to those three teams, and they just might be the best fourth-place squad in NCAA men's basketball history. In retrospect, they should have been considered a better team than they were.
Likewise, Oregon's low ranking in the poll was almost entirely due to a disappointing fourth-place finish in the Pac-12 Championships. But fourth in this year's Pac-12 is not like fourth anywhere else. Half of the conference qualified to the NCAAs, and two of them (Colorado and Washington) were considered championship favorites. The Ducks were ranked #5 in the poll until that underperformance, and were a team on the upswing going into the NCAAs since one of their stars hadn't raced until October due to injury (and I think I saw a report than another was ill at the Pac-12s but I haven't been able to confirm). They would have been a smart long-odds team to pick for a top-four "podium" finish. Prior to the 1985 tournament, Villanova was a 70-1 shot to win it all (according to USA Today's Danny Sheridan) and Oregon might have been about the same for Saturday.
Back in 1985, Villanova still had to have every bit of luck go their way in the championship game in order to beat Georgetown. They shot 22 for 28 from the field for an insane 78.6% and only missed one field goal attempt in the second half. Still, with every bounce going their way, they won by only two points. Similarly, on Saturday the Oregon Ducks got basically a perfect race from every one of their top five and won the meet by a single point.
If there is a comparable upset in NCAA Cross Country Championships history, it's probably Western Michigan's win in 1964, a story Runner's World told two years ago. There was no poll back in those days, but if there was then they might or might not have been in the top ten. The Associated Press considered Georgetown the favorites, while the student newspaper of the perennial hosts, Michigan State, thought Oregon was the team to beat. Others mentioned as contenders were Notre Dame, Minnesota, Ohio University, William & Mary, Houston, Villanova, Michigan State, Miami (Ohio), Kansas, and Stanford.
There was no reason to think that Western Michigan could win. They hadn't won their major invitational (Notre Dame) or their conference (Mid-American) or superconference (Central Collegiate). But they had two things in common with Oregon '16 and Villanova '85: putting it together at the right time, and being underrated due to membership in an extremely tough conference. The MAC was to cross country back then as the Pac-12 is to cross country now or the Big East was to 80s basketball. Three of the top ten teams that year hailed from the MAC; Ohio took third and Miami ninth behind Western's win.