No Comments
Our Picks for the Best of 2016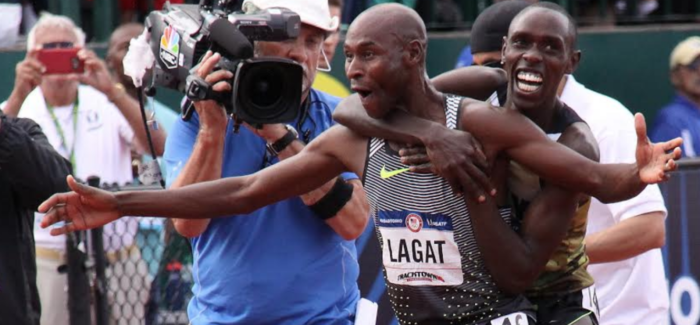 Jesse Squire | On 31, Dec 2016
The men's 5000 at the Olympic Trials was madness. (Photo by Dane Schubert for Daily Relay)
Three members of our relay pool have shared their picks for the best moments of the year.
Jesse Squire
My five favorite things of the year…
#1: The Olympic Trials
On a purely personal level, 2016 has been shit. My father passed away 8 hours before the year began and, remarkably, things went downhill from there. Thus the highlight of my year was a week away from the worries of the world when I went to the second half of the US Olympic Trials.
The Trials are a fantastic track meet in their own right. The do-or-die nature of the competition makes it unlike anything else. "The Olympic trials are better than the Olympics or the world championships," says Garry Hill, Track and Field News managing editor (and stadium announcer for the Trials). "It's just a delightful 10 days of nothing but track and field; that's all anyone thinks about multiple times a day. There is joy there, sadness, just the full gamut of emotions." He thinks it's the best track meet on the planet, and I'm not sure I can argue with that.
To me, it's the atmosphere surrounding the Trials that makes it even more special. It is a quadrennial AthletiCon, a gathering of the clan. Everyone in the United States who has any involvement in track and field is there. The athletes are approachable because most of them, even Olympic medalists, are thrilled that anyone even knows who they are. You will run into them, along with the coaches and media and everyone else associated with our sport.
I got to meet people I've otherwise only known online, to spend a week with one of my oldest friends, and drive out through a national forest to see the Oregon coast (which is the coldest experience I've ever had in July). I won an award from the Track and Field Writers of America, the Adam Jacobs Award for excellence in online writing.
And then, of course, the competition. Every single final was a hold-your-breath moment. The men's 5000 meter final was about the craziest race I've ever seen. If you ever have a chance to go to the Trials, take it. You'll kick yourself if you pass it up.
#2: U.S. Olympic Distance Dominance
The USA won seven medals in Olympic middle- and long-distance races, our most ever. We had legitimate contenders in nearly all of those twelve events. We won just one gold, but it was in the biggest race of them all, the men's 1500 meters.
The difference between now and eight years ago is huge. In Beijing 2008, the USA managed just two top-eight finishes in distance events. Two. At Rio 2016 we had twenty.
Let me put it this way: in distance races we were just behind Ethiopia in medal count (8, to our 7) and Kenya in top-eight finishes (22, to our 20).
#3: Fan Support for the US Olympic Trials Marathon
There were well-documented problems with the organization at the marathon trials and I certainly hope they'll never happen again, but this sport teaches to expect disappointment from its suits and stuffed shirts so it probably will happen again.
On the other hand, it was the first live television coverage of the marathon trials since 1988 (and the first ever for the women's trials). The response was amazing. Here's what I wrote back in February.
I have no idea if my experience yesterday was normal, but I have a feeling it may have been. I watched the race with our local road runners' club, who filled up a local sports bar. This place has twelve big screens and nine of them were showing the marathons. There were big whoops and hollers when the races started, when Desi Linden passed Shalane Flanagan (this is "Little Detroit" after all), and when the top three crossed the finish line. Basically, a bunch of running dorks took over the place–when I showed up at 12:55, I got the very last parking space in the lot.
Better yet was something I learned after I got there. I didn't see all of the people I expected to see, and then was told that there were two other similarly large viewing parties spread around town. We'll have to wait and see what the TV ratings are, but it sounded like this was a huge hit.
#4: My Alma Mater's Success
Joe Posnanski is our least-appreciated national treasure. His writing captures the spirit of a moment or a memory.
Five years ago he hit on exactly why we love college sports.
College football only works on this grand scale, I believe, because it's about the colleges. The alumni connect to it. The people in the town connect to it. The people in the state connect to it. People are proud of their connection to the University of South Carolina and Clemson, they are inspired by Alabama and Auburn, Penn State and Notre Dame and Stanford, they identify themselves through Missouri and Wisconsin and Florida and Texas A&M. The players matter because they chose those schools, they play for those schools, they win for those schools and they lose for those schools too.
. . .
Big-time college football … big-time college basketball … these are about the schools that play them. They are about the institutions, the campuses, the landmarks, being young — the front of the jersey and not the back, as coaches love to say. This connection — fan to college — is at its strongest with sports.
He went on to explain why he thinks that the stars of big-time college football and basketball should not be paid (that is, above and beyond the not-insignificant cost of tuition, fees, room, board, books, and magnificent athletics facilities and coaching) and that is because the money they generate should provide opportunities for sports that don't make money, the ones for which every penny spent is a loss. The students in those sports aren't ever going to get rich or famous, so they come to a university to make it better and to make themselves better. You know, students in sports like track and field and cross country.
I don't love my alma mater's track and cross country teams because they're nationally competitive, because they're not. I went to a mid-major so they likely won't ever be nationally competitive. I love my alma mater's teams because my college gave me nearly every good thing I have in my adult life: my wife, my best friends, my career, my understanding of the world, and an opportunity to compete in Division I athletics despite an abject lack of talent. It hurt very badly fifteen years ago when the university decided to cut men's track and field (and lie about the reasons for doing so) and my feelings only turned around when everyone involved in the decision was gone from the university and the new women's head coach went out of his way to mend fences.
When you're a fan of a mid-major team, even modest success is a thrill. The men's cross country team had its best conference finish since 1995. The women had their best two-year run since 1998 and missed getting an NCAA individual qualifier by two seconds. During track season, they won their rivalry dual meet in an epic beat-down and got an NCAA outdoor individual qualifier for the fourth year in a row. And I cried when a recent graduate made the finals at the Olympic Trials, because it was something I never thought would happen again. And during all of this, the coaches and SIDs invited me inside the program as if I were a big-time donor to a football team just because I am their biggest fan.
#5: New Leadership
You know the classical Greek story of Pandora's Box. Ordered not to open it, she couldn't keep her curiosity at bay. Out flew sickness, death, turmoil, strife, jealousy, hatred, famine and passion before she could snap the lid shut again. Only hope was left inside, which was at last freed as the only antidote to those evils.
You had better have a lot of hope if you are going to be a fan of international track and field. I've always had it, otherwise I would have given up long ago. In 2016 the curtain was pulled back and the corruption was laid bare. New leadership, though, gives me hope that things will get better.
Seb Coe had been in office as IAAF president for barely more than a year when he got a series of reforms pushed through. It's easy to sneer at the move as not nearly enough, but it's also important to note that one significant move was to reduce the president's power and create term limits. It's virtually unheard of for any elected official anywhere to push for decreasing his own influence. I am cautiously optimistic that Coe will make the IAAF a better organization and make international track and field both more interesting and easier to follow.
Vin Lananna has only just been elected as USATF president and hasn't had the chance to do anything yet but his past suggests that he'll think big and possibly succeed. His successes as a coach were great, but they were even greater as an administrator. He brought major competitions to Stanford (which mostly disappeared after he left). He turned around Eugene, where the crowds had dwindled away in the early years of this century, and made it Track Town USA again. He landed major international competitions, including the 2021 World Championships. I don't know if he can do for the whole country what he did for Palo Alto and Eugene, but I have no doubt that he'll try.
So I'm hopeful that things will get better—and after all that 2016 has given us, we'll need a lot of hope.
Kevin Sully
A few memorable moments from me, in no particular order:
Wayde Van Niekerk's world record
In one evening, Van Niekerk managed to upstage Usain Bolt and unseat Michael Johnson from the record books. Track nerds knew the men's 400m at the Olympics was going to be the better race than the men's 100m that evening. It wasn't going to display overwhelming individual dominance, but it offered a race where there were three athletes with an equal chance to win. That assumption was completely wrong.
Van Niekerk took a commanding early lead from lane eight and ran like he had no idea what was going on behind him. Perhaps the fact that he was running blind permitted his mind to release any hesitation about going out too fast. Once he can came off the final curve and the stager unraveled, it was obvious Van Niekerk had the gold. The margin he held over James and Merritt with 100 meters remaining meant that either those two were running incredibly slow for an Olympic final, or Van Niekerk was going to run a time that Bolt couldn't possibly outdo twenty minutes later.
Allyson Felix misses the team in the 200 meters
I was standing just past the finish line during the women's 200m at the Olympic Trials. The spot is great for seeing the expression on the athlete's faces and getting a sense of the atmosphere in the stadium, but it's terrible for determining who finished in what position. Even from my poor angle, I could tell Felix was in danger of finishing outside the top three. Jenna Prandini dive/stumbled across the line and looked about even with Felix.
The crowd (and Felix) stared helplessly at the scoreboard for what felt like 30 second looking for the official result. The deciding margin was .01 seconds, with Felix on the wrong side of the hundredth. The response from the crowd could best be described as lukewarm shock. Prandini went to school at Oregon and still trained in Eugene. But Felix is Felix and there seemed something strange about having her attempt at a 200/400m double end before the Olympics began. The months of debate about switching the schedule in Rio to make the double possible was rendered irrelevant because of .01 of a second. It's the cruel meritocracy of track and field. A career's worth of accomplishments doesn't guarantee you double gold, or even a place on the starting line.
Men's Olympic steeplechase
This is the best race I didn't see the end of live. I had the race streaming on my phone while I drove to work with the plan of arriving in my parking space in time to see the last two laps. This was all working perfectly until my phone lost its signal when I pulled into the parking garage. I didn't account for this in my plan. As I was furiously trying to reload the NBC app, I missed Evan Jager's historic silver medal run, a finish that would have been even more noteworthy if the US didn't overperform in every distance event. I also missed Ezekiel Kemboi get the bronze medal and then, after a protest from France, get disqualified for stepping on the inside of the track. This elevated Mahiedine Mekhissi to third and prompted this quote from Kemboi:
"I had opted to retire right after the Olympics only if i had come home with this medal….now i feel that i have to bring back this medal not by protesting again but right on track. Kemboi is not retired, I will be coming to London 2017 to re-claim my medal from France. No limits."
Thanks France, you just gave us one more year of Kemboi. I'll be sure to stay away from parking garages when he runs in London.
Men's Olympic Trials long jump
 
Because of the lack of field event coverage on television, I think this was one where you had to be in the stadium to fully appreciate it. There were so many big jumps and dramatic turns that it was hard to keep track of even if you were at Hayward Field. After about the third round, I was hoping someone would put the running events on pause so everyone could commit their full attention to the long jump pit. I'll admit I had to look up who won the competition (Jeff Henderson with a wind-aided 8.59) because there was just so much going on.
Here's what I do remember. Will Claye needed the Olympic standard and to finish in the top three to get on the team. He finished third, jumped the standard, but he did it on a wind-aided jump. Marquis Dendy was in qualifying position in fourth, but got hurt mid-competition and had to pass on his final two jumps. In a competition that was a series of one-upmanship, losing the opportunity to jump seemed deadly. When Claye couldn't get the wind to cooperate, Dendy had his spot secured.  Six men jumped 8.30 meters (27′ 2¾") or farther that afternoon, each time marked by an explosive roar from the crowd.
Brendon Desrochers
Brendon's picks for the best of the year…
Women's 8
In the two days between the semis and finals of the women's 800m at the Olympic Trials in Eugene, I pestered everyone I saw for a prediction on the final. It appeared to be a wide open field where any of six women seemed possible podium finishers. The race lived up to the hype with a fall, controversy, tears and the two most decorated entrants not getting on the podium. Kate Grace won it, Ajee Wilson and Chrishuna Williams joined Grace on the podium, Molly Ludlow was painfully close but short again, and Brenda Martinez and Alysia Montano were caught up in a trip around the final bend, finishing seventh and eighth.
Grace wins 800 to cap journey from near-retirement to Olympics
Dan Browne's illuminati
Dan Browne is the distance coach of the Army World Class Athlete Program. He is not the author of the page-turning pseudo histories The Da Vinci Code and Angels and Demons. Nonetheless, he is creating a not-so-secret society (terrible effort there by me) of top distance runners that had its coming out party this summer. Leonard Korir and Shadrack Kipchirchir made the 10,000m team and Hillary Bor made the 3000m steeplechase team. Most notably, though, Paul Chelimo got on the 5000m team and then won silver (before being disqualified, told about his disqualification on national television and then undisqualified). This summer was also the summer I discovered Paul Chelimo Twitter.
This, before the 5000m semis at Trials, is still my favorite:
This is no good accidentally took night time sleep aid instead on Ibuprofen..I have semis today??..any suggestions on how to counter-act it?

— Paul Chelimo (@Paulchelimo) July 4, 2016
Kipchirchir, Korir are Army strong; Ludlow, Grace seek redemption
A most interesting year
Eliud Kipchoge makes headlines. In a year where we managed to avoid winning a marathon without his insoles, he instead nearly set a world record by accident in outrunning the "greatest field in marathon history" in London. He made it look easy in winning gold in London, and now he's headlining a Nike project of three runners aiming at breaking the two-hour barrier next spring. It's unclear what it would take for Kipchoge to be considered the greatest marathoner of all-time (if he's not already), but another year that approaches 2016's success should do it.
American female hurdles dominance
 
Things that happened this year for American women in the sprint hurdles: 1) Keni Harrison sets the world record in the women's 100m hurdles. 2) Three other women — Brianna Rollins, Nia Ali and Kristi Castlin — swept the podium in that event in Rio. 3) New Jersey high school senior Sydney McLaughlin burst on the scene to make it to Rio. 4) Two other women — Dalilah Muhammad and Ashley Spencer — finished first and third in the Olympics. American women came away from 2015 Beijing Worlds with no golds in these two events and were shut out from the podium entirely in the 100m.
Later, '08er
Sports On Earth's Will Leitch named the Chicago Cubs breaking their World Series curse and winning one for the first time since 1908 as the sports story of the year. Uncuriously missing from his top-10 list was Matt Centrowitz becoming the first American to win the men's 1500m in the Olympics since 1908. Centro loosened the curse-breaking jar for the Cubs by holding the lead for the final 400m of a tactical final.