One Comment
Bracketology: Sweet 16 Now Complete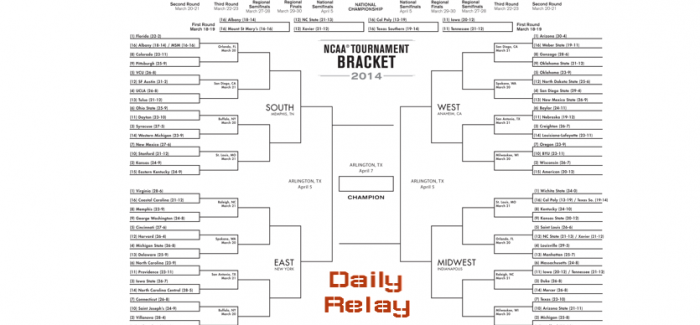 Today the second round of the NCAA Tournament finishes up and the Sweet Sixteen are finalized. The same is happening here with our college track bracket.
A quick reminder of how this works:
We start with the bracket for this year's basketball tournament. Each "game" matches up great track and field athletes in each university's history, with the winner decided by career accomplishments and a subjective decision of who was "better".
But the key is that once an athlete has been used, he or she cannot be used again. So, for example, Ohio State will keep Jesse Owens in reserve until he's really needed. Thus the "best" athlete in each school's history might not come up until later rounds–but they might have to be used in early rounds to get past a tough opponent, leaving the team vulnerable in later rounds.
First, a correction–one that doesn't change yesterday's outcome but will change future ones. One of yesterday's matchups was Manhattan vs North Carolina State, and I chose hammer thrower Jake Freeman to represent Manhattan. As was pointed out in the comments, I should have used Lou Jones, who set world records in the 400 meters in 1955 and 1956. He would beat the NC State representative I chose, 80s long distance runner Betty Springs. Instead the Wolfpack must use Joan Benoit, who ran for them in 1977 and 1978 before blossoming into the United State's greatest ever long distance runner, winning the 1984 Olympic marathon and setting the world record.
Today's matchups…
Stanford vs Kansas
Stanford beat New Mexico with 30s 400/800 runner Ben Eastman. Kansas beat Eastern Kentucky with 30s decathlete Jim Bausch.
Stanford has a rich tradition in track and field, and their greatest ever in the sport is Bob Mathias, the two-time Olympic decathlon champion. Kansas has an even richer tradition in track and field, and their greatest ever is Al Oerter, the four-time Olympic discus champion. Four beats two.
Winner: Kansas
Kansas State vs Texas Southern
Kansas State beat Kentucky with present-day high jumper Erik Kynard. Texas Southern got out of the "First Four" with 60s sprinter Jim Hines, then beat Wichita State with 80s & 90s long sprinter Mary Onyali.
For this round, Texas Southern brings Robert Taylor, who won Olympic silver in 1972 in the 100 meters. Kansas State answers with Thane Baker, who won two silvers and a bronze in the 100 and 200 at the 1952 and 1956 Olympics and tied several sprint world records.
Winner: Kansas State
North Carolina vs North Carolina Central
North Carolina beat Providence in the first round with 90s hurdler Allen Johnson. North Carolina Central beat Iowa State with 50s hurdler Lee Calhoun.
NC Central has used up their greatest athlete ever, Lee Calhoun, and their second-best is Larry Black. He won the NCAA championship in the 220 yards in 1971, then won Olympic silver the following year in the 200 meters. North Carolina likewise used their greatest, Allen Johnson, and now must rely on Shalane Flanagan. She won three NCAA titles, two in cross country and an indoor 3000, and a bronze in the 2008 Olympic 10,000 meters and in the 2011 World Cross Country Championships to go with her fifteen USA championships at various distances. Flanagan comes out ahead by sheer force of numbers.
Winner: North Carolina
Duke vs Tennessee
Duke beat Mercer in the first round with 50s jumper/hurdler Joel Shankle. Tennessee got through the "first four" with current hurdle world record holder Aries Merritt, then got past UMass with 90s pole vaulter Tim Mack.
Duke's greatest track athlete is Dave Sime, who came to Durham on a baseball scholarship but was convinced to join the track team. He was often injured and never won an NCAA or US championship, but set world records at 100 and 220 yards and the 220 hurdles and won Olympic silver in the 1960 100 meter final. Tennessee answers with hurdler Lavonna Martin (Floreal), a three-time NCAA champion and three-time US champion in the 100 and 55 meter hurdles who won silver at the 1992 Olympics.
Winner: Tennessee
VCU vs UCLA
VCU won in the first round with still-active quarter-miler Kiara Porter. UCLA won with 90s sprinter/hurdler Gail Devers.
For this round, VCU brings multi-eventer/hurdler Donna Pegram, who won ten conference championships between 1993 and 1995 in the old Metro Conference. She held eleven school records when her time at VCU was done. UCLA brings out Florence Griffith (Joyner), possibly the flashiest and most attention-grabbing personality in track and field until Usain Bolt came along. Her 1988 season was among the greatest in the history of sprinting, setting world records and winning Olympic gold in the 100 and 200, but she also had fairly good success in the years leading up to that.
Winner: UCLA
Baylor vs Louisiana-Lafayette
Baylor won the first round with Michael Johnson, the greatest long sprinter in the history of the world. Louisiana-Lafayette won with 90s triple jumper Ndabe Mdhlongwa.
Baylor had to use the Bears' greatest ever in the first round in order to get past Nebraska, and they'll have to use their second-greatest here: Jeremy Wariner, the world's best 400 meter runner from 2004 through 2007. Their hand is forced by the Ragin' Cajuns' Hollis Conway, who won three NCAA titles in the high jump and a silver and two bronzes in Olympic and World Championships competition.
Winner: Baylor
Memphis vs Virginia
Memphis won in the first round with recent weight thrower Steffen Nerdal. Virginia won with late 80s half-miler Paul Ereng.
In this round, Memphis brings two-time shot put All-American Susan King, who was the 2008 Conference USA athlete of the year. The Cavaliers have Margaret Groos, the first woman ever to receive an athletic scholarship at Virginia, who won the 1988 Olympic Trials marathon.
Winner: Virginia
Oklahoma State vs Arizona
Oklahoma State won in the first round with 50s quarter-miler Jesse Mashburn. Arizona won with still-active long distance runner Lawi Lalang.
In this round, Oklahoma State brings Tom Von Ruden, a standout miler who won the first-ever NCAA indoor championships 880 yard final (in 1965) and two US indoor titles. Arizona answers with George Young, the distance runner who made every Olympic team from 1960 to 1972 in three different events, highlighted by a bronze medal in the steeplechase in 1968.
Winner: Arizona
Come back next week, when we trim these sixteen down to the elite eight and then the final four.