2 Comments
SPEED Rankings #2: Mid-Distance and Distance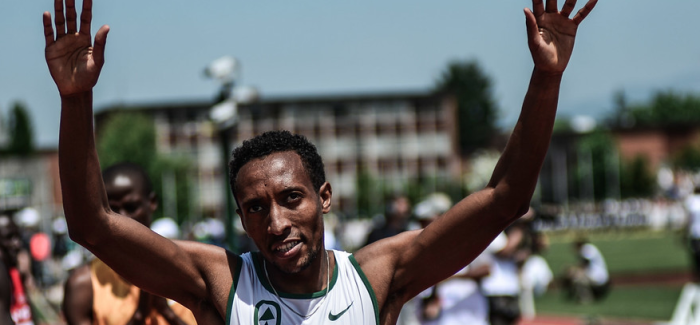 Kevin Sully | On 11, Jun 2015
Photo via TrackTownPhoto
A quick diversion from the NCAA Championships to update the professional SPEED Rankings. I wanted to post these before the Diamond League weekend kicks off today with Oslo and continues in New York on Saturday. As always, remember the SPEED Rankings are based who the top five would be if the top runners all lined up in the world to race each other right now.
Men's 800
1) Mo Aman
2) Ayanleh Souleiman
3) David Rudisha
4) Nijel Amos
5) Adam Ksczot
Aman has beaten Amos twice and set the world lead in Rome. There have been some slow, almost tactical times, turned in this year in Diamond League races thus far. Clearly, Rudisha's absence is being felt in that area. That changes on Saturday when he runs in New York City. He's racing a good, but not great field that doesn't feature Aman, Souleiman or Amos. A win plus a season's best time and I think Rudisha is in good shape. Anything else and I'm going to begin to wonder if that injury he suffered (or re-aggravated) in Ostrava was a serious setback.
Souleiman has run phenomenally in the 800 and 1,500. He's known more as a 1,500/miler because of his world indoor championship at that distance, but he looks just as comfortable in the 800. More on him below.
Women's 800
1) Eunice Sum
2) Ajee Wilson
3) Brenda Martinez
4) Rose Mary Almanza
5) Sahily Diago
The Prefontaine Classic showed that Sum and Wilson are a cut above everyone else in the event.  They both ran 1:57 and were more than a second ahead of the next finisher. That is in alignment with what we saw last year, though it is still too early in the year to call the 800 a two person race. The wild card for Wilson is that she is going to have to be sharp to make the US team. Not "in the shape of my life" sharp, but the American women's 800m field is too strong to train through. Five women including Wilson have already run 2:00.19. I'm not sure if having to be ready so early will hurt her in August–right now it is just something to keep in mind.
Martinez was third at the Prefontaine Classic. Almanza and Diago ran 1:59s in Ponce and Anastasiya Bazdyreva is this year's out of nowhere runner from Russia. She ran 1:58.75 and is third on the world list.
Men's 1,500
1) Ayanleh Souleiman
2) Matthew Centrowitz
3) Asbel Kiprop
4) Silas Kiplagat
5) Abdelaati Iguider
This top four mimic the finishing order from the Bowerman Mile at the Prefontaine Classic. Souleiman will have a tough decision to make between the 800 and 1500. Looking at the World Championships schedule, doing both requires six races in nine days, but there is one day off between the finals of the 800 and the heats of the 1500. I think he goes for both.
Kiprop looked a tad flat in Eugene, but that could be a good sign for his form in August. So much of the 1500 is about timing, both within the race itself and throughout the season.
Did you know there was a meet in Marseille where 8 people ran under 3:35 in the 1,500? Iguider won it in 3:32.88.
Women's 1,500
1) Jenny Simpson
2) Sifan Hassan
3) Dawit Seyaum
4) Abeba Aregawi
5) Mercy Cherono
Simpson jumps all the way up to number one after her world lead and back-to-back Diamond League wins. Hassan hasn't been as fast, but she's shown consistency and was second in Rome, third in Eugene and first in Birmingham.
Cherono is an interesting x-factor after spending most of her career focused on the 5000. With the 1500 she gets to run about 9 fewer laps and has a better shot at a gold medal. That's a good deal. Her 4:01.26 at the Prefontaine Classic was a lifetime best.
Aregawi looked pretty good running the 800 in Eugene and was second behind Hassan in Birmingham. All total, five different nations represented in the rankings.
Men's 3,000 Steeplechase
1) Ezekiel Kemboi
2) Jarius Birech
3) Conseslus Kipruto
4) Evan Jager
5) Paul Koech
I went with chalk here. The top five have the five fastest times in the world this year. Kemboi and Birech ran a great race in Eugene and were well clear of Kipruto in third. After one race it is clear that Jager is the FNKIAS (first non-Kenyan in a steeplechase) for the year. The bad news is that may not be good enough for a medal. Fantastic debut for him though.
Women's 3,000 Steeplechase
1) Virginia Nyambura
2) Hyvin Jepkemoi
3) Hiwot Ayalew
4) Emma Coburn
5) Lydia Chepkirui
I didn't know either of the top two before the season started and if you are being honest, you didn't either. Nyambura was a pacer in Doha and won the race. Three weeks later, she finished second to Jepkemoi in Rome and set a personal best. Jepkemoi has the fastest time of the year.
All this bodes very well for Coburn who has yet to race a steeple this year, but can't be too concerned with the times that have been posted so far.
Men's 5,000
1) Mo Farah
2) Yomif Kejelcha
3) Paul Tanui
4) Hagos Gebrhiwet
5) Thomas Longosiwa
Despite all the drama surrounding Farah he still is the favorite in this event. Yomif Kejelcha was victorious in Eugene and Rome. Is he winning because he is great, or is the rest of the field just not that impressive? Tanui was second in the 10,000 in Eugene and runner-up to Kejelcha in Rome.
In all the non-Farah races, I'm picking parity. Right now it is very difficult to decipher who Kenya and Ethiopia will send to the World Championships. Edwin Soi, Muktar Edris, Imane Merga, Dejen Gebremeskel, Isiah Koech are all out of the top five despite having Diamond League experience and in some cases, global championship medals. We still don't know where Caleb Ndiku is.
Women's 5,000
1) Genzebe Dibaba
2) Almaz Ayana
3) Faith Kipyegon
4) Viola Kibiwot
5) Vivian Cheruiyot
Dibaba is racing the world record today in Oslo and regardless of whether or not she gets it she will win the race easily. It's Ayana (at least as of Thursday morning) who has the fastest time in the world this year. Hopefully those two race before the World Championships so we don't just have to compare times. Kipyegon was 12 seconds behind at the Prefontaine Classic. Cheruiyot was third in Eugene in her first year back to serious racing after having a child.
Men's 10,000
1) Mo Farah
2) Paul Tanui
3) Geoffrey Kamworor
4) Bedan Karoki
5) Galen Rupp
Farah did some leading and still won the Pre Classic 10,000 comfortably. Tanui looks rock solid, has already run two 10,000s this year and one 5000. Kamworor should improve with more experience on the track.
With the BBC/ProPublic report hanging in the air, Rupp races this weekend at the Portland Track Festival.
Women's 10,000
1) Almaz Ayana
2) Sally Kipyego
3) Vivian Cheruiyot
4) Betsy Saina
5) Gelete Burka
There haven't been any major 10,000m races thus far for the women. Burka won the Payton Jordan Invitational and has the world lead. I'm not sure if Ayana plans to double, but she should be able to carry over her 5000 success to the longer event and can completely avoid Genzebe Dibaba. Two NCAA alums, Kipyego and Saina, could be on the line at the World Championships