One Comment
Phoebe Wright takes a victory lap, while Bernie Montoya comes close at "Distance Night in Eugene"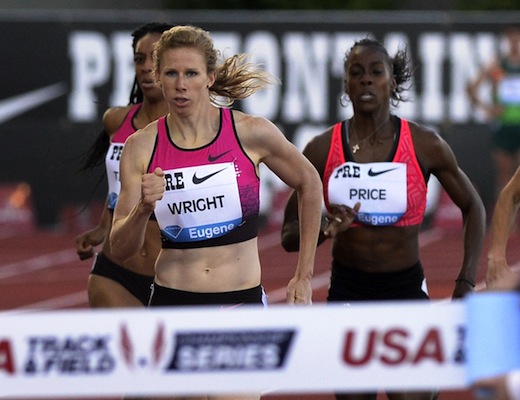 Pat Price | On 01, Jun 2013
photo courtesy Track and Field Photo
It was a beautiful first day of racing at the 2013 Prefontaine Classic. 7000 fans piled into the Hayward Field stands for "Distance Night in Eugene" to see some top quality fields before the main course Saturday. Nike's Phoebe Wright was happy they showed. "I wish that I could take everybody in the stands and have them feel what it feels like… to cross the finish line first everyone once in awhile."
"When I finished, the official had the nerve to ask me to do a victory lap. Duh, yes I'll take a victory lap. How many victory laps do you get to do?" A very happy Phoebe Wright timed her kick just right to take the win in the Women's National 800 meters in 2:00.85, finishing just ahead of Canadian Melissa Bishop (2:01.16) and rising teen star, Ajee Wilson (2:01.24).
"There's a wind gauge at every 50 meters on the track. Every time before I race, I'll do a stride backward and look at where the gauge is. No matter where, whether I'm first or last, go 100% So with 50 to go, I committed to going all out."
With the World 'B' Standard in hand, Wright may run in one of the Indiana American Milers Club meets, but the main focus for her now is USA's.
"Coming off a little injury, I'm building confidence. I've butchered some USA championships, but I'm gonna get it right this time."
High schooler, Bernie Montoya, bounced back from a tough race in New York last week to run with the pros. He ran well and closed in 60.39, but the first few laps took their toll on him. He looked strong through 809 meters, coming through unofficially at 2:00, and then 3:01 with a lap to go. Montoya would finish in a season best time of 4:01.71, a national high school leader again this year. Kenya's James Magut would win the race in 3:55.24. Garrett Heath would win the Men's National 1500, which was held beforehand, in 3:38.54.
Afterwards, I asked Montoya: "Is this it or are you gonna take another crack at sub-4:00 at New Balance?"
"I have New Balance but I don't know what events I'll be doing. This was a good opportunity to go after it. I think this will most likely wrap up our mile (for the year)."
Montoya's Cibola High Coach, Kris Norton, wasn't ready to close the door just yet. "We're gonna see how today went and decide tonight" said Norton.
A source close to the situation says Montoya has decided and will indeed make one more run at sub-4 in Greensboro.
Montoya put everything in perspective with one more parting comment. "3 years ago, I was on the gridiron and now I'm at Hayward field. It's amazing. I'm enjoying it."
Not too shabby at all. He'll run at Arizona State in the fall.
Mo Farah's move to the 5,000 certainly slowed the pace of the 10,000, but Kenenisa Bekele showed the signature kick that he has become known for to push past Imane Merga and cross the line first in 27:12.08 to close out the night.
More tomorrow, live from Hayward Field. Be sure and follow @WritingAboutRun on Twitter for trackside news as it happens.