No Comments
The Monday Morning Run: Farah and Dibaba set records, Barshim and Collins win again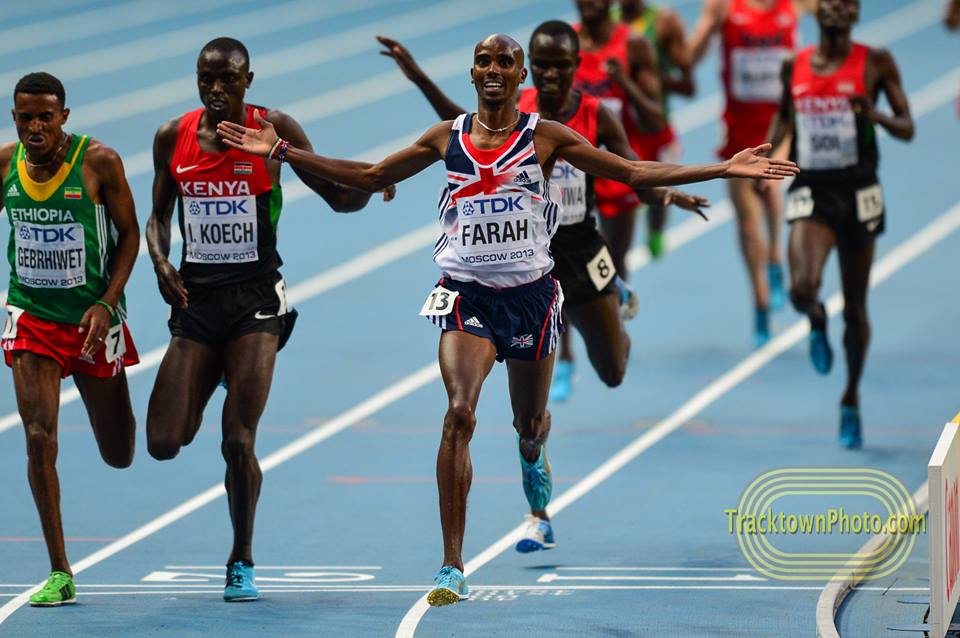 Kevin Sully | On 23, Feb 2015
It didn't take long for Genzebe Dibaba or Mo Farah to get going. Both set world records in their first race of the season–defying conventional wisdom and signifying that we are in for a fast and exciting year. Indoor meets in Birmingham and Stockholm and the Tokyo Marathon topped the headlines in the busiest week of running so far in 2015.
The Medalists
The top three performances of the week
Gold: Mo Farah
I thought Bernard Lagat had a better than average chance of beating Farah heading into the Sainsbury's Indoor Grand Prix in Birmingham (UK). This was Farah's season debut and Lagat was coming off two strong races, one where he pushed Dejen Gebremeskel to the line in a 3,000 and another where he ran 3:54 in the mile at the Millrose Games.
However, a 3:54 mile doesn't look as great when you are running against someone who splits a 3:59 in a two-mile. This is precisely what Farah did after running the first mile just under 4:04. Once Farah left Lagat and the rabbit I kept waiting for him to come back to earth. They had promoted the race as a world record attempt, but how many times have we seen a record attempt fall apart before it ever really gets going?  When it becomes clear it was only meant for PR purposes and never really had any basis in reality. The mark Farah was chasing wasn't soft, it had Kenenisa Bekele's name beside it so to break it Farah had to be in mid-season form.
With four laps remaining, it was clear Farah was in range. At the bell, he still look like he had another gear and he closed with a final 200 meters in 28 seconds.
Farah's 8:03.40 two-mile took on extra meaning after he spent part of the week in a back and forth with fellow British runner Andy Vernon. Their spat began when Vernon said Farah didn't race against quality competition and took off from there. It continued with the exchange of song lyrics and Farah calling Vernon an "embarrassment." Farah apologized for the tweets, but then leveled a more serious charge when he said Vernon joked after the European Championships that Vernon, not Farah, was the actual European champion in the 10,000. Vernon insists that the comment was made in jest with a group of people, including Farah, after the pair went 1-2 in the 10,000.
So, we finally got to the core, and most serious, part of the allegation after this entire episode had spanned several days and included references to Taylor Swift's running ability. Vernon then cried foul about Farah crying foul, which put him in a strange position. It is, after all, not Andy Vernon's decision whether or not Farah should/should not be offended by jokes about his citizenship. Whether Vernon thought they were joking is irrelevant. Farah's probably had his fill of comments that imply that he something other than British.
What about the original criticism that Farah races against soft fields? I find that short-sighted. It was less than a year ago when he ran in the London Marathon, which at the time was billed as the deepest field in marathon history. He only ran a handful of times on the track last year, but I can point to others who competed even less (see Bolt, Usain from January-December 2014).
Since his double golds at the 2012 Olympics, Farah has done what anyone else would do in his position. He is choosing the schedule that gives him the best chance of success. That success is defined by World Championships and Olympics.  He's done well enough, both on the track and financially, that he doesn't need to run as frequently as he did in 2009 or 2010. He runs, and wins, the races that matters.
And let's not pretend that all track and field competitions are created equally. To place this much emphasis on an indoor meet in February is magnifying its importance by a power of 100.
Practically speaking Spencer Barden, a British Athletics director gave a simpler reason for the composition of the field in Birmingham.
"With no World Indoor Championships this year it means the best 5km runners from outdoors are not running indoors this season. The ones that would challenge Mo are not around."
When you look at the final results and see the margin, it looks ridiculous to say Lagat was a real rival, but he is among the best in the world even though Farah beat him by 14 seconds.
Farah looked to be a no win situation on Saturday. Lose the race and he gets the usual criticism, win the race and it's evidence of a weak field. Fortunately for him, he ran faster than everyone in history so there isn't much left to say.
Silver: Genzebe Dibaba
Her success indoors is hard to figure out. No competition, no warm-up race and she takes 10 seconds off her personal best in the 5,000 and sets the world record.
At the XL Galan meet in Stockholm meet she did all of the work herself after 2,000 meters, lapped everyone and ran 14:18.86.
She now owns four indoor world records, 1,500, 3,000, two-mile and 5,000. All while never having won a medal outdoors.  I don't think there has been someone so great in one part of the season and so average in another.
For those wondering why Dibaba runs better at start of year, she says it's because climate is warmer in Ethiopia then, so she trains better.

— Jon Mulkeen (@Statman_Jon) February 19, 2015
It might be the Ethiopian weather that is responsible for her indoor success. But that would make Dibaba virtually the only runner in history who runs her best race, as her first race in the season.
Like last year, it is useless to compare Dibaba's time to other indoor races–rather it makes more sense to measure it up to all-time outdoor list. Her 14:18 is the fourth best all-time in the 5,000. The two women above her on the all-time 5,000 list, Meseret Defar and Tirunesh Dibaba, are multiple gold medalists outdoors. They ran fast in time trials AND were sensational in championship settings. So far, Dibaba has produced the former. She's only 24-years-old so she still has time to reverse that trend. Right now, this where she sits on the all-time list in the four events where she set world records.
4th best all-time in the 5,000
14th best all-time in the 1,500 (much higher if you exclude the suspicious Chinese marks)
6th best all-time in the 3,000
2nd best all-time in the 2-mile
In the lead up to the race, Jason and I discussed on the House of Run podcast possible reasons why Dibaba is better indoors than out.
We didn't know about the Ethiopian weather, so our list is far less scientific.
-Loves air conditioning
-Hates wind
-Prefers blue tracks
-Enjoys turning
-Lap counters can't keep track of her laps and she has actually been running 200-meters short on all these record attempts.
Bronze: Mutaz Essa Barshim
Another week, another indoor personal best. He'd be getting more attention for his historic season, but he never jumps at the featured meet of the week. In Ireland, he jumped one centimeter higher than he did two weeks ago, clearing 2.41 meters. He didn't barely slip over at 2.41, there was identifiable space between Barshim and the bar.
As the commentator on the video says, "Look at the room he had at the end…..LOOK AT THE ROOM!!"
After that he had a few unsuccessful attempts at the world indoor record of 2.43. All of this is setting up for another amazing year in the men's high jump.
Surging….
-Kim Collins
Collins ran his 2015 unbeaten streak to eight races after he overcame a slow start in Birmingham. I'm not even sure how it is possible to overcome a slow start in a race that is only 60 meters long, but if anyone can figure out how to make it happen it would be Collins.
His 6.50 on Saturday also gives him five of the six fastest times in the world this year. Here is a snapshot of the top marks of the year on the IAAF website–the most important column being the one marked DOB.

His dominance fully asserted, I think Collins should take the rest of the season off and spend his time drafting a petition to add the indoor 60-meters to the 2016 Olympic schedule.
-Endeshaw Negesse
All of the pre-race discussion centered around Geoffrey Mutai, Tsegaye Kebede and Stephen Kiprotich (more on them below), but it was Negesse who was victorious in the Tokyo Marathon. Negesse ran 2:06:00 and finished more than 30 seconds ahead of Kiprotich and defending champion Dickson Chumba.
Birhane Dibaba, no relation to Genzebe, won the women's race in 2:23:15, capping an excellent week for the name, "Dibaba."
-Katarina Johnson-Thompson
The British heptathlete, and ascendent member of track's three name club, long jumped 6.93 meters in Birmingham to set her second British record in seven days. Last week, she cleared 1.97 meters to break her own national high jump record. The trio of Johnson-Thompson, Jessica Ennis Hill, and Morgan Lake will give the British a multi-event medal threat for the next 15 years.
-Sifan Hassan
In Stockholm, Hassan easily won the 1,500 in 4:00.46. There is no World Indoor Championships this year, but it would be worth it just to see a mid-distance battle with some combination of Hassan, Shannon Rowbury, Jenny Simpson, Genzebe Dibaba and Axumawit Embaye in the 1,500 and 3,000. In the men's 1,500 Homiyu Tesfaye of Germany ran a world leading time of 3:34:13.
-Abadalleleh Haroun
The teeanger from Qatar ran 45.39 in the B heat in Stockholm. That was fast enough to beat everyone in the A and to make us all immediately google Haroun's name. Other than last week's race, not much comes up. It's even harder to find visual evidence of him.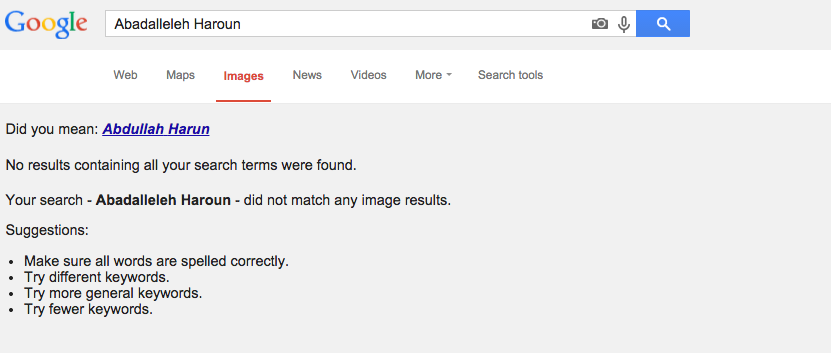 -New World Marathon Major rules
The WMM rolled out a modified system to crown the best marathoner in the world. The biggest change will be changing from a two year cycle to just one year. Actually, it is one year plus one race. This year, the cycle started in Tokyo and will end after Tokyo next year. There is a max of two scoring races per year, so even if someone wanted to do a Tokyo-spring marathon-fall marathon, or spring marathon-World Championships/Olympics-fall marathon triple they can only earn points for two. The point structure is 25-16-9-4-1 for places first through fifth.
Since it is easier to be dominant for one year than it is for two, there will likely be plenty of ties between runners who will win their fall and spring marathons and accrue 50 points. The third tiebreaker, after head-to-head and best finish, is a selection by race directors. That could prove to be problematic, but at least there is a policy down on paper to settle ties, unlike other parts of the sport (cough…track and field….cough).
Slowing….
-Matthew Centrowitz
I've noticed that the Surging/Slowing segment is especially capricious during indoor season. Centrowitz was on fire the the last three weeks with wins in the 1,000 in Boston, the mile in New York as well as running the opening leg on the distance medley relay team that set a world record at the Armory Track Invitational.
What changed so quickly for him to go from best miler in the world to finishing a distant 10th in Birmingham? A flight across the Atlantic.
That's a long trip that doesn't leave much time to acclimate to a new time zone before jumping into a very competitive 1,500 field. Shannon Rowbury handled it better finishing second in her 1,500, but I'm sure even she would have performed better with a few more days and races in Europe.
-Geoffrey Mutai/Tsegaye Kebede
Is it over for two of the best marathoners of the last ten years? After the results from Sunday's Tokyo Marathon, both have now had two poor performances in a row. Mutai got his doors blown off by Wilson Kipsang in New York in November and was a late scratch in Tokyo. Kebede, usually a mainstay in the top five, was ninth in Berlin last fall and eighth on Sunday.
I'll wait a little longer on Mutai since his absence could mean he might make another appearance this spring to change my mind. Even in marathon terms their declines seem quick. From top three performances and wins in 2013 and early 2014, to non-contenders in 2015.
-Timing malfunctions
From the IAAF report of the AIT meet in Ireland:
"After a false start was committed in the men's 60m final, the recall gun fired too late into the race and it had to be re-run………

"Two-time world indoor bronze medallist Tianna Bartoletta crossed the line first in the women's 60m final, but there was a timing malfunction and no performances were recorded. There was a re-run, but most of the elites declined to take part."
Winners who didn't win
-Stephen Kiprotich
Kiprotich ran his best race since the 2013 World Championships, placing second in the Tokyo Marathon with a personal best of 2:06:33. Sunday was also Kiprotich's first marathon since his 19-month-old daughter passed away in January.
-Ben Blankenship
Blankenship ran two great races in Europe, a 3:56 mile in Ireland and then a 3:35 on Saturday in Birmingham. He hasn't won a major race this winter, but Blankenship has emerged as the breakout American middle distance runner during the indoor season. In the process, he also achieved the qualifying standard for the World Championships.
Remember when Americans had to struggle late into the summer to get World Championship qualifying standards in the 1,500? Glad that might all be behind us.