No Comments
Daily News Roundup: First Big Pro Meet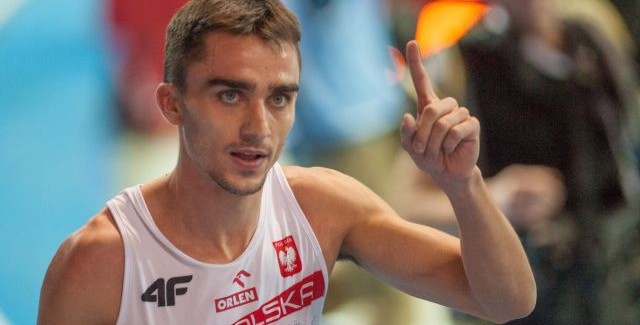 Poland's Adam Kszczot won the 800 meters in a world-leading 1:45.42
The first pro indoor meet of much importance was today, the PSD Bank Meeting in Dusseldorf, Germany.
World leading marks were established in five events. No surprise there–like I said, it's the first important meet of the year–but what is most interesting is a world lead that was not set. The men's 3000 meters had an impressive lineup and pacemakers, but the winning time of 7:38.40 (by Kenya's Caleb Ndiku) wasn't particularly close to Galen Rupp's 7:34.68 run en route to his 2 mile American record.
You can check out the results here (in German, but not too hard to understand) and WatchAthletics.com has some video.
News
Runner's World's Morning Report has all of yesterday's news: LA gets the marathon trials, Mary Cain is in the Wanamaker Mile, and more.
Ken Goe's Oregon track & field rundown has a Q&A with javelin thrower Cyrus Hostetler, who is currently training in Germany, plus all the morning news headlines.
Jon Gugala profiles that other thug athlete in Seattle, the Brooks Beasts' Phoebe Wright.
More from RunBlogRun
The New Balance Indoor Grand Prix announced its men's 3000 meter field. It's highlighted by Olympic/Worlds medalist Dejen "One Shoe" Gebremeskel, plus new Canadian Record holder Cam Levins and Edinburgh XC upset winner Garrett Heath.
More from NBIGP
Riffing on something I did earlier this week, Isaac Wood examines how Galen Rupp stacks up against the greatest US distance runners of all time.
More from Flotrack
Should we be able to bet on track and field? It might be fun. It also could be a serious corrupting influence. Matt McCue delves into the issues and the history of gambling and track and field.
More from Runner's World
Wisconsin decathlon star Japeth Cato is making a comeback from a complete Achilles rupture suffered last spring. Like Steve Austin, he might be better than he was before: better, stronger, faster.
More from Madison.com
What's On
There's a ton of action coming up this weekend.
The USTFCCCA has the list of all the college meets this weekend plus all the domestic webcasts.
Europe will see the first IAAF indoor meets of the year, the International Hallen Meeting on Saturday in Karlsruhe, Germany, and the Russian Winter on Sunday in Moscow.. You can watch both via WatchAthletics.com. For the rest of the European schedule, go to the EAA website.
Video of the day
Street decathlon? Street decathlon. (Hat tip to Spikes Mag.)