No Comments
Daily News Roundup: Olympic Marathon Trials to LA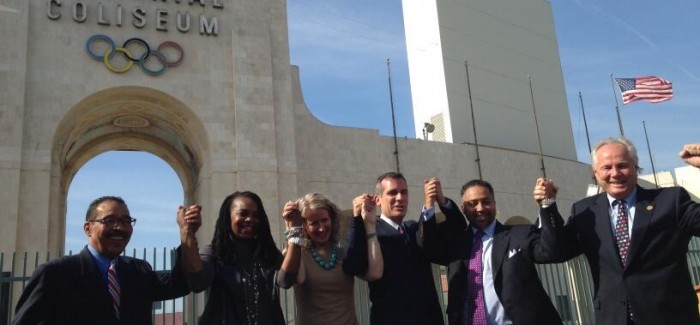 Photo by USATF
Shortly after 3:00pm Eastern time, the 2016 Olympic Marathon Trials site was announced as Los Angeles. USATF, municipal, and Los Angeles marathon bigwigs held a press conference at the Los Angeles Coliseum to make the announcement.
Thirteen camera crews were in attendance at the press conference, a large turnout for track and field. Among the announcements:
*Both races will be covered live and in their entirety on NBC
*The Trials and the Los Angeles Marathon will be held in February (instead of the originally proposed March, the LA Marathon's traditional date) in order to allow non-qualifiers another shot at the Olympic team on the track
*The Trials course will be a downtown loop course, one mimicking the 2016 Olympic course in Rio
For more, read the LA Times story.
Remember that a USATF committee voted unanimously in support of Houston as the Trials site at December's USATF annual meeting, but it appears they were charged only with evaluating the technical aspects of the bids. LA offers significantly more media exposure for the Trials–I'm going to guess that live network television coverage would not have happened if the races were in Houston–and it also likely kicks off a serious bid by Los Angeles for the 2024 Olympics. These are important issues for long-term development of road racing as a professional spectator sport.
One of the drawbacks to LA's original bid was the March date, which would have made it difficult for athletes who missed the marathon team to double back and take another shot at the midsummer track trials. The date change addresses that. I also saw a pro runner (I can't remember which one) tweet that the March date would allow athletes to make some money in a fall race, so February might split the difference and allow for both.
A sampling of responses…
So proud of @usatf! Olympic marathon trails are going to be amazing, Feb 13th in LA! They listened to the athletes concerns and nailed it!

— Shalane Flanagan (@ShalaneFlanagan) January 29, 2014
I had no preference where the trials would be held but I am happy that we have a date and a location so that a schedule can be set. #LA2016

— hansonsrun (@hansonsrun) January 29, 2014
Pretty stoked to be running 2016 Olympic Trials marathon in my childhood "backyard" in LA. Crowd support should be unreal!

— Ryan Hall (@ryanhall3) January 29, 2014
Certainly someone has to be upset about how it turned out (besides the Houston bidders) but so far I'm not seeing gripes.
Links
The new House of Run podcast is up! Jason and Kevin discuss Galen Rupp's newest American record, Mary Cain's personal best in the mile, Scotland's domination of the United States in the 4 x 400, the results of the Dubai Marathon and much more.
Earlier today I showed how nonelite US marathoners are getting faster and entertained speculation as to the reason.
News
Runner's World's Morning Report has all of yesterday's news: Deena Kastor racing in New Orleans, lack of rules on picking the marathon trials site, and more. Somehow I think it's more than pure luck that the marathon trials piece was published just a day ahead of today's announcement.
Ken Goe's daily Oregon track & field rundown looks at Galen Rupp's February 15th attempt at the indoor mile world record, plus he rounds up the morning's news.
Let's Run takes a look at, well, everything in their Week in Review.
The Wanamaker Mile fields were announced today. Mary Cain has switched from the 800 to the mile and will face fellow high school ace Alexa Efraimson, among others. The men's race is headlined by multi-Worlds medalist Matthew Centrowitz, and Alan Webb will make his farewell track race here. Nick Willis just tweeted that he'll switch from the 2000 to the mile.
More from the Millrose Games
The USTFCCCA released their Division III team rankings–and, for the first time ever, NAIA team rankings.
If Texas' Darrell Royal Stadium has a 55'x134′ Godzillatron, what should we call Iowa State's new 20'x12′ indoor track video board? The Mothratron?
More from Iowa State Daily
It turns out that Tsegaye Mekonnen, who just ran a 2:04:32 marathon, is not 18 years old as originally reported. According to noted track writer Dick Straight, he's 12. (Yes, that's the writer's real name. Why do you ask?)
More from Athletics Illustrated
Could Renaud Lavillenie break Sergey Bubka's long-standing pole vault world record? Yes. Will he? Aye, there's the rub.
More from European Athletics
A former colleague's favorite task in his World Geography class was to find a particularly unruly student and order him to go to the front of the room, turn around, and show the class Djibouti. Ayanleh Souleiman seeks to make his tiny nation on the Horn of Africa more than the butt of jokes.
More from the IAAF
Results
Today's stop on the Moravian High Jump Tour was won by Erik Kynard (men) and Emma Green Tregaro (women).
Results
Today's Hochsprungmeeting (High jump meeting) in Köln was won by Marco Fassinotti (men) and Marie-Laurence Jungfleisch (women).
Results
What's On
Tomorrow's competitions include the PSD Bank Meeting in Dusseldorf (an EAA Permit Meeting), the Gugl Indoor Meeting in Linz, Austria, and the Samara Cup in Samara, Russia.
PSD Bank Meeting preview | Meet website | Live webcast
Gugl Indoor website
Video of the day
When you combine "USA", "Olympic", "marathon", and "Los Angeles", this is what you get. Thirty years ago this year.