One Comment
What2Watch: Thursday at the NCAAs
Jesse Squire | On 11, Jun 2015
Today the women take center stage at the NCAA Championships. (Photo: TrackTown Photo)
he NCAA outdoor track and field championships continue today. You'll want to bookmark our NCAA championships coverage page for daily previews, recaps and analysis.
Yesterday's action
Dendy and Lawson put on a show
A new long jump format debuted last night, one that was supposed to give us more action and less dead time. It most certainly delivered.
Marquis Dendy (Florida), the heavy favorite, opened up with a wind-aided 8.00 meters (26′ 3″) while Jarrion Lawson (Arkansas) had a modest 7.88m (25′ 10¼").
In the second round, Lawson exploded with 8.24 (27′ ½"), again wind-aided, while Dendy fouled. The game was on.
Dendy answered the bell in the third round: a wind-aided 8.43m (27′ 8″), fourth-best in NCAA history. Only one man on earth has jumped farther in 2015 (the USA's Jeff Henderson).
That was enough for the win, but Dendy wasn't done. He hit 8.27 (27′ 1¾") in the fourth round and 8.34 (27′ 4½") in the fifth, both wind-legal. Lawson didn't give in; he got out to 8.34 (27′ 4½") in the final round. It was only the third NCAA Championships ever with multiple 27-foot jumpers.
Cheserek leads Oregon 1-2
As expected, Oregon's Edward Cheserek and Eric Jenkins easily outran the competition with a hard finish to take first and second in the 10,000 meters. The times were unremarkable (28:58 and 28:59), but for them that was a plus since they will have to come back in two days and run again in the 5000 meters.
Barber saves his bacon
Akron's Shawn Barber has dominated the pole vault this year and done everything short of breaking the collegiate record. During warmups yesterday he had a different break—a shattered pole. It appeared to take him off his game, and he had to go to a third attempt to get over his opening height of 5.40 meters (17′ 8½") to avoid the dreaded no-height. While clearly struggling, he only needed three more attempts to win, getting over 5.60 (18′ 4½") when no one else could. He ends his collegiate season as one of the clear favorites for the Bowerman Award.
McCullough wins easy
USC's Conor McCullough has had a long, strange trip through college hammer throwing. The 2010 World Junior champion first threw at Princeton, where he had a decent freshman year then took a leave of absence to take care of family issues back home and missed the 2011 season. He was declared academically ineligible for the NCAAs by the Ivy League after the 2012 school year, then left Princeton in 2013 and almost dropped out of throwing alltogether. He enrolled at USC last year and sat out a season while regaining eligibility. He finally got to compete in the NCAAs this year and won his first national collegiate title. It wasn't close; defending champion Matthias Tayala (Kent State) was more than seventeen feet back in second.
Jones wins in upset
Texas' Ryan Crouser was a heavy favorite to repeat as shot put champion but reaggravated an old injury during warmups and finished fifth with 19.99 meters (65′ 7″). With the door open, Johnathan Jones (Buffalo) and Darrell Hill (Penn State) tied with 20.78 meters (68′ 2¼"), and Jones won the tiebreaker on his second-best mark.
Crouser wins as expected
Sam Crouser, Ryan's cousin, was defending NCAA javelin champion and a heavy favorite to repeat. After a weak opening throw he had a toe foul that appeared well over 80 meters. He took the lead for good in the third round with 78.15 meters (256′ 4″) and extended it in the fifth with 79.19 (259′ 9″).
Team competition
Four teams were expected to fight for the title, namely Oregon, Florida, Texas A&M and LSU. The team that made the fewest mistakes was Oregon. Here's the summary:
| | | |
| --- | --- | --- |
| Team | On the board | Friday entries |
| Oregon | 34 | 10 |
| Florida | 16 | 8 |
| Texas A&M | 9 | 7 |
| LSU | 0 | 6 |
Decathlon not included; Oregon's Dakotah Keys is in fifth
As you can see, Oregon is in the driver's seat. A raw number of Friday entries doesn't tell you everything—the quality of those entries is not noted—but the Gators have their work cut out for them, and the Aggies and Bayou Bengals rate as long shots now.
Semifinal action
Hey, they're q-rounds, right? How interesting could they be? Plenty, at least in setting up for some great races on Friday night.
Defending 100 meter champion Trayvon Bromell (Baylor) blazed through his heat in 9.90 seconds (wind: +1.7), just 0.01 off the collegiate record. USC's Andre DeGrasse was second in that heat in 9.98, and it took 10.09 to get to the final.
Just over an hour later, the same cast of characters lined up for the 200 semis. DeGrasse won the first heat in 20.09 (+1.7), defending champion Dedric Dukes (Florida) won the second in 20.03 (+1.8), and in the third Bromell appeared to jog the turn and then turned on the jets down the straight for his own 20.03 (+2.0).
The Cliff Notes version: the NCAA men's sprint finals will be better than those at either Diamond League meet this weekend.
New formats
The new schedule is all men on Wednesday and Friday, all women on Thursday and Saturday. The fans turned out; the announced attendance was 9,627, the second best Wednesday total ever at an NCAA championships. That's no small thing considering that attendance for college meets has been in slow decline at Hayward Field.
The other new formats were in broadcasting. ESPNU showed nearly four hours of live action and with only minor cutaways during distance races. The all-men's format seemed less disjointed too. The "ESPN Surround" coverage at ESPN3 did as I had hoped and was dedicated to live whiparound coverage of field events. That plus an iPad for live results and I had everything I could want.
Today's Action
How to watch: The meet is being covered live on ESPN3.com from 10:00am PT/1:00pm ET and live on ESPNU from 4:00pm PT/7:00pm ET, switching over to ESPN at 5:30pm PT/8:30pm ET.
Who are the favorites?: This neat little form chart tracker starts with Track and Field News' form charts but allows you to change them as you wish and will automatically recalculate team scores. As you can see, there are seven(!) women's teams in contention for the title.
Start lists and live results: via Flash Results
The schedule: With the exception of the men's decathlon, this second day is all women's competition. That's one of the changes coming to the meet but far from the only one. Here's today's schedule in visual form. Note that start times for decathlon and heptathlon events are approximate; there will be at least 30 minutes between each event. And of course I can only guess as to how long each field event will take.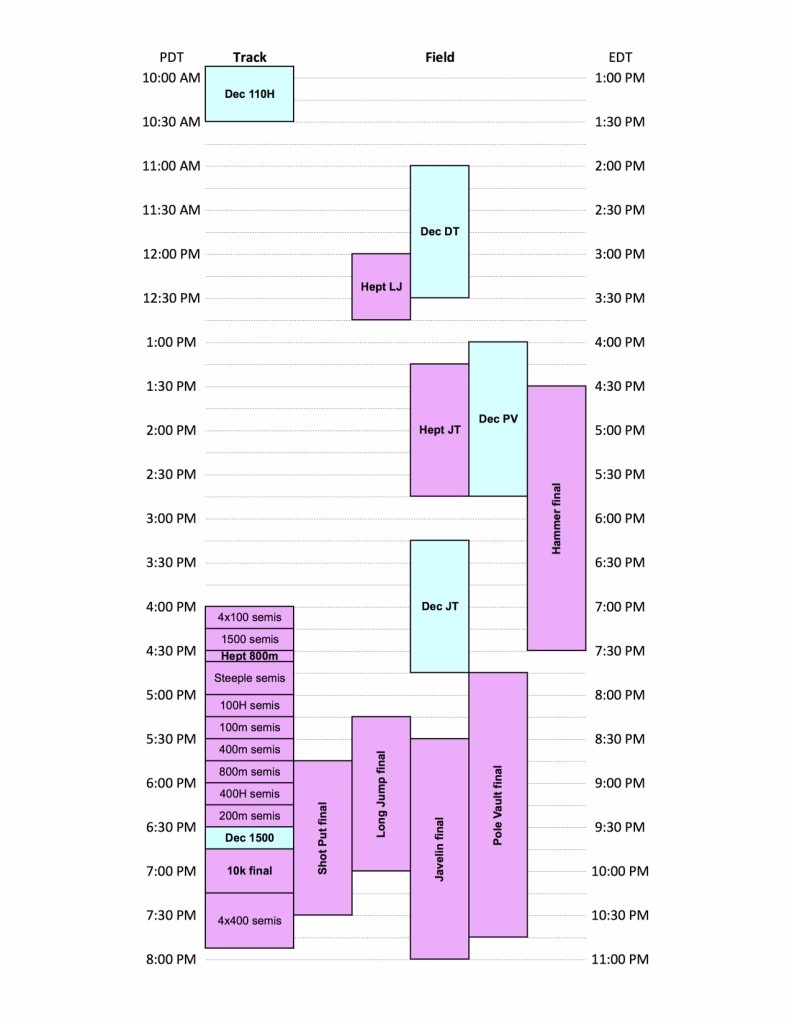 Today's Events
The multi-events (men's decathlon and women's heptathlon) finish today, and there will be five women's field event finals. On the track there is just one final, the women's 10,000 meters, but also semifinals in ten women's running events.
Decathlon
All day, begins at 10:0am PT/1:00pm ET
Heavy favorite Maicel Uibo (Georgia) is cruising along, but teammate Garrett Scantling had to withdraw with injury. The overnight leader is Arizona State's Pau Tonneson, and he will likely battle with Oregon's Dakotah Keys for second place.
Heptathlon
All day, begins at noon PT/3:00pm ET
Akela Jones (Kansas State) has a lead of more than 200 points. Not only is she likely to win, but she could be just the fourth to go over 6300 points at the NCAAs. Two of the other three are named Brianne Theisen (Eaton) and Jackie Joyner (Kersee), so that's rare company. She broke the NCAA first-day scoring record–and in just the second heptathlon of her life. Even so, a win is not guaranteed, as Kendell Williams (Georgia) could make it interesting.
Women's Hammer
Two consecutive flights begin at 1:30pm PT/4:30pm ET
Top nine qualify to finals, expected to begin around 3:30pm PT/6:30pm ET
The favorite: Brooke Pleger (Bowling Green) has led the NCAA from her first throw of the year and is #10 on the all-time collegiate list.
The challengers: Julia Ratcliffe (Princeton) is the defending champion but has been well off of last year's form. DeAnna Price (Southern Illinois) dealt Pleger her only loss of the year at the Tennessee Relays.
Team implications: Oregon is expecting points out of Jillian Weir. No other contending team has a qualifier.
Women's Pole Vault
Begins at 4:15pm PT/7:15pm ET
The favorites: Sandi Morris (Arkansas) and Demi Payne (Stephen F. Austin) have traded records and wins all season. Morris has won three of their five head-to-head matchups this year. This is the highlight competition of the day.
Team implications: Arkansas can score big here with Morris, Desiree Frier and Ariel Voskamp. No other contending team has a qualifier.
Women's Long Jump
Two concurrent flights begin at 5:15pm PT/8:15pm ET
Top nine qualify to finals, expected to begin around 6:15pm PT/9:15pm ET
The favorites: SEC champ Quanesha Burks (Alabama) has put up some big marks, but Jenna Prandini (Oregon) is the reigning NCAA indoor and outdoor champion.
The contenders: Sha'Keela Saunders (Kentucky) was runner-up at both the 2015 NCAA indoor championships and 2014 NCAA outdoors, but didn't look so good at the SEC championships. Freshman star Keturah Orji (Georgia) could surprise.
Team implications: Both Oregon (Prandini and Jasmine Todd) and Georgia (Orji and Chanice Porter) could get a lot of points here. If Florida gets any points at all from Darrielle McQueen it would be extra.
Women's Javelin
Two consecutive flights begin at 5:30pm PT/8:30pm ET
Top nine qualify to finals, expected to begin around 7:30pm PT/10:30pm ET
The favorite: Irena Sediva (Virginia Tech) is undefeated against collegians and has the year's two longest throws.
The contenders: Fawn Miller (Florida) is the defending champion but hasn't shown the same form as last year. Hannah Carson (Texas Tech) is also undefeated against collegians and this will be the first meet of the year where she is doing just one event instead of two or three.
Team implications: Florida (Miller), Georgia (Freya Jones, Jenna Wargo), and Texas A&M (Maggie Malone, Kristen Clark) all have scoring contenders. Arkansas (Amethyst Boyd) and Oregon (Liz Brenner) have qualifiers but they aren't expected to contribute points.
Women's Shot Put
Two flights (concurrent?) begin at 5:40pm
Top nine qualify to finals
The favorites: Tori Bliss (LSU) has the longest throws and is very experienced, but freshman star Raven Saunders (Southern Illinois) has proven herself as a big-meet performer.
The contenders: Everyone else is probably fighting for third, including defending champion Christina Hillman (Iowa State).
Team implications: If Oregon's Brittany Mann could get on the scoreboard it would give the Ducks a leg up. Texas A&M's Brea Garrett is qualified but not expected to score.
Women's 10,000 meters
Begins at 6:38pm PT/9:38pm ET
The favorites: Emma Bates (Boise State) is the defending champion, but Dominique Scott (Arkansas) has the fastest time and won the NCAA indoor 3000.
The contenders: Elvin Kibet (Arizona), Chelsea Blaase (Tennessee) and Margo Malone (Syracuse) are the best of the rest.
Team implications: Arkansas needs ten points out of Scott and might be able to sneak Diane Robison on the scoreboard too. Oregon's Molly Grabill and Waverly Neer are capable of scoring points, as is Texas A&M's Hillary Montgomery. Crucial down-the-line points in a 10k come from smart running.
Women's running event semifinals
Begin at 4:00pm PT/7:00pm ET, run until 8:00pm PT/11:00pm ET
Survive and advance. There are seven teams in contention for the championship, and you figure at least one of them is going to blow it in the semis while another might get unexpected qualifiers (which translates into bonus points on Saturday).
Oregon
The sprints are key for the Ducks. Can Jenna Prandini and Jasmine Todd survive the big workload asked of them? They also need Raevyn Rogers to qualify in the 800, where Annie LeBlanc would be a bonus. Sasha Wallace will need a good race to get to the 100 hurdle final. Oregon isn't expected to score in the 1500, but with four qualifiers (Alli Cash, Ashley Maton, Nikki Hiltz, Katie Porada) you figure they should get somebody to the finals.
USC
It's all about the sprints for the Trojans. They have a boatload of qualifiers in the 100 (Ky Westbrook, Alexis Faulknor, Tynia Gaither, Deanna Hill), the 200 (Westbrook, Hill), the 400 (Vanessa Jones, Kendall Ellis), the 100 hurdles (Dior Hall, Melia Cox), and of course the 4×100 and 4×400. With such a one-dimensional team, the semis are crucial.
Arkansas
Taylor Ellis-Watson (400) and Crishuna Williams (800) should get to the finals with ease. It would be a big boost if Bekka Simko (800), Alex Gochenour (100H) or Taliyah Brooks (100H) make it. The 4×400 relay looks to be right on the bubble.
Texas A&M
As always, the Aggies have a ton of qualifiers in the sprints but only two–Kamaria Brown (200) and Shamier Little (400 hurdles)–are shoo-ins for the final. Still, with three entries in each of the 100 and 200 that gives them chances for unexpected qualifiers. Both relays can play it safe and still qualify.