3 Comments
Changes at the NCAA championships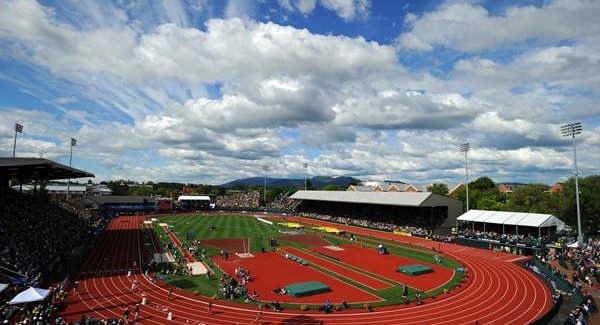 Jesse Squire | On 09, Jun 2015
Change is inevitable. The only question is whether we take charge of it or let it happen to us.
All this week we are covering the NCAA Championships. Visit our home page for the meet!
Yesterday I read an entertaining post at Deadspin (one that appears to have disappeared from the site) that asked a simple question: if you were king for a day, what rule changes would you implement for your favorite sport?
It being Deadspin, the responses ranged from the ridiculous ("Full. Contact. Golf.") to the interesting but unlikely (a hit batsman has the option to throw the ball back at the pitcher; he gets two bases if he hits the pitcher but is out if the pitcher catches it) to the reasonably possible (11-man rugby played on a regulation football field in an effort to get the game wide US exposure).
Naturally, my thoughts ran to track and field. I can think of a lot of ways I'd change the sport in terms of scheduling and qualification, mostly on the college and pro level. For example, our current NCAA regionals/preliminary rounds/whatever need radical change. But that's another article. I'm not going to talk about what could happen or should happen, but what definitely will happen.
There are some changes coming to this week's NCAA outdoor championships, some well-known and others not so much. Let's look at some of these changes and effects they may have.
Segregated scheduling
The biggest change coming to the NCAA championships is a schedule that separates men's and women's competition onto different days (with the exception of the decathlon and heptathlon, which both by rule must be contested on consecutive days). Take a look: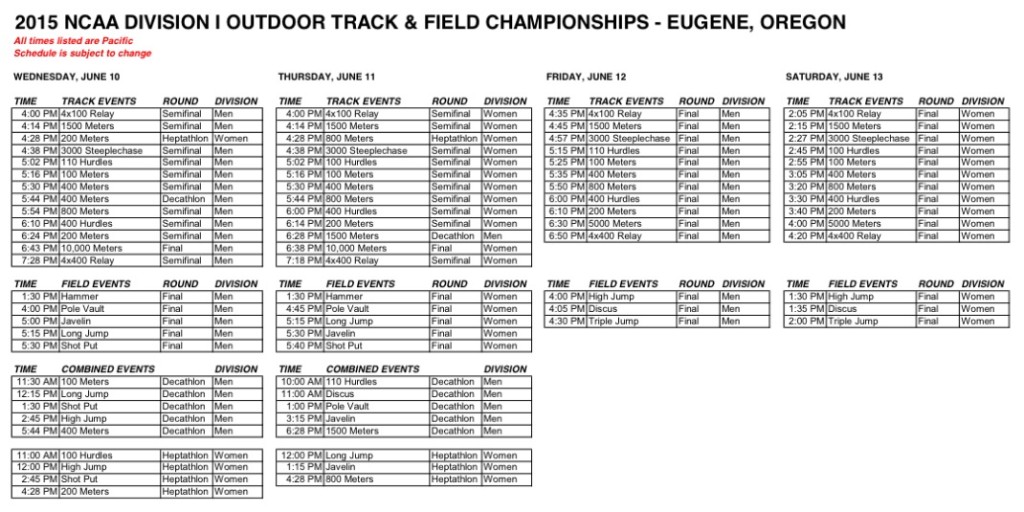 The reason for this departure from the long-standing tradition of combining men's and women's competition is to make the whole thing easier to watch and understand. If you reply it's easy for me, what kind of idiot has a hard time with it?, I'll come back with this:
As nice as it was to see the NCAA finally embrace the women's side of the sport, the decision to have a combined championships, to my way of thinking, has created a meet that's just too long and too hard to follow.
That was none other than Track and Field News editor-in-chief Garry Hill, writing in TFN's coverage of the 1982 NCAA championships (the first to combine men's and women's competition). I've been to quite a few single-sex meets and it's remarkable how simple they are–as track and field should be.
But there's another plus, one that becomes readily apparent when you see the television schedule.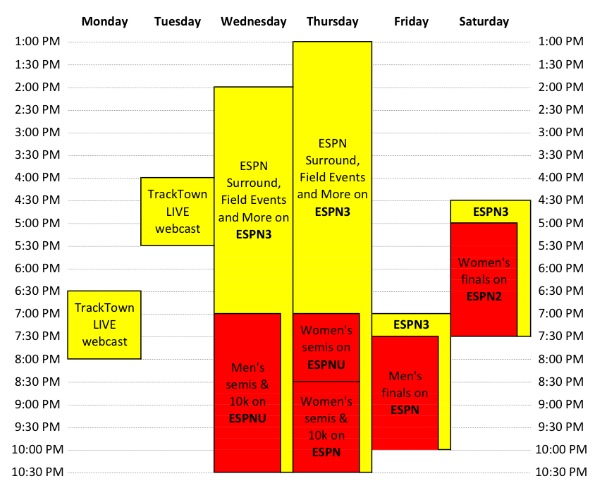 ESPN appears quite happy with the changes and will supply an unprecedented amount of coverage. Even within that, there's another hidden benefit.
The meet always has and always will end on a Saturday, given the large amount of time it takes to run it off. But the men's championship will be competed on Friday night, when there is far less competition in terms of sports on TV, and there will be 150 minutes of live coverage on ESPN–not ESPNU or ESPN2, but the flagship channel. That is a very big deal.
There are possible downsides. Maybe attendance and TV ratings and media coverage will drop off precipitously for the two days of women's-only competition. After all, that's the norm in this country for women's sports.
But I think it's worth taking a risk and try for more and better media coverage overall. I think of it like a distance runner who is content to run for seventh place while his coach wants him to take a chance and go with the leaders when the break is made. Maybe it will work and maybe it won't, but there's only one way to find out.
Field events sped up
The field events at the NCAAs, just like all the other events, have 24 qualifiers each. The way things have been done for over a decade is two consecutive flights of 12 athletes, then the top 9 come back for a final. It's long and can be a bit boring whether you're there in person or following it at home.
That's going to change for at least two events, the long jump and triple jump. From TFN's Garry Hill:
I'm hearing that in LJ/TJ rather than traditional method of flight 1 jumps, then flight 2 jumps, then we all warm back up and have the 3 final jumps, this year they 'll run the two flights side by side (Hayward has parallel runways), and then after the first 3 jumps, the 9 best will immediately getting 3 more, staying on the same runway they were on to begin with.
So basically the two flights will be run concurrently, just a few feet apart from each other. Many decathlon and heptathlon competitions do things the same way.
Dave Johnson, the Penn Relays director:
This is a head-slap moment, one of those where you realize the solution was so simple it should have been thought of ages ago.
Hill estimates that the old way took about three hours from beginning to end, and this new format will take about half that long. And while the drudgery of raking one pit is going on, the other will have jumping action.
No word on whether the shot put will be competed in this format, although Hayward Field has the facilities to do it. The long throws will still have to be run the old way, though.
TV innovation?
I'm both a track fan and a long-distance runner, which means I'm both cynical and optimistic. Track fans have reason to expect the worst in everything, be it corrupt or incompetent administrators, inevitable doping scandals, or television producers that don't know or care how to broadcast a meet. Two years ago I highlighted (lowlighted?) the coverage of the NCAAs, the worst I've ever seen.
But I'm also a distance runner, and that requires a nearly endless supply of optimism. Training is inherently an act of faith and optimism (and that kind of sunny disposition is, in my mind, the most ignored factor in Kenyan running success). So I still have hope that TV coverage of the NCAAs might be halfway decent. But I also know that it will require a completely different approach than has been used without much change for four decades or more.
If you look back up at that TV schedule I put together, webcasts are in yellow and telecasts are in red. ESPN3 will be covering everything via something they're calling "ESPN Surround".
I have no idea what that is, but I have a guess. ESPN Surround has been used on all kinds of other sports, and it's basically an extra camera view (sometimes multiple camera views) of whatever sporting event is being televised, often without commentary.
Given that the ESPN3 Surround coverage runs throughout the meet, from the very first field event action of each day, it might not be too much to hope that it will cover field events during the ESPN/ESPN2/ESPNU broadcasts (which are likely to be the traditional TV coverage of running events with the occasional bone thrown to the field events). If I could have talking-head coverage of running events on one screen and NFL RedZone-type commercial-free whiparound coverage of field events on the other, I think I'd be in track and field heaven.
The track fan in me is expecting to be disappointed, but the runner in me holds out hope.