One Comment
What2Watch: Wednesday at the NCAAs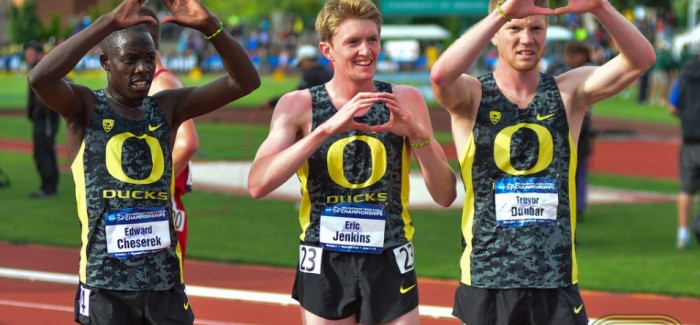 Jesse Squire | On 10, Jun 2015
An Oregon 1-2 is expected in tonight's men's 10k, but everything that leads up to it could make or break it for the Ducks, Gators, Aggies and/or Tigers. (Photo courtesy TrackTown Photo)
The NCAA outdoor track and field championships kick off today. You'll want to bookmark our NCAA championships coverage page for daily previews, recaps and analysis.
The Basics
How to watch: The meet is being covered live on ESPN3.com from 11:00am PT/2:00pm ET and live on ESPNU from 4:30pm PT/7:30pm ET.
Who are the favorites?: This neat little form chart tracker starts with Track and Field News' form charts but allows you to change them as you wish and will automatically recalculate team scores. As you can see, the men's team competition is expected to be a four-way battle between Oregon, Florida, Texas A&M and LSU.
Start lists and live results: via Flash Results
The schedule: With the exception of the women's heptathlon, this first day is all men's competition. That's one of the changes coming to the meet but far from the only one. Here's today's schedule in visual form. Note that start times for decathlon and heptathlon events are approximate; there will be at least 30 minutes between each event. And of course I've hazarded a guess as to how long each field event will take.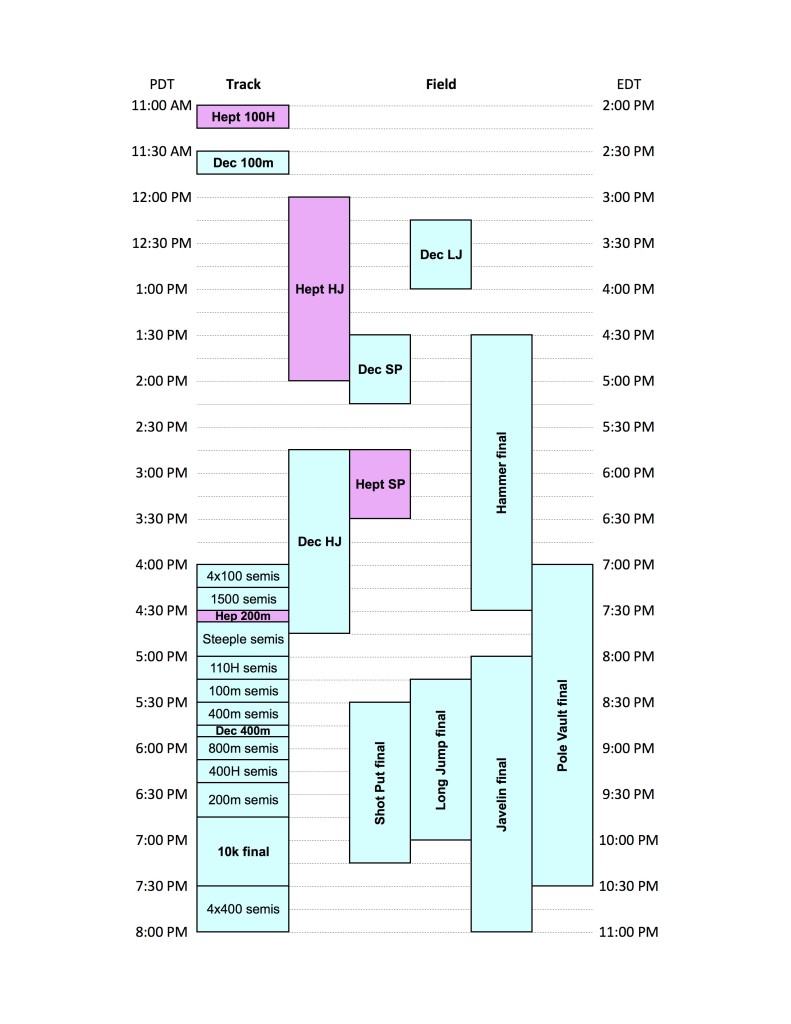 Today's Events
The multi-events (men's decathlon and women's heptathlon) begin today, and there will be five men's field event finals. On the track there is just one final, the men's 10,000 meters, but also semifinals in ten men's running events.
Heptathlon
All day, begins at 11:00am PT/2:00pm ET
The favorite: Erica Bougard (Mississippi State) has just one NCAA title to her credit, the 2013 indoor pentathlon championship, but is coming off a huge PR at the SEC Championships and is 100 points better than any other qualifier.
The challengers: Quintana Chapman (Georgia) is the only competitor whose PR is even reasonably close to Bougard's. Kendall Williams (Georgia) beat Bougard at the NCAA indoor pentathlon.
Team implications: With as many as seven teams in contention for the team title, there's a lot at stake in every event. Georgia (see above), Arkansas (Alex Gochenour) and Texas A&M (Jena Hemann) are expected to score points. Oregon has a qualifier (Ashlee Moore) but she was the 24th and last qualifier and is not expected to score.
More info: Decathlon USA's media guide
Decathlon
All day, begins at 11:30am PT/2:30pm ET
The favorites: Maicel Uibo (Georgia) and Garrett Scantling (Georgia) are more than 350 points ahead of the field in terms of qualifying scores. Let's say it this way: the Bulldog pair both are well beyond the World Championships qualifying standard, while the next best three have barely scraped by the USATF Championships qualifying standard.
The challengers: There really aren't any unless both Uibo and Scantling compete well under their ability. They've both broken 8200 points, while only Dakota Keys (Oregon) has ever gone over 8000 points.
Team implications: Oregon could get big points here. Keys should be somewhere between third and fifth, and teammate Mitch Modin has an outside shot at scoring. The Ducks also have Joe Delgado but he is not expected to score (he was the 24th and last qualifier). None of the other contenders have qualifiers.
More info: Decathlon USA's media guide
Men's Hammer
Two consecutive flights begin at 1:30pm PT/4:30pm ET
Top nine qualify to finals, expected to begin around 3:30pm PT/6:30pm ET
The favorites: Conor McCullough (USC) is an experienced veteran. He and Michael Lihrman (Wisconsin) have the best PRs.
The challengers: Matthias Tayala (Kent State) is the defending champion but is still not the favorite. Chuk Enekwechi (Purdue) beat Lihrman at the Big Ten championships.
Team implications: Greg Skipper (Oregon) could score a few points. He is the only qualifier from any of the championship contenders.
Men's Pole Vault
Begins at 4:00pm PT/7:00pm ET
The favorite: Shawn Barber (Akron) is not just a clear favorite but the second-best vaulter in the world right now, behind only world record holder Renaud Lavillenie.
The challenger: No collegian can beat Barber if he's on, but this is the pole vault where weird things can and do happen. If the door is left open, Jake Blankenship (Tennessee) is the most likely to step through it.
Team implications: Texas A&M has a pair who could score in Audie Wyatt and Chase Wolfle.
Men's Javelin
Two consecutive flights begin at 5:00pm PT/8:00pm ET
Top nine qualify to finals, expected to begin around 7:00pm PT/10:00pm ET
The favorites: Sam Crouser (Oregon) and Ray Dykstra (Kentucky) were first and second last year.
The contender: John Ampomah (Middle Tennessee) went well beyond anyone elses' PR with his win at the Penn Relays (81.55m/267′ 7″) but so far it was a one-off performance.
Team implications: Oregon is hoping for a win from Crouser. Texas A&M could score big with Ioannis Kyriazis and/or Devin Bogert.
Men's Long Jump
Two concurrent flights begin at 5:15pm PT/8:15pm ET
Top nine qualify to finals, expected to begin around 6:15pm PT/9:15pm ET
The favorite: Marquis Dendy (Florida) is the reigning indoor and outdoor NCAA champion and a realistic contender for a World Championships medal in August.
The contenders: Jarrion Lawson (Arkansas) is inconsistent but has hit several very big jumps over the years. Others to watch include Roelf Pienaar (Arkansas State), Laderrick Ward (SIU-Edwardsville), and Jalen Ramsey (Florida State).
Team implications: Florida is looking for ten points from Dendy. Oregon has a pair of qualifiers (Trevor Ferguson, Nate Moore) but they are long shots to score.
Men's Shot Put
Two flights (concurrent?) begin at 5:30pm
Top nine qualify to finals
The favorite: Ryan Crouser (Texas) is a three-time NCAA shot put champion and has a PR well beyond anyone else's.
The contenders: Stipe Zunic (Florida) upset Crouser at the NCAA indoor championships this year with a mark more than 19 inches (50cm) further than anything else he's ever thrown. Darrell Hill (Penn State) and Johnathan Jones (Buffalo) have consistently recorded long throws.
Team implications: Florida sure would like another ten points from Zunic, but somewhere between five and eight points is more likely. No other contending teams have a qualifier.
Men's 10,000 meters
Begins at 6:43pm PT/9:43pm ET
The favorite: Edward Cheserek (Oregon) is three-for-three in career NCAA championship races of this length, winning one title on the track and two in cross country. Teammate Eric Jenkins is the only current collegian who has beaten "Ches" at an NCAA championship (the indoor 3000 this year).
The contenders: No one, really. Barring disaster such as illness or falling, it's nearly impossible to imagine anyone beating either of the two above, let alone both. Jason Witt (BYU) and Futsum Zienasellassie (Northern Arizona) deserve a mention.
Team implications: Oregon should get 18 points out of this race, and anything less would spell disaster. No other contending team has a qualifier.
More info: Let's Run
Men's running event semifinals
Begin at 4:00pm PT/7:00pm ET, run until 8:00pm PT/11:00pm ET
Like the NCAA basketball tournament, the goal is to survive and advance. This is true for the individual favorites of course, but these semifinals will likely have an impact on who comes into Friday with the best shot at the team championship.
Oregon
The Ducks' key race is the 1500, where they have three qualifiers (Daniel Winn, Blake Haney, Johhny Gregorek). Other big semis include the 400 (Marcus Chambers), steeplechase (Tanguy Pepiot), and 110 hurdles (Johnathan Cabral). Long shots to qualify include Arthur Delaney (100 and 200) and the 4×100 and 4×400 relays.
Florida
The Gators' key race is the 800, where Andres Arroyo and Ryan Schnulle will have to run well to make it to the final in this least predictable of all the running events. It could spell disaster if either Najee Glass (400), Dedric Dukes (200), Eric Futch (400 hurdles) or either relay team fails to qualify. Mark Parrish (steeplechase) could give his team some breathing room if he gets to the final.
Texas A&M
The Aggies are known for their relays, and they're going to have to get both through to the final to have any chance at the team championship. The 400 is another key race, with Deon Lendore and Bralon Taplin as two big cogs in their machine. If Shavez Hart can get to both sprint finals it would keep them in contention, and it would be gravy if Greg Coleman (400 hurdles) can qualify.
LSU
The Bayou Bengals have the fewest qualifiers of all the major contenders, all in the sprints and hurdles, so semifinal day will make or break them. Vernon Norwood is a co-favorite in the 400 and should make it easily, as should Jordan Moore and Joshua Thompson in the 110 hurdles and both relay teams. The difference makers could be Aaron Ernest and Tremaine Acy in the sprints and Quincy Downing in the 400 hurdles.