No Comments
Daily News Roundup: College Season Begins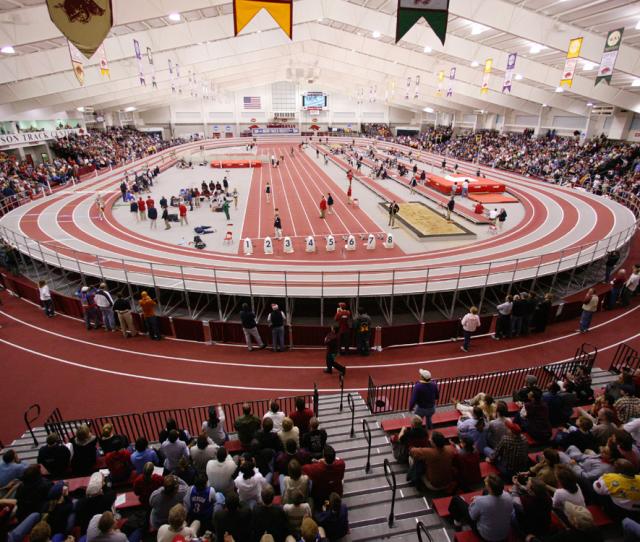 Jesse Squire | On 10, Jan 2014
It starts for real now. (Photo by arkansasrazorbacks.com)
There were some meets before Christmas break and a small handful last weekend, but this is the first real weekend of the collegiate track season.
As such it's still a little low-key, but I'm ready and excited to get things rolling. I'll be the PA announcer at the Bowling Green Opener, an all-women's five-way scored meet between the host Falcons and Western Michigan, Toledo, Ball State, and IPFW.
You can keep tabs on all the action via the USTFCCCA's InfoZone, with links to meets, webcasts, live results, and so on. The coaches' association also tells you everything you ever wanted to know about indoor track*
(*but were afraid to ask)
Links
The weekend's best matchups are highlighted by the Great Edinburgh Cross Country races, which will be webcast live (see below).
News
Runner's World's Morning Report has all of yesterday's news.
Big news in Britain: Olympic heptathlon hero Jess Ennis-Hill is pregnant and will miss the Commonwealth Games.
More from Athletics Weekly
Her pregnancy could lead to enhanced performance leading into the next Olympics.
More from The Telegraph
And of course Charles van Comedy chimes in…
Congrats @J_Ennis. I guess you won't need your funding for this year now. Any chance you could return it? Niels is in need of a few quid.

— Charles van Comedy (@CharlesVComedy) January 10, 2014
The recognition comes late, but Eleanor Montgomery's place in Cleveland history is now secure.
More from the Cleveland Plain Dealer
What to watch
On the tube…
9.79*, the documentary on the 1988 Olympic men's 100 meter final, will be on ESPN2 on Saturday at 10:00pm.
Run for the Dream: The Gail Devers Story will be on Showtime Family Channel on Monday at 5:05am.
On the web…
The Arkansas Invitational will be webcast on Friday from 1:45pm (ET)
The Jayhawk Classic will be webcast on Friday from 2:00pm (ET)
The Windsor Can Am meet will be webcast Friday and Saturday from 5:00pm (ET)
The Cincinnati vs Akron dual will be webcast on Friday from 6:45pm (ET)
The BUPA Great Edinburgh XC will be webcast on Saturday from 8:15am (ET)
Video of the day
The final episode of RunnerSpace's Race Walking Dead series.