No Comments
The Monday Morning Run: Spearmon's positive test, Fall marathon preview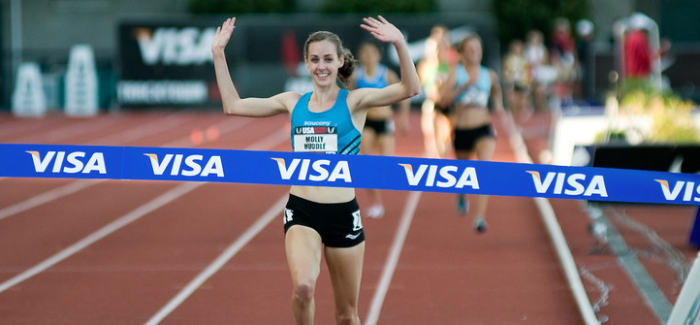 Kevin Sully | On 22, Sep 2014
Photo via TrackTownPhoto
There is only a one week break between the end of the track and field calendar and the beginning of the fall marathon season. Catch your breath because the three majors this fall are shaping up to be fast and competitive. In other words, the complete opposite of what we watched on the track all summer. First, to the action from this week.
The Medalists
The top three performances of the week
Gold: Bedan Karoki
He won the Phildelphia half-marathon in 59:21. Fast half marathons usually function just to tell us that someone is in shape for an upcoming marathon or to signify that they are in too good of shape for the upcoming marathon and a blow-up is probable. Karoki isn't scheduled for a fall marathon as far as I can tell so I guess we can't do either.  Fast time nonetheless.
Silver: Molly Huddle
Huddle claimed what feels like her 7,000th American road title at the USA 5K Championships in Providence, Rhode Island, winning by 10 seconds over Jordan Hasay. Diego Estrada won the men's race and former phenom turned relatively average pro, German Fernandez, had a breakthrough performance and placed second.
Bronze: Deena Kastor
Back in Philadelphia, Kastor set the master's world record in the half marathon running 1:09:36 to place third. She beat Kara Goucher by over two minutes and was less than minute from the first place finisher, Aberu Kebede. If choosing Meb Keflezighi as your sleeper marathon pick has become too mainstream, perhaps you can go with Kastor. She is 41 and has definite Miracle Meb potential.
Spearmon Tests Positive
USADA announced that sprinter Wallace Spearmon has been suspended for three months after failing a drug test. The substance in question was a cortisone injection which Spearmon says he took to alleviate symptoms from allergies. Spearmon reportedly cooperated with USADA and spoke openly about the failed test with Track and Field News.
The anti-doping agency concluded that Spearmon was not using to substance to enhance his performance and thus opted for a short suspension. Unless Spearmon was planning on competing in some cross country races in October and November, the punishment is a simple slap on the wrist.
The scope and circumstances between this case and the Tyson Gay saga are quite different, yet they do share a similarity in that both athletes skipped over the traditional excuses and obfuscations after they tested positive. Maybe it is purely out self interest. I'm certainly naive enough to misconstrue athletes words and deeds when it comes to doping. I'm the guy who actually believed the Nike poster when it said the only thing Lance Armstrong was on was his bike for six hours a day.
But Spearmon's attempts at transparency (he turned over medical records and anti-doping forms over to Track and Field News) also could signify that maybe athletes are finally aware how skeptical the public has become to the sob stories and "I've never failed a test" proclamations. The truth is quicker, easier and will get you back on the track with a much shorter sentence.
Will others take Spearmon's approach? Much of that probably depends on the type of punishment they're facing. It's hard to see the public believing anyone who doesn't offer the level of specific evidence that Spearmon did in this case. There have been too many lies, too many stories about spiked toothpaste, rouge massage therapists and tainted meat for any athlete to be given a pass. Spearmon's case was relatively minor and probably won't register outside the track world. I'm guessing we won't have to wait long to see if it has an impact on those inside the sport.
Lessons from the 2014 track season
-Indoor success doesn't always translate to the summer
I knew this, and yet I still got suckered into to thinking that Richard Kilty and Marvin Bracy would be factors in the summer sprint season. The two went 1-2 at the World Indoor Championships in March. Kilty was hailed as a the next big thing in British sprinting (to go along with their other next big things, Adam Gemili, Delano Williams, Jodie Williams, etc.) and Bracy looked ready to join the top tier of Americans.
Neither happened.
Kilty had a decent outdoor season, but five sprinters in Britain ran the 100 faster than he did in 2014. Bracy was hurt and barely raced outdoors.
Shelly-Ann Fraser-Pryce typically doesn't race indoors. She did this year and won the world title in the 60. That looked to be a promising sign until she began racing in the late spring. She never really found her rhythm and was out of contention in virtually all of her races. For the first time since 2007, she failed to break 11 seconds in the 100.
In the distance events, Genzebe Dibaba also regressed during the summer months. If she ran anywhere near her times from this winter she would have cruised to the Diamond League title. She had wins outdoors, but she clearly hit her peak during those three weeks in February when she went 3-3 in world records in the 1,500, 3,000 and two-mile.
-US is still waiting for the next generation of sprinters
If you were looking for a changing of the guard during the non-championship season, it didn't happen for American sprinters. Bracy is still at least one season away. Trayvon Bromell was spectacular, but was confined to NCAA and junior competitions. Kendal Williams and Trentavis Friday are still too inexperienced to get a read on.
For the women, Tori Bowie was a revelation, but she is already 24 and was injured quite a bit in the back half of the season. Is America in need of a new sprint star? Or, can Justin Gatlin, Tyson Gay, Allyson Felix and Carmelita Jeter carry them over the next two years?
-American women's mid-distance continues to rise
When is the last time someone could make the argument that there are more medal chances for the US in the 800/1,500 than there are in the 100/200? While the sprints stagnated, the mid-distance women in the US took another huge jump forward. Jenny Simpson, Shannon Rowbury, Brenda Martinez, Ajee Wilson, Mary Cain and Chanelle Price are all medal contenders heading into the 2015/16 cycle.
This doesn't even account for Emma Coburn, who doesn't technically compete in mid-distance race, but her rise to relevancy in the women's steeplechase is more remarkable than any other American performance this year.
-You can't count on big stars in a non-championship year
I'm very excited to put the phrase "non-championship year" on sabbatical until 2018. It's a necessary qualifier, but the next time I have to use it I'm going to frame it in a positive sense and call it a "midway year," an "Olympic free year," or a "hey, look everybody…. Bolt is doing everything except run a serious race on the track…year."
Anything to avoid the dread of "non-championship year." You get the sense that athletes completely buy into it as well. As much as they talk about chasing fast times or running the Commonwealth Games they know that their money is made when there are Olympics or World Championships. If you take the eight most popular/successful athletes (or an estimation of the top eight)–Bolt, Yohan Blake, Shelly-Ann Fraser-Pryce, Ashton Eaton, Allyson Felix, Mo Farah, David Rudisha and Sanya Richards-Ross none of them are in contention for Athlete of the Year.
Rudisha and Felix get a pass because they were coming off serious injuries and they still raced somewhat regularly. Eaton was a victim of his own event and his 400-meter hurdle races were some of the high points of a ho-hum season. With the big names in the background, the men's high jump got more attention and the rivalry between Kirani James and Lashawn Merritt blossomed into the most interesting sprint story.
The common complaint amongst athletes is that the sport is not taken seriously with the public outside the Olympic year. For that to change, athletes, from Usain Bolt on down the line, can't disappear every four years just because there aren't any major medals being decided.
Fall Marathon Primer
The Berlin Marathon takes place on Sunday. Chicago follows suit in October and New York caps off the fall marathon season in November. Here is a quick look at some expected highlights.
Deepest men's field: New York
Defending your championship is out of style this season. Last year's Chicago champion (Dennis Kimetto) will race in Berlin and last year's Berlin champ (Wilson Kipsang) will take his first crack at the New York City Marathon. The result is a fairly even distribution of talent across the three major marathons. At least at the top.
Berlin has Kimetto, Tsegaye Kebede and Geoffrey Kipsang Kaworor. Chicago's headliners include Kenenisa Bekele, Eliud Kipchoge and Bernard Koech and New York will trot out Kipsang, Geoffrey Mutai and Stanley Biwott.
Where New York distinguishes itself is outside the top three. Nine runners in the New York field have broken 2:08.
Deepest women's field: New York City Marathon
Similar to the men's race, New York's women's field is by far the deepest–probably deeper than the men's race by comparison.
How deep?
Mary Keitany is the sixth woman listed on the New York Road Runners press release about the race. Keitany has a personal best of 2:18 and just ran the second fastest half marathon of all-time a few weeks ago. Six other women besides Keitany have run under 2:24 including last year's champion, Priscah Jeptoo. Chicago's field is front loaded with Rita Jeptoo and Florence Kiplagat, but doesn't have much depth after the first four runners.
Best chance for an American victory: Shalane Flanagan, Berlin
Flanagan is targeting the American record of 2:19:36. If she runs that fast, she will also be in contention for the win. The women's field in Berlin is beatable–the most notable opponents for Flanagan are Tirfe Tsegaye (personal best of 2:21:19), Gladys Cherono (making her marathon debut) and Kayoko Fukushi (personal best of 2:24:21).
This is a long way from the field she faced in Boston. Unless there are some late additions to the field, a time under 2:20 will certainly win the race. Now, the question still remains if Flanagan can run that fast. Her best is 2:22:02, but she has never run on a marathon on a fast course.
She will have male pacesetters which will help her and the time trial approach would seem to suit Flanagan quite well. Throughout her career she has been at her best when she runs from the front and tightens the screws on her opponents. She's run this way with great success against American fields on the track and the roads and she has taken a similar approach in her marathons. The strategy didn't produce a win in Boston, but the field in Berlin is weaker and the course is much more forgiving.
For the men, the hopes rest on the legs of Meb Keflezighi. Right now, he looks like he will finish somewhere between 4-10 in New York. That leaves him just one Kipsang/Mutai blow up from the podium.
Best one-on-one matchup: Wilson Kipsang and Geoffrey Mutai, New York
The depth in New York is great, but race should boil down to Geoffrey Mutai and Wilson Kipsang. Kipsang is the world record holder and is coming off a resounding victory in London during the spring. He is the best marathoner in the world and would be the favorite, but he is racing Mutai in New York. Mutai won the last two editions of the race and could be going for four wins in a row if Superstorm Sandy didn't cancel the 2012 race. Nobody has accomplished that feat since the 70s when running socks were long and marathons were still won in 2:10.
Winning in New York, and beating Mutai, would fill the only gap in Kipsang's resume– a major marathon win in a race without a pacer. As dominate as he has been over the past three years all of his wins have come in flat courses with fast times.
Best chance for a world record: Men's field in Chicago/Berlin
It won't come in a women's race and it won't happen in New York. That leaves the men's races in Berlin and Chicago. Berlin will have their cavalry of rabbits, race directors on bikes and anything else they can think of to get the men under 2:03:23.
Berlin has the recent history with world records, but don't count out Chicago. They have a fast course, as Dennis Kimetto and Emmanuel Mutai proved last year, and two runners who have yet to hit their marathon potential in Kenenisa Bekele and Eliud Kipchoge. Both could go under 2:04 if the pacing is not too ambitious in the first half of the race. Kipchoge ran 2:04:05 in Berlin last year and Bekele debuted in Paris with 2:05:04.
If Berlin is known for great individual efforts, Chicago has made its mark with a slew of very close finishes. Bekele will receive most of the attention in the lead-up to the race, but there is a good chance that Kipchoge will be with him into the final miles.
Safest bet for victory: Rita Jeptoo, Chicago
Jeptoo has dominated her last two marathons, big wins in Boston and Chicago. She is in a good position to repeat in Chicago. Her competition is solid so she is by no means a lock, but all the fields are even tougher to choose a winner.