9 Comments
Why is Head Coach Ed Beathea leaving Ohio State?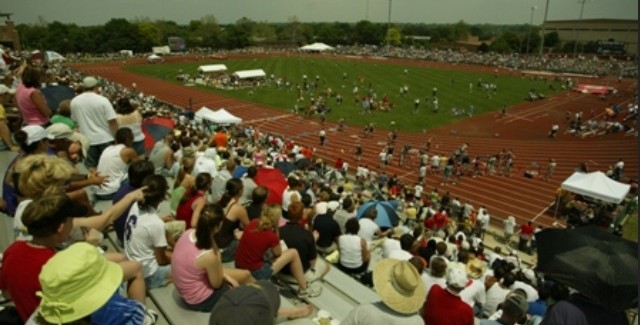 Jesse Squire | On 03, Jun 2014
Ohio State's 10,000 seat Jesse Owens Stadium will be packed for this weekend's state high school championships.
EDIT on June 6, 4:00pm: I just spoke with Coach Beathea. He would neither confirm nor deny the pay raise issue but did say that Brice Allen would not be coming to Indiana. He took great issue with me stating his motivations for leaving Ohio State, and if I stated or implied that his lone reason was money then I retract that statement. My issues are not with Beathea but with the Ohio State track and field program, which in my opinion has underperformed through the tenure of the last five men's head coaches.
Just a few hours ago, Ohio State University announced that men's head coach Ed Beathea has resigned his job. He will continue to coach the Buckeyes through the end of next week's NCAA Championships. Indiana announced that Bethea has been hired as an as an associate head coach.
Why on earth would Beathea quit a head coaching job for what will be (despite the title) an assistant position? My sources tell me it's quite simple, that "there is a pay raise waiting for Bethea in Bloomington". My source also tells me that Brice Allen, Ohio State's assistant coach for distance events and cross country, will follow Bethea to Indiana. (EDIT: this is incorrect according to Beathea, see above).
Recall that Beathea started at Ohio State as an assistant in 2006, and was named interim head coach in 2012 after then-head coach Robert Gary was fired midseason (for pursuing another head coaching job, at Furman, without permission). He remained in that position until now. Bethea was an assistant at Indiana before coming to Ohio State.
The assistant coach positions are available because Indiana head coach Ron Helmer cleaned house with his staff. No reason was given, but note that the Hoosiers' men finished 9th (indoors) and 8th (outdoors) at the Big Ten Championships, the women finished 10th (indoors) and 9th (outdoors), and both teams lost their rivalry dual to Purdue.
It seems stunning that an Ohio State head coach is paid less than an assistant at another Big Ten school, especially considering that Ohio State has the second-wealthiest athletic department in the NCAA, but apparently OSU brass don't care about winning in track and field. Akron and Kent State are the best college track programs in Ohio right now, and I can't think of another sport where two MAC teams are better than the Buckeyes.
There is no reason for the middling results Ohio State has had ever since Jesse Owens left campus; Ohio is a talent-rich state where track and field matters, and Ohio State is the state's lone BCS power. With the right coach and AD support, there is no reason that Ohio State could not be on par with Oregon, Texas A&M and Florida on a year-in and year-out basis.
UPDATE: another source has told me that "Ohio State was unable to attract top candidates when the job was last open, because the pay is not competitive."