No Comments
Monday Morning Run: Bowie rolls, Fraser-Pryce fades, and more competition for Mary Cain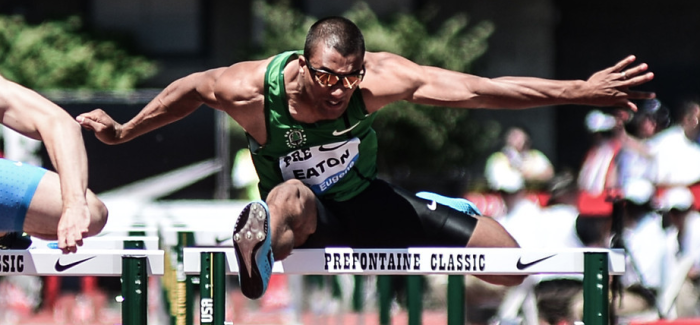 Kevin Sully | On 09, Jun 2014
Photo via TrackTownPhoto
We have entered the portion of the season where the professional meets happen so frequently that it is hard to keep track of results. Athletes are popping up all over the globe and world leads are set, and reset, over the course of a couple hours. Instead of doing a review of all the action, I pulled out some highlights of each of the three biggest meets of the weekend.
Rome Diamond League
First Thoughts
–Silas Kiplagat won the 1,500 in 3:30.45, reversing the result against Ayanleh Souleiman from the Prefontaine Classic. Souleiman battled hard down the homestretch and finish second in 3:31.19. The musical chairs in the men's 1,500 is interesting to follow, but the biggest story in this race was watching how Asbel Kiprop would respond after his federation decided to ban him and other big name athletes from Diamond League races because of a perceived dip in performances.
Actually only one person perceived Kiprop's races that way, Isaiah Kiplagat, the head of Athletics Kenya.
Kiprop won the Doha Diamond League 1,500, anchored the Kenyan 4 x 1,500 team to gold and a world record and just ran 3:50 in the mile at the Prefontaine Classic. Even if he was "dipping" Kiplagat shouldn't, and apparently doesn't, have the authority to block athletes from making a living. The edict lasted less than a day and Kiprop ran to a third place finish in Rome.
Replace "Oulu" with "Rome" and "Helsinki" with "Nairobi" and we pretty much have that scene in "Without Limits" where Pre goes nuts on Colin Ponder.
Kiplagat's decision was the rare combination of overbearing and ineffective. Another "dipping" athlete who was initially banned from Rome was Eunice Sum. She ended up winning the women's 800.
Whoops.
Luckily, Kenya has someone in Isaiah Kiplagat who is brave enough to stand up and say–if ain't broke, we definitely should try to fix it.
All of this stupidity looks like Kenya's way of micromanaging their team prior to the Commonwealth Games. They held their trials over the weekend and many of their biggest names will be off the squad. Silas Kiplagat didn't show up and Kiprop did not finish the race. Ezekiel Kemboi and David Rudisha also didn't participate, but they received a spot anyway. Without a clear selection procedure, issues like this are bound to arise. Right now, Rudisha doesn't look to be in any better form that Kiprop, yet Rudisha received a wild card.
This is another reminder that for all of its faults, the US does the best job in the world of selecting teams for global championships. That is, they do virtually nothing and let the athletes' performances decide.
What is happening to……
I'm not sure what comes as a bigger surprise, Tori Bowie's meteoric rise or Shelly-Ann Fraser-Pryce's precipitous drop over the last two meets. Clearly something is amiss for the Jamaican after another eighth place finish. Like at the Prefontaine Classic in the 200, she was never a factor in Rome and ran 11.19 in the 100.
Meanwhile, Bowie continues to surprise. She has now run personal bests in back-to-back weekends and is the revelation of the season thus far. Her time of 11.05 shaves .09 off her personal best.
As was the case last week in Eugene though, the story wasn't the time, but who she beat. In addition to Fraser-Pryce, Bowie also finished ahead of Kerron Stewart, Tianna Bartoletta, Murielle Ahoure and Jeneba Tarmoh.
So after two weeks is this a case of Bowie suddenly becoming world class, or the rest of the women's sprinters failing to run up to their capability? It's still too early to tell, but initially it looks like more of the latter. Fraser-Pryce is in the worst two-meet stretch of her career and the other Americans (Allyson Felix, Carmelita Jeter, Bartoletta, Kimberlyn Duncan) are either injured, coming back from being injured or aren't quite race sharp.
Bowie's biggest challenge in the coming months will probably come from someone we didn't even expect to compete this year, Veronica Campbell-Brown. Just over two months after her doping suspension was thrown out, Campbell-Brown set the world lead of in the 100at a low-key meet in Montverde, Florida on Saturday.
Who is that?
The women's 800 wasn't just about Eunice Sum making Athletics Kenya look foolish. Back in second place, the track world got their first look at Sahily Diago of Cuba. Diago came in to the race with the two fastest times in the world, but those were run in Cuba, a country that doesn't host a major international meet. Her progression before this year was modest–2:04 in 2011, 2:03 in 2012, 2:01 in 2013 before her huge jump down to 1:57 this season.
On Thursday, in her first Diamond League appearance, she ran 2:00.01 to finish behind Sum, but ahead of Ajee Wilson, Brenda Martinez and the rest of a pretty solid 800-meter field. Diago turns 19 in August, making her eligible for the World Junior Championships, and a potential competitor to Mary Cain, should Cain opt for the shorter of her two middle-distance options.
This looks familiar
–Lashawn Merritt rolled to another victory in the 400. It is only the first week of June and Merritt has already raced six times in the 400, seven if you count his leg of the 4 x 400 at the World Relays. In Rome, Kirani James was not there so he had no competition. Merritt ran 44.48 and cruised to an easy victory. How many 400s will he run this year? 10? 15?
–Justin Gatlin over Nesta Carter, again.  Usain….Yohan…..where are you guys?
Bolt announced last week that he is cancelling races in Ostrava and Paris, which means that he won't race until the second week in July at the very earliest. With him out of the picture, the most captivating race on the horizon will be Tyson Gay's return from a doping ban against Gatlin in Lausanne on July 3rd. Gay received a reduced suspension because he cooperated with the doping investigation and admitted to using a performance enhancing drug during the Olympics. He returned his silver medal from the 4 x 100 relay–a team that Gatlin was also a part of. Gatlin, of course, served a four year suspension for doping from 2006 to 2010. #BecauseItsTrackandField.
Letdown:
Sally Pearson did not make it to the start line in the women's 110 hurdles so we were again denied a head-to-head match up with her and Brianna Rollins. In her absence, Rollins just held off Dawn Harper Nelson 12.53 to 12.54. Two months into the season Rollins isn't anywhere near as dominant as she was in 213. Good if you like seeing competitive races, bad if you were hoping for a world record.
FBK Games- Hengelo
What is happening to….
–Ashton Eaton set a huge personal best in the 400-meter hurdles, running 49.07 to finish second to Olympic bronze medalist Javier Culson. In just his four try at the event, Eaton has cut nearly a second off from his debut performance at Mt. SAC in April. The list of who he beat on Saturday was just as impressive as his time: LJ Van Zyl, Johnny Dutch, Cornel Fredericks. All of whom are among the best in the world.
It hasn't taken long for Eaton to prove he can hang in major competitions in the 400-meter hurdles. He was still a long way from Culson's 48.66, but catching athletes like Culson would mean that he has reached the very top level of 400-meter hurdlers.
Who is that?
–Chijindu Ujah of Great Britain ran 9.96 in the 100. The 20-year-old is now the third fastest British man of all-time behind Linford Christie and James Dasaolu.
On Saturday, he was just .01 behind Olympic silver medalist Richard Thompson. Great Britain is slowly compiling a great group of sprinters. Ujah, Adam Gemili, Danny Talbot, Richard Kilty and James Dasaolu are all under 27-years-old. Delano Williams and Zharnel Hughes are both eligible to compete for Great Britain and would add depth to a 4 x 100 that has the potential to challenge the United States in the next few years.
This looks familiar
-Two days after she finished third in an American sweep in Rome, Queen Harrison set a meet record of 12.56. In terms of the hurdles, Harrison's win was huge–almost three tenths of a second between her and Tiffany Porter. Americans now hold the six fastest times on the world list.
IAAF World Challenge: Marrakesh
This looks familiar
–Tianna Bartoletta hasn't long jumped much in the past few years, but she managed to set a personal best and a world lead on Sunday. She jumped 22-9 (6.93 meters) on her second attempt to easily win the competition. Currently, there is lots of crossover in the women's jumps and sprints. Blessing Okagbare has doubled up in Diamond League meets and Tori Bowie jumped the night before her 200 win in the Prefontaine Classic. The more recognizable names, the better, for events like the long jump. The men's long jump could use a similar bump. Where did all the sprinter/jumper guys go?
-Three big meets, three top flight hurdle races. This time it was Lolo Jones's turn. She ran 12.74 and scored wins over Kristi Castlin, Nia Ali and Kellie Wells. If there were a global championship this year, I don't know how you would separate the top three American women. With Brianna Rollins coming back to earth, there are at least six hurdlers who could be considered the best in the United States.
Who is that?
–Dawit Seyaum of Ethiopia won the 1,500 in 3:59.53. If you don't know Seyaum, you aren't alone. She finished second in the World Youth Championships last year, but there aren't many results beyond that. Seyaum turns 18 next month, which means more competition for Mary Cain at the World Junior Championships this year.
What is happening to…..
-Maybe there is something to the resurgence of Abubaker Kaki. I was skeptical after his third place in Eugene. The time wasn't all that fast and I think Rudisha's fade made that race difficult to read. On Sunday, Kaki contended for the win and finished just .03 behind Mohammad Aman. Once again, the time wasn't anything spectacular, 1:45.58 for Aman and 1:45.61 for Kaki, but the faster marks will follow the high finishes.
Letdown
-This is only disappointing because there seems to be a failed world record attempt, or attempts, every week in the high jump. Bohdan Bondarenko won the competition in Marrakesh and then took three unsuccessful cracks at 8-1 (2.46).
The race to break the world record is shaping up a bit like the pursuit to be the first to break four minutes in the mile. There are several candidates and it seems like only a matter of time before one breaks through and finally does it. Bondarenko is the leading candidate, but there is also Ivan Ukhov and Mutaz Barshim, who beat Bondarenko in Rome.