2 Comments
The Monday Morning Run: Diamond League winners, world record in the hammer, Brussels Preview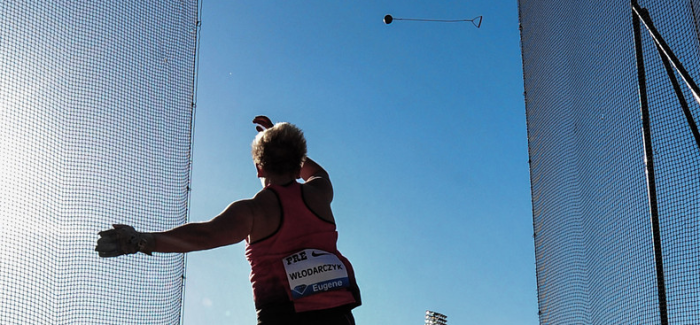 Kevin Sully | On 01, Sep 2014
With Zurich in the rear view mirror, we are halfway through the Diamond League finales. All that is left of the 2014 track and season is the the Brussels meet on Friday and then a few post-season exhibition races (not to be confused with the regular season exhibition races). Soon we will be deep in the doldrums of track's off-season with only a major marathon or an occasional cross country race to grab our attention.
Next week, I'll recap the 2014 season–what did we learn and more importantly, what does it mean for 2015? This week, I tried as best I could to stay focused on the present, but couldn't help looking ahead in a few events.
The Medalists
The top three performances of the week
Gold: Jenny Simpson
I don't think anyone has ever held the gold medal position on the Monday Morning Run for consecutive weeks, so Simpson can add that to her list of accomplishments for 2014.
Five times under 4:01, two Diamond League wins, a decisive US Championship–Simpson had the 1,500 covered from all angles this year. She capped the season, and secured the Diamond League championship, with a win in Zurich.
Surprisingly, her main rival in the final 100 meters wasn't Sifan Hassan, Abeba Aregawi or Hellen Obiri.
Shannon Rowbury emerged from the pack and chased down the fading Hassan and made a run at Simpson on the inside. The two had a nice synchronized dive at the finish line and it was Simpson who got the win by .01 seconds.
Simpson is the best 1,500 runner in 2014, that is sure. What that means for 2015 is anyone's guess. It's the 1,500 and seed times and world rankings never seem to be worth anything when a championships is on the line. How else can you explain Hicham El-Guerrouj needing three tries to win an Olympic gold medal? Simpson's own World Championship from 1,500 shows the unpredictability of the event.
That year, she didn't have any major wins. She was a well-beaten second at the USA Championshiops. Her best time of the season came in a race in Monaco where she finished fifth. Yet, she ran smart in Daegu, and out of nowhere walked away with a gold.
Winning as a favorite in the 1,500 seems much harder than winning as an underdog. Simpson will test that theory next year.
Hassan and Aregawi will still be tough. Maybe their late season losses in August had less to do with Simpson and more because their focus and peak were aimed at the European Championships, not at Zurich. Next year, with everyone in the world focused on the same meet, that excuse won't exist.
Simpson's Diamond League victory means the US will have four entrants in the 1,500 for the World Championships next year. The way middle distance runners are performing for the US, it is well deserved. All four could make the final. Rowbury is running better than she has in her entire career, Mary Cain won World Juniors this year and Brenda Martinez finished sixth in Zurich, running 4:01.36 and placing ahead of Aregawi and Obiri.
Silver: UK 4 x 100 (Asha Philip, Ashleigh Nelson, Anyika Onuora and Desiree Henry)
Self-loathing British track fans (which makes up at least 40% of their fan base) must see the irony in 2014 being the year that their relay team went on a tear. In the European Championships and the Zurich Diamond League meet there were no baton issues and the women's 4 x 100 squad set national records on both occasions.
In Zurich, their exchanges were close to perfect and they ran 42.21, defeating the US and Jamaica.
And this wasn't a "B" team for the US. The Americans ran Tianna Bartoletta, Allyson Felix, Jeneba Tarmoh and English Gardner, all four of whom have Olympic and World Championship experience. Off-year or not, that is an impressive win for Great Britain.
Bronze: Anita Wlodarczyk
Fine Diamond League, if you don't want the hammer throw as part of your program they are just going to go and throw world records on their own. Wlodarczyk chucked the hammer 79.58 meters at the ISTAF meet in Berlin on Sunday, besting Betty Heidler's 79.42 from 2011.
The throw is great. The French commentary might be even better.
It was also a big weekend for American throwers. Gia Lewis-Smallwood threw 69.17 to set an American record in the women's discus at the Decanations meet on Saturday. Again, more French throws commentary!!!!
Surging….
-Veronica Campbell-Brown
Not sure how we ended up with Campbell-Brown being the best 100 meter runner in the world, but who am I to argue with the diamond? Just over a year ago, she was staring a 2-year ban in the face. Thursday, she became the Diamond League champion after she won in a photo finish over Murielle Ahoure. Tori Bowie, the best 100 runner in the world this year, did not compete.
-Lashawn Merritt
It's silly how big of a gap exists between the top two 400 runners in the world and everyone else. Kirani James didn't race in Zurich, which left Merritt to twiddle his thumbs until the homestretch where he blew everyone in the field away and won in 44.36. It looked like he ran his fastest in the last 50 meters, but that could have been one of those optical illusion caused by his competition falling apart after trying to keep up with him for the previous 350 meters.
-Other Diamond Winners (Christian Taylor, Reese Hoffa, Dawn Harper Nelson)
Hoffa was dominate in the Diamond League amassing 23 points and throwing his best at the end of the season. He won in Zurich with a mark of 21.88. He also earned the vital bye to next year's World Championships which will serve as a nice insurance policy in the deep American men's shot put field.
Harper Nelson won the 100-meter hurdles in Zurich to clinch the title. However, it doesn't look like she will receive a bye to the World Championships next year. The United States can only send four to the World Championship and Brianna Rollins has already earned a bye in the event by virtue of being the defending world champion. In 2013, the United States gave the bye to the defending world champion and not the Diamond League champion in cases where two different athletes were involved.
Confused yet? It probably won't matter. Even in something as unpredictable as the high hurdles, Harper Nelson will have no problem finishing in the top three at the US Championships next year.
Christian Taylor also earned a free trip to Beijing, though it is unlike that three Americans will jump farther than him next year. Taylor won the Diamond League on his final attempt of the triple jump competition, besting Will Claye.
-Kemar Bailey-Cole
In a 100-meter race that featured three runners who have served doping bans, but not that other guy who has served a doping ban, Bailey-Cole came away with a win in 9.96. Very quietly, Bailey-Cole has had a great season, second only to Justin Gatlin in the event.
Asafa Powell placed fourth in 10.07, making his 9.87 time trial last week that much more confusing. Tyson Gay finished last in 10.35.
-Men's 400 Hurdles
After the women's 1,500, this was the race of the meet. It was four races in one with Michael Tinsley, Cornel Fredericks, Javier Culson and Kariem Hussein all making a claim for the victory. Fredericks survived and won the race in 48.25. Tinsley finished second and took the Diamond League title.

Slowing….
-David Rudisha
In Zurich, Rudisha ran from the back for the first time since 2009. The result wasn't a disaster, but sitting and kicking wasn't the remedy he needed to break his losing streak. Rudisha finished third in 1:43.96 after spending most of the race with the commoners instead of few meters clear of the field like he has done exclusively the last four years.
It was a bold decision to switch tactics and a necessary one after repeatedly getting chased down by Nijel Amos this season. On Thursday, he ended up in the same place as he would if he ran from the front. Amos scurried away to take the win in 1:43.77. Ayanleh Souleiman was just ahead of Rudisha in 1:43.93.
-Men's 5,000
After Zurich, it looks like just four men will break 13 minutes this year. If that holds, it will be the lowest number in a very long time (I would like to be more specific with this stat, but the IAAF all-time lists only go back to 1999).
Caleb Ndiku won in Zurich in 13:07.01, capping his Diamond League championship. Galen Rupp hung tough and placed third in 13.07.82, just behind the fastest man in the world this year, Muktar Edris.
The Week Ahead
Brussels on Friday makes up the other half of the Diamond League final. The group of races isn't as compelling as Zurich, but there is still plenty to watch for. Justin Gatlin will return from exile in the men's 100 and will probably win easily. If he falters, there are four other men who can win the Diamond race behind him.
Will the men's high jump finally see a world record? All of the top jumpers should be Brussels. All of the top jumpers have been at every competition this year, which is why it has been really exciting viewing. If Bohdan Bondarenko and Mutaz Essa Barshim finish 1-2 in any order, Bondarenko wins the diamond.
The current men's 1,500 Diamond League standings accurately reflect the logjam in that event. Silas Kiplagat enters Brussels with 12 points, Asbel Kiprop has 11 and Ayanleh Souleiman is third with 9. The winner should come from that group.
The women's 3,000 will probably have one final battle of 2014 between Hellen Obiri and Genzebe Dibaba. Shannon Rowbury is also entered. Can she convert her 1,500 success to the 3,000?